Today I will be talking about another 'New Rule' from the 'The Rules: Revisited' Runner's World article that I featured the other day.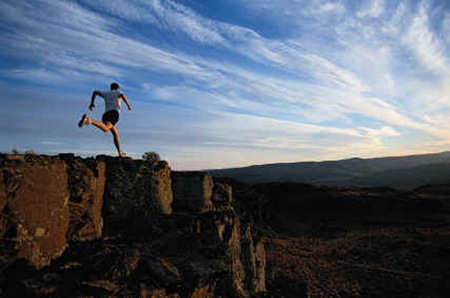 Today's topic: Carbs and training
Old rule:
Emphasize carbs when you're marathon training, especially before and during long runs.
New Rule:
Do some long runs in a carb-depleted state
In this part of the article, Bob Cooper talks about how carbs have been the focus of nutrition advice for runners for the past several decades. Since carbs are the most readily available fuel source for our bodies, it makes sense to consume lots of them prior to a race or long duration activity. However, exercise physiologist, Greg McMillian, says that runners should do some long runs in a carb-depleted state. In other words, don't load up on carbs prior to some of your long training runs.
That doesn't exactly sound like a fun run in the park now does it? Greg is trying to take away one of the things I love about running; being able to stuff my face around the clock! ;)
Greg explains his theory:
"You need to teach your body to operate with low glucose stores because that's what you'll be facing in the later miles of a marathon."
He suggests that runners skip their carbs before and during long runs to improve the body's ability to burn fat and store glycogen, which is pivotal in long bouts of intense exercise.
"By not taking in carbs or energy gels during the run, you're giving your body no choice but to go to fat-burning. You will feel fatigued near the end, but that's necessary if you want to get stronger."
Greg suggests not to go cold turkey on carbs with your next 20-mile run. He says to wean yourself off of carbs by consuming them less and less before and during long runs to train your body to manage without them.
~~~~~~~~
Yowza.
When I first started running on a regular basis last Spring/Summer 2008, I always ran on an empty stomach. Otherwise, I would find myself getting really bad stomach cramps. The downside of this? I couldn't run very far without feeling really drained and fatigued. Since doing more research on running, I have since switched over to the 'carb loading' camp, by making sure that I do fuel up, at least modestly, before my runs. And for whatever reason I find that I don't suffer from running cramps anymore. Perhaps, my body has just adapted better to running now. I find that I am able to go longer distances when I fuel up beforehand and not 'hit the wall'.
The thought of doing my long runs without carbs seems quite daunting to me. And I still question Greg's approach. While I can see that it may train the body to use other fuel sources, I find myself asking what the point of that is.
Runners have access to plenty of carbs during races, such as Gatorade, energy gels, and chews, so is it really necessary to endure these long intense runs with no carbohydrate fuel? I mean, this may be obvious, but isn't that what it's there for?
During my 10 miler, I took Gatorade by mistake at the 2nd or 3rd water station and I was worried how my body would react. Well, I was thrilled to find that the Gatorade gave me a huge energy boost, much more than regular H20 did. And so at each water station thereafter I drank my carbs. I know my performance was enhanced because I felt a little kick to my step after drinking about 4oz every station.
The article doesn't state any hard evidence of Greg's theory, nor does it suggest what we should be eating instead of carbs. I would love to see some research on this topic. I know that protein can be very hard on the stomach prior to runs (it is hard to digest) so I always personally avoid protein and also fibre before a run. So what's left if I also don't consume carbs? Personally, I would love to pick Greg's brain a little more on this subject as I find the article didn't quite convince me enough to forgo my fuel. I would also love to hear from more experienced runner's- have you ever given this a try and did it improve your running?
What do you think of Greg's theory? Would you try it out?