Good morning!
Last night I shocked myself. I put off my run all day and then I actually made it out for a run- get this- at 8:45pm! Typically, when I put off my workouts they just don't happen, but Eric agreed to do a run-bike with me last night. :) It was the first night time run I have done all year I think!
Before the run, I decided that I wanted to run at a quicker pace for the entire run and really challenge myself. Unfortunately, my dinner had not settled and my stomach was feeling a bit full! I made the best of it though and just tried to ignore it.
The run:
Duration: 39 minutes
Distance: 4.66 miles
Avg pace: 8:34 min/mile
Max heart rate: 168 bpm
Avg heart rate: 154 bpm
It was a great run!! I felt awesome really pushing myself and running fast. Eric kept cheering me on from his bike and then we high fived at the end. lol. ;) It was so nice going on a run when it wasn't super hot out!
PS- Only 49 days until my half marathon!!! :)

I was so hungry when I got back I had half of a cantaloupe right out of the skin- Caitlin style!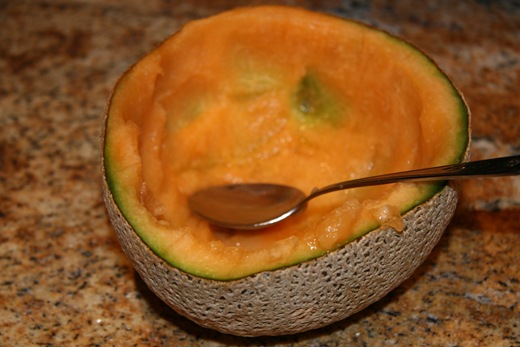 This morning I started my day with a wonderful green monster of course. I had it next to my basil plant that is finally growing and my dill plant that is not.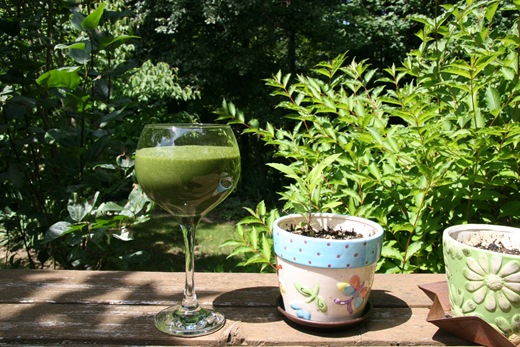 I made my Pumpkin-Banana-Kale green monster and it was delicious!
On today's agenda:
Bake Eric vegan cupcakes (AM)
Clean house (AM)
Take Eric out this afternoon (PM)
Prep for tonight (PM)
7:30pm: Have friends over for BBQ and drinks (PM)
I am off to bake some vegan cupcakes in a bit! What kind should I make??
Enjoy your day. :)