Today on Twitter, I posted this question:
Do you have pictures that remind u of TRUE happiness? This is one of mine (h'moon) Eric and I were joking around =)
And I posted this picture to go along with it: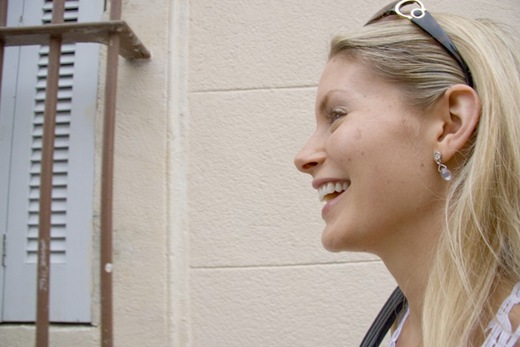 It was taken in Marseilles on our honeymoon. I remember the exact moment. Eric was joking around with me and he was trying to take silly pictures of me and chasing me. I was at such peace in this very moment. I felt loved, free, excited, and totally myself. Whenever I see this picture it takes me back to this wonderful memory.
I received a response from Sheila from Live Well 360 about my Tweet:
@ohsheglows I recently filmed a video on this very same topic! http://su.pr/4jVpcS SO INSPIRING!!! Watch this video!
I had watched this video before, but it was fun to watch it again. You must watch this video!!! It brings me such peace. Sheila has such a calming, relaxed, and cool vibe about her. The video also made me super envious of her place of residence too! ;) Ahhh the beach…
Amazing, eh? And might I add awesome video editing skills!
She inspired me to do my own video showing you one of my power spots. The video is not as cool as Sheila's, but you'll get the picture. ;)
Do you have a power spot where you go to recharge and relax? Where is it?
Happy Friday night everyone- now get to that power spot and stay there until Sunday night!! ;)
Weekends are a great time to recharge and take care of ourselves. Be sure to give back to yourself this weekend with some quiet time and relaxation! You deserve it!
If you don't currently have a power spot, my challenge to you this weekend is to FIND one. :)
Eric and I are going to our backyard to have dinner tonight…