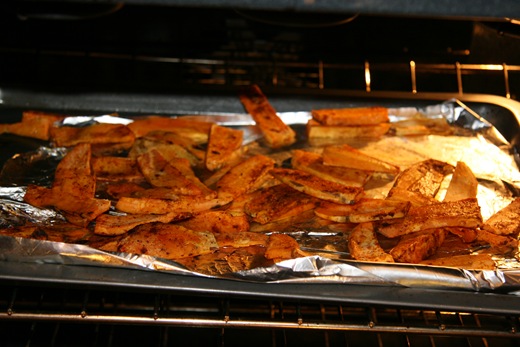 I had three lovely sweet potatoes to use up, so last night I decided to make sweet potato open-faced sandwiches.
After chopping the sweet potatoes, I 'basted' them with coconut oil. I have been wanting to try this for a while now because I thought that the coconut and sweet potato tastes would blend well together. After basting, I sprinkled the fries with paprika and a tiny bit of fine grain sea salt.
I baked them in the oven at 350F for about 15 minutes on each side. I broiled them for another 5 minutes on med-low. Be sure to watch them very carefully on broil because the burn so fast!
While they were cooking I made a homemade ketchup consisting of organic tomato paste and some salt-free BBQ sauce. I continued along the 'piping' theme of the day and put it in a baggie so I could pipe it onto my open-faced sandwiches.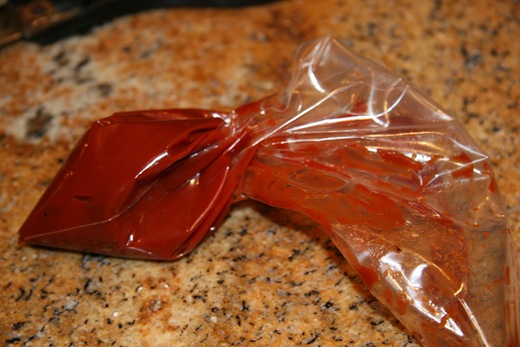 I also toasted up some flax bread: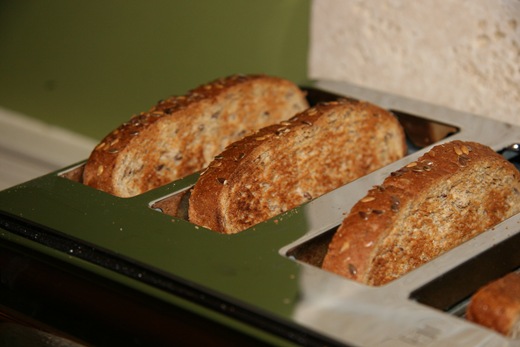 Layered on the fries and then piped them with the homemade ketchup.
The result was simple yet magnificent.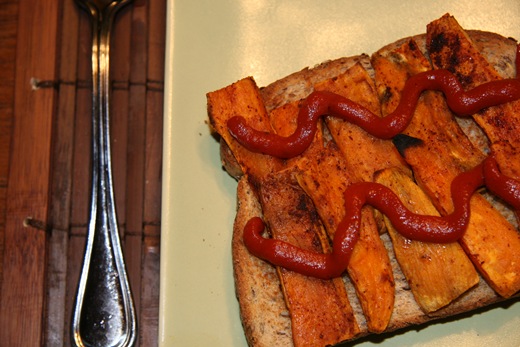 Eric doesn't like sweet potatoes, but he gobbled up this dinner. I like proving him wrong this week!
After I tried this, I said 'OH wow. Sweet Potat-OH!' Yup, I'm an odd one.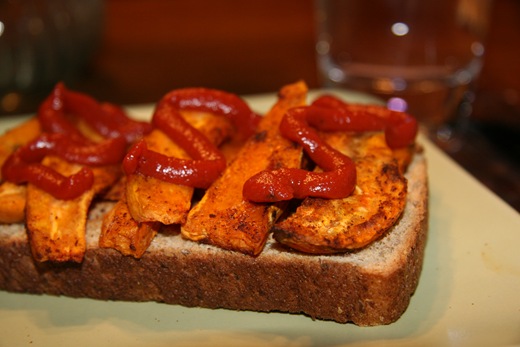 I couldn't overtly taste the coconut oil on these fries, but I could definitely smell a hint of it. I think I put on too much though because the fries didn't crisp up very much like they usually do. I would suggest not using more than 1/2 T of coconut oil to baste 3 sweet potatoes. I used 1 T and they were soaking a bit. ;)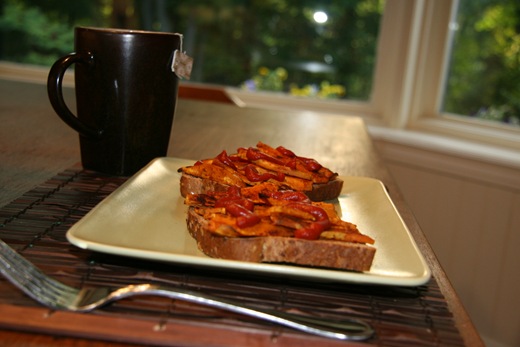 Dessert:
A leftover Healthy Peanut Butter Coconut Swirl Pancake.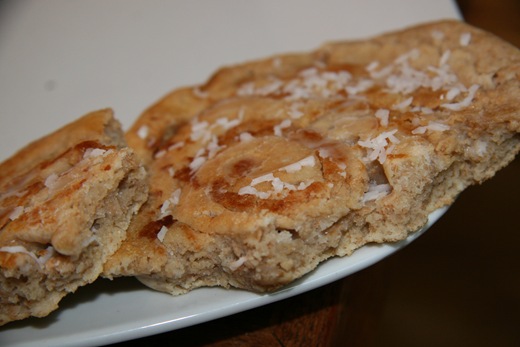 Dear God!!
I never thought I would see the day when a COLD, leftover pancake tasted brilliant right out of the fridge. I think I honestly might have liked it better COLD! The peanut butter and coconut/maple flavour was just bursting out of the pancake. This would make an awesome pre-run snack to. Just make a batch on Sunday and refrigerate them for the week. WOW!!!!!
Time to get back to work. I'm off to update Glo Bakery website and then try and figure out how to implement an online shopping cart + shipping tool. I want to cry! I don't know where to even begin…
I may have to take my laptop outside to enjoys some sun.
I'm planning a fun fitness topic tonight, be sure to check it out!
~~~~~~
Have a lovely, healthy, and glowing day, :)