On the treadmill today, I was reading my new Runner's World and I came across a great article called, "The Rules: Revisited".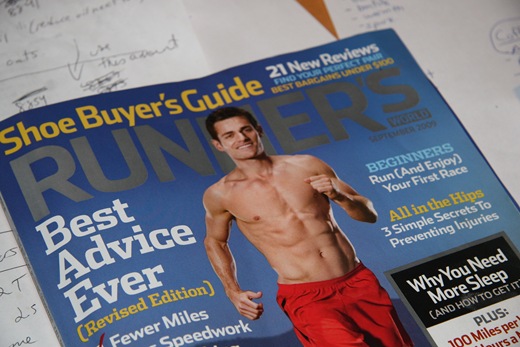 Basically, Bob Cooper is telling us new updates on conventional running wisdom. It was great to read because I found that many of my own experiences and hunches, were actually some of the new rules! I will be reviewing several of them in the next week.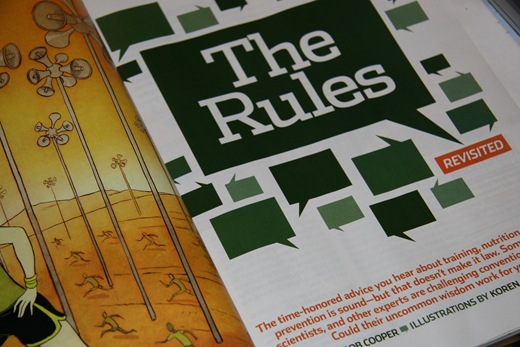 First up:
1) Cross-train for Fitness
Conventional rule: Cross-training is fine for recovery days, but hard training should always be for running workouts.
Vs.
New rule: Cross-training can effectively improve your running performance.
Basically the old rule, is that no cardio cross-training comes close to measuring up to running. Richard Gibbens, exercise scientist, challenges this assumption, "High-intensity cross training workouts that use the same muscle groups as running may be just as effective in improving running performance."
Could this be why I barely ran before my 10km race, but found that I was still in tip top shape for the run? Most of my high-intensity workouts before the 10km race were treadmill hill workouts- and not running. I was nervous that I wouldn't be ready for the run, but I found that I was more than prepared. For my 10-mile race, my weekly training mileage didn't exceed 13 miles and my longest run was 8 miles, but I still finished with a strong time.
Could all of the cross-training I did at high intensities (heart rate avgs in the high 150-160 range for over 45 minutes at a time) have made all the difference while keeping me free from injury?
Gibbens also believes that the average runner only needs to run 3 times a week, which helps reduce the risk of injuries and burn-out.
I also think that this theory could be applied to virtually any sport (not just running). Cross training isn't just for 'rest days' any more!
~~~~~~
What are your thoughts about cross-training?  Do you try to mix it up a lot?
Have you seen improvements in your running with cross-training?
Do you try to target high-intensity activities to reduce the wear and tear on your joints that running often brings?
Do you think this approach is something you might try out?