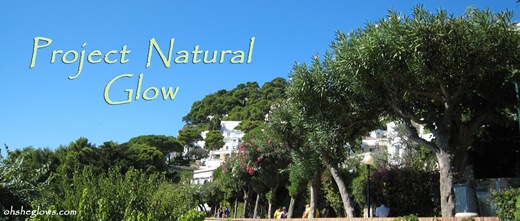 What is Project Natural Glow?
Project Natural Glow is similar to Project Glow except that I am challenging myself and all willing participants to try using natural cosmetic products. My goal is to use products that are safe for the environment, animal friendly, vegan, organic, and/or free of chemicals. Of course, not every new product I buy will fit this perfect bill of health, but I am going to try my best to read product labels and read reviews of new products before buying them. Things such as shampoo, conditioner, face wash, body lotion, and make-up often include many harsh and sometimes dangerous chemicals. This is a challenge to start to become more aware of what you are putting on your body, not just what you are putting in your body.
How does it work?
All you have to do is commit to try out new natural products to replace some of your current stand bys. For example, I replaced my stand-by body lotion (Nivea) with coconut oil. I also replaced my toner with Tea Tree Oil and I am starting to use all natural body wash and soap. I will be posting product reviews as well as where I got the product and how much it cost. One of my biggest challenges is going to be finding good products that don't cost more than what I am currently buying. You won't see me dropping a ton of cash on natural products. I will be researching and looking all around for cost efficient products that will not break the bank!
Over the next while, I will be posting information that I come across during my research. I will be posting everything I am learning as I educate myself about natural, organic, vegan, animal and environment friendly products!
What is the purpose?
I am asking myself a few questions:
Whether I will notice a difference in my skin by using all natural products
Whether I can find affordable products
Whether I can find products that actually work as well as my old ones!
Leave a comment below if you are interested in trying out some natural products too!
My next product review: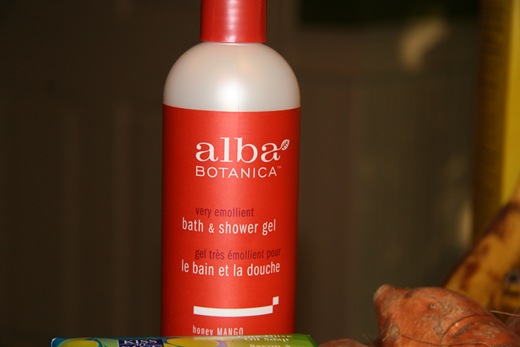 I got this at Loblaws yesterday on sale for $5.99 CAD in the natural food section.

The one thing I admit that I know nothing about are the ingredient names. So confusing! I have to do a lot of research before I feel confident with what the ingredients really are. I am sure many companies claim they are all natural when in fact they are not.
Baby steps, though…
Click to enlarge: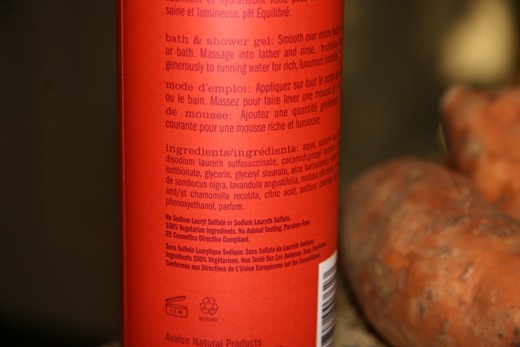 I tried out this shower gel today after a 5.25 mile run. I was pleasantly surprised that this body wash did lather up fairly well. It didn't lather as much as my Nivea body wash, but to be honest, it wasn't a big deal at all. The scent was pleasant, but light and not over-powering. It left my skin quite soft and I didn't even put any oil on after my shower just to see how it would leave my skin. I really don't have any complaints with this product, only that I probably wouldn't buy it if it wasn't on sale. $5.99 for a body wash is pretty much my upper limit, if not more than I want to spend.
Have you tried Alba products? I have heard a lot of great things about them from all of your comments!
~~~~~~~
I'm off to finish packaging the 14 batches of Glo Bars I made today! Holy moly, I am really zonked.
Eric has also been using his holiday wisely- he is currently painting over our pink walls (with primer) in the entrance way! It looks SO much better. He will be blogging all about it at some point.
We will be having a late dinner by the looks of things. ;) I think we might dine outside tonight since it is so lovely out.
Back to it…