Happy Civic Day to my fellow Canadians :)
I hope you are enjoying a lovely long weekend and day off work!
Yesterday afternoon I needed some solar power!
I was feeling so blah and tired yesterday I finally just decided to go outside in the beautiful sun and chill out for a bit.
It occurred to me that I haven't once sat out in the sun yet all summer. So I decided that I was going to enjoy this nice heat wave and bring my new Runner's World to read and veg out. It felt good! The sun definitely gave me energy when I badly needed it. I felt like a plant. :D
Eric was on the roof doing man stuff :D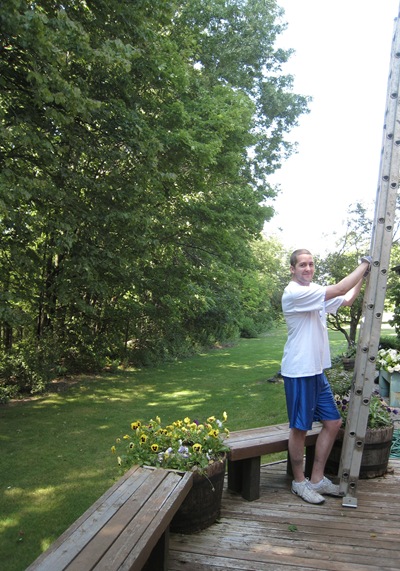 I snuck a few sips of his Corona when he came to visit: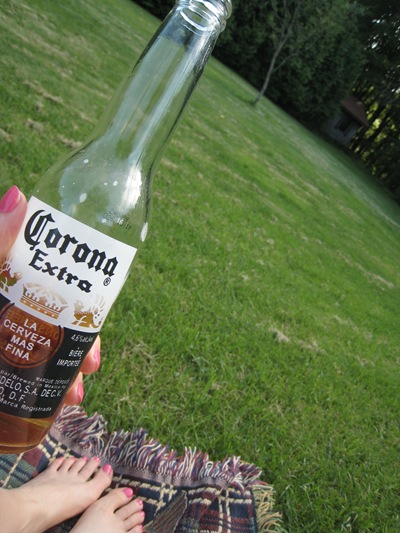 I was only out for about half hour or so, but it really did make me feel much better.
I surprised myself so much last night! I had a great workout– on a hangover day! I know shocking, isn't it? Sex and The City (Movie) came on TV and I decided to just hop on the treadmill and just see how far my legs would take me. Well, 50 minutes and 3 miles later I got off feeling so much better! Did I mention I LOVE that movie? When is the next one coming out???
~~~~~~~~
This morning I am going to show you the healthy snacks I packed for the car trip I had this weekend. On my way to the stagette, I knew that I would be driving through lunch since I left at 11:30am. Eric was so sweet and packed me a delicious pita wrap for the car: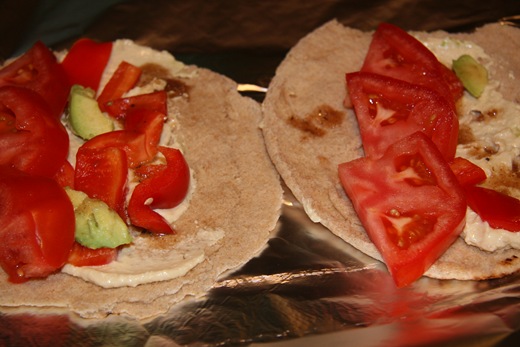 High portein + high fibre pita
tomato
hummus
Light Balsamic vinaigrette salad dressing
Avocado
Red pepper
He then rolled up each pita and wrapped a paper towel around it to 'hold it all in'. I didn't realize he did this until I opened it up in the car to eat it, but it was a genius idea. Otherwise, it would have fallen all over me! The pita was a really great snack in the car and only required one hand. :) I was so happy to have it and ate it around 1pm.
I also brought lots of energizing drinks!
On the menu: One 'swamp water' (Amazing Grass wheat grass + H2O) + 1 Sencha Loose Leaf Green Tea: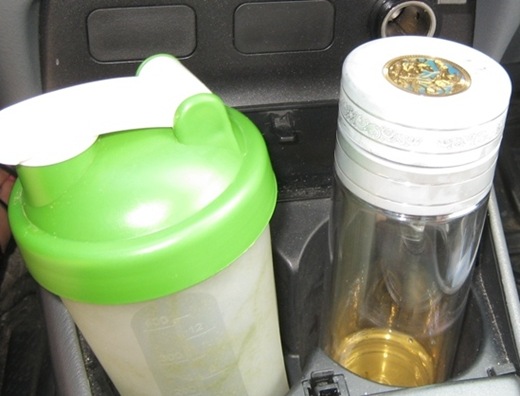 I also had a delicious GS apple that I brought in a zip lock baggie with paper towel for easy clean-up and disposal.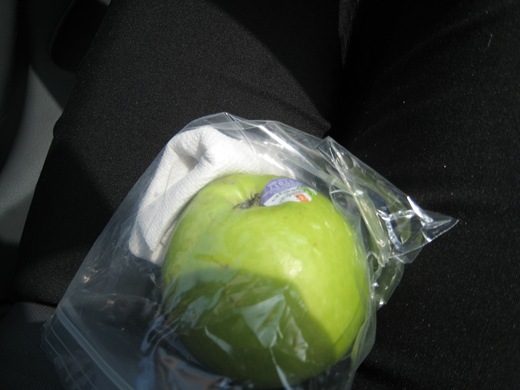 It was the perfect fuel for the drive there!
~~~~~~
Flash forward to the drive home.
I was running on empty as I didn't have anything to eat before leaving the hotel room in the morning.
After I dropped off Carley, I stopped at my favourite fast food restaurant- Subway!
I was STARVING- this was at 10:30am and I had already been up for 3 hours. I ordered a footlong veggie sub. I asked the lady behind the counter how many customers they have ordering subs at 10 in the morning, to which she replied, 'Not many. You are the first one today!' :)The sub was so so good. I ate it in the deserted Subway shop. I got all the veggies except hot peppers, whole wheat bread (toasted), no cheese, and pepper, mustard + a tiny bit of BBQ sauce.
Perfection: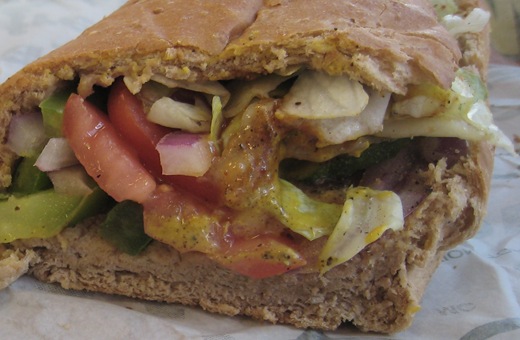 mmmm. I ate every last bite.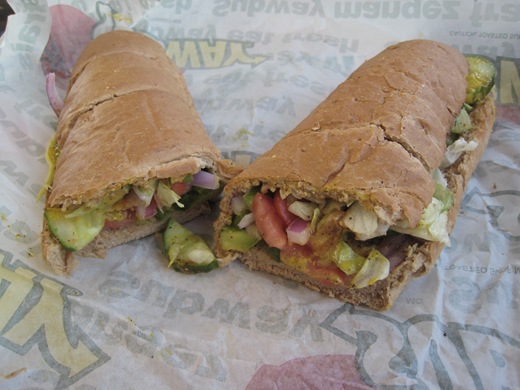 I left one happy woman.
Around noon, I was starting to get a bit hungry (and bored) in the car and I broke open my bag of Nature's Path Flax Plus cereal. This cereal is even yummy dry too.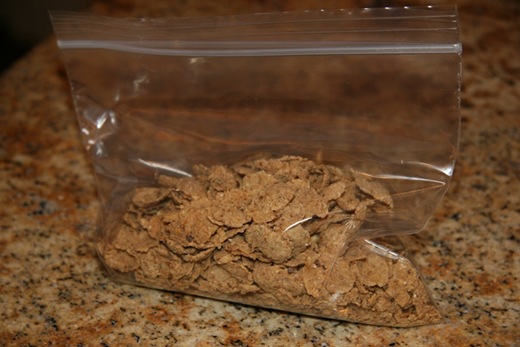 I also had lots of water to re-hydrate myself.
Once home, I made a super powerful kale Green Monster! When I really want a powerful GM, I bring out the kale. I hadn't had any for a while since the organic selection at the grocery store has been so poor, but Eric picked me up some over the weekend. :)
Lightly steamed: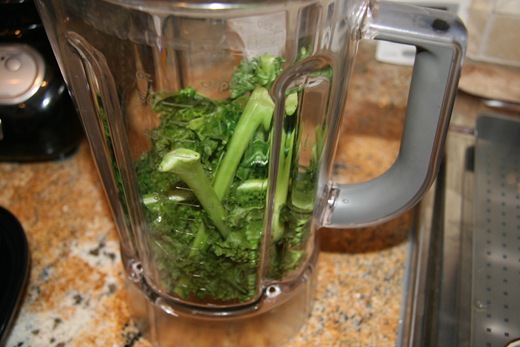 Ingredients:
3 cups steamed kale
1 cup almond breeze
2 ice cubes
1.5 T chia seeds
1 T PC Natural Peanut Butter
1/3 pineapple core
1/2 serving Amazing Grass Pom-Mango Meal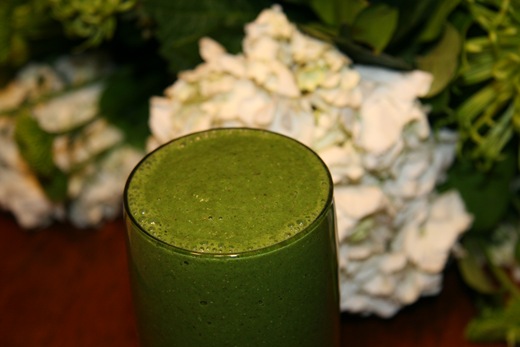 In front of the wedding centrepiece that my BIL Steve and his girlfriend Joanne brought over last night: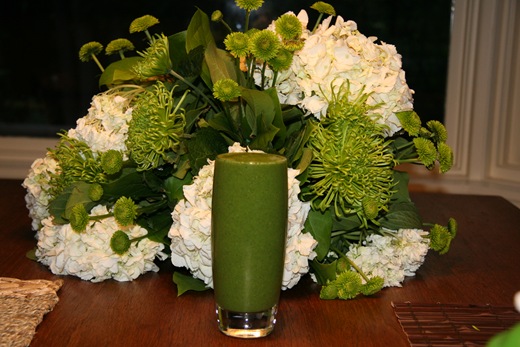 This was one GREEN monster I tell ya! It felt so good to drink it after last night's festivities of naughty drinks.
Dinner was a veggie tofu stir-fry (last night's amazing stir fry got me hooked again!), and dessert was a heaven Glo Bar and a cookie. Sorry I don't have pictures- my camera battery died on me.
So there you have it- a bit of my 'balance' during the crazy weekend.
~~~~~~~
I won't be taking the day off as I will be in the kitchen baking up some orders. I'm also off to prepare something for a Top Secret Healthy Living Summit mission. 
~~~~~~~
Coming up this week: I will be making a big announcement about Glo Bakery US Shipping. Stay tuned!
See you this afternoon for a grocery shopping trip, new strange foods, and new natural beauty products. I will also be talking more about Project Natural Glow!
Today's Question:
What are your favourite foods to bring for long car trips?