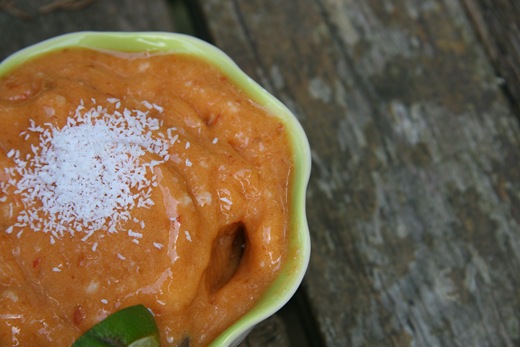 Your regularly scheduled hot topic has been postponed tonight, in favour of a COLD TOPIC post. :D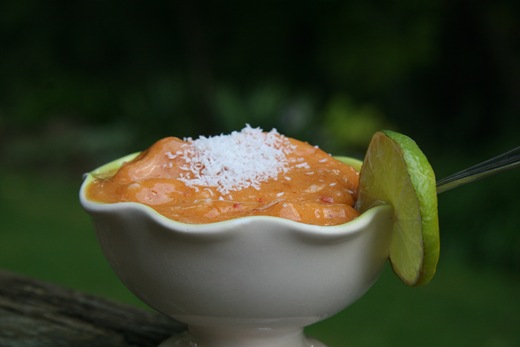 After spending all afternoon baking an order of 60+ Sweet Wheat Sugar Cookies, around 5pm I needed a snack break!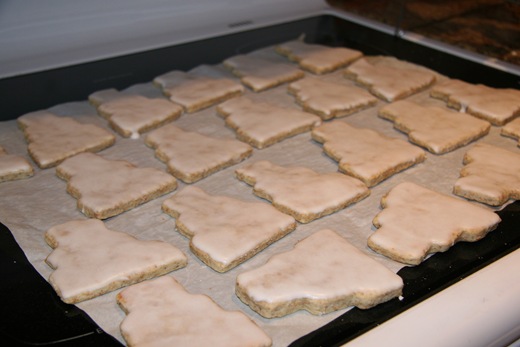 I had a bagful of apricots to use up that my sister Kristi's in laws gave me from their own backyard!
And so this was born…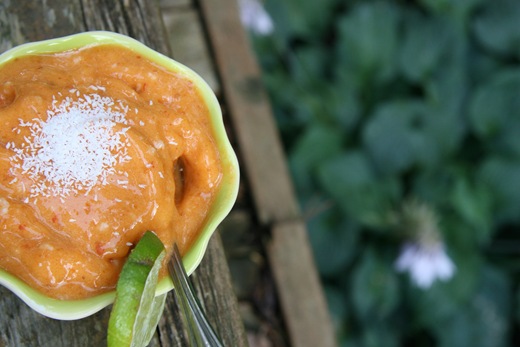 Homemade Apricot Coconut Sorbet
Ingredients:

10 frozen, pitted apricots (I prepped them last night and stuck them in the freezer)
1/2 cup water (guessing, didn't measure)
approx 2 T agave (to taste)
few T finely grated coconut
fresh lime juice (to taste)
Directions: Process apricots in the food processor, stopping to scrap the sides often. If your food processor is broken and tempermental like mine, this will not be a fun process! Add the coconut, water, agave, and lime juice and process until the mixture forms a sorbet. Eat immediately (duh!). Makes approx. four 1/2 cup servings.
Print Recipe
The beauty of this recipe is that you can use virtually any fruit you have on hand. I think peaches and cherries would be awesome. The sky is the limit! You may not even need sweetener. I added some agave because the apricots that I had were quite tart in the sorbet. Just make it according to the taste and add in the sweetener if it needs some! :)
My bowl was about 1.25 cups. It gave me goosebumps. ;) Such a nice treat on a hot day.
Now go on and enjoy your delicious, homemade sorbet! I'd be curious to hear the different fruits you use, so let me know if you end up making some.
~~~~~~~~
I'm off to pipe the cookies now! I'm pooped today…I spent 5 hours of vigorous baking in the kitchen and that was on top of the long run. Baking is such good exercise at times!
STAY TUNED: For the closing ceremonies tomorrow of the Summer Glow Boot Camp!!!! As you may know, we have a killer grand prize giveaway worth lots of dolla bills!! Be sure to stop by tomorrow and leave your comment to enter!
Have a lovely night! :D