Good afternoon!
Thanks for being patient with me as I get this lengthy recap post up! :) We went a little crazy with pictures last night, so there were a ton to sort through! Everyone wanted to try out Eric's camera. :D
I wish I could show you the pictures of my 3 nephews and niece…they are so so so adorable!! As I have said before, I don't post any pictures of children on the internet (something I feel strongly about) to protect their privacy. So just picture the cutest lil' monsters possible and you'd have my niece and nephews! lol
We had such a ball yesterday and I just soaked up every minute with them. :D I got them these 4 puzzles which kept them entertained for about 30 minutes. lol. I swear they were better than Eric and I at putting them together! I guess we are rusty…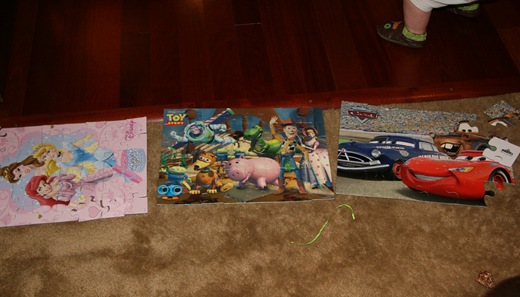 I also gave them each a box of my Glo Bars (they are OBSESSED with them!) and they were munching on them all day and night.
Here is a fun 'centrepiece' that I made that was quite the hit at the party yesterday! Eric and I didn't have the money to spend on flowers so we simply took some from the garden. I thought some floating flowers would be a neat idea. Everyone really liked it!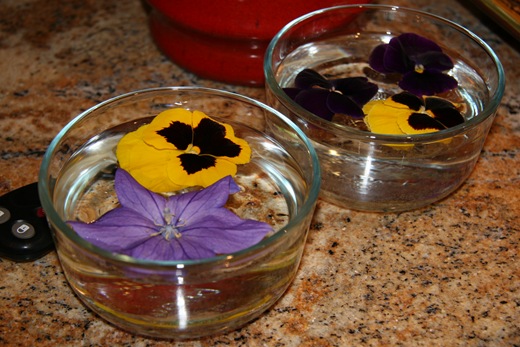 I made about 5 of these in various sizes and scattered them in the kitchen and on the dining room table. It was a fun touch!
Our first mixed drink was mixed up by my sister Kerrie. She brought along this wonderful margarita mixer set. We decided on the pink grapefruit flavour. She added the bottle of the mix, along with tons of ice, and a ton of tequila. ;) It was lovely but very sweet. My two sisters, Kristi + Kerrie and I each had one and were ready to move onto a different drink. I think I had about half of this drink.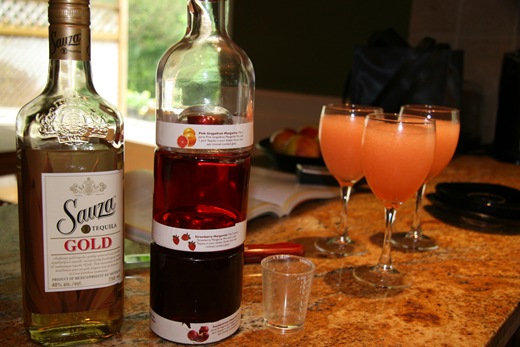 Our second drink was my Watermelon Rosemary Granita concoction. I added a bunch of ice and some vodka and blended it.
Kristi and I: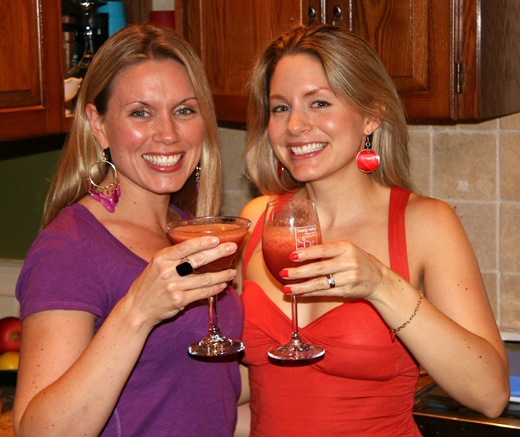 It was funny we both showed up with large earrings that matched our shirts! ;)
We couldn't make our minds up on this drink. I think I put WAY too much rosemary in and Kerrie said she thought that she was eating 'lamb'. LOL. I think it would have been much nicer without so much rosemary (I think I added 3 sprigs! lol). The good thing about this drink was that it wasn't very sweet which we liked. I hate tons of sugar in drinks. It gives me a bad headache.
Our 3rd drink was another cantaloupe creation. I figured I had so much success with the last one, I would try another variation.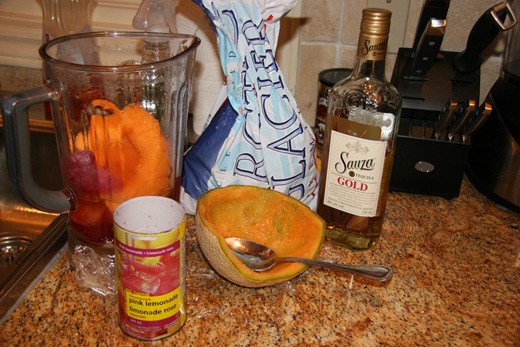 I added 1/2 cantaloupe, 1/3 frozen pink lemonade concentrate, ice, and several glugs of tequila for good measure.
Kerrie should be OSG's 'stager', no?? ;)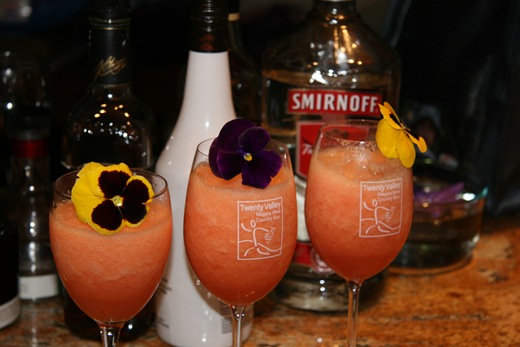 This drink was our favourite out of all three. At this point I was pretty much 'sugared out' though, so I again only had about half the drink. After this drink, I moved onto Corona- one of my favourite 'go to' beers.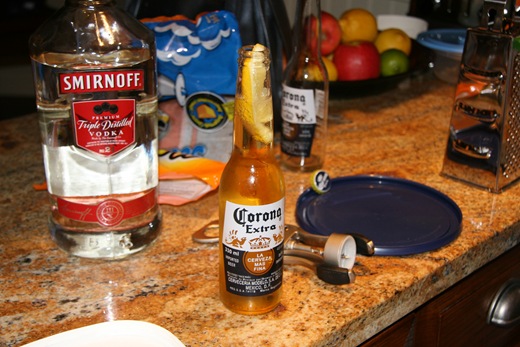 Some of you were asking what I was doing with my beer upside down. After you put the lemon into the Corona, you can stick your thumb in it, flip it upside down, and let the lemon float through the beer. This distributes the lemony flavour throughout the drink. My thumbs aren't big enough though so it always squirts out the sides. Classy lady, I know!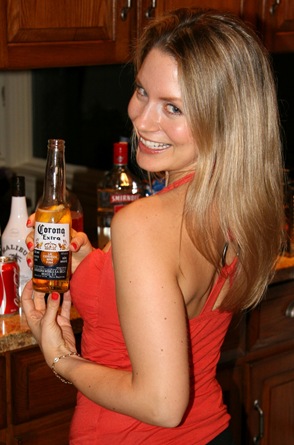 I did one shot all night long, so it wasn't too bad. On the menu was a Banana Liquor. My family and banana liquor go way back and it's kind of an inside joke with us, so my brother Chris always tries to bring it to our parties.
So all in all, I had 1.5 mixed drinks, 1 Corona, and 1 shot. That was IT! I was so very proud of myself for not over-doing it and woke up with no hangover this morning. Quite a rarity for me at times!
~~~~~~~~
Now onto the FOOD of the evening!
Some prep pictures…
Regular cheese on the left, soy cheese on the right. The soy cheese tasted quite lovely. Everyone was surprised at how good it tasted.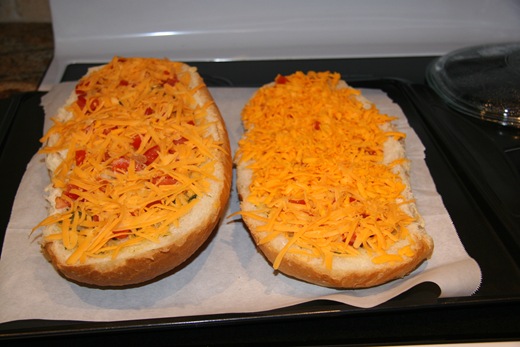 The slow cooker roast stew: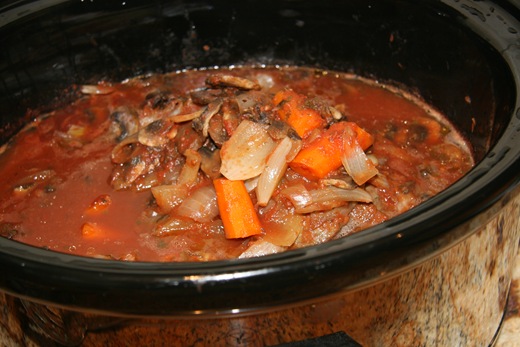 Slow Cooker Stew
Adapted from Simply Organic by J. Cool

Ingredients:

1 large sweet onion, chopped
5 carrots, chopped
3 cups mushrooms, chopped
1 28oz can diced tomatoes
1 cup ketchup
2 T Honey Dijon mustard
2 T Worcestershire sauce
1/4 t fine grain sea salt
freshly ground black pepper
1 chuck roast (2-3 pounds)

Directions: Add the onion, carrots, mushrooms, garlic, and tomatoes into the slow cooker. Stir. In a small bowl, mix together the sauce ingredients: Ketchup, Dijon, Worcestershire, salt + pepper. Pour half of the sauce over the vegetables in the slow cooker. Add the roast and then baste the roast with the rest of the sauce. Cook on low for 8-9 hours, covering the roast with liquid every hour or so (time permitting). Serves 6-8 people.
Print Recipe
I made some of the sauce separate from the slow cooker roast so I could try it too. I wasn't over the moon about it, but it was good. The sauce is sweet (from the ketchup) so if you enjoy a sweeter sauce you would probably like this one. It was great for the kids because they loved the sweetness of it.
The vegetable cobbler: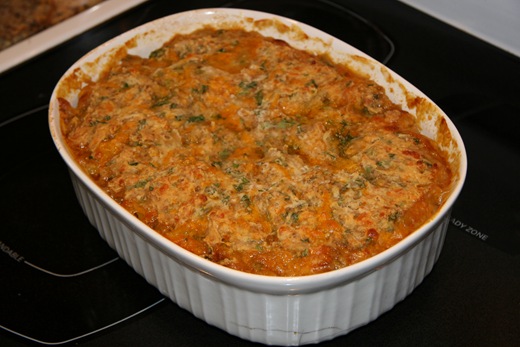 I would have given this vegetable cobbler recipe a 10 star rating had it not been too liquidy! Next time I make this stew I would cut the amount of liquid in half. It was simply too 'soupy' on the inside.
Vegan Summer Vegetable Cobbler
Ingredients:

Crust (on top):

1.5 All Purpose Flour
1/4 cup whole wheat flour
2.5 t baking powder
1/2 t salt
1/4-1/2 cayenne spice
1/2 cup finely chopped parsley
4 T Butter (I used Earth Balance)
1 Cup shredded cheddar cheese (I used soy cheese)
1 cup Almond breeze + 1/4 t vinegar (a vegan way to replicate buttermilk)

Filling:

4 T Butter (I used Earth Balance)
1 small onion finely chopped
3 T AP Flour
2 cups vegetable broth (Next time I'd use 1 cup!!!)
2 T fresh sage
4-5 cups vegetables in season (I used 1 zucchini, 1 red pepper, 1 yellow pepper, and 1 eggplant)
1/2 t fine grain sea salt
Freshly ground black pepper
1 cup shredded cheese (I used soy)

Directions:

Preheat oven to 375F and lightly grease a 3-3.5 quart casserole dish.

CRUST: Mix the dry ingredients, then the butter and cheese, and finally wisk in the 'buttermilk'. Place in fridge with you prepare the filling.

FILLING: Chop all veggies into small pieces. In a large saucepan, combine the butter and flour and stir until it thickens. Next add the veggie broth and keep stirring. After about 5 mins. when it has thickened up nicely, add all the chopped veggies. Stir, stir, stir. Transfer the veggie mixture into the casserole dish. Sprinkle with half of the cheese. Now take the 'crust' mixture from the fridge and spoon it onto the top of the veggie mixture. Finish by sprinkling the top with the remaining cheese. I found the crust mixture made way too much, so next time I would probably only use half (or just half the crust recipe above).

Bake for 45-50 minutes. During the last 10 minutes of cooking, switch to the broil setting on low-medium so you can crisp the crust.
Print Recipe
Recipe Adapted from Simply Organic by J. Cool.
A basic salad with walnuts, tomatoes, cukes, and zucchini: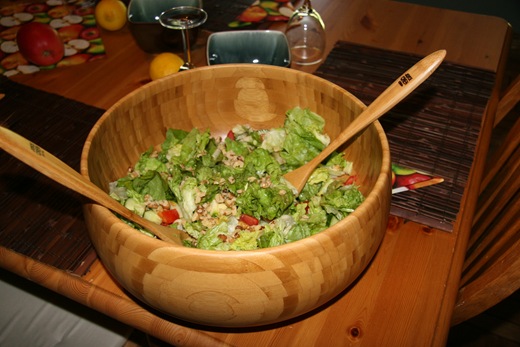 As you can probably see, the plates were quite soupy. :( Next time, I would serve the stew in a bowl, but we ran out since we used the bowls for salad. Ah well, can't win em all!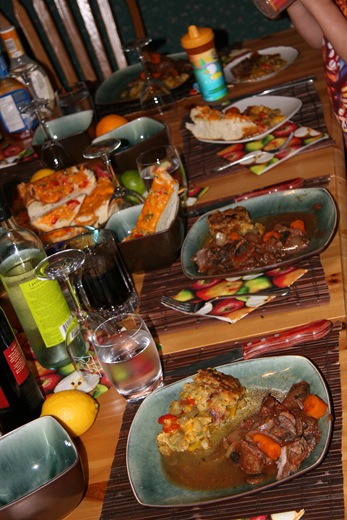 This was my plate below: Salad, 1 slice vegan garlic bread, some veggie stew, and the veggie cobbler. Click to enlarge.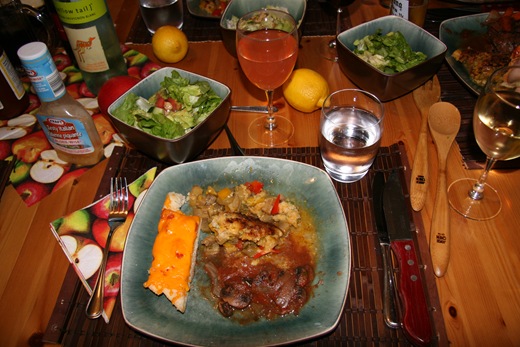 I had seconds of the cobbler…yum!
Later on, I served my Vegan Banana Chocolate Chip cake with a vegan banana 'buttercream' frosting. I garnished it with some flowers. :) Everyone really loved the cake. I didn't have any because I wasn't feeling the sugar, but I had a slice today and it was lovely. :)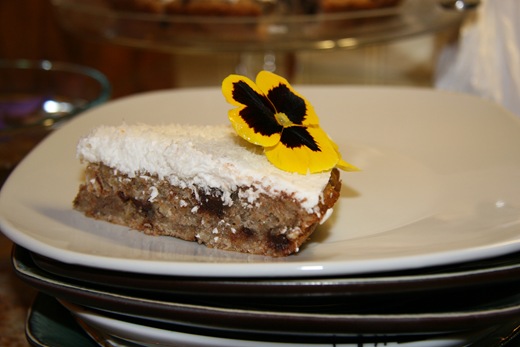 You'd think there was about 50 of us drinking last night! Nope, just 7…lol.
The 'newlyweds' as they still call us. :)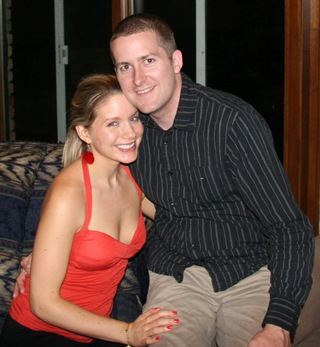 Oh- for those of you who asked my shirt is from BEBE. I have one in green too. When I find a shirt I like (which is quite rare) I buy it in different colours. ;) I love, love, love the cut and style of this shirt.
More 'seester' shots: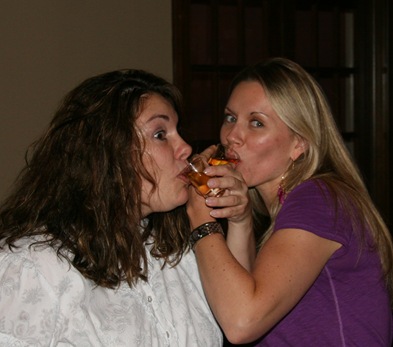 The late night munchies. My brother brought out the chips in a POT. We are by no means a froofy-fancy family! :D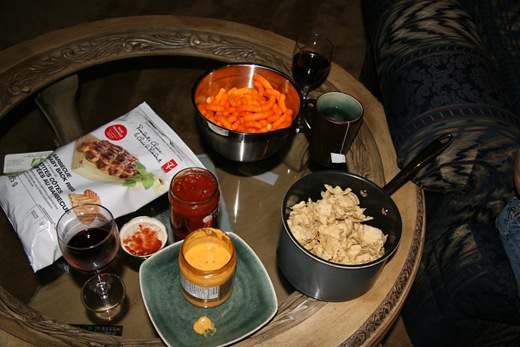 I had some chips and salsa and some of those amazing PC BBQ rib chips I reviewed a couple weeks ago.
Wii all night long until 1:30am. I ROCKED this golf game that we played and I am now obsessed with it! Tiger step aside!!!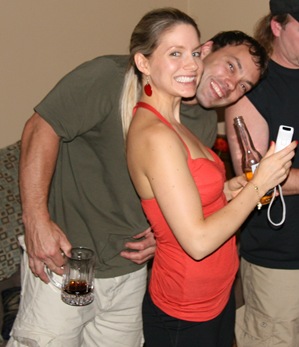 Well folks, I need to wrap up this mammoth recap post!
I didn't have my green monster this morning and I am really missing it. I will definitely be having one tonight! We're quite tired today as the lil 'monsters' woke us up very early this morning! ;) Hopefully the green monster will give me some pep to my step.
Saturday morning I was able to squeeze in a 45 min. treadmill workout which was nice. No workout yet today. I may or may not do some light walking on the treadmill tonight but I'm not sure. The weather is storming here AGAIN today so we can't get outside! Ugh, when will the rain end???
I am also going to try to do this awesome 10 minute body blasting boot camp!!!
Today's question:
Do you ever get together with family and party? Does it ever get crazy & what do you do?
I love partying with family. It tends to be pretty tame these days, but man we used to have some wild nights in the past! lol. Eric had his first introduction to my dad and brother Chris at one family party. Let's just say they sat Eric down at dinner and poured him a few shots of tequila to 'initiate' him!!! He was very GREEN the next morning, let me tell you…lol.