Happy Friday night everyone!
Tonight, we have another fabulous guest post for the Summer Glow Boot Camp!
Meet Marci Lall.
Marci is a weight-loss and body sculpting specialist in Toronto and he has been in the fitness field for 8 years. When Marci contacted me, I was super excited to have his expertise for the SGBC!
Marci Lall is a Weight Loss & Body Sculpting Specialist who coaches and teaches women how to decrease their body fat and increase their metabolism.

Marci has been active in the fitness industry as a personal trainer since 2002. Prior to that time he spent most of his time instructing and participating in karate classes, and sharpening up his skills in high school wrestling.

Marci currently offers weight loss and body sculpting programs for women, which include one-on-one training, group training, online training. In addition, he's the head moderator at the Feminine Fit Institute, an online weight loss and body sculpting community for women.

Marci specializes in solving weight loss issues that directly affect women, and is passionate about helping them achieve their desired goals.
I asked Marci to put together a quick 10 minute workout that required no equipment and could be done virtually anywhere.
At home, the gym, in a hotel room, or on vacation, these moves are easily transported to wherever you are!
Marci's challenge?
I asked him to feature unique fitness moves that gave traditional exercises a new and unexpected twist! Say goodbye to regular lunges, push-ups, and squats and say hello to a creative way to change it up and shake your body up a little!
Not surprisingly, Marci was up for the challenge!
Watch Marci's 10 minute workout below and try it out yourself! Use this guide to help you along: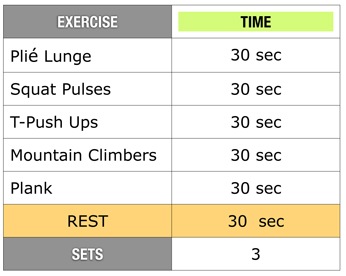 I just did the video and holy man this is one of the most effective all over body workouts I have done in a long time!!! The T-push ups are SO challenging! My arms are feeling like jelly right now. I am definitely going to do this 10-minute workout at least once or twice a week. It is just so easy to squeeze it in and I love having the video to guide me along.
I'd like to thank Marci for taking the time to put together such a fantastic 10-minute boot camp for all of us Summer Glow Participants!
If anyone has any questions for Marci you can leave it below or on his You Tube Video. If you have any questions (even not pertaining directly to the video), ask away and put his expertise to great use!
Now go on and rock this 10-minute workout!!! :D

I'd love to know what you think- leave a comment below!
See you tomorrow for the craziness in my kitchen today!