Good afternoon!
My day is going fairly well. I spent most of the morning on the phone with the government tax office sorting out my PST tax application. I also had to decide on my filing period. My first one is coming up on August 23rd, so I am a bit freaked out! I am going to have to talk to my brother in law who is an accountant for his tips. While I am glad that I applied for a GST and PST tax number (it really does set a professional tone for any business), it does create a ton of more work on my part, especially since I didn't know anything about tax before I started this business. I am sure that once I get used to the process and figure it out, it will be old hat in a year or two. Can't wait for that day!
After that, I started calculating the nutritional information for my Glo Bars. Since I recently changed the size of my bars, I now have to re-do all of the nutrition labels. A lot of my food products are not in the database I am using, so I had to custom entry many of them this morning. I now have my first official label complete for the Classic bar and I must say I am really impressed by the stats! I will be sharing this information shortly after I create and input it into a table (Nutrition Data does not permit the online use of their nutrition labels- only for print. Don't ask me why! :( ).
And then came lunch! It was quick and easy so I could get back to work.
The weather here is cool and cloudy today, so I thought some hot soup was fitting. Do you have a favourite yukky weather meal?
This is the only brand of soup I have been able to find that has no salt added: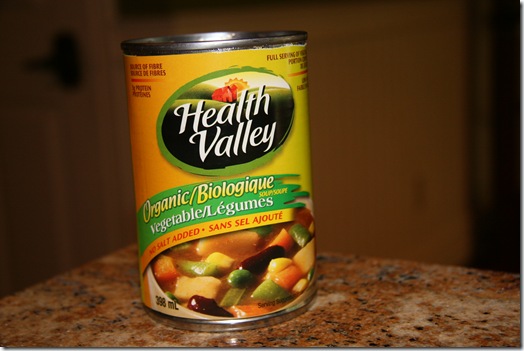 Click to enlarge: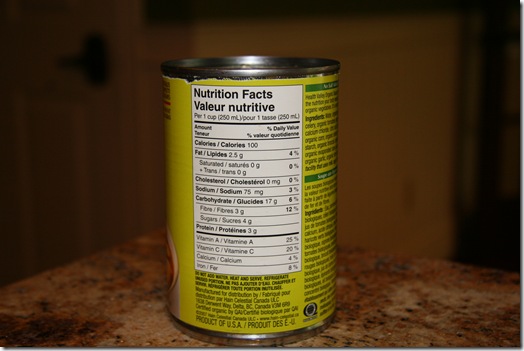 You know me, I am big against heavily salted foods, so this is pretty much the only brand I buy now. They were on sale 3 for $5 at Loblaws last week, so I got 3 cans.
I had the whole can for lunch, along with a dollop of hummus, and 2 slices of whole wheat bread (yup, still buying no name!). I am happy (sad?) to say that I have not broken down and purchased the expensive Ezekiel bread since I challenged myself to stop buying it last winter!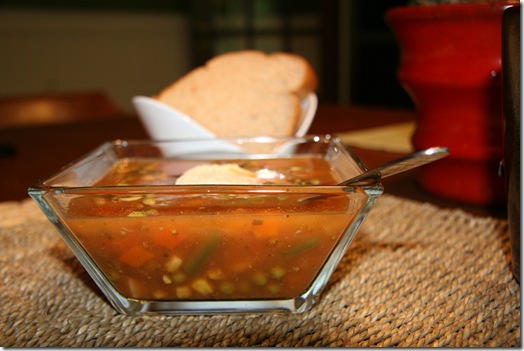 I added some pumpkin seeds for some flavour (and an awesome crunch!) that this unsalted soup is definitely lacking. The hummus also adds some flavour too and made it nice and creamy (it sunk to the bottom!).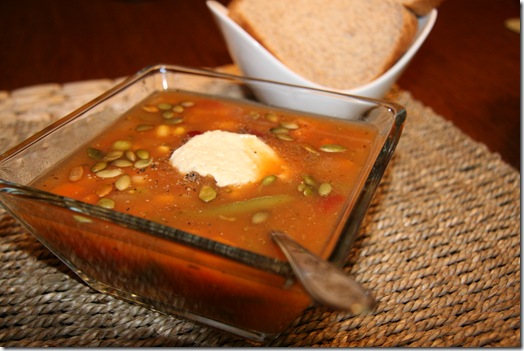 This soup is filled with veggies and beans…I just love it!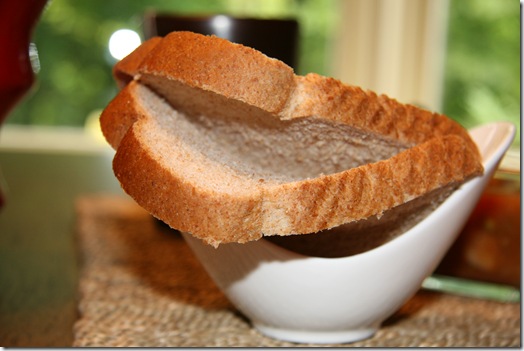 Japanese Sencha Loose leaf is still going strong! Today I was feeling frisky and had it with a bag of Green Ginger Tazo tea.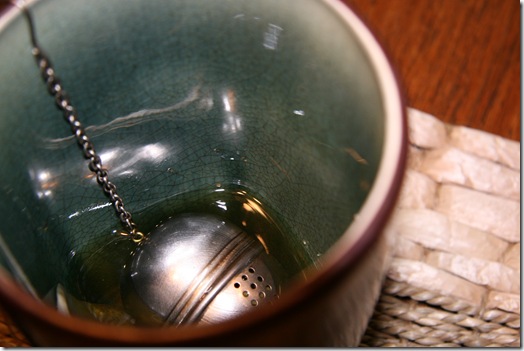 I Tweeted about this the other day. One of my biggest pet peeves is when my loose leaf holder opens up and spills out all of the tea into my mug. This happens to me quite a bit. It is probably because my tea holder is cheap. Does anyone recommend a good loose leaf tea holder that works nicely? I think mine is from the Dollarstore. :D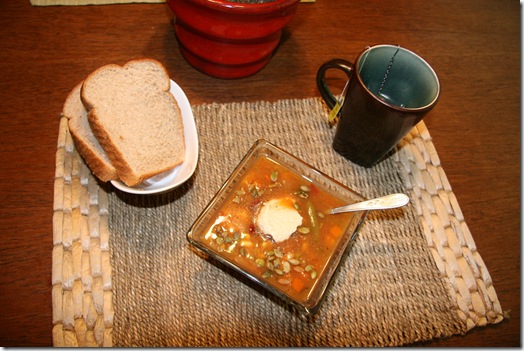 Dessert was pure Heaven!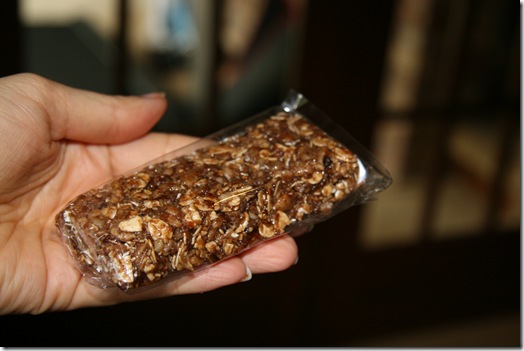 I have everyone hooked on these new Heaven bars now. I think it just might be my #1 favourite Glo Bar now. It tastes just like a peanut butter brownie!
~~~~~~
Ok, back to work!
Canadians: Don't forget to enter the Neal Brother's contest! There aren't many comments over at Green Monster Movement so your chances of winning the awesome prize pack are really good!!!
Enjoy your Hump-day. :)