How did no one mention TWEETDECK to me until today!?!?! :D
My life will never be the same (and as productive) again!! Am I the last person on earth to find out about this???
~~~~~~~
I spent all afternoon (6 hours!!!!) creating the template for my nutrition labels as well as calculating nutrition facts and inputting them into my template. I may have Tweeted somewhere during that time too, lol. If you follow me on Twitter you got to see a sneak preview of my first nutrition label that I created. Exciting times, I know.
I am zonked right now. I got 5 of them done and just had to take a break.
I now have detailed nutrition labels up for Classic, Spirit, Chi, Revive, and Bliss Glo Bars. Check it out here! I will be plugging away at the rest of the bars tonight and tomorrow. It feels so good to finally have made some headway in this area!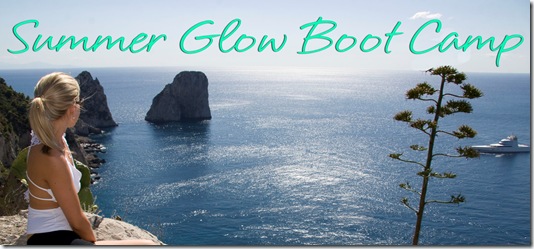 I have a confession!
I didn't do the last two exercise days for the Summer Glow Boot Camp! On Sunday, I was in my 10 mile race and I didn't want to work my muscles Monday or Tuesday either. So then I missed Tuesday's strength exercises too. I figured it was best to wait until I was fully healed until I got back into my strength training.
So tonight, I am going to play catch up! I doubt I will be able to do everything, but I will try my best to fit it in. Should be a tough workout! Yikes!
It's time for another fabulous guest post for the SGBC! This time it is with the lovely Bobbi from NHerShoes.
Bobbi's Mini Living Room Boot camp Session #1


All you need for this home workout is, 3-5 pound free weights (you can use soup cans in a pinch), a yoga matt, a chair, and 25 minutes! This workout will get your heart rate up and down to help you burn the most fat and calories!

2 minutes of jump rope
1 minute rows with a squat
20 push ups
1 minute rows with a squat
1 minutes jumping jacks
30 sit-ups
walking lunges with bicep curls
1 minutes of burpies
25 pushups
1 minutes military presses with a front kick, alternating legs
38 sit-ups
20 bench dips use a chair
1 minute high knees
15 pushups
1 minutes military presses with a front kick, alternating legs (see above photo)
1 minute squats
23 sit-ups
1 minute jump rope
1 minute plank
15 pushups
23 sit-ups
1 minute squats with shoulder raises
1 minute butt kicks
25 pushups
38 situps
20 bench dips use a chair
Stretch!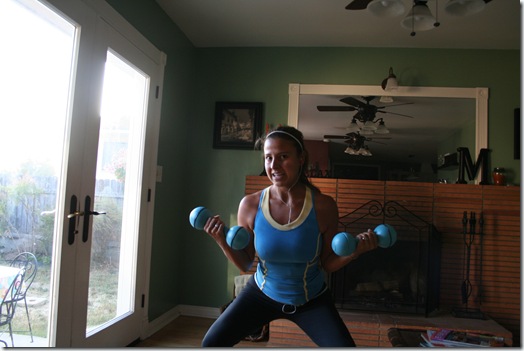 Whew! What a fun boot-camp workout! I love how varied it is. Thanks Bobbi! :D
~~~~~~~~

Another fun green monster recipe today!
This is one COLD and REFRESHING green monster! I just loved it!
The name is very fitting ;)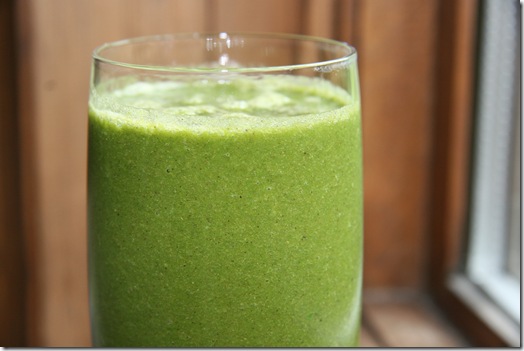 Heat Wave Green Monster
 Ingredients:

6 large ice cubes
3 cups spinach (lightly steamed)
1 squirt Kyolic Garlic extract
1.5 cups cantaloupe
1/2 package Amazing Grass Pom-Mango Infusion
Print Recipe
This made me so cold I got Goosebumps! I will definitely be making this during the next heat wave! :D So delicious!! It was a great afternoon snack!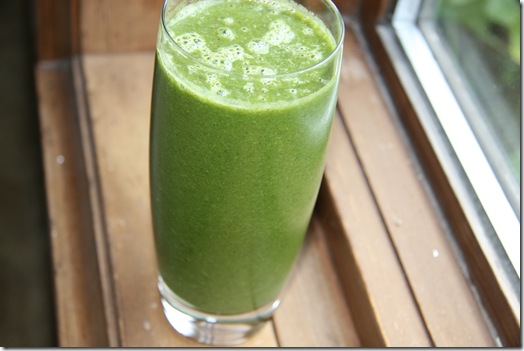 Don't forget: the Amazing Grass contest ends tomorrow. Get your comment in for a chance to win 4 Amazing Grass bottles, a tee, and a shaker! Don't forget to submit your green monster for an additional 10 entries.
Amazing Grass Shaker Promo:
Many of you have also been asking me why the Shakers aren't up on the Amazing Grass websites. To make a long story short, they had to take it off the website for a fix-up, HOWEVER they have offered Oh She Glows readers a special deal until July 31st. Simply, purchase amazing grass products over $21.99 and you will get a shaker for FREE. Just enter in the code 'ohsheglowsshaker' at the checkout.
~~~~~~~~
Ok, I'm off to make dinner, kiss hubby hello, and then workout/watch Dragon's Den (LOVE that show!).
Enjoy your night beauties! :)