Good morning!
First up:
Contests, contests, contests!!
1) The Amazing Grass contest ends tomorrow, get those entries in! Please note that I have a backlog of GM submissions, so not to worry if yours is not up yet! You have a chance at winning 4 bottles of Amazing Grass powders, a tee, and a shaker!!! Awesome stuff. :)
2) Canadians: Would you like a chance to win one of the SGBC Neal Brother's Prize Packages? All you need to do to enter is leave a comment on a post over at Green Monster Movement. Contest ends Friday.
3) Stay tuned later today for a super fun surprise SGBC contest! Note: This one is US resident's only! Any guesses???
~~~~~~~~~~~~

I know I have been promising to tell you what is on my playlist for a long time now. I meant to post it a while ago, right before we had our major computer issues and then I couldn't. So finally, here it is. Luckily, Eric created a totally new and fun playlist for me right before my 10-mile race on Sunday! I was so thrilled because I had been listening to the same songs over and over and over…
So without further ado, I present to you my playlist that I listened to during my race!
Please note that the songs with a star marked next to them were the songs I mainly listened to during the 10 miles. I tend to zero in on the songs that really pump me up and I stick with those, even if I listen to them several times during the run. :)
Also, note the super cool KEY I created at the bottom of the playlist! ;)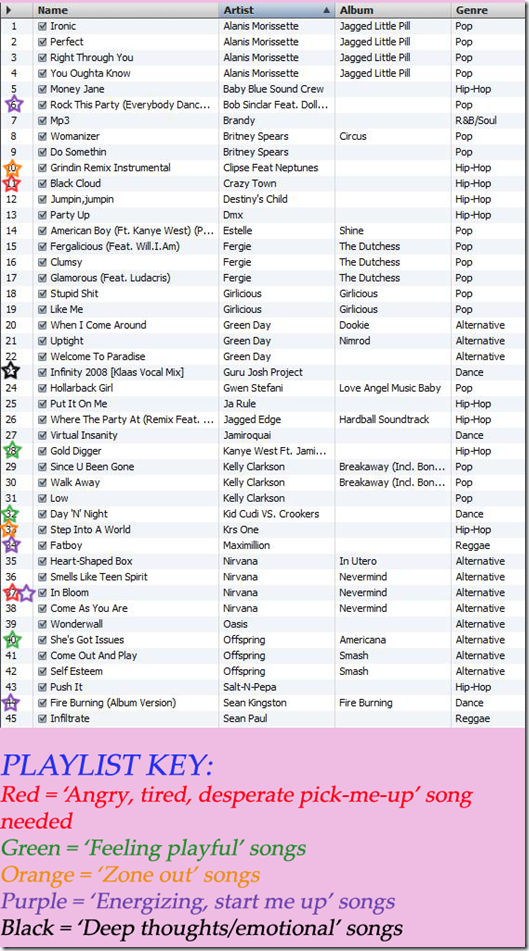 So as you can see, I only listened to a handful of songs during my race. Many of the songs I just wasn't 'feeling'. Nothing is worse than listening to bad music- especially when you are struggling in a race.
So let me clarify the key above a little to give it some context.
The RED songs, were the songs that I listened to when I was feeling ticked off. At some points during the 10 mile race, I felt kinda ticked or angry. haha. It sounds funny, but it's true. I was at the stage (i.e., mile 7-8!) where I just wanted to be DONE already! I also got a bit annoyed at my body because it couldn't go any faster or when my pace dropped from an 8 minute mile to a 9 minute mile. These RED songs helped get my anger out in a constructive way and re-focus my mind back on what I could do. Remember a while ago when I said I found a song that totally pumped me up? Well, it was 'In Bloom' by Nirvana if you can believe it. I've since wore out the song on my playlist, but it still does the job in a pinch. Black Cloud is my new favourite angry song and I listened to it a few times during my race!
The GREEN songs are the fun and playful songs that put a smile on my face. I listened to Golddigger, Day + Night (NEW FAV), and She's Got Issues (Classic!!!!!!!!!) to help me see the lighter side of things and take me down memory lane. Offspring always takes me back to middle/high school. ;)
The ORANGE songs are what I call zone out songs. They were songs I listened to during the race when I was feeling a bit ambivalent or just wanted to tune everything out and try to find my groove. Step Into A World is a calming, eerie song with a nice heavy beat.
The PURPLE songs are those awesome energizing songs that we all love! My new favourite song to run to is Sean Kingston's FIRE BURNING. LOVE, love, love running to this song! A reader recently suggested it to me and I haven't turned back since. ;) Fatboy by Maximillion is another fun energizing song too.
Finally, The BLACK songs. You may have wondered why I teared up 3 times during my 10-mile race. Well, I blame a song called Infinity 2008 by Guru Josh Project. Don't ask me who they are because it was my first time hearing the song. Eric introduced me to it and I knew it would be a kick butt running tune. Click here to listen/watch the lyrics on You Tube. It has a wicked running beat around 48 seconds.
The song sort of has these subliminal messages in it. Or so it sounds that way anyways.
Some lyrics from Infinity:
Here's my key
Philosophy
A freak like me
Just needs infinity

Relax
Take your time

And take your time
To trust in me
And you will find
Infinity, infinity

And take your time
To trust in me
And you will find
Infinity, infinity

The time goes by
So naturally
Why you'll receive
Infinity
It's very soothing :)
So there you have it! The good, the bad, and the ugly of my playlist. I must admit I am pretty smitten about some of these songs right now. Some of the songs on there I wouldn't listen to while running if you PAID ME. I really should delete some of those on there. I won't mention any names. ;)
I did a treadmill workout last night and listened to this playlist and I was so pumped up! Now I associate this playlist with the emotions of the race so I like it even better. :)
Today's question:
What are your current favourite workout songs that pump you up and keep your energy going strong?
Any surprises about my playlist?
Do you think music gives off different moods or feelings like I indicated it did to me in the race?