Hello! Make sure you check out Part 1 of my 10-Miler race recap!
~~~~~
Did anyone else pick-up on the reference to Oliver Twist in my last post? Food Glorious Food! I love that musical. I am not a musical person at all, but this one I LOVE and grew up watching it. :)
I kept singing those lyrics in my head as I fueled for my 10 mile race! lol.
Saturday night, I pre-made my Green Monster so I could save time in the morning. To my delight, the GM was just as good in the morning! Awesome.
In the Green Monster: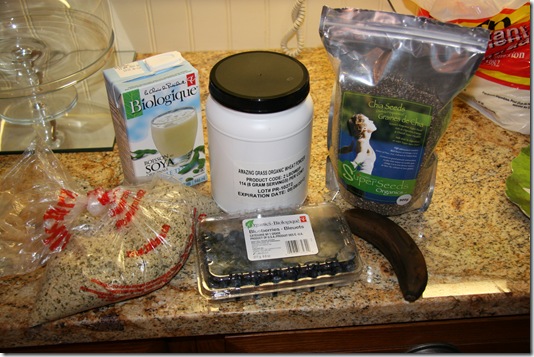 The focus on my race morning green monster was cold, hard, FUEL.
1 scoop Amazing Grass Wheatgrass powder
1.5 Tablespoons hulled hemp seeds (additional 9 grams of protein)
Organic blueberries (1/2 cup)
1 banana
1 cup soy milk
1/4 cup water
3 cubes ice
1 T chia seeds
I don't think I have ever made such a healthy Green Monster before! It was just brimming with healthy fats, protein, fibre, and antioxidants!
Drinking it around 5:50 am: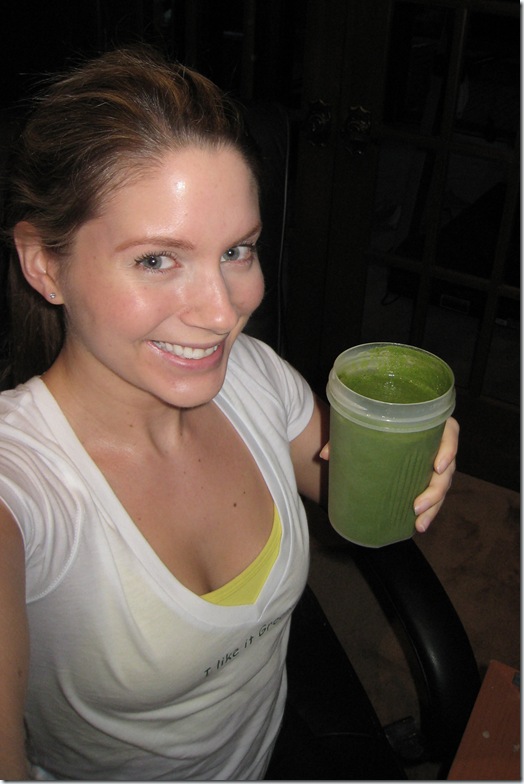 Here it was in the fridge:
To cap off my breakfast, I also had 2 of my Glo Bar squares (both Pumpkin Spice flavour- yet to be named). They were delicious!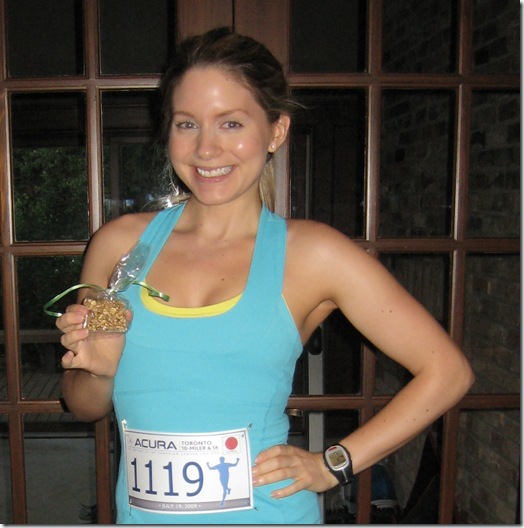 I was so happy that I woke up with an appetite! For my 10k race I didn't have one. Last night I actually went to bed a bit hungry so I think that helped my hunger in the morning. It was nice to get in a lot of pre-race fuel!!
I also had a tall glass of H20 while I got ready!
While en route to the race, I brought along a Sencha Green Tea in my new Libre portable loose leaf tea jar: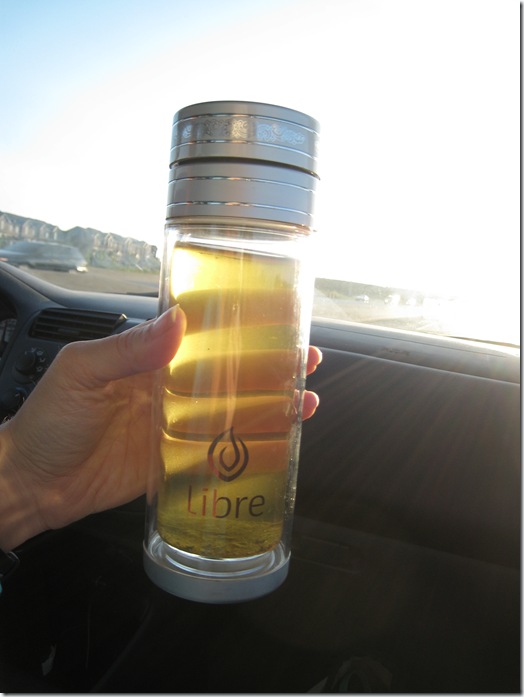 Isn't that an awesome pic!?
I won this Libre product in a contest a while back and I just love the product! I have been dreaming of a portable loose leaf tea holder forever now! My only quip with it is that it leaks a bit when you turn it upside down to steep the tea. Not a major deal breaker though. I still LOVE it, especially because I bring my tea everywhere with me! I wish I had this when I was commuting to work each day.
The sencha tea gave me just the right amount of caffeine boost!
I also packed this fuel kit to bring with me: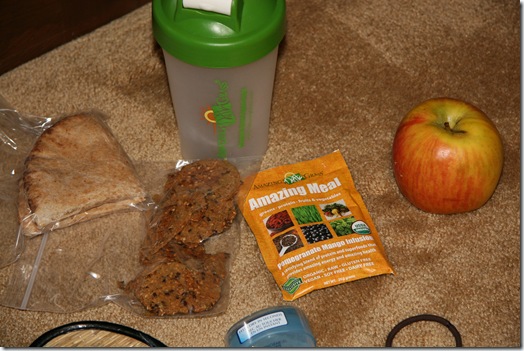 High Protein High fibre pita (10 grams protein, 10 grams fibre)
Mary's Organic Crackers
Amazing Meal Pom-mango Infusion (10 grams protein)
Apple
I brought along this Cliff Shot with me and stored it in my clevage, haha. I didn't end up using it though. The thought of this gel made me feel nauseous! As I mentioned, I had some Gatorade during the race that sat fine and dandy in my tummy! I probably had about 1 cup's worth of gatorade and 1/2 cup water while running.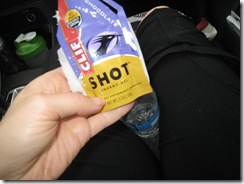 POST-RACE EATS!
After some stretching and water, we made our way over to the food tents!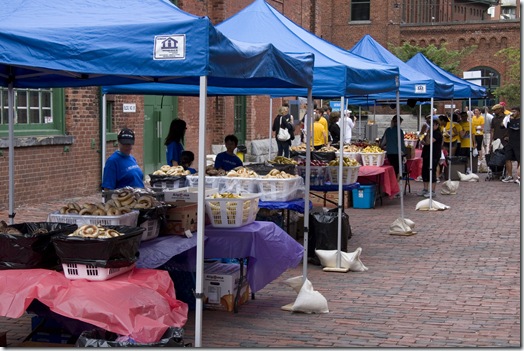 Bananas and bagels!!! What could be better? :D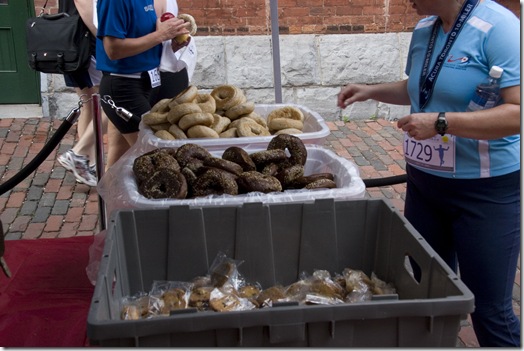 I had a big banana. It tasted like heaven!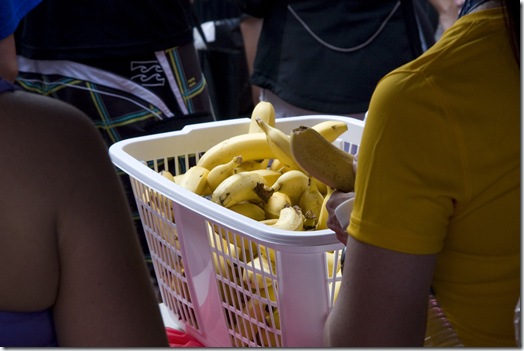 once back to the car, I shook up a muscle-recovery shake!
Amazing Grass + Water in my Shaker!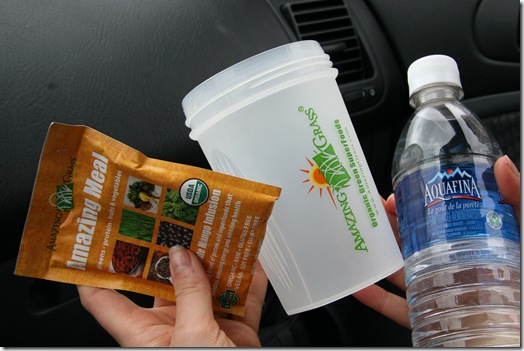 This packet has 10 grams of protein in it, so I thought it was an awesome pairing to go with my carb-heavy banana.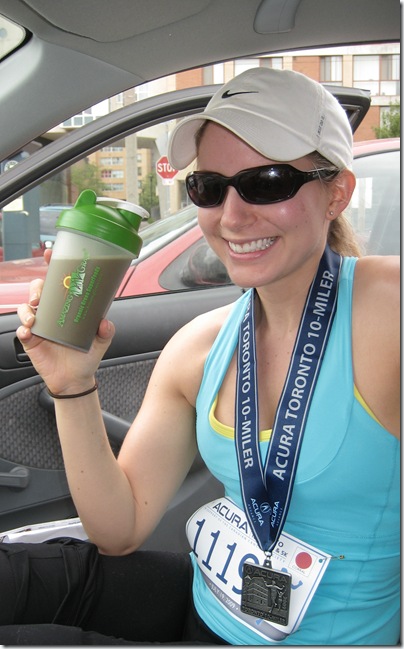 I enjoyed it on the drive home!
I had some vitamins when I got home: Calcium/Magnesium, Vitamin D, Spirulina, and Omega 3.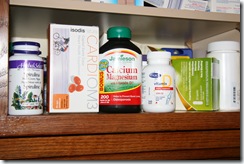 Once home I made a BEELINE for a hot shower! I had the chills since my workout clothes were all sweaty! Never fun! I had the longest, nicest shower ever. I also put freezing cold water on my muscles to reduce the inflammation. That part wasn't fun, but I find it really helps!
After my shower, I made a BEELINE for the kitchen! I was starving again.
I had a high protein/high fibre pita along with 1/2 cup hummus and 1/2 cup pasta sauce: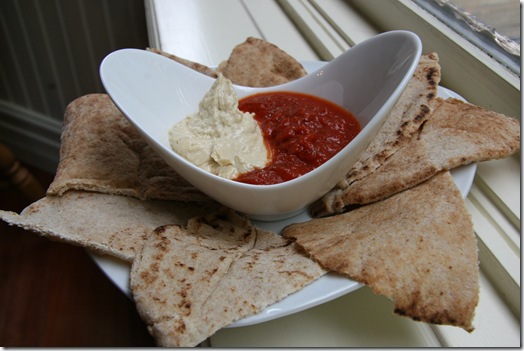 It was pure heaven!
My afternoon snack was my new favourite Flax Plus cereal by Nature's Path and more chia seeds: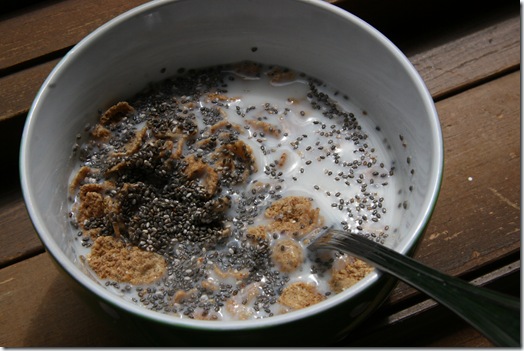 Chia seeds are supposed to be great for hydration since they hold up to 10x their weight in water, so I thought it was a nice post-race addition to my cereal.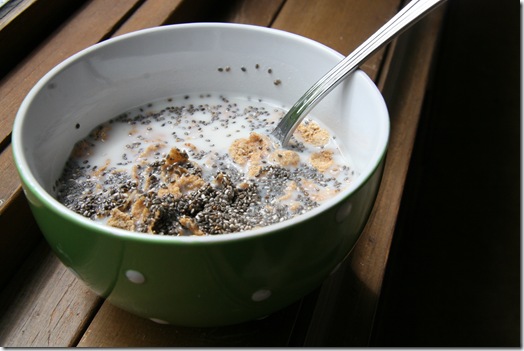 It was delicious!
After grocery shopping with Eric, I was ready for dinner when we got home at 5pm! lol. I felt like a senior at Denny's. :D
I was excited to try out this new pizza…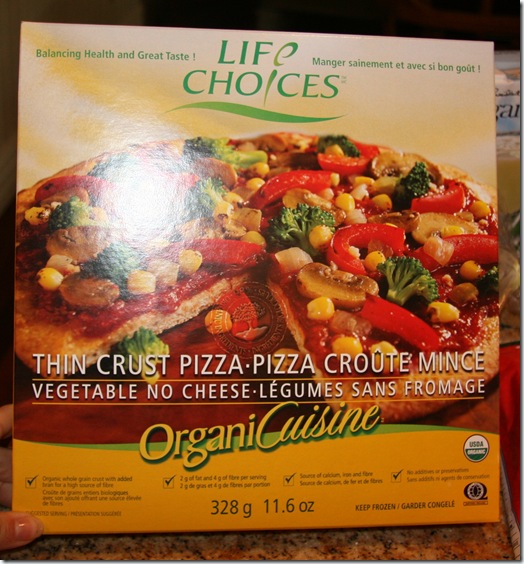 Click to enlarge: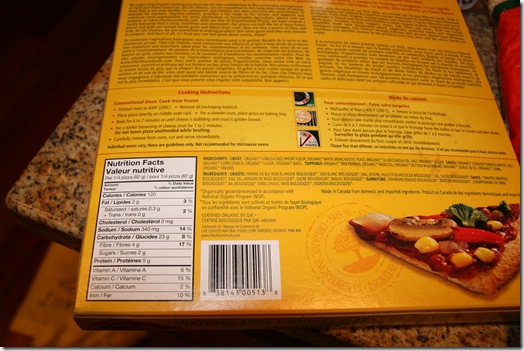 The pizza looked a bit dry when I took it out of the box, so I added some pasta sauce to it (and also some parsley flakes).
I was shocked at how good this pizza was! I think my add-ons made the pizza though. It was probably one of the best tasting thin crusts I have ever had. It was also a first for me for having broccoil or corn on my pizza and I sort of liked it. This pizza also had lots of fresh garlic on it, and it was super garlicy but I really enjoyed it. Luckily, I'm not going anywhere tonight! haha. I would not recommend this for non-garlic fans though. The pizza was pricey (around the same price as Amy's), so I probably wouldn't buy it unless it was on sale like today. For a convenience pizza, when I have no mojo to cook one from scratch, this is a very healthy option.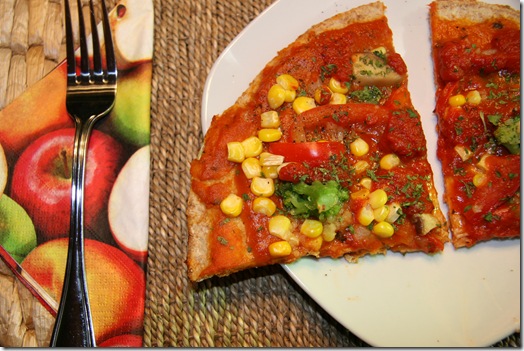 More water in a fancy glass: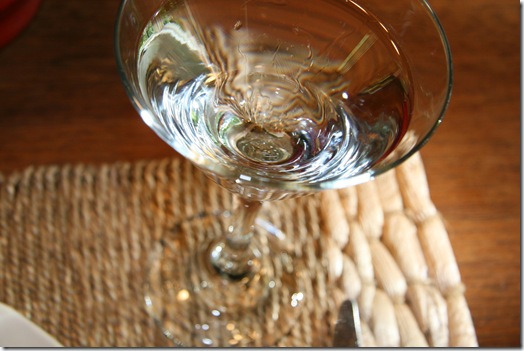 Two pieces…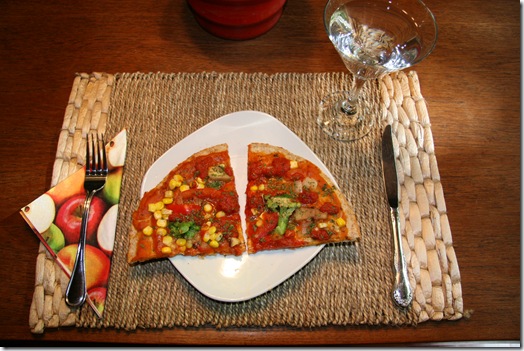 Then another…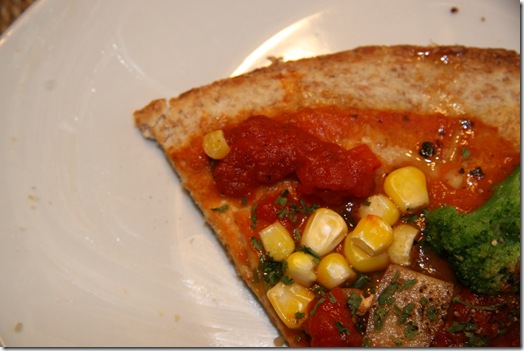 And another…
Yes, I ate the entire pizza, and probably would have had more if there was some left. It was so yummy.
Dessert was another Glo square! I can't get enough of these! I think I am going to put myself out of business.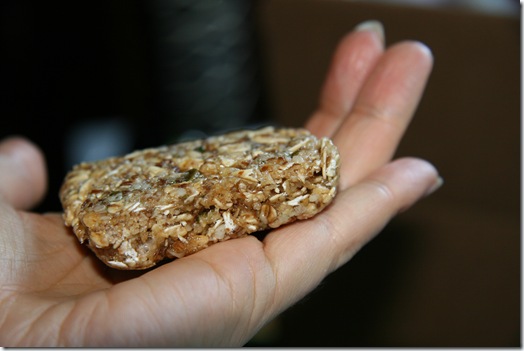 Then Eric and I did some 'market research':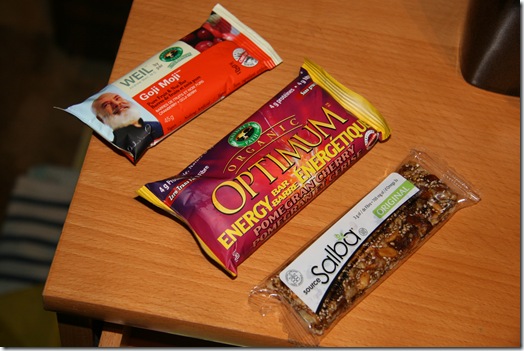 I have been researching a lot of bars to see how they do their packaging.
Then we taste tested…
I know this is going to sound bad coming from a Glo bar maker (lol), but we honestly didn't care for any of these bars. The Optimum bar (below) tasted too over processed, the Weil bar was just a sticky and weird tasting, and the Salba bar tasted much too like agave nectar.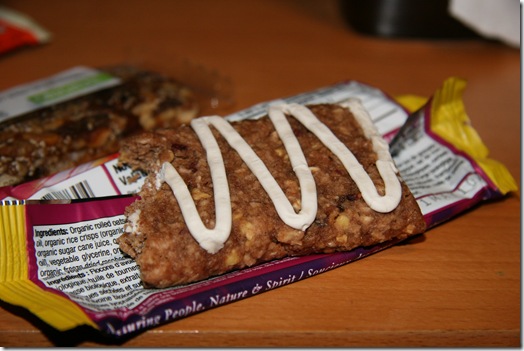 Has anyone else tried these bars?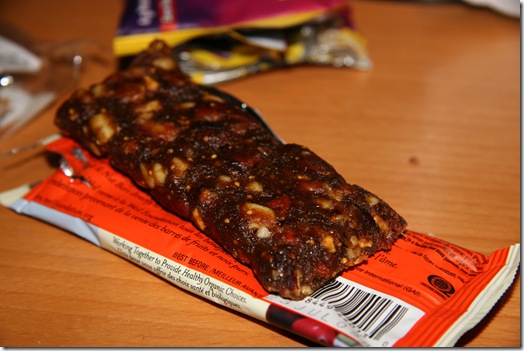 ~~~~~~~
Oh I forgot to mention, I also had my Mary's crackers this afternoon that I packed and had later when at home.
Surprisingly after all this food, I could probably still eat more! It is crazy what running 10 miles  full-out does to the appetite!
That concludes my race day eats. I hope you enjoyed. I know I sure did. I think I did really well today by paying attention to pre and post race fuel. I think my body is thanking me because I feel awesome right now. I'm barely sore at all.
On that note, I'm off to stretch more.
See you tomorrow for a HUGE Amazing Grass giveaway contest!!!!