My race outfit is all layed out and (almost) ready to go!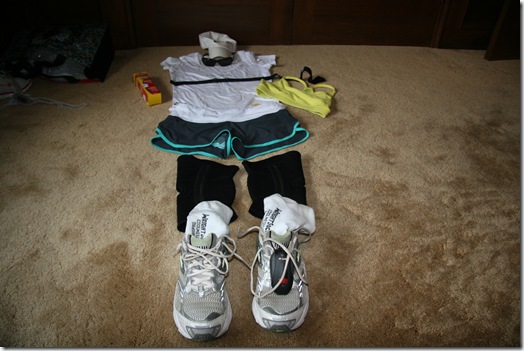 The only thing I am thinking of changing is:
1) My hat– I may see if I can purchase one today that is better ventilated and made specifically for running. I would be very sad about giving up my lucky hat though, but I also don't want to overheat. Luckily the weather is only supposed to be a cool 16C in the morning!
2) I might put ohsheglows.com on the shorts, but not sure
3) I might purchase some Cliff shots or something for energy. Tips??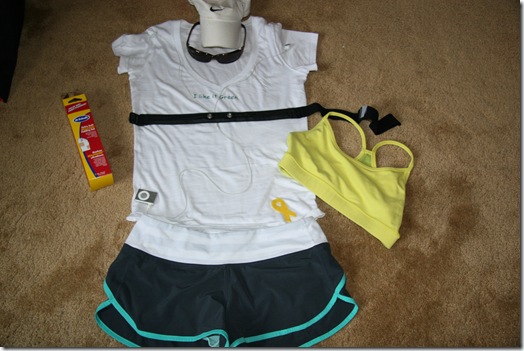 My favourite Lululemon bra (I think it is a 'Flow' bra):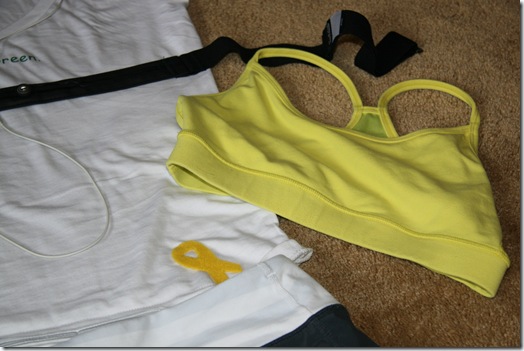 Representing the GREEN MONSTERS!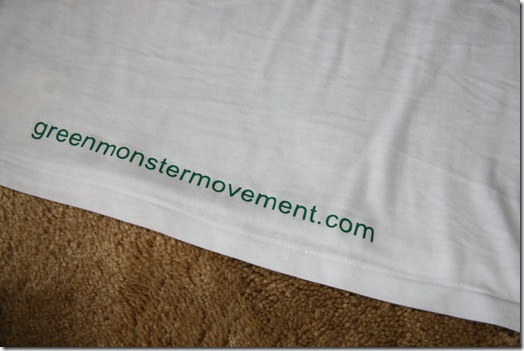 I still need to clip on the HR sensor on the band.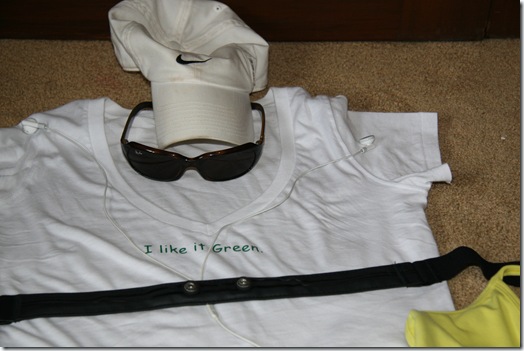 Moleskin– essential!!!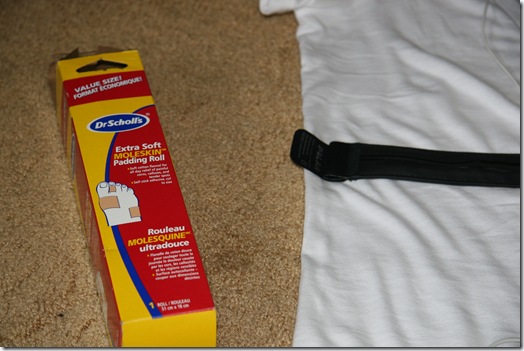 I need to charge my MP3 player…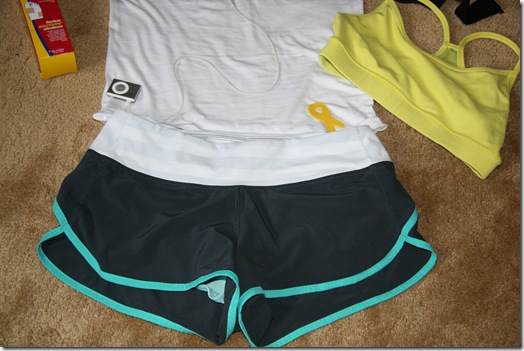 Knee sleeves (I think I had a dream about these last night!), Wrightsocks, foot pod.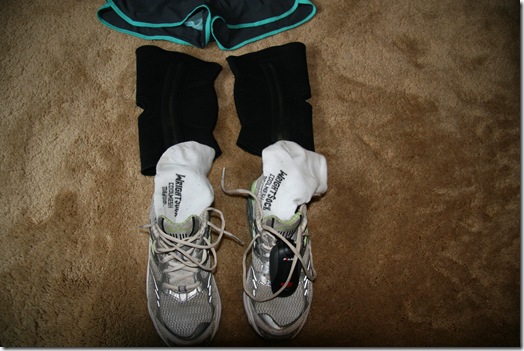 I am fueling up on lots of carbs and protein today!
I had a huge bowl of cereal this morning with two of my favourite cereals.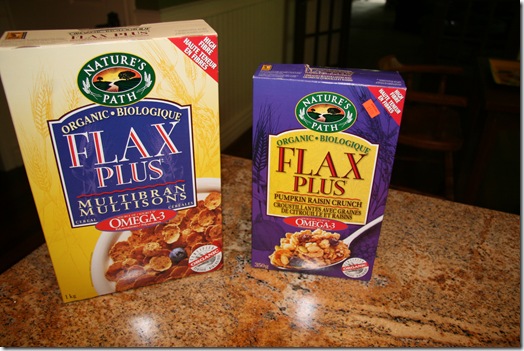 Let's zoom in, shall we?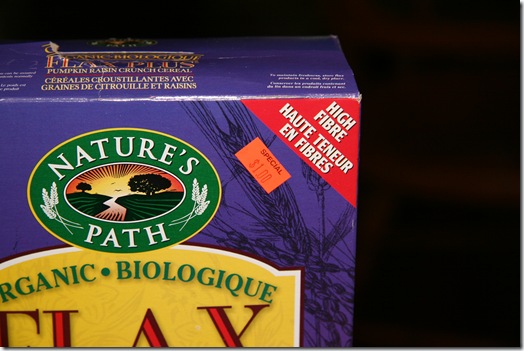 God only knows what was wrong with this box to make them sell it for $1! LOL
Yes, I got this cereal for $1 on sale!! I got 3 boxes, and wish I got more! It is SO good! It is higher in calories, so I typically use it as a 'cereal topping'. I also added 2 tablespoons of hulled hemp seed which gave me an additional 12 grams of protein. I LOVE hemp!!! Aside from my new love for chia, hemp ranks right up there. It is actually better tasting and has a better texture than chia, but I like chia for all of the great nutritional benefits.
RUNNING POWER: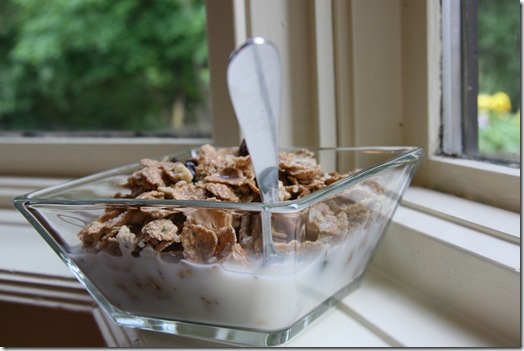 mmmmm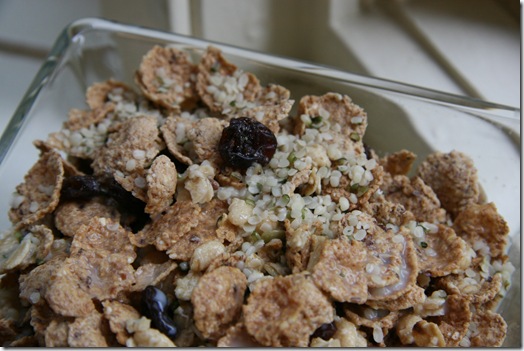 I love this glass bowl from dollarstore…the only problem is the square corners make it harder to get all the cereal out of the bottom! ;)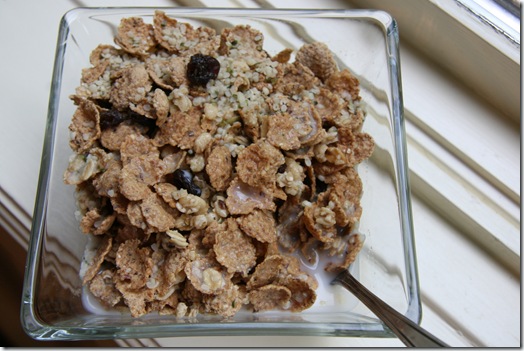 I had it with an Amazing Grass GM- 1/2 scoop chocolate meal infusion with 1 tablespoon wheatgrass powder + 1/2 cup soy milk + 1 cup water: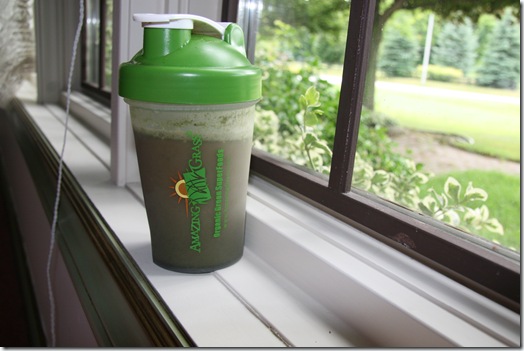 I'm SO full!
See you this afternoon for my race kit and a two fun guest posts for the Summer Glow Boot Camp!