2 days!! :)
Last night you held me all accountable and I managed to squeeze in a great workout at the end of my long day.
The workout:
1 hour treadmill hill workout
Speed 4.3, incline 15%
Max heart rate: 171 bpm
Avg heart rate: 159 bpm
After every 15 minutes, I stopped and took a water break for about 30 seconds or so and I mentally prepped myself to get back on and do another 15 minutes. Speed 4.3 @ incline 15% is probably the hardest workout I have ever done! I focused on training at an intense level for my upcoming race on Sunday. Since I wasn't going to run last night, I still wanted to train at a similar intensity to prep my body for Sunday where my heart rate will likely be in the high 170's. I felt so great after this workout!
~~~~~~
Last night Eric and I were up late chatting about Glo Bakery and my Glo Bars. We are pretty excited about what the future could bring and we were just tossing around some ideas with what we want to do. I always appreciate his opinion and value it. He is a smart man!
I thought of a new idea for my bars, so expect to see that coming out in the next little while.
I also finally made a contact with a bar packaging company in Ontario. He is going to send me some samples that will be custom fit to my bars so I can try them out. One of the packages he is sending is actually biodegradable too, which I really hope is going to work out!
~~~~~~
Ok, back to today!
Happy Friday everyone!
I thought I would have Friday's Green Monster in a festive mug.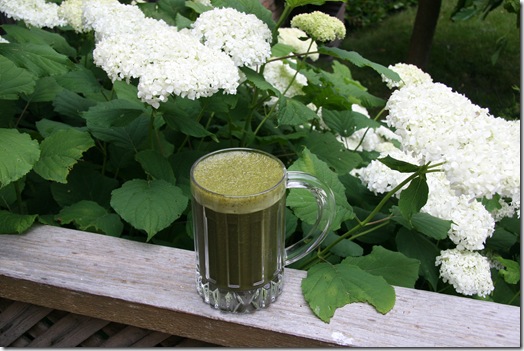 In today's green monster, I added a small piece of my Cranberry-Apricot Spelt squares! I just can't get enough of this flavour (Eric too). It is definitely in my top 2!
The loot (plus steamed spinach):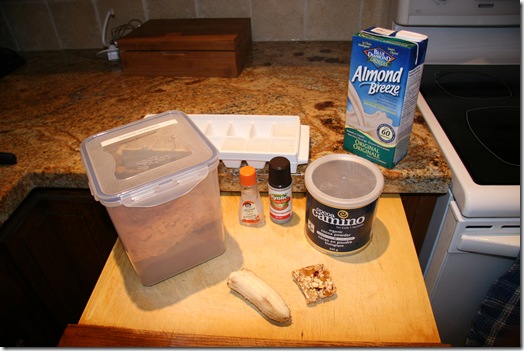 Cranberry-apricot spelt Glo square
1 T carob powder
1/2 T cocoa powder
squirt of kyolic garlic
1/2 t almond extract (optional)
1 cup almond milk in original
2-3 cups steamed spinach
3 cubes ice
1/2 banana (optional)
I actually didn't end up adding in the banana because it was sweet enough without it! I usually taste the GM before adding it in, if I think it will be sweet, and then I make the call of whether it needs the banana or not.
It started to rain on me outside so I went inside and sat at our new table. :)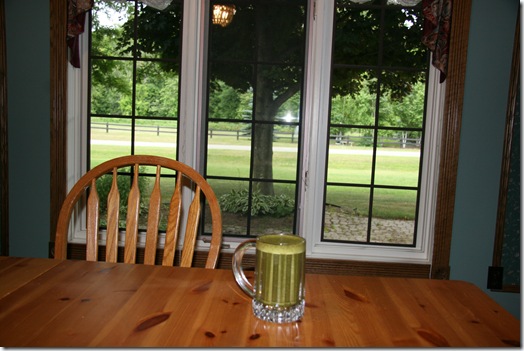 It was a tasty lil guy! I LOVED adding the glo square to the smoothie. It added so much flavour and texture from the oats! The carob and cocoa really adds a lot of flavour to it. I didn't really notice the almond extract too much, so I would probably do without it next time.
I also meant to mention that I tried steaming my spinach last night and then after it cooled, I stored it in a glass container. Some of you have been asking whether you could do this to save time in the morning. It seemed to work for me pretty good today! I also think you could steam 2-3 days worth and then refrigerate it.
I'm off to bake another order! I've got a cookie fanatic on my hands today! It's been a while since I made my cookies so I am pretty pumped. I love my vegan cookies!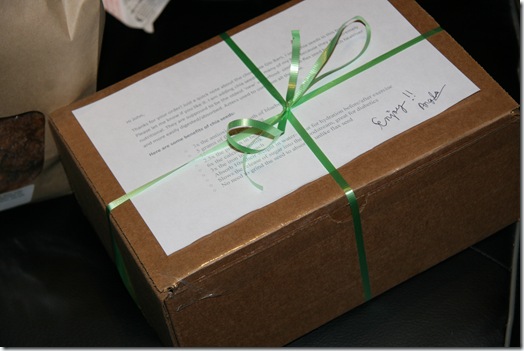 Enjoy your day!