Wow how is it Thursday already!?
Eric was so proud when he found out how in awe you all were that he could do the crow pose! lol. I sent him off to work with a big grin on his face. I can do the crow pose- but only for a few seconds. I now have motivation to work on it! :) I don't know about you, but when I know I 'can't' do something well, it makes me want to do it even more! So I practiced a bit this morning, lol.
Something must have been in the air last night because I got a bunch of orders right before I went to bed! So this morning, it was bake, bake, bake in the kitchen all day and I will be back at it all afternoon. This morning was all about the Glo Bars!
Peanut Butter On The Glo:
Then I made some Chocolate Chia Crisp Glo Bars: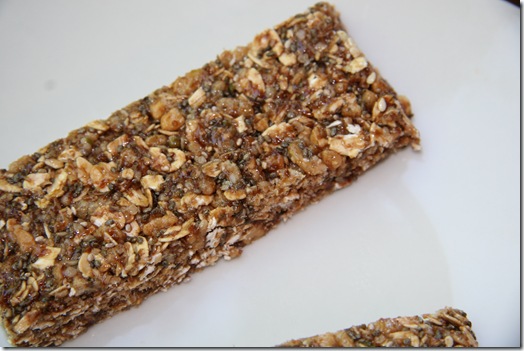 Aren't those little chia seeds so darn cute?
Then another new Glo Bar:
Cranberry Apricot Spelt Glo Bar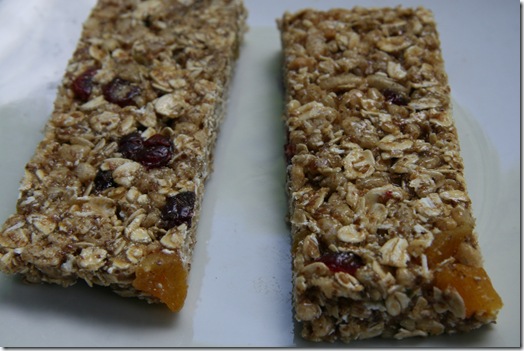 I think these are my new favs! So fruity!
And then another new bar…
Pumpkin Spice Glo Bars: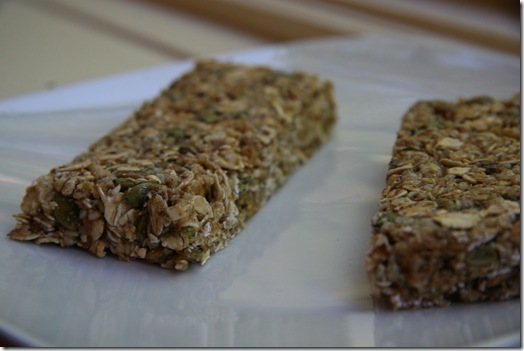 I was a busy bee!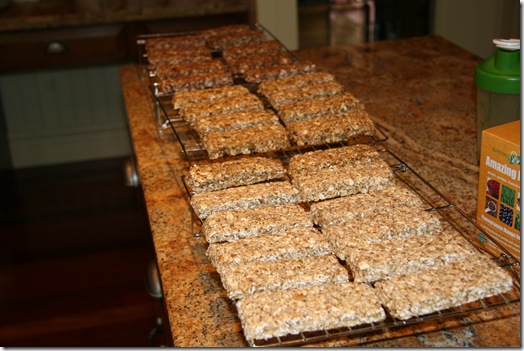 RUNNING:
1) The 1st official Oh She Glows Running Team is forming!!
I have received a lot of emails from you that want to join me at the Toronto Women's Half + 5k run next May 2010!!! This is so awesome. :) I'm pumped! I saw a couple more emails this morning, but I haven't gotten to them yet so don't think I have forgotten about you!
If you would like to join please sign up for the race and then shoot me an email to let me know ([email protected]). Thanks!
2) I can't believe I am running a 10-miler race in 3 days!!!! I got the final race email this morning and my nerves got to the best of me I will admit! Then I received this super sweet and encouraging email from my friend Alex and it made me feel so much better. A few of us are hoping to meet up before the race on Sunday! I am really afraid about my wake-up call…I am going to have to get up at 4am on Sunday morning. Should be interesting. I haven't told Eric yet…LOL. The race starts at 8am, so what time do you think I should be there by? 7am? We will probably leave the house by 6:15am on Sunday morning at the very latest. I also might ask my BIL if we can stay at his place in Toronto to save some time because he lives right by the race. We shall see!
Description of the route:
Flat and fast, this course is actually part of the Toronto Waterfront Marathon course, which makes it so fantastic to train on.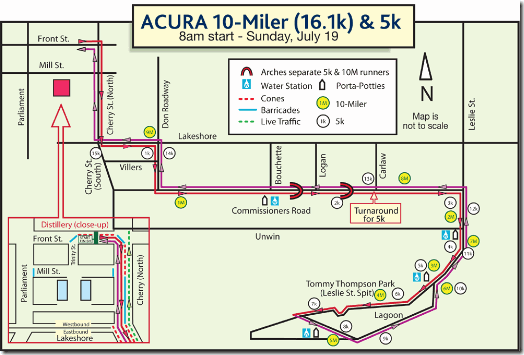 I really want to go on a run today to calm these nerves, but I know I probably shouldn't.
I must say I am glad that this course is FLAT. After the hellish hilly 10-k I ran I am looking forward to seeing how my time is on a flat course. Should be interesting!!! :) I'm so excited and jittery thinking about it.
The weather is calling for nice temps- only 22C/71F for a high. It will likely be a windy course too since we are right on the water.
My bib is : 1119 and I am in the RED Corral.
I made a goal time of finishing in 1 hour and 30 minutes, which is a 9 min/mile pace. I think that is manageable on a flat course, but I guess it depends on how I feel going that long of a distance!
Well, I better get back to it! :) Blueberry Walnut Streusel Mini Loaves need to be made…
Today's question:
What is the WORST condition you have exercised in outside weather-wise??
For me, I would have to say this run I went on one winter several years back. It was –25C, windy, and snowing! I don't know what I was thinking!
Ciao!