Good morning!!
Eric is at it again- see our sunroom all painted (and blinds removed) over at Soup Up My House!
~~~~~~~
Want to see what 2,000 business cards looks like?? :D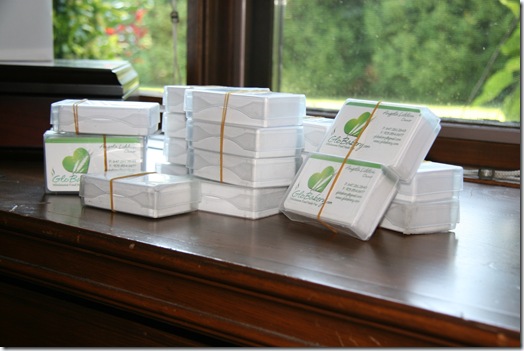 Who hoo!! My order from Print100 arrived! I got $2,000 business cards (with hot stamp printing and double sided printing) for $226 USD. Not too shabby. I am extremely impressed with the quality. The best part? FREE SHIPPING! That is such a huge seller for me. Anyways, these cards should keep me stocked for a while.
~~~~~
Introducing Black Zen Glo Bars…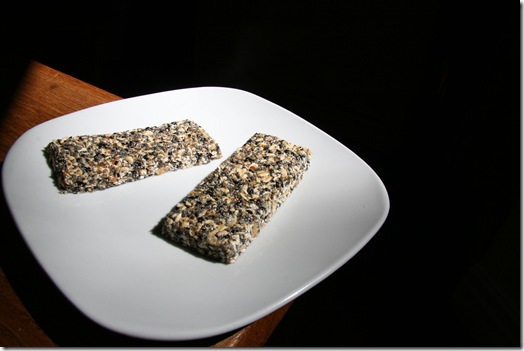 Dark. Mysterious. Powerful.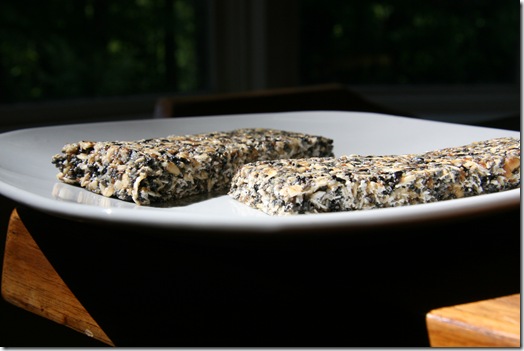 These are my new favourite Glo Bar!
They are filled with chia seeds, black sesame seeds, and poppy seeds!
Also note that this is the new bar size. Any future orders will be in bar sizes unless a special request is put in for sample sizes.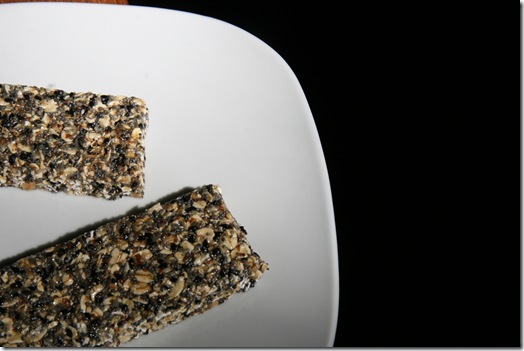 I am tracking my US food shipment with such anticipation! I really hope that it gets through customs! I may know tomorrow or today even…I'm currently 'stalking' the package across the border! haha. Gotta love online tracking numbers. I must say if it doesn't get through this time I really am at a loss here!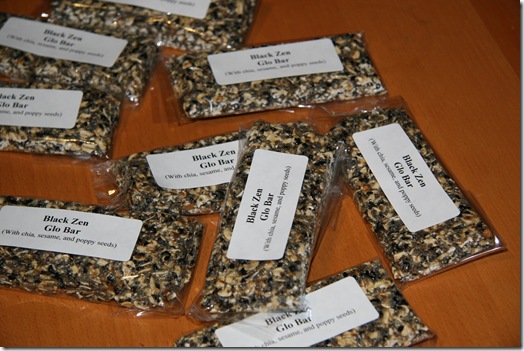 ~~~~~~~
I'm still keeping up with my Green Monster challenge by making a new green monster recipe each day.
Here was yesterday's:
Ingredients:
1/4 cup frozen blueberries
1 cup soy milk
1/2 cup water
2 cubes ice
1/2 small avocado
1/2 Package Amazing Grass Pom-mango Infusion
1 T chia seeds
Kyolic garlic extract (1/4 t?)
1/2 banana
This was a very random mix of ingredients! It had everything but the kitchen sink. I think cantaloupe would have paired wonderfully with this Amazing Grass blend, but I am all out. :( The result looked pretty and it tasted pretty good too. I think this smoothie would have been amazing with spinach instead of kale. Kale has such a strong overpowering taste and is not for the faint of heart. The avocado made it SO thick and smooth. It was a nice change, but overall I prefer the taste that pumpkin adds. I think I prefer to eat my 'cado on bread and pita. :)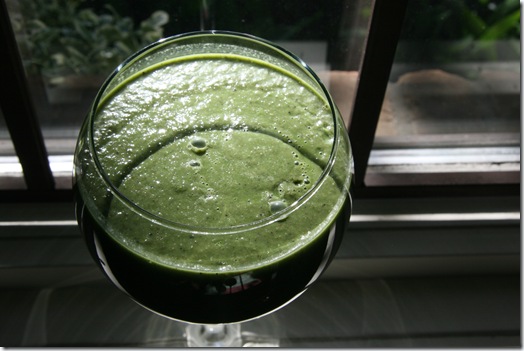 Curious as to what I fueled myself with after my 8-mile run yesterday?
As soon as I got in the door, I had an Amazing Grass Chocolate Infusion Meal Powder mixed with almond milk and water (1 cup AM + rest water). My serving was the entire cup but I drank it too fast before taking a pic. :) This gave me a nice 10 grams of muscle repairing protein!
Then I had a high protein/high fibre pita with about 1/4 cup of my favourite hummus (Loblaws finally replenished their stock after 2 weeks!!!), red pepper, chia seeds, and avocado. I drizzled the avocado with Ruth's Hemp Dressing. Perfection!
This post-run meal was over 25 grams of protein and 60 grams of carbs. Boy, did I feel amazing after this snack. Lately, I have been much more mindful of my post-exercise nutrition and I really think it is helping my recovery.
~~~~~~~~~
Relaxation is good for the soul:
Today, I want you to all read this relaxation exercise and see if you can apply it to your life! I love doing these. :) The book is called, 'Five Good Minutes In Your Body: 100 Mindful practices to help you accept yourself & feel at home in your body' By Dr. Jeffrey Brantley.
Appreciate the moments…
Click to enlarge: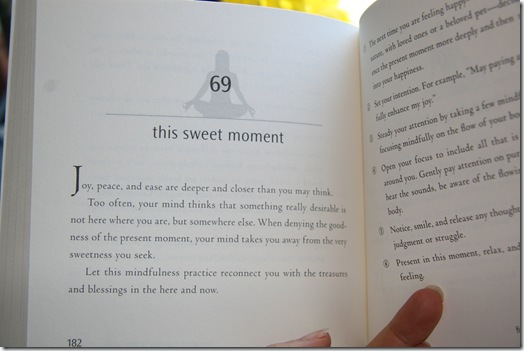 I applied this technique on my run yesterday. During my last mile, I turned off my music and simply listened to my thoughts and surroundings. I was surprised by how much I was missing out on by having my music on. I heard birds, nature, and saw beauty around me. I said to myself  'this is happiness'…not wishing to be someone else or someone better…but right here, right now. This is good enough.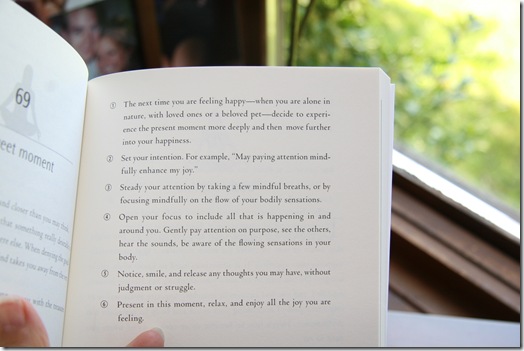 Try it, it will put a smile on your face!
Today's question:
Do you have a hard time appreciating the 'now' or present time?
I know I sure do. I am constantly making plans for the future and looking forward to this or that, and I have a hard time appreciating what I have right this second. I really need to work on it more. Of course I think goals are awesome and keep us happy and motivated in life, but it is also important to appreciate the mundane day to day things too.
See you later for the winner of the Amazing Grass giveaway!