My day, that is!
I was on a business call not too long ago and I looked down at the time and it was almost 1pm! Holy moly! The good news is today is going excellent on the business front! I am getting lots done and making lots of progress. So what is the fun news to tell you all? Well, I am hoping that I have everything I need for US shipping now! This week, I will be sending out two 'test' packages to the US with all of my required documents. I am hoping and praying that it works ok, and I haven't missed anything. If this goes well, then I hope to be shipping to the US in a couple weeks! :) Say a little prayer for me! haha!
As per my Green Monster Challenge, I am making a new green monster recipe each day of the month of July!
Today's green monster concoction was very simple, but very delicious!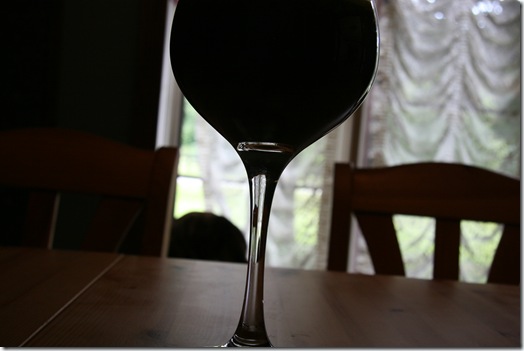 Amazing Chocolate Green Monster
by Angela
The ingredients:

1 cup soy milk
1/3 cup water
2 cubes ice
3 cups steamed spinach (helps with calcium absorption!)
1 scoop Amazing Grass Chocolate Meal powder (or 1 T cocoa + sweetener)
Squirt of Kyolic garlic extract
Print Recipe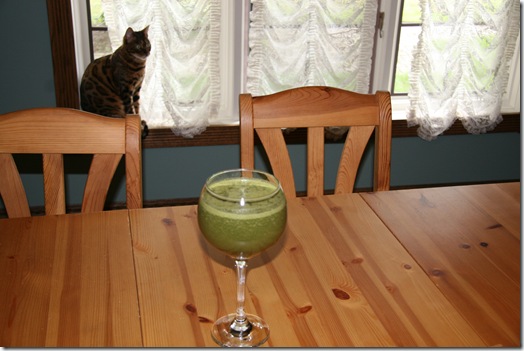 Sketchie sighting!!!!
I am now certain that my favourite Amazing Grass powder is the Chocolate Infusion Meal powder!!! The good thing about it is that I didn't need ANY fruit to sweeten this mixture up! The powder has a tiny bit of cane sugar in it (the perfect amount if you ask me)- just 6 grams of sugar for 1 large scoop.
It is so versatile. Sometimes I mix it into my GM's for a chocolaty delight and other times I mix it with just regular H20 for a much healthier chocolate 'milk' drink.
I think what makes Amazing Grass so 'blendable' in GM's is the fact that the powder is SO fine. Just look!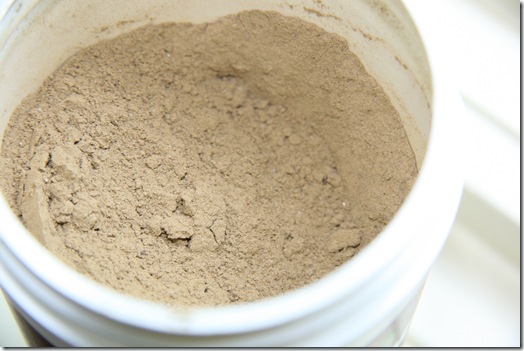 When it is added into a GM, you really don't notice it at all. Not like other powders I have tried.
Click to enlarge:
Now, if you don't have Amazing Grass Chocolate infusion, not to worry! You can try substituting the powder for 1 Tablespoon (approx) of cocoa and a bit of liquid sweetener (honey, agave, etc). A reader told me about adding cocoa to her GM and it reminded me how much I liked mine when I did that. Now you won't get all the health benefits as you will from AG products, but it is a good substitution in a pinch!
I will be adding this recipe to my Recipes page over at Green Monster Movement!
Don't forget, you will receive 10% off your purchase by entering 'ohsheglows' at the checkout!
~~~~~~
I broke for lunch around 1pm and boy was I hungry! Sometimes, when I am really busy and getting lots done I totally forget about lunch! I had leftovers from yesterday, so I quickly turned it into a healthy and fast meal!
I loved my lunch so much yesterday, I made a similar stir-fry for dinner last night!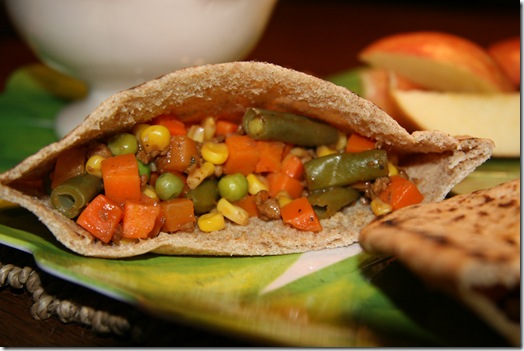 It included:
Frozen veggie mix (carrots, corn, green beans, peas) – Eric's fav mix! lol
Salt Free BBQ Sauce
St Ives Veggie Ground Round
Black crushed pepper
I heated up the leftovers, threw it in a pita, and had the rest in a bowl:
I also had the most delicious organic apple ever!! I don't know what kind this is, but it is AH-mazing!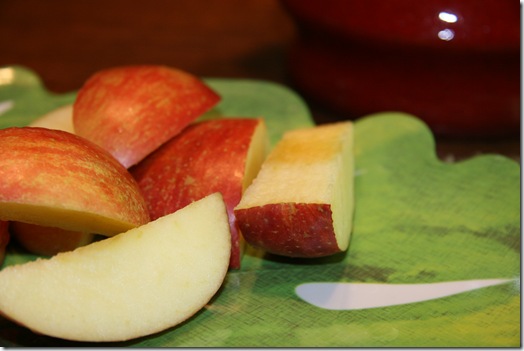 I am now re-fueled and ready to get back to work! :)
I upgraded to Quickbooks Pro today after realizing how limited the basic version is! Wow, they really know how to screw over their consumers, don't they? For me to 'simply' change the background colour in a textbox on my invoice I had to upgrade to the PRO version ($115 more!!!). They purposely created the basic version so it basically is useless unless you have no need for any basic functions, lol. I called today and made sure I didn't have to pay the full fee to upgrade even though I was past the 60 day trial. Luckily I didn't have to pay the full $200! Sheesh.
Another reader recommended to me that I try using FedEx for my shipping to the states. After signing up for a business account, I found out that I can ship to the US much cheaper than I can using Canada Post! Sweet! Man, I have the best readers ever! lol. ;)
Don't forget to enter the fun Amazing Grass contest for some awesome prizes!
~~~~~~
I love this quote and I think it applies to our health:
You will never find time for anything. If you want the time, you must make it.
– Charles Buxton
We have to make time for our health and pencil it into our schedules, don't you think?
Today's question: Do you schedule workouts or fitness appointments? Do you write it into a calendar or scheduling system online? How far in advance do you plan your exercise? Does it help you stick with it better?