Good morning!
I am one tired girl today, but wow did we ever have such a fun time last night at the wedding!
The rain cleared and we had a wonderful drive up North. The drive was about 2 hours and 30 minutes long. I may or may not have dozed off along the way. ;)
I didn't know this, but the wedding was an outdoor wedding so it is a really good thing the skies cleared! Wedding luck I guess! :) The ceremony location was absolutely breathtaking.
It was in front of a pond and lined with gorgeous trees that provided some shade.
Jen and Marcus are one of our favourite couples. They are super down to earth, laid-back, smart, funny, and would do anything for their friends and family.
Once we arrived I quickly realized that they were not superstitious couples as both Jen and Marcus were floating about with the guests- Jen in her wedding dress ready to go! I thought kudos to them for doing their wedding on THEIR terms and not someone else's!
Jen looked absolutely stunning. Definitely the most beautiful she has ever looked.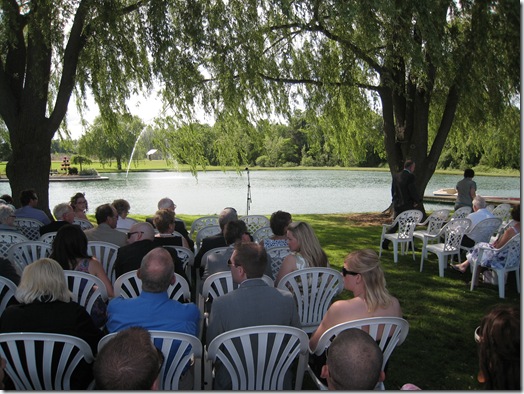 They had a maid of honour and best man and no other bridesmaids.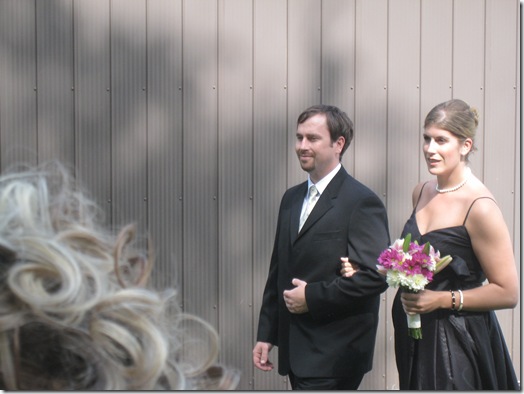 J & M walked down the aisle together to the song Somehwere Over The Rainbow by Israel Kamakawiwole'ole. It was just beautiful, I can't even describe it. I had chills as they walked down the isle because it was such a beautiful moment. The breeze was blowing, the sun was shining, and they looked so happy in love.
Jen's dress was a gorgeous strapless A-line gown with beautiful beadwork. It was exactly the type of dress I pictured her in too. :) Marcus looked handsome as ever,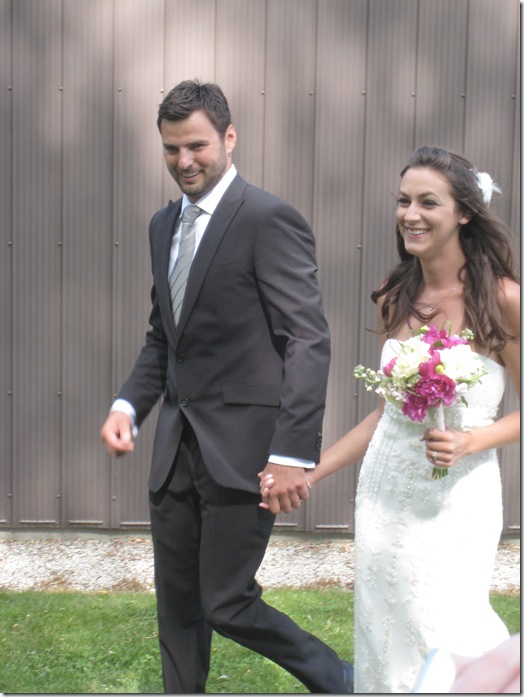 Our friend Laura made the bouquets herself! It was her first time ever making any sort of bouquet! Can you believe it!?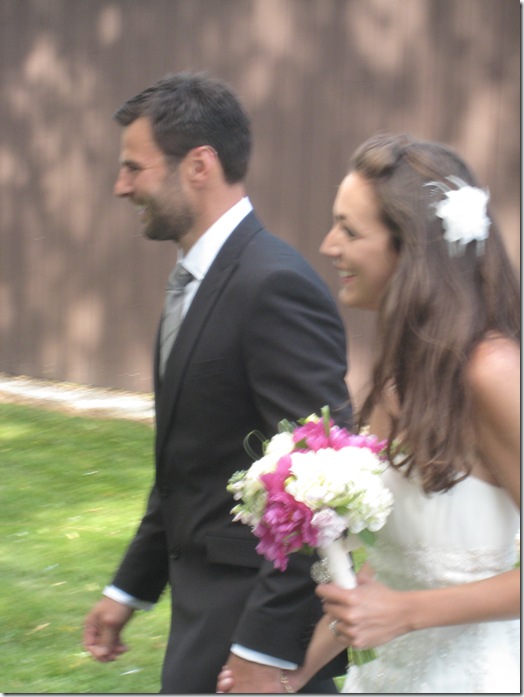 I loved the flower in Jen's hair.
The ceremony was so lovely. I teared up as usual! lol
At the end of the ceremony it started to rain ever so slightly, but nothing bad! Thank goodness!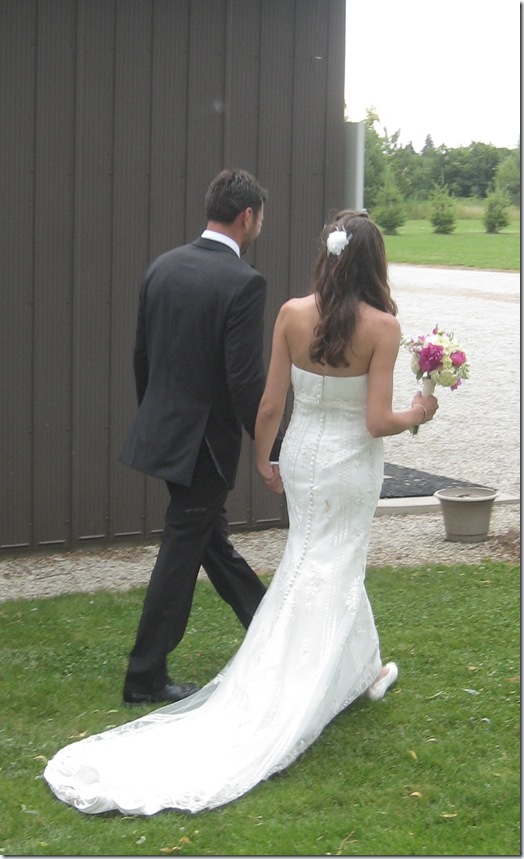 Off they went!
Here is a shot of the beautiful bouquet- stunning!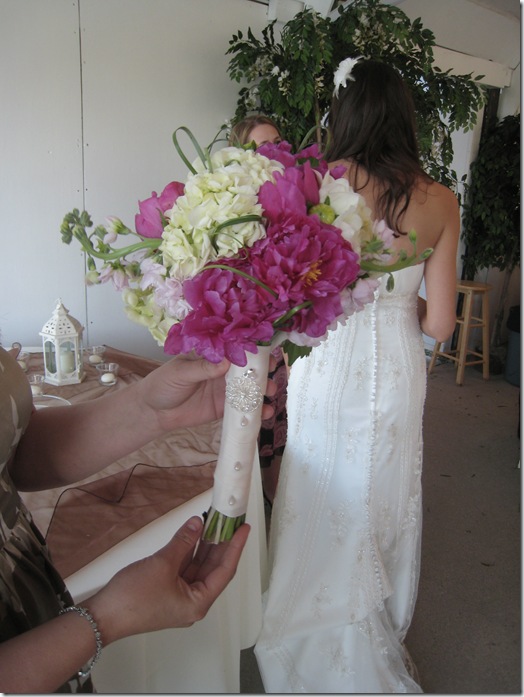 After the ceremony it was time to EAT! But first check out what happened as soon as everyone just entered the reception tent!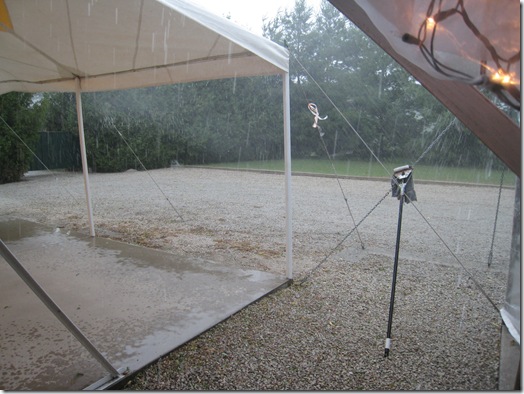 The wind picked up something fierce and it DOWN POURED! Luckily we were all in the tent! If rain is supposed to be good luck on a wedding day, they got LOTS of it! lol.
The rain cleared in 5 minutes and the sun came out again. :)
Eric and I were starving because we had such a long drive and didn't have time to eat lunch before we left.
We started with appetizers: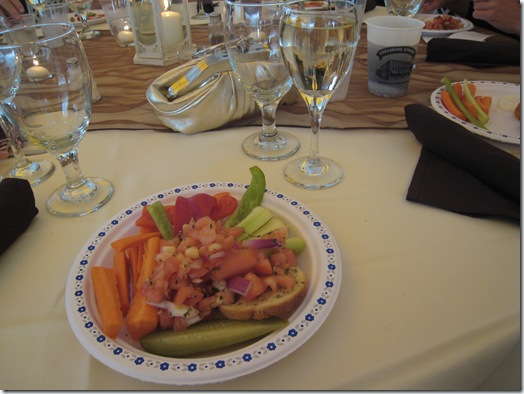 I loaded up on veggies! Told ya I was hungry! I had a pickle, tons of bruschetta, carrots, and peppers, along with glass of wine #1 (Chardonnay).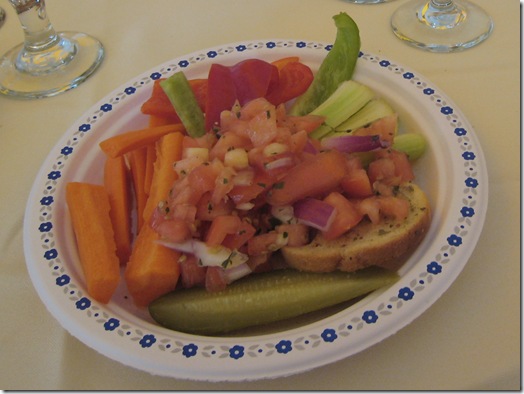 It was delicious!
Then it was time for dinner + speeches:
We had such a fun table! I knew the girls from highschool but it was my first time meeting their boyfriends/fiancées:
I love going to weddings where there is a lot of young people. The energy is just contagious.
Dinner: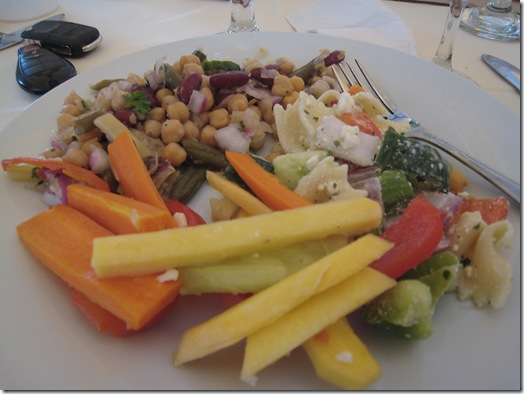 I was pleased to find that they had so many vegetarian options! I loaded up on stir-fry, chickpea salad, and veggie pasta. It was all so delicious!
With Chardonnay #2: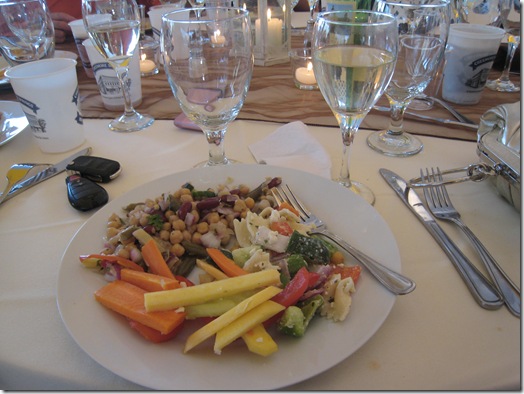 Eric rebelled against my vegetarian plate and said, screw this, I'm going for the meat and cheese! LOL. He had pulled pork (apparently to die for!), roast beef, mashed potatoes, stir-fry and a roll. :D That's my man!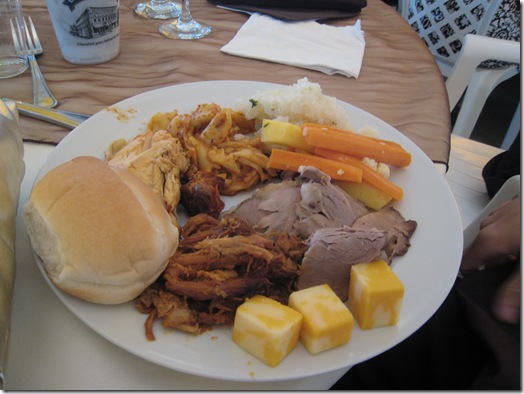 More socializing after dinner and then the cake came out.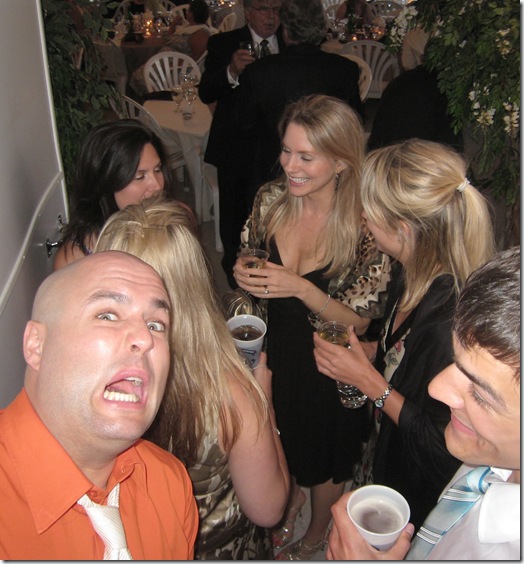 The guy in the orange shirt, Chris, is my friend Sarah's boyfriend. He is a real character (not like you couldn't tell!). He made us laugh the entire night.
The cakes: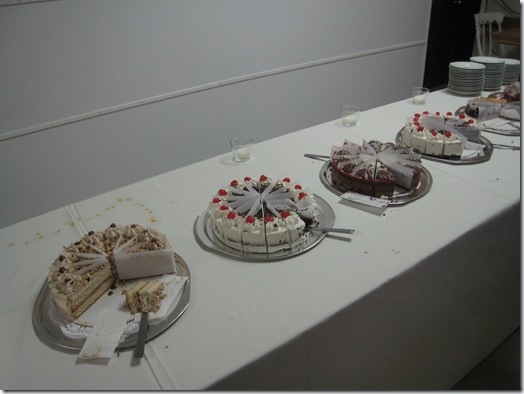 Eric had this piece, I think he said it was an ice cream cake of some sort.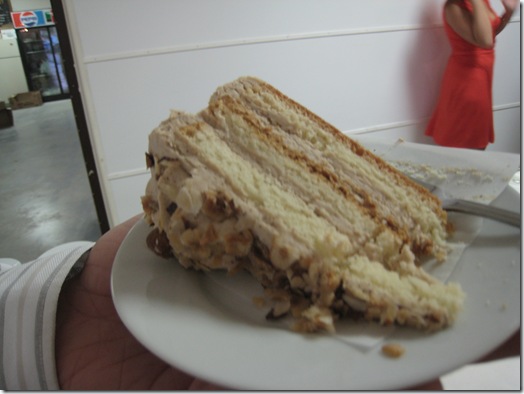 I skipped dessert because I was still hungry for more FOOD!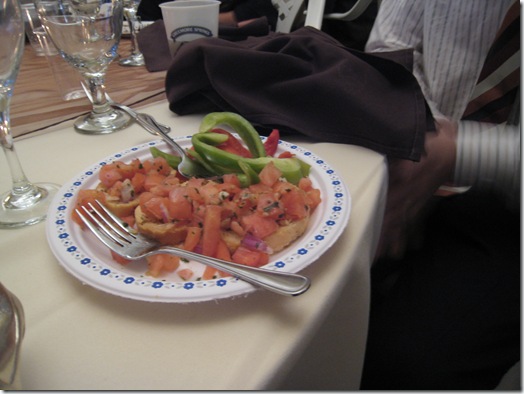 Tons more bruschetta and veggies. I had about half that plate. I told you I was hungry!
Then it was time to party after the speeches (oh and the speeches were HILARIOUS by the way).
Me getting glass #3 of chardonnay: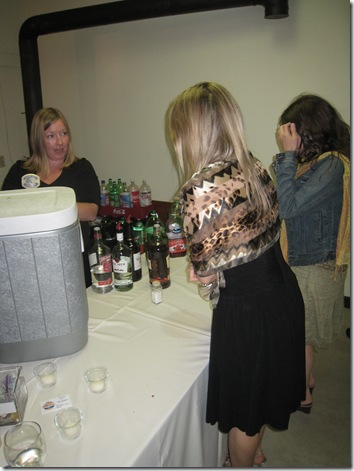 Just a word about my outfit. I was intending to wear this beautiful bright red scarf as an accent, but I didn't have any accessories to match it so it got scratched. So no colour. :( I wasn't really happy with this ensemble. I think I am going to have to buy myself a summer wedding dress since we have two more weddings to attend as guests this summer! I am so glad I didn't wear dresses 2,3, or 4 because all of the women were wearing such nice dresses. I really need to get myself something with some colour!!!! I hate spending money on clothes, but sometimes it is justified.
This was my 3rd and last glass of wine! LOL. You can tell by that sparkle in my eye. ;) I got a bad headache after this 3rd glass. I am just not used to drinking so much wine anymore!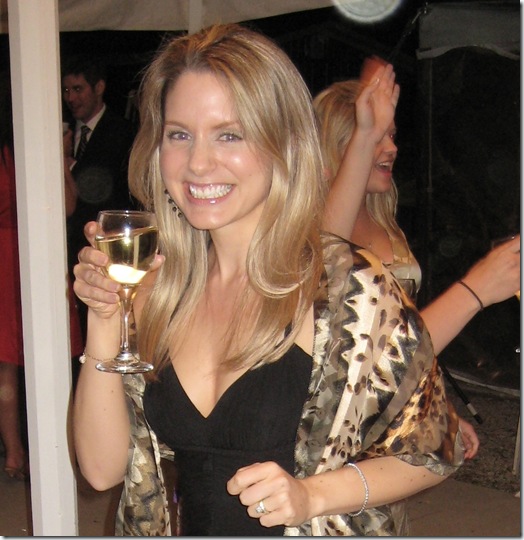 I had total dress envy for my friend Sarah's beautiful purple summer dress! I should have asked her where she got it!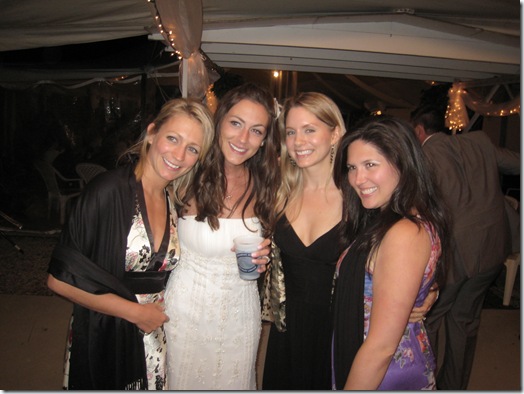 The dance floor was crazy! We danced the ENTIRE Night. It was so much fun.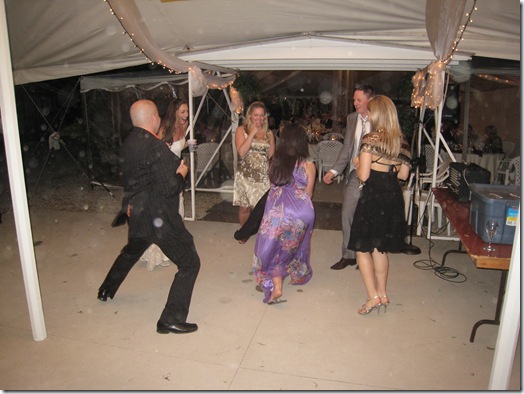 Me and hubby :) Awww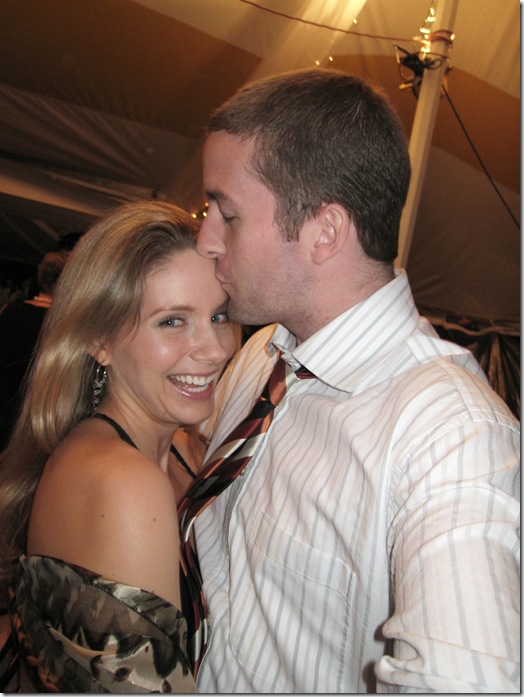 Eric was such a good sport! He was designated driver and I was completely shocked when he danced the entire night with us- completely sober!!! I was so proud of him. :)
Rocking out to ACDC!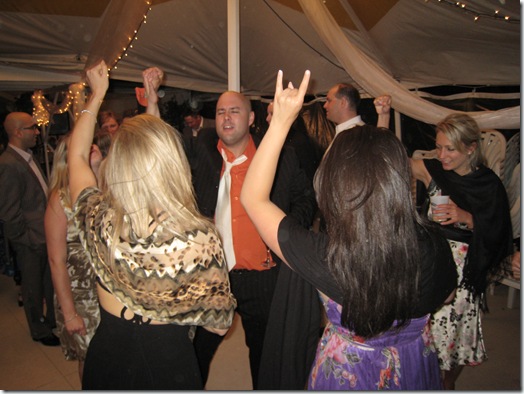 I swear I only had 3 glasses of wine! (See Chris in the background!?)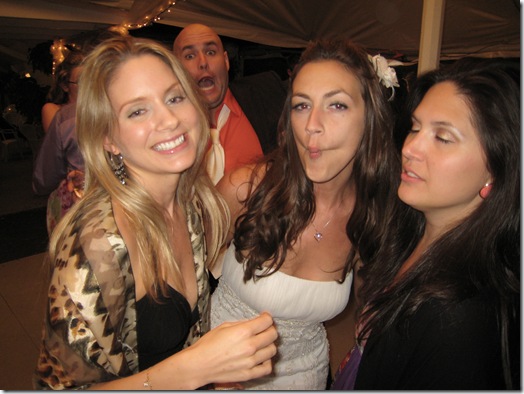 Damn that crazy Chris! Get out of our shot! haha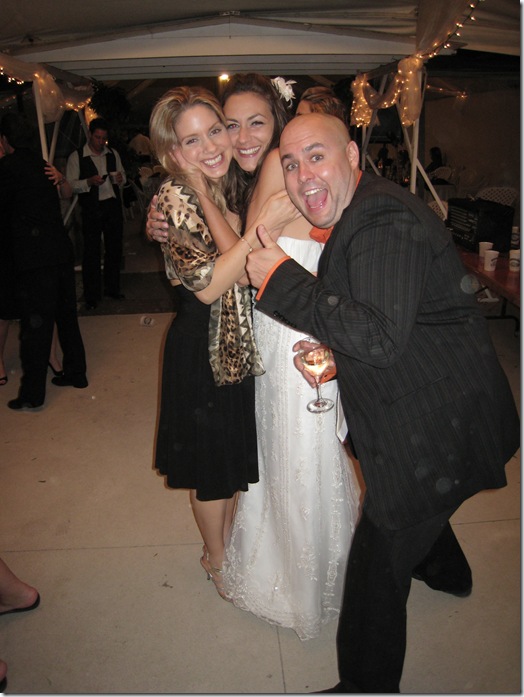 No idea what's going on here! :D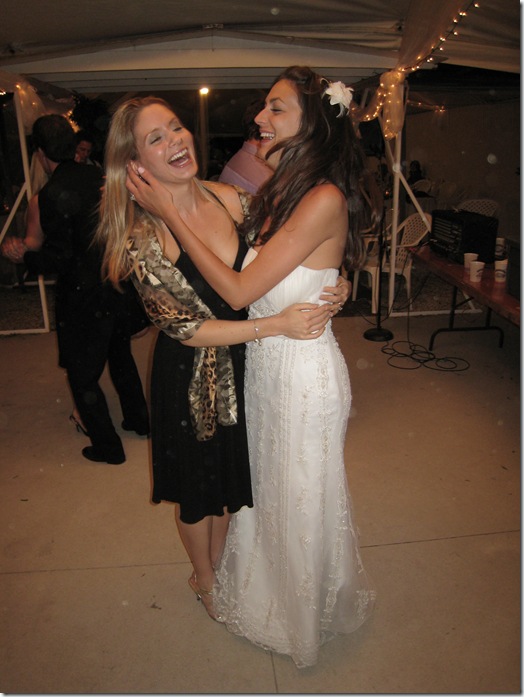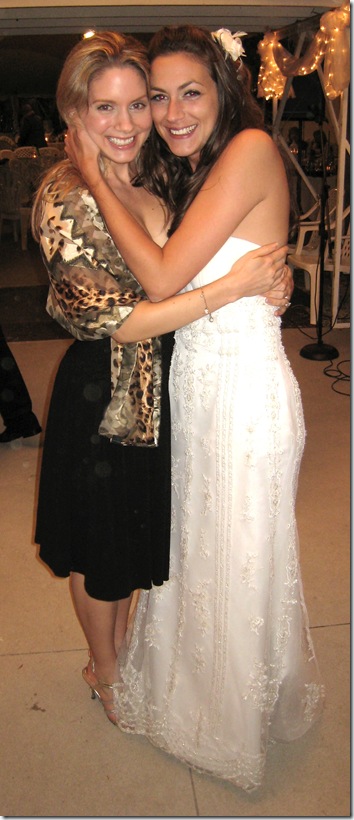 Eric had some fuel for the long drive home- brownie and a coke. lol.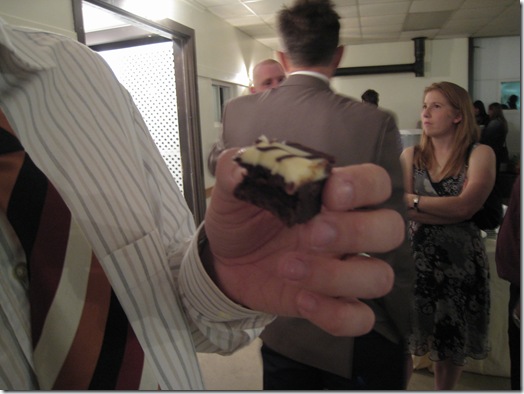 We finally left around 1:15am!!! We didn't rent a hotel room in the area because we are trying to save our money. The nearest hotel was $300 so we saved a lot of money. Poor Eric. I felt so bad for him having to drive home!  I tried sleeping in the car but I was so uncomfortable. I dozed on and off. Every time I woke up I kept asking Eric if he was ok. Then toward the end of the drive (around 3am!!!), I woke up to Eric yelling because he saw a coyote running across the highway! Thank God it wasn't near our car at all.
We finally got home around 3:15am, I we were both zonked. The drive was so worth it though because seeing our two friends get married was such a great experience and a memory I will always cherish! We have plans to invite them to our place in the fall sometime. It is too bad they live 1.5 hours away because I would love to see them more. 1.5 hours isn't that long of a drive, but it just makes it harder to hang out, ya know?
~~~~~~~~
Take home message:
More than 2 glasses of wine gives me a headache
Beware of the wedding guest wearing the bright orange shirt (lol)
I LOVE weddings.
I MUST splurge a little and get myself a nice summery dress ASAP! ;)
:)
Well, I need to go have a green monster! I have been sipping on Sencha green tea this morning. I did NOT get much sleep. I fell asleep around 3:30am and got up at 9am. :\ I am currently trying to motivate myself to go for my long run today. Should be interesting…!
Thank you for letting me share such a fun day with you all! :)
See you later alligators! I will be announcing the winner of my Glo Bar giveaway later!