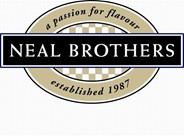 Neal Brother's is donating an amazing prize loot pack for one lucky winner!
The winner will receive a mix of these delicious products (a total of approximately 8-10 products!):
Raincoast http://lesleystowe.com/raincoastcrisps/about/
Kicking Horse Coffee http://www.kickinghorsecoffee.com/
Various Neal Brothers Snacks www.Nealbrothersfoods.com
All the Best Cheese Snacks http://www.allthebestfinefoods.com/wholesale.html
La Fourmi Bionique Granola http://www.bionicbee.com/en/
4 chances to WIN!
How to enter:
1. Check out my new Green Monster Movement website
A. For 1 entry: submit your green monster story
B. For 1 entry: add the Green Monster Movement to your blogroll and email me telling me you have done so ([email protected])
C. For 1 entry: Email 10 people and tell them about the Green Monster Movement! Make sure to copy me on the email ([email protected])
D. For 1 entry: Give the Green Monster Movement a shout-out on Twitter making sure to link to '@ohsheglows' so I see it and mark you down.
E. For 1 entry: link back to this contest on your website
Rules: Contest Closes Thursday July 9th at noon EST. Contest open only to Canadian participants.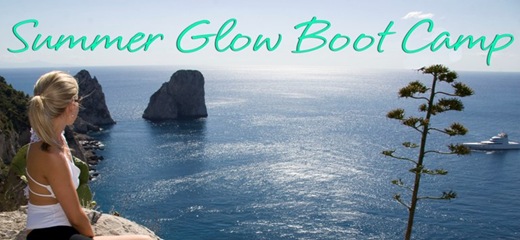 This week's theme for the Summer Glow Boot Camp is goal setting!
I am a firm believer that setting goals is one of the keys to success, no matter what it is that you strive to do!
Some of you might remember this goal setting post I did a little while ago. Well, today I want to put these principles into practice for the SGBC!
I like using the SMART system for setting goals.
Your goals should be Specific, Measurable, Action-oriented, Realistic, and Timed.
Specific: Clearly define your goals! Be specific as possible. This is a good example of a specific goal: "I want to cook at least 4 nights per week" instead of "I want to cook more."

Measurable: Set goals that can be measured! For example, "I want to bring my waist size down to 31 inches."

Action-oriented: Create action oriented goals such that tell you HOW you are going to achieve your goal. For example, "I will cook 4 times per week by preparing a large dinner every Sunday and freezing leftovers for quick heat up. I will also pick two new recipes on Sunday and include the items on my grocery list."

Realistic: Example of a realistic goal: "I will lose 1 pound per week" or "I will limit my sweets/desserts to 4 times per week instead of 6-7."

Timed: Set a timeline or date that you want the goal completed! For example, "I will run my next race on July 19th"
Short Term vs. Long Term Goals:
1) Short term goals help you achieve long-term goals.
2) The beauty of short-term goals is that they change often and keep our motivation UP!
3) Short term goals should be challenging, but not too challenging.
I love short term goals because they give you something to look forward to that is in the very immediate future! The beauty of the Summer Glow Boot Camp is that it is only 1 month- the perfect time to set some short term goals!
For the Summer Glow Boot Camp, I am asking everyone to complete this Goal Planner to help you define your own personal goals for the Summer Glow Boot Camp. The thing I love about this challenge, is that it will be unique for everyone. It does not simply focus on measurements, or before and after pictures, but it encompasses a wide range of overall healthy lifestyle goals that only YOU can decide for yourself! I am just helping you along the way to stay motivated. ;)
The Summer Glow Boot Camp Goal Planner

A. Write down 3 accomplishments that you are proud of in your life. Beside each one write down how each of them made you feel. What do your accomplishments have to do with planning goals? Well, reminding ourselves of what we have achieved helps remind us that we are very capable of achieving our goals! It boosts our confidence and reminds us that we have achieved great things in the past and can do it again! :) Toot your own horn, as they say! ;)

B. Write down 3 goals that you want to achieve in the month of July. It can be anything. Some examples are: increase exercise, reduce stress, increase flexibility, try new foods, cook more, increase energy, reduce illness, tone up, drink more water, reduce muscle pain, sleep more/better, take a course, make more money, etc. Also write how they will make you feel!

C  Write down 'terminals' for each goal. In other words, write down how you will know when the goal is completed or ended. Write a start date and a finish date if you want to get really specific.

D. Now comes the planning part. Write down what you need to do to achieve these goals! Be as specific as possible as list as many points as needed for each goal.
Here is mine to start us off!!

A. Accomplishment –> Feeling
1. Graduating with my MA degree –> Proud, successful, determined, accomplished, smart, capable, hard-working
2. Starting my own business –> Innovative, creative, daring, inspiring, unexpected, passionate, honest, scared
3. Helping others –> Alive, loving, inspired, peaceful, thoughtful, caring, challenging, growing, anxious, hopeful, passionate, very happy, fulfilled, dedicated, loyal.
B. 3 goals in July –> Feeling
1. Acura 10 mile race (July 19, 2009) –> Like a strong, fit runner! Proud, happy.
2. Open up Glo Bakery shipping to the US! (mid-July?) –> Happy, Organized, Busy, Excited
3. Increase strength (e.g., be able to do at 15 full push-ups) and continue to tone my mid-section with core work (I will know I achieved this by doing the push-ups as well as comparing my measurements from the start of the challenge) –> strong, healthy, fit
C. See above.
D. Planning!
1. My goal is to run a few times per week, ideally with one longer run (5-7 miles) each week eventually building up to the race distance (16k) by mid July. Continue to strength train by doing the SGBC exercises and cross train. Stretch!!! Take vitamins, drink Amazing Grass, etc. :)
2. Continue researching FDA requirements for food exportation to the States. Make sure all of my labelling is in line with this. Get bar packaging. Prepare labels and packaging. Work on Order Online function, etc. Order bulk supplies, more boxes, etc.
3. Do the SGBC Exercises every other day! Focus on slow and controlled movements and don't rush the strength moves.
Now it's your turn!
Today's Question: What are your short-term goals for the month of July?
++++++

Don't forget to check out the Glo Bakery Glo-out on today!!