If someone would have told me last year that I would be DRINKING greens in 2009 and loving them, I would have laughed in their face…
Never say never!
I had 3 delicious green monsters today.
My morning batch made 2 glasses full….sweet! :)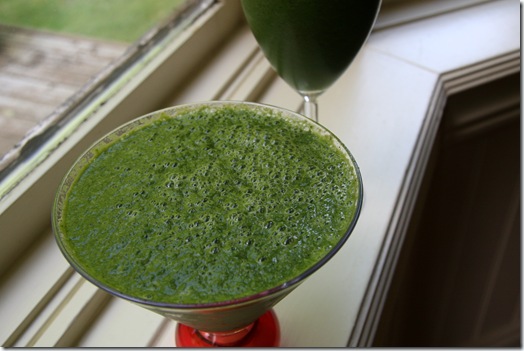 Today's mix was pineapple banana kale!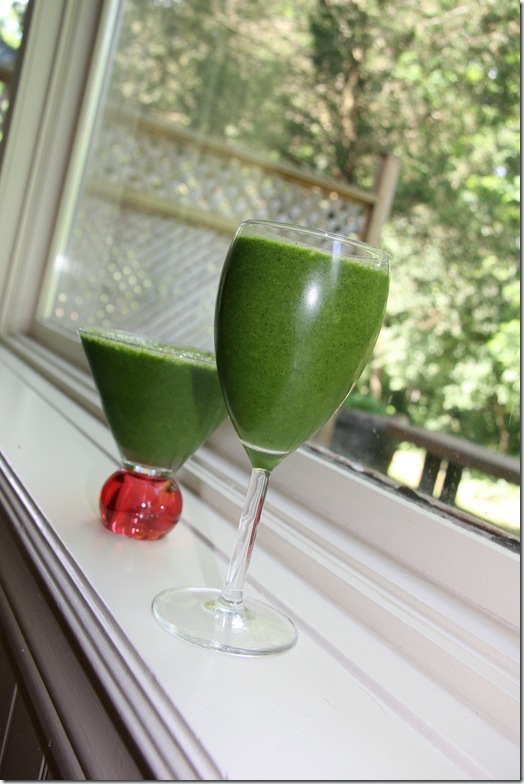 Ingredients:
1.25 cup low-fat soy milk (PC brand)
1 T natural peanut butter
1 T flax
3 organic kale leaves
1/2 c pineapple
1 small banana
ice (4 cubes)
Small scoop Hemp-Maca-E3Live powder
This GM was delicious!! I totally forgot that I had frozen pineapple chunks in our freezer, so I was quite excited to try it in a new smoothie this morning! :)
On a more solemn note- I have decided that I do NOT like the Ruth's Hemp-Maca-E3Live protein powder that I got! It just has such a bad aftertaste! I will stick to my Amazing grass Meal Powder, thankyouverymuch! :) It is the best tasting powder by far.
Many of you are asking me what my favourite powders are over at Amazing Grass. At first I thought it was the Berry Wheat Grass, but now I am convinced it is the Chocolate Amazing Meal Powder or the Green Chocolate Drink Powder (shown below). I mix it with just H2o and it tastes like chocolate milk- seriously! Pretty darn close to it for just mixing it with water!
If you click on it, it brings you right to the product on the Amazing Grass website! I am all out of this powder right now, but I have another shipment on its' merry old way! I hope it gets here FAST! lol.
This afternoon's energizing GM:
My nails are still growing like bad weeds!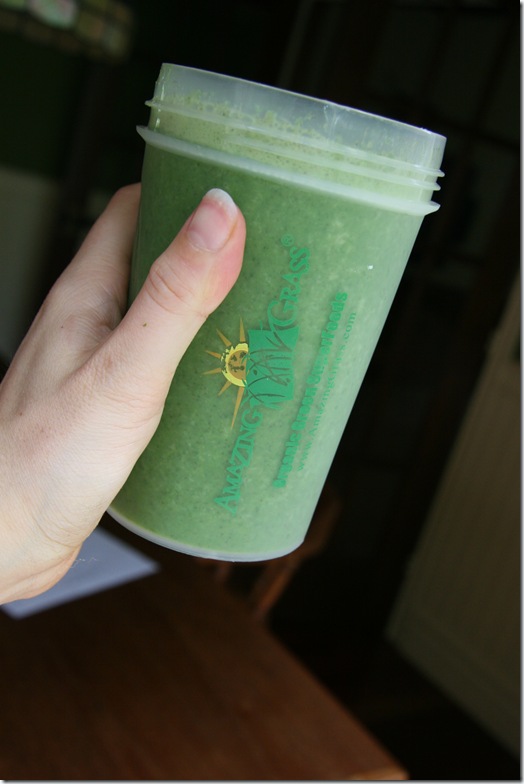 Ingredients:
1 cup Almond Milk
1/3 cup pumpkin
cinnamon (I was feeling frisky!)
1/2 banana
ice
bit of water to thin out
3 cups spinach
This Green monster was yummy too. Not as sweet, but still lovely for an afternoon pick me up!
I am always asked whether I like kale or spinach better and the easy answer to that is SPINACH! It just blends better, However, I eat kale too for the variety of nutrients. There is no question that kale is chewier but I have just gotten used to it! I like to mix up my greens for the maximum benefit. I also need to get some more organic dandelion from Whole Foods! I wish we had one closer…
I was flooded with orders this morning, and I made over 200 bars all day today and packaged them up!
I actually ran out of all my ingredients so I have to make an early morning run to the store tomorrow to finish off the rest of the 6-7 orders! My house is turning into a distribution/packaging center before my eyes! lol.
GOOD NEWS regarding shipping prices!!!
My business is now registered with Canada Post so I am getting some awesome discounts for shipping! For those of you who I gave quotes to before today for out West- I can probably get your shipping for up to $10 less than originally quoted!!! Please email me for details. :D Very good news though!
I didn't have time to take pictures of my lunch but it was a can of Amy's soup along with 2 slices of whole wheat toast (with becel olive oil margarine) and a pear.
Eric was just elated when he came home tonight and saw how much work I got done today.
He helped me do the dishes and he cooked dinner tonight so I was very thankful.
Tonight I tried out a new SOL burger– the spicy bean kind. Clicky to enlarge…
Just a note- this Summer Fresh Lemon Dill hummus I bought is disgusting!!! Serves me right for not making my own 50 cent hummus! Lately I have been relying far too much on pre-made food because I have been so busy. It's a catch 22 at times!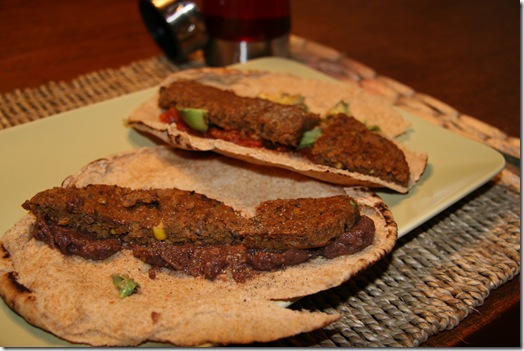 1 heaping T of black bean dip (shown above)
1 SOL burger (spicy bean)
1 T PC organic salsa
1/2 avocado
1 High protein, high fibre pita
Red pepper
Summer Fresh hummus (blech!!!)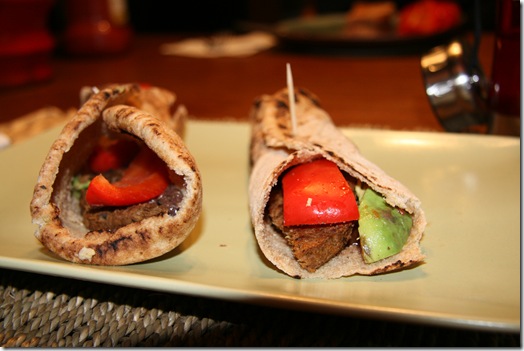 I had another let down tonight- these spicy burgers! They were too spicy for my liking and VERY mushy! I guess that was the beans in them, making it so mushy…? I didn't like it.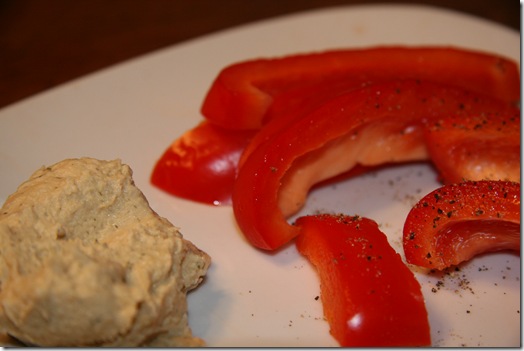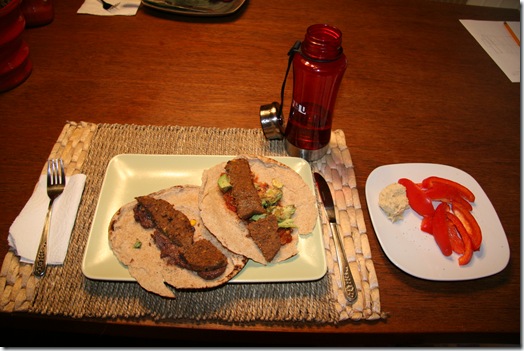 However, it was a quick and healthy dinner filled with lots of protein, carbs, veggies, and healthy fats!
Not sure if I am working out or not today- it might be a well deserved day off! My arms are sore from all that stirring.
In Other News..
Don't forget to enter the Neal Brothers Contest giveaway for a huge loot bag of prizes!
Also, check out my new website- Green Monster Movement if you haven't already. Don't forget to submit your green monster story to be featured on the site.
Check out this amazing email I received after this morning's post on Happy weights:
J says, "Love this post. I am 39 and a mom of 3. Most people don't think I'm that old because I am healthy and fit and pretty thin. However, I still struggle with feeling happy at my weight – more now than when I was younger. I used to not think about my weight and now focus on it a lot. I used to look at MUCH younger girls and want their slim legs, waists, arms, but I've finally realized that I am supposed to look like a woman at nearly 40, NOT a little girl anymore!  Hello?! Why did that take so long to sink in?! I am now trying to appreciate my curves. Anyway, that's what men like… including my husband. The bottom line is inner happiness and self acceptance as the beautiful people/souls/bodies God created. Our physical appearances aren't as important as we like to think they are as it always fades."
I couldn't agree more J!!! :)
Tonight's question:
Have you tried a 'health food' recently that you had high expectations for and it turned out to be a big DUD and tasted bad? What was it??