Hello Boot campers! :)
This afternoon I decided against my run, since I went on a run yesterday. I keep reminding myself not to push it with running, even when I really want to go for a run. I reasoned with myself today- the weather is supposed to be nice today and tomorrow, so I could just wait for my run tomorrow! :) Mission accomplished. Debate over.
However, I had major Treadmill A.D.D. today!
I decided I would listen to my body and go with the flow. I did intervals!
As you may know, interval training is a great way to make workouts fly by. I love breaking my workouts into mini 5 minute intervals to make the time fly by.
What sounds better:
1) 'I am going to do 45 minutes of cardio."
OR
2) 'I am going to mix it up every 5 minutes and have some FUN!'
:)
Here is what I did:
5 mins.Treadmill: Incline 15%, 4.3 mph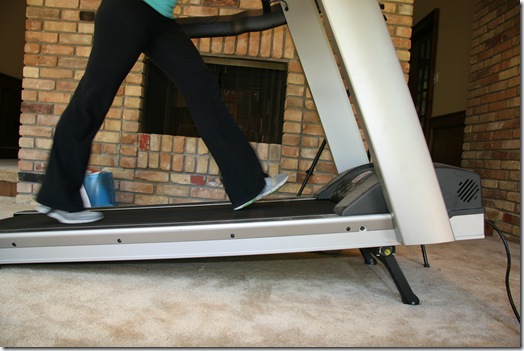 60 seconds of Pike crunches:
[Don't mind the electrical tape on my shoes- the velcro doesn't work anymore! hahaha]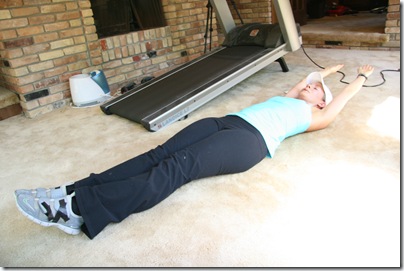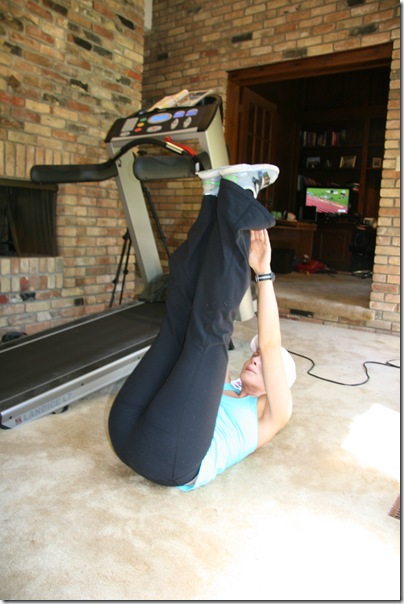 I love pikes!
5 mins. treadmill (recovery): incline 15%, speed 4.0 mph
5 mins. treadmill (all out): incline 15%, speed 4.3 mph
Push-ups: 1 set of 20 (5 full and 15 modified) x 2
5 mins. treadmill (recovery): incline 15%, speed 4.0 mph
5 mins. treadmill (all out): incline 15%, speed 4.3 mph
Front arm raises: 1 set of 20 with 5 pound hand weights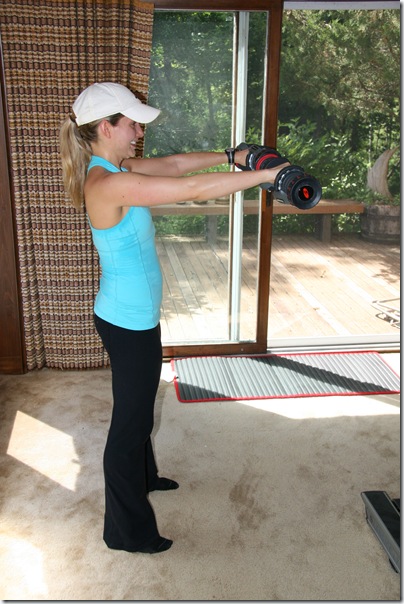 5 mins. treadmill (recovery): incline 15%, speed 4.0 mph
5 mins. treadmill (all out): incline 15%, speed 4.3 mph
Side arm raises: 1 set of 20 reps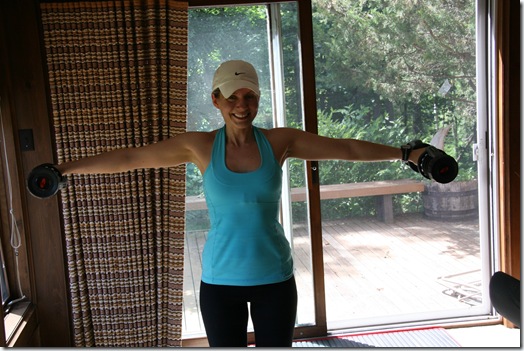 5 mins. treadmill (all out): incline 15%, speed 4.3 mph
10 mins. treadmill (cool-down): incline 5%, speed 3.5-4.0 mph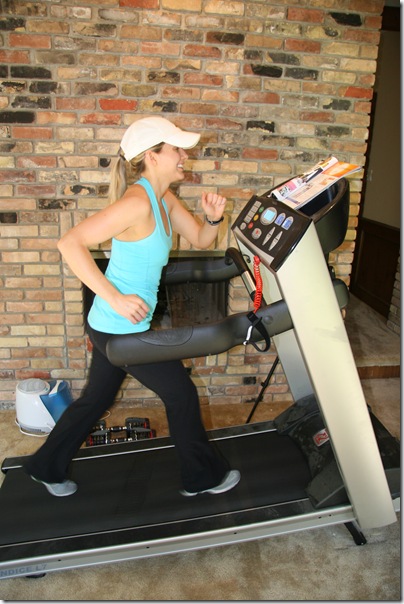 My total treadmill time was 50 minutes and my strength moves was about 5-7 minutes. This interval workout was AWESOME!!! A full total body workout. Research shows that we burn more calories when doing intervals because your heart rate stays up for a while even when you are 'recovering' and so you burn more calories than if you stayed at the same intensity the whole time. By doing intervals, you are also able to go 'all out' for short bursts, much more than if you had to maintain the same level for the entire workout. It helps me get through those 5 minutes because I know that I will have a break after each all out interval!
Need less to say this workout really pumped me up and gave me tons of energy!

As you may have seen the amazing Zesty is a partner with me in the Summer Glow Boot Camp!
For his first of four amazing healthy recipes, he cooked up for us a delicious Balsamic Salmon!
Take it away Zesty!
Salmon also offers a great source of protein as well as "good" fats.  I have to be careful when I get all nutritional as I am by no means an expert in that category.  However, I do know a bit as I usually try to eat healthy and stay fit.
Back to the salmon.  For this dish, I like to pair it with basmati rice and a simple green vegetable such as spinach or kale.
Zesty Balsamic Salmon: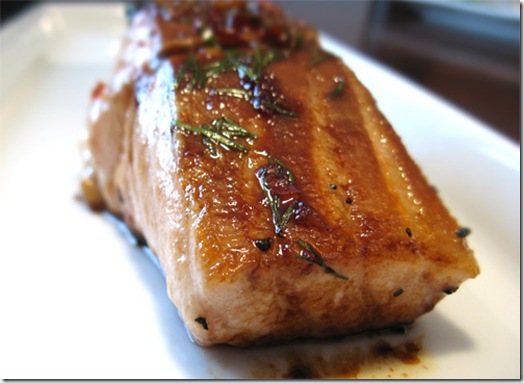 Ingredients
    * 2 Salmon fillets
    * 1 Tsp. olive oil
    * 1/4 Cup balsamic vinegar
    * 1 Tbsp. fresh dill
    * Cracked black pepper
Method
   1. Preheat sauté pan to medium high heat.
   2. Pat salmon dry with paper towel.
   3. Season with cracked black pepper.
   4. Sear salmon on both sides (3 minutes per side).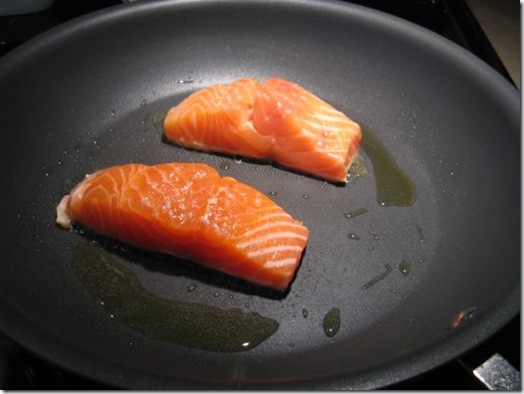 5. Add balsamic vinegar and dill, continue cooking until translucent (should flake with a fork).
   6. Drizzle sauce over salmon.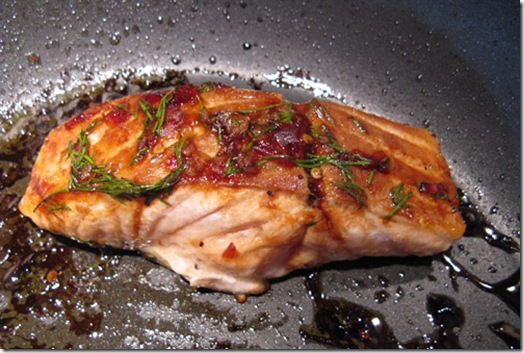 7. ENJOY!
Zesty Tip: Using just a bit of olive oil and making sure to preheat the pan are the two tips for a perfectly sautéed piece of fish.  Also remember to let the fish cook undisturbed for 3-4 minutes (depending on the thickness) to develop a nice crust. Be sure not to crowd the fish; cook it in batches rather than overcrowd the pan.
~~~~~
Ok, are you drooling yet!? WOW- thanks Zesty!! :) That looks just fabulous.

1. Check out Eric's most recent blog post where he tells us whether Compact Fluorescent Lightbulbs are worth the cost!
2. I added some new Green Monster Movement designs to my shop! Check them out here. My favourite is the white v-neck 'I like it Green' tee. I ordered it and can't wait to get it!
~~~~~
Tonight's Question:
Do you do interval training? If so, what do you do?