I was a busy bee in the kitchen today!
I created FIVE new On The Glo Bar recipes!!!
In no particular order… ;)
Coco Glo: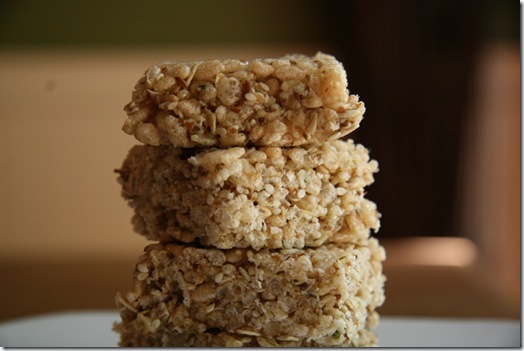 Chocolate Peppy-mint:
Almond Raisin Glo: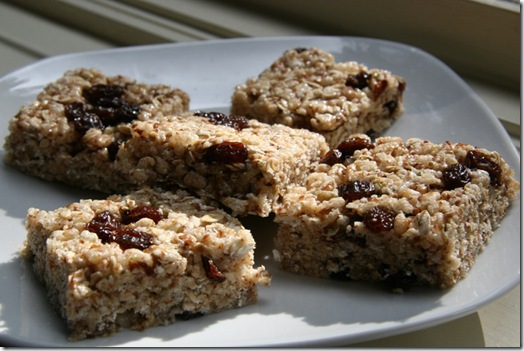 Orange Hazelnut: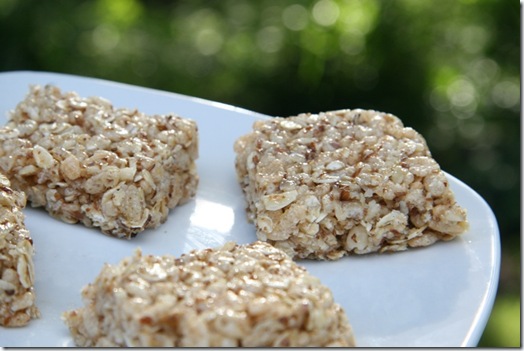 Coco Carob: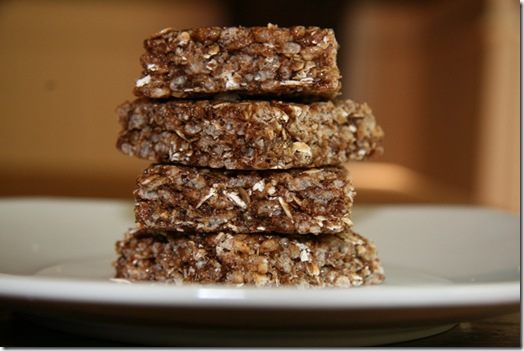 To my sheer amazement, everyone of them turned out fabulous! I tell ya, some days the stars just align and magic happens in the kitchen.
Other days… well, I don't have to remind you about the horror show that was yesterday, do I? ;)
In between experimenting, I had a couple important business calls for the Bakery! Some exciting things are starting to develop!

I squeezed in a quick run this afternoon! It was so beautiful outside and I was just chomping at the bit to get outside. When my bars were setting, I hit the road.
I tried a new Ishuffle technique as suggested by a reader- I fed the wire underneath my shirt to keep the wire from bouncing in my face. It was great! I could still control the 'remote' at the bottom too. :)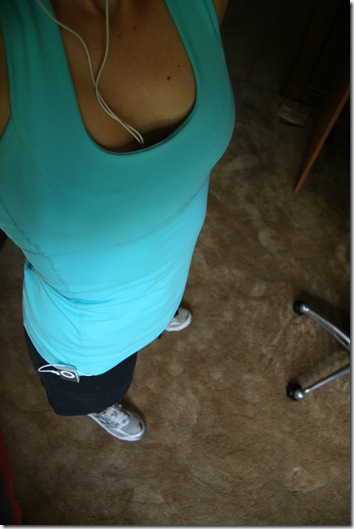 The run:
Duration: 37:30 minutes
Distance: 4.21 miles
Max heart rate: 171 bpm
Avg heart rate: 162 bpm
Pace: 8:59 min/mile
Today I focused on a faster pace. It was such a challenging run today because the wind was FIERCE and pushing me back (well, one direction anyways! lol). I was really out of breath much more than usual on today's run, as shown by my average heart rate which is rarely in the 160's.
I came home and did the Summer Glow Boot Camp exercises and then stretching! Man I forgot how hard tricep dips are!!! Anyone else? I did 3 sets of 15 reps and my arms could barely squeek out the last few reps of each set out! I also did a new advanced side plank that I got from Exercise #6 video (note I added this in this AM so you may have missed the video). For the planks I lifted my top arm and leg up for about 12 times per side, very slow and controlled. Wow was this hard! Not only to keep balance but stamina as well.
I am really loving having a set strength training plan to follow again! I really missed the BBBC exercises from June 1st to July 1st. I did keep up with some things (core work, pushups, etc), but my motivation wasn't there like it is when I have a schedule! So this totally rocks. I can't wait to see what changes this challenge will bring.
Anyone else have their calendar printed and placed near their computer? I look at mine several times a day and it reminds me to be healthy and good to myself. :)

I was not really hungry for dinner tonight since I was testing Glo bars all day! Man, those bars are filling- they totally quenched my hunger all day long!
So I had a salad for dinner…light and easy (but packed with healthy foods!):
Ingredients:
6 cups spinach
1/2 avocado
1 green onion
1/2 red pepper
1/2 tomato
1 Money's Veggie Burger, cut up and placed on salad
Ruth's Hemp balsamic Salad Dressing
Black pepper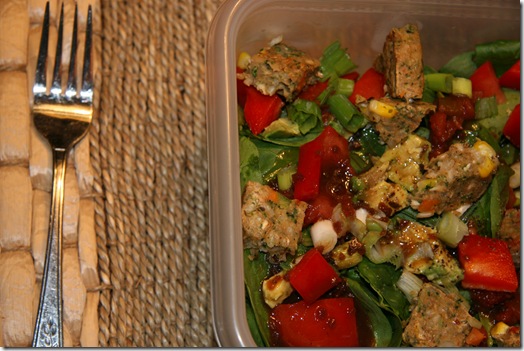 This was one of the best salads that I have had in a while. I am now STUFFED! :)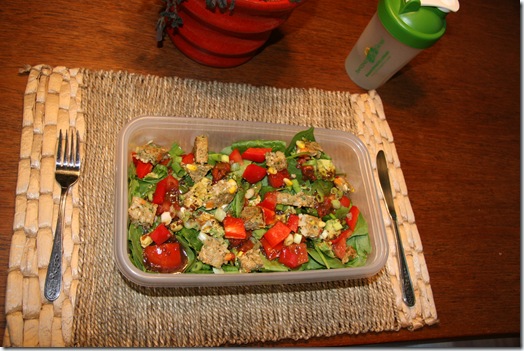 I had it with some water in my awesome Amazing Grass Shaker! I am obsessed with this shaker. Totally leak proof!
All day long Amazing Grass kept me fueled. I mix the Berry or plan wheatgrass powder (1 scoop) with cold water and shake, shake, shake. I absolutely love it! I have so much energy now. I honestly don't feel right in the morning until I have had my Grass. lol. I guess that makes me a Grass Head???
Sketchie pic of the night…awww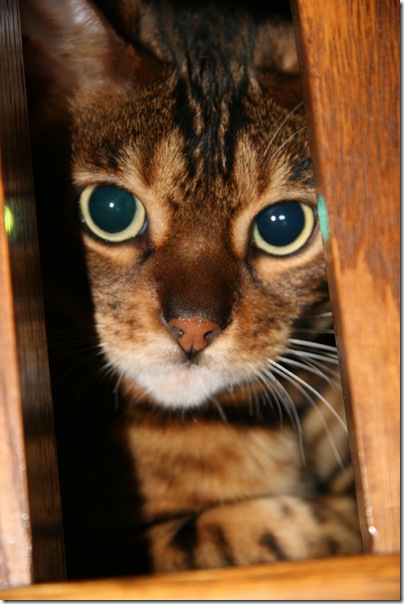 Notice that I haven't been saying WHO took these photos! Eric and I are gearing up for our first photography show down pretty soon. :) It should be fun!

1. Goodluck to Leah who is running her first half-marathon tomorrow!! You go girl!!
2. Check out my review of Amazing Grass on the Amazing Grass Website
3. I have some exciting news coming up about Green Monsters!!! I can't wait to tell you guys about what I did!!
4. Another Glo Bakery Glo Bar sale is happening on Monday! Stay tuned for an awesome deal.
5. See you tomorrow for the winner of the Book Buddy! I am extending the contest until midnight EST tonight so get your entry in!
6. Thank you for all of your comments in today's SGBC Reflection post on make-up!! So many awesome viewpoints. I too am a huge make-up lover. I am going to challenge how I 'think' about myself and the things I 'say' to myself when I am NOT wearing make-up though. I do think that I need to stop thinking of my make-up free skin as ugly!
I'm off to watch 'What Happens In Vegas' and have some WINE! :)
Happy 4th of July!