Mr. Sandman doesn't like me lately! :(
I STILL can't sleep. I believe I had the worst sleep last night known to man!!! Maybe 3 hours?
Since I was lying awake last night, I narrowed down my sleep troubles to a couple things:
1) Increase in caffeine (loose leaf Sencha Green Tea)
2) Not unwinding before bed
Green Tea
I am suspecting that the caffeine issue has a lot to do with it! This week, I made the switch from bagged teas to my Sencha Loose Leaf Green Tea. For a couple reasons: 1) I have lots of loose leaf tea to use up, and 2) The amount of bagged teas I was going through was a bit crazy (and expensive). Loose leaf is not only more economical, but better on the environment. So I have switched it up for a while!
And I do LOVE my Sencha green tea. I have been drinking it for about 5 years now. But I make it strong…very, very strong!
I always steep it for a good 10-15 minutes and then I squeeze out the leaves so every last drop gets into my tea. It is a very strong drink, but it gives me SO much energy!!!
However, I have been drinking it until about 5pm lately, which for someone who is sensitive to caffeine, is NOT good! I think that is why I am stirring so much at night when I go to bed.
So I am going to cut off my green tea at 2pm and see if that makes a difference.
Not unwinding
As I mentioned, I have been doing work straight until I go to bed at night (around midnight). While this is good for the business, it is not good for 1) My sanity, or 2) My sleep. Last night, I went to bed and my mind was RACING with thoughts. I was getting so frustrated because I just couldn't turn it off.
At 3am, I said to myself, 'I can't wait until it is sunny so I can just get up and get my work done!!!'
so as you can see, not a great mindset for sleep! lol. ;)
So my goal for this is to wind down and remove my batteries at least 30 minutes before bed. I'd like to start doing some yoga or reading before bed. I am going to try it tonight and see how it goes!
~~~~~~~~~
This morning…
Needless to say I was very groggy when I got up around 6:30am this morning. I had to get up and finish off some orders, package, ship, and do my invoices. I have so much paperwork to get caught up on– that is really my least favourite part of owning a business!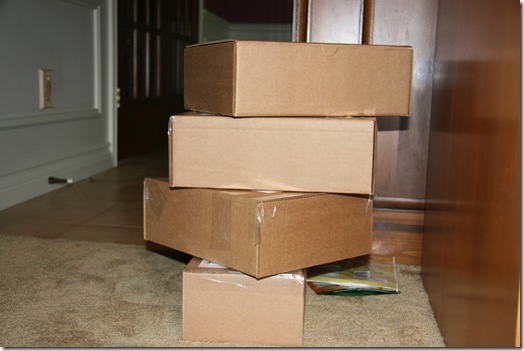 So anyways, I had 4 orders shipped out by 9am so that felt pretty good! :)

Mandy from Reading Comfort has donated a Book Buddy for the Summer Glow Boot Camp!
What is a Book Buddy?
The Book Buddy™ holds both hardcover and softcover books in place with adjustable ribbons for hands-free reading.  The special filling in the pillow makes any book feel practically weightless.
Each Book Buddy™ comes with a sparkling clear acrylic desktop that slips into place and converts your reading pillow into a writing desk.  The durable desktop also serves as a handy platform for your laptop computer, keeping the warm surface off your legs and elevating the computer to a position that most people find perfect for both reading and typing.  Simply slide your laptop under the diagonal ribbons to safely secure it the most comfortable position.
She sent me one to try out for myself and I must say it is really cool!
I ordered the 'Sweet Charlotte' design because it was SO me! :)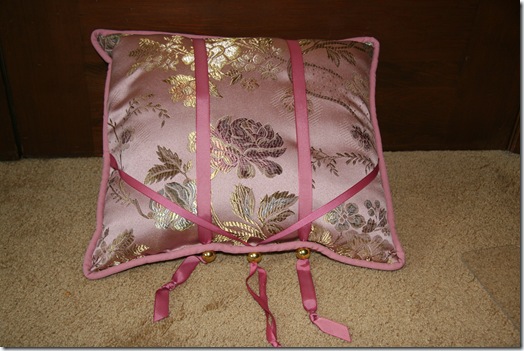 I used it indoors on the couch…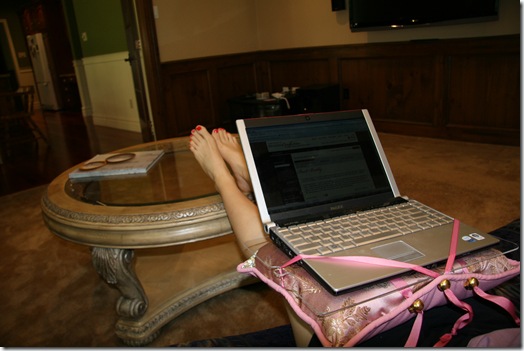 Outdoors…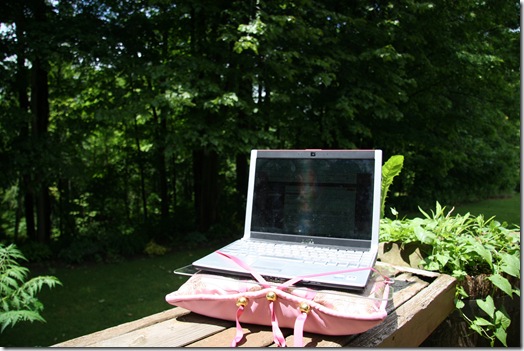 And I even found a totally new use for it! As a cookbook holder!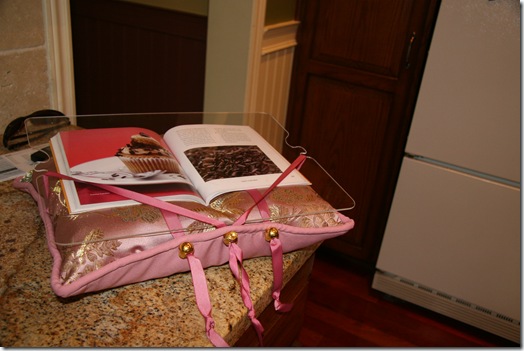 Pretty darn cool! :)
The latest research is showing that having laptops directly on our laps is not good for us. The Book Buddy creates a barrier between the body and our laptops! Not to mention that the Book Buddy is super comfortable and cute!
Would you like a chance to win a Book Buddy?
1. Visit Reading Comfort's blog!
2. Leave a comment on this post telling me a brief story about what brings YOU comfort and why! Is it a trip to your cottage, a pedicure at the salon, a nice bubble bath? Whatever it is that brings you a great deal of comfort tell us below! Mandy is collecting these comfort stories to use on her website, so yours just might be featured!
Contest closes Friday July 3rd at noon EST. One entry per person. Contest open only to US and Canadian residents please.
What brings me comfort?
Often a particular smell can bring me comfort. Sometimes I will smell something and it will remind me of various times in my life. I love the smell of Eric's cologne and his clothes…sometimes I will wear one of his shirts just so I can feel comforted.
I also feel comfort when I am around my mom and my sisters. I feel so loved by them and so at ease with myself. Many times growing up, I would bury my head in my moms shoulder and cry when I was upset. There really was no greater feeling of comfort than having my mom hold me when I was sad.
~~~~~~~~
1. Don't forget my delicious Blueberry Banana Walnut Streusel mini loaves are 25% off today only!!! Email [email protected] to place an order.
2. If HAYLEY is reading this, please check your junk mail filter! I keep getting your emails for an order, but I don't think you are getting my emails! Please check your junk mail as I have emailed you back a few times now. ;)
3. See you later for a Summer Glow Post!!! This week's topic- REFLECTION: How we think, feel, and perceive our current selves!!! It's going to be good!
Ok, I am off to bake an order and then I have a BUNCH of paperwork to do! I am also working on my research for shipping to the STATES!!! Don't worry it is coming soon my lovies! ;)