Good evening!

ATTN Canadians: Glo Bakery is having another GLO-OUT!
My Blueberry Banana Streusel Mini Loaves are 25% off until tomorrow only!
Order by tomorrow at 2pm EST and get your mini loaves by Friday! While quantities last!
Email [email protected] for more info.
~~~~~~~~~~~~~~~~
I was a busy baker today!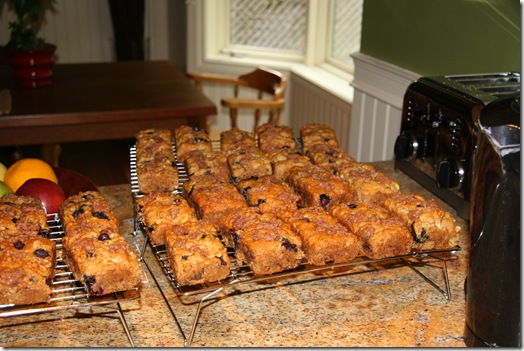 I made 28 Blueberry banana mini loaves! Tonight, I also have to make an order of my Vegan Flax 'n Gl'oat muffins.

The sun kept peeking out from the clouds all day long and luckily when Eric and I left for our outdoor workout it was gorgeous and sunny!! :) That made me a very happy camper!
Before the run with my Canada Day balloon: ;)
On the last 1/2 mile it started to sprinkle though. It was kind of refreshing because we were both quite hot and it was very humid outside.
The workout:
Outdoor run, including 2 huge hills
Distance: 4.60 miles
Duration: 42 minutes
Max Heart rate: 171 bpm
Avg heart rate: 154 bpm
Avg pace: 9:15 min/mile
It was a great run! Eric was on bike of course, motivating me to pick up the pace! lol. I love our bike/runs together. It is a nice chance to catch up and relax with one another.
Not even 1 minute after we got home, it started to DOWNPOUR!!! Now that is luck! lol.
I also did the SGBC exercises! You can assume that I am doing them according to the calendar unless I mention otherwise. This will save me from having to say the exercises I did each time! :)

Since it was wet outside, I knew I had to go with my indoor option for the picnic! :)
You already saw part 1 of the picnic at lunch.
Now I was on to part 2!
I made a variation of a recipe from 101 Cookbooks called Lemon Tofu Cucumber Salad.
My version (Serves 1-2):
Mix together the sauce ingredients and set aside.
Sauce:
1.5 T lemon juice
1 T EVOO
pinch of sea salt
2 T light Italian Dressing
1 green onion, chopped
1 teaspoon minced dill (see pic below)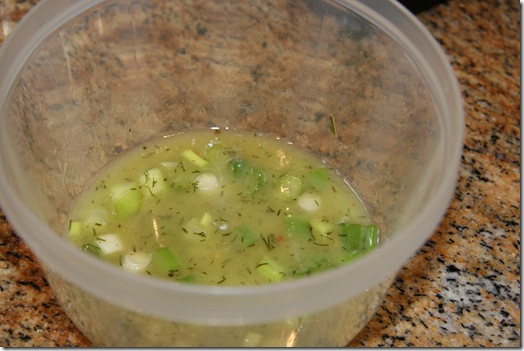 Dill: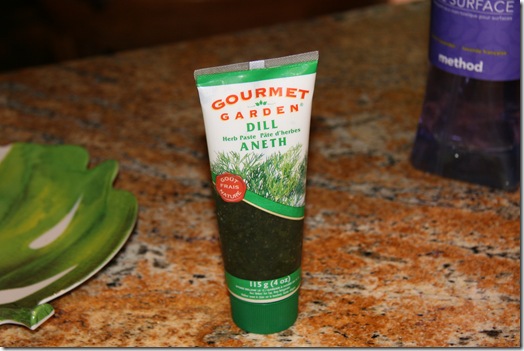 I didn't have fresh so that is what I used.
Base:
5 oz extra firm tofu
1 zucchini
Chop up 5 oz. of extra-firm tofu and 1 zucchini and grill in a skillet until lightly browned. Add crushed black pepper to taste.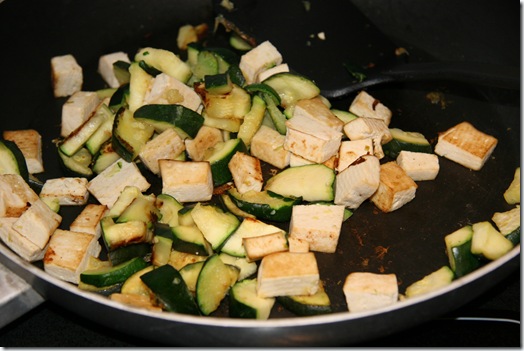 Mix together and sprinkle with sunflower seeds! :) I also added 1/2 avocado at the end!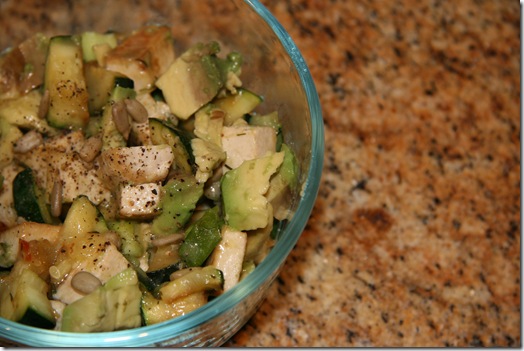 Then I cooked Eric a hamburger wrap, knowing that he would not be pleased with tofu! lol.
I started to assemble our plates and the picnic setting! It was so much fun! Eric had no idea what I was doing…lol.
The wine: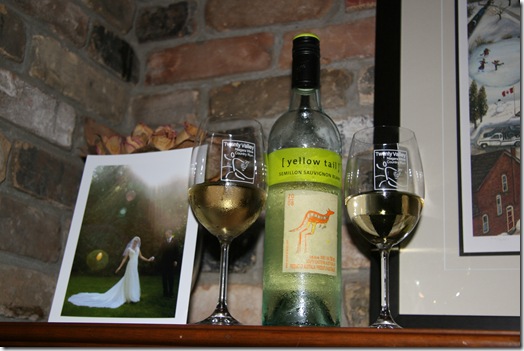 The candles and flowers: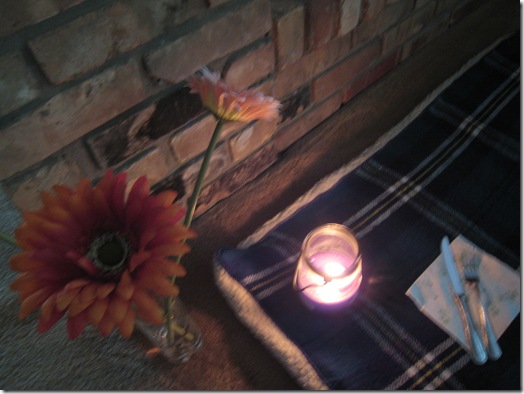 Trees…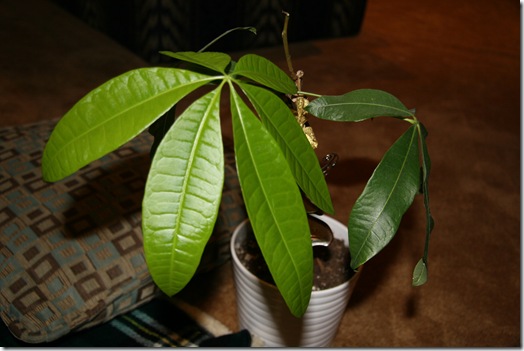 More food with candles…
Big cushions and a nice comfy blanket…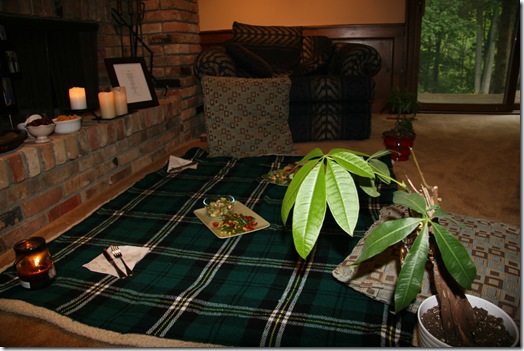 Ta-da!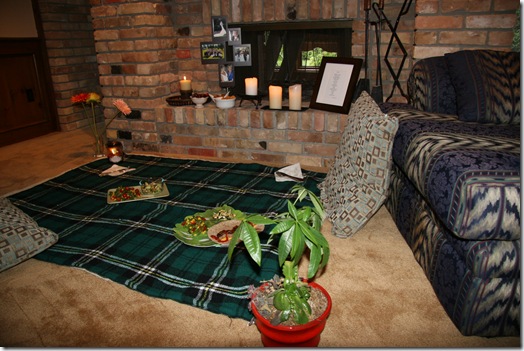 Our eats on green plates. Eric got to eat off our new Wal Mart plastic leaf platter that we got on sale for $3!! You can't tell from this pic, but it is huge!
My plate:
Oh I just LOVED both of these salads!!! :) Such great picnic food!
I thought this shirt was fitting tonight:
;)
Sketchie was sad he couldn't come in: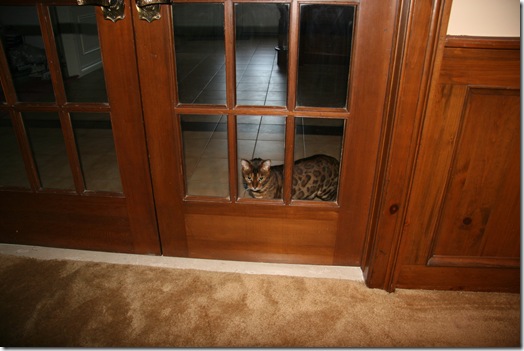 We stuffed ourselves with cherries and bread for dessert: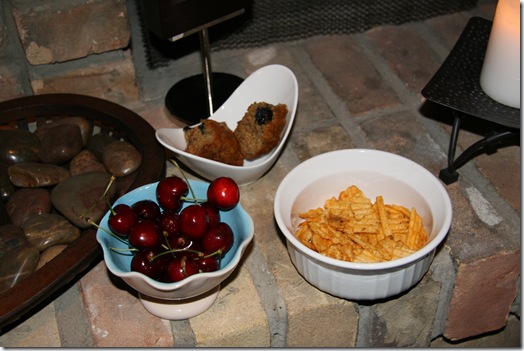 I cleaned my plate. Eric ate everything but the tofu I snuck on his plate :(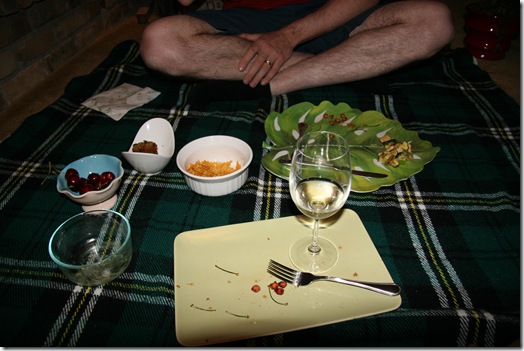 I went to the kitchen for 1 minute and I came back and found this!!!!
Asleep wrapped up in his blanket! bahaha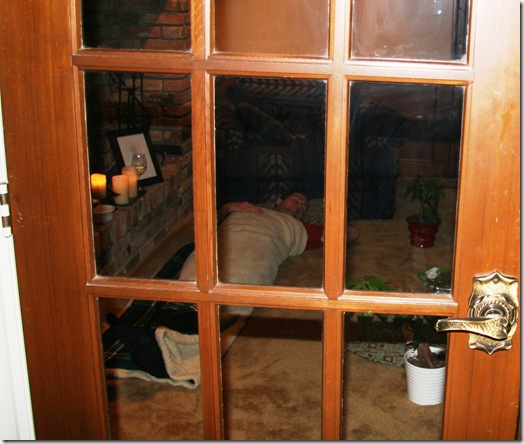 I guess today was just too much excitement for the poor guy!
Well folks, I am off to bake an order! I am feeling much better today because I had some down time periodically throughout the day and took mini breaks! I also loved that I cooked some new recipes today. I find cooking so relaxing- I just zone out!!
Don't forget to sign up for the Summer Glow Boot Camp if you haven't done so! Don't forget tomorrow is a contest giveaway!
Would you like to take advantage of the delicious blueberry banana streusel bread 25% off? Email me asap ([email protected]) because it is only on while quantities last!
Ciao!

Tonight's question: What are you doing for 4th of July long weekend?
Canadians- How did/are you celebrating Canada Day today?
Do you cook or bake anything out of the ordinary or do you have something that is a tradition with your family/friends?