Good morning! :)
We had such a fun BBQ last night for our friend Zac's birthday!
I am one slow moving chicka this morning though! Eric and I were up until about 1:30am.
Yesterday I was in a huge rush getting things (and myself) together before everyone arrived at 7:30. I was making some huge progress with Glo Bakery work so I didn't stop that until about 6:30pm and then I had to madly rush to workout, shower, and clean in under 1 hour!
The Good News? I applied for my Food Facility Registration with the US FDA…so I am one step closer to shipping my goodies to the states! :) I spent almost all day on the phone with people in the US trying to figure out what I needed to do! I also researched labelling requirements! I felt like a made some major headway so it was a good feeling.

When I only have time for a quick workout, I always crank up the intensity!
The workout:
Duration: 30 mins + 2 side advanced planks with arm reaches
Treadmill hill walking, incline 15% speed 4.3 mph
Max heart rate: 168 bpm
Avg heart rate: 155 bpm
It was an INTENSE 30 minutes…To get through it, I broke it up into mini 5-10 minute 'sessions'. I would tell myself….ok only 5 mins. of this session and then I can take a quick water break. It really works when I do that! :)
Then, I showered, cleaned up,
And made some delicious Cantaloupe margaritas!! I made a huge batch this time so everyone could enjoy it. I didn't add any alcohol until I figured out what everyone wanted. It was a good thing too because Carly's stomach wasn't well and she wanted a virgin one.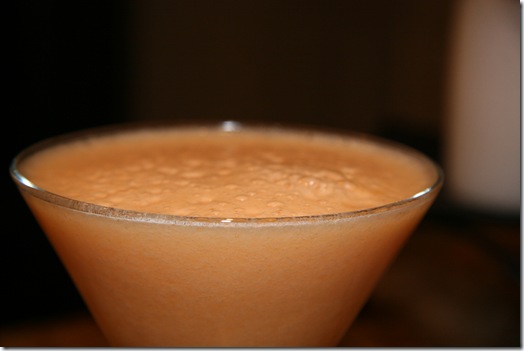 Then the guests arrived- Carly & Birthday Boy (Zac), Steve, Dan, and Jesse!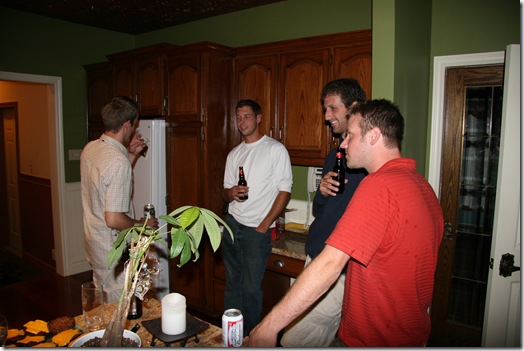 Carly and I prepped the food while Steve and Eric BBQ'd in the rain. Look how cute they are: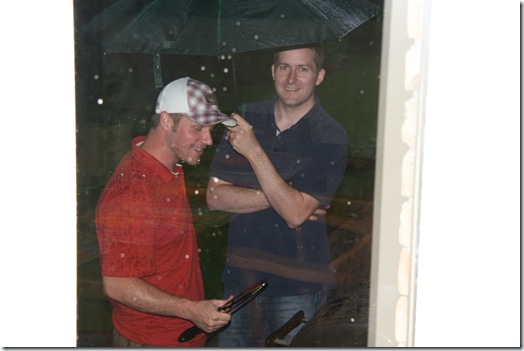 Carly brought over a ton of birthday decorations, so we set up some balloons and whatnot. I sipped on a virgin Cantaloupe drink while I worked.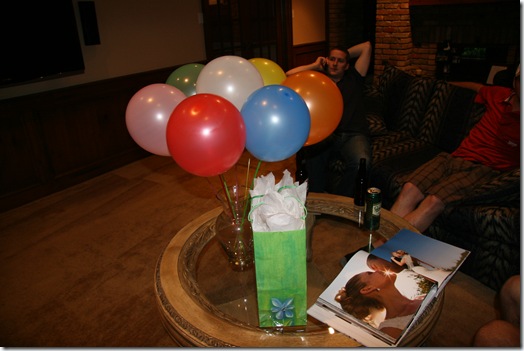 We gave Zac his birthday gift…Tequila ;)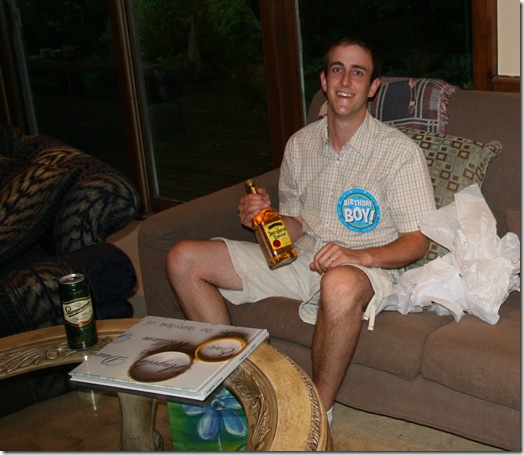 I made a Cantaloupe Margarita for everyone and they all LOVED it! Even the boys! :)
I mixed in some Coconut Liquor in it…it went lovely!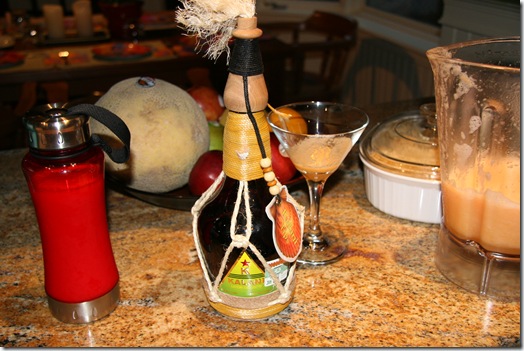 Then it was time to eat!
The beef burgers: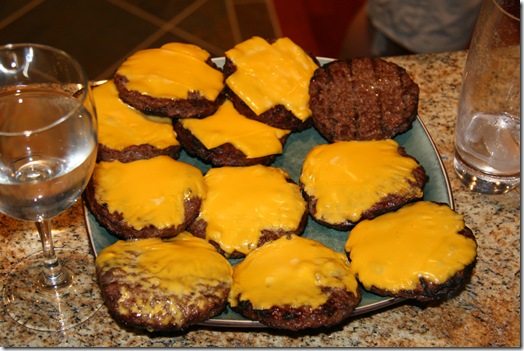 I had a Sol veggie burger (not shown above). Carly also made a delicious salad that we had with it. I had 4 oz. of wine with dinner.
The gang minus Eric: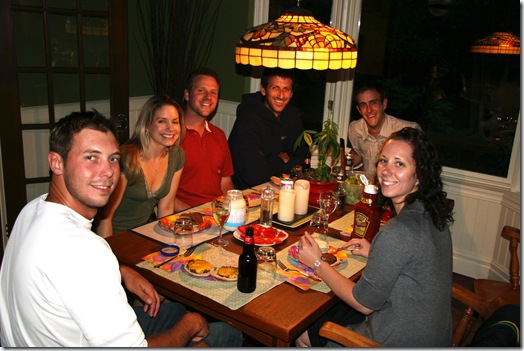 Then it was time for 'cake' that Carly made which was a delicious Apple Crisp!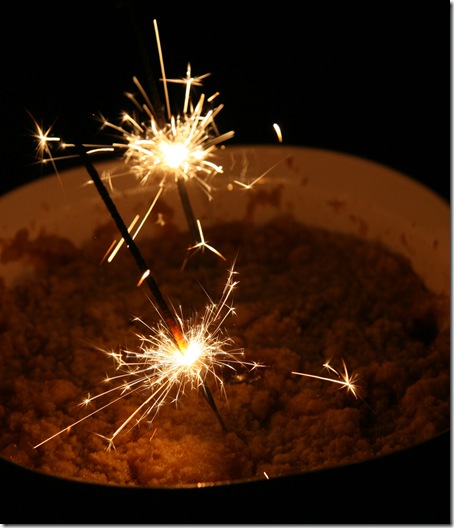 With Sparklers because the Crisp was so hot it melted the candles! lol
Then I brought Zac his second dessert…which was a shot of Baileys.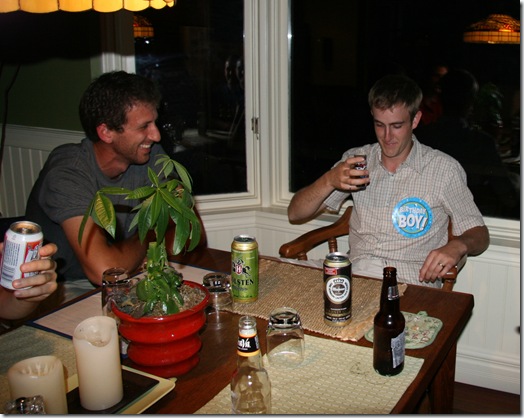 Then it was time for some Wii!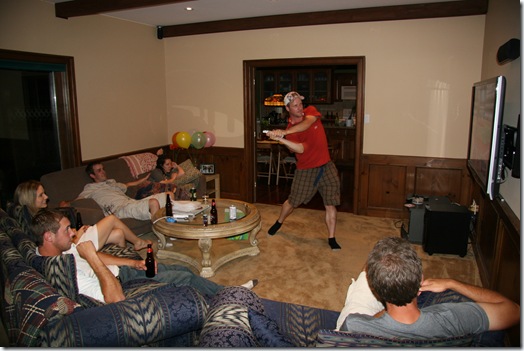 I had a Coors Light while we played.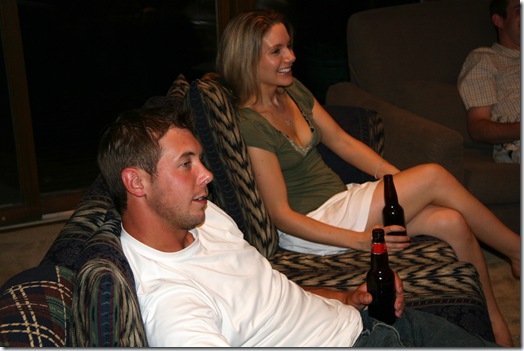 I love the intensity in Steve's face- haha!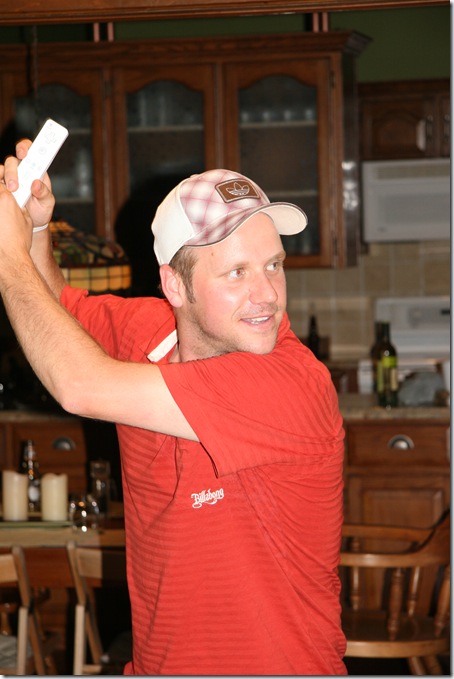 The Birthday Boy harassed Sketchie…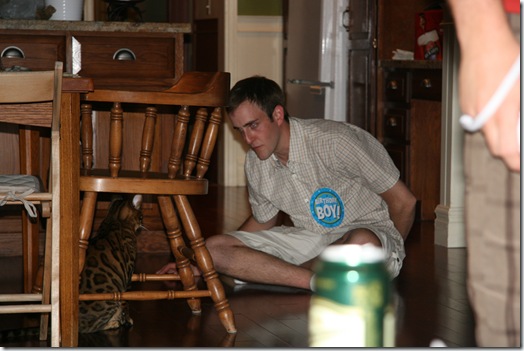 I think Sketchie ran away shortly after this pic! lol.
It was a fun night! :) Jesse is having a BBQ on Saturday at his place that we are probably going too. Should be more fun times!
~~~~~~~~~~
So back to reality today! I have a ton of orders to do today and I also need to finish prepping for the launch of SUMMER GLOW BOOT CAMP tomorrow!!!!! I hope you are excited…it is going to be so much fun! I can't wait! :)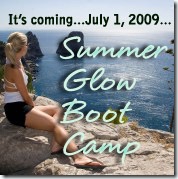 See ya later…off to bake!

Today's Question: What is your all time favourite drink (alcoholic or non)?
Aside form Green Monsters, my favourite drink is a virgin Caesar- my dad makes the best Caesars ever. Motts Clamato juice is always a staple in my dads house :)