Happy Monday everyone!
Thanks for all of your comments on North America's Healthiest Cities post this morning! I must say I have a huge desire to visit Victoria and Ann Arbor now! :D
My gosh I have been so busy the past while! Not that I am complaining, but I can hardly keep up!!! Yesterday I put in a 15 hour day on Glo Bakery and OSG- baking orders, paperwork, and preparing Summer Glow Boot Camp for its' launch on Wednesday!! Exciting stuff :D Today I have another busy day. I have already done 2 orders and I have a bunch more on the docket for the next few days!

Yesterday's workout was AWESOME!!!!
I turned on the TV and Perfect Stranger with Halle Berry was on, so I decided to watch that. Here I was thinking that I was going to watch a 'light romance' movie- boy was I wrong!!! lol. That movie was messed up! I guess it didn't help that I started watching it half way through. :) The good news is that it was so suspenseful that it made my workout FLY by. I had only planned on doing 30 mins or so but it quickly turned into 1 hour so I could finish the movie!
The workout:
Duration: 60 mins
Treadmill hill walking: First 15 mins at 4.1 mph, incline 15%, 40 mins at 4.2 mph, incline 15%, and the last 5 mins was at speed 3.5 mph incline 15%
Max heart rate: 166 bpm
Avg heart rate: 151 bpm
Distance: 4.11 miles
After every 10 minutes I did CORE work!!
Here I am doing my favourite waist whittler!!! Twisting Advanced side planks!!! I can actually feel my ab muscles 'crunching' as I do this workout. It sorta feels like someone if wringing your waist like a wash cloth…LOL…but that is the beauty of it- it is SO effective. I have noticed a huge improvement in my middle since doing this move! My middle has toned up even more since the end of the BBBC!
I did about 3 sets of 1 min each per side. I also did some scissor ab moves (1 set).
Here I am just covered in sweat!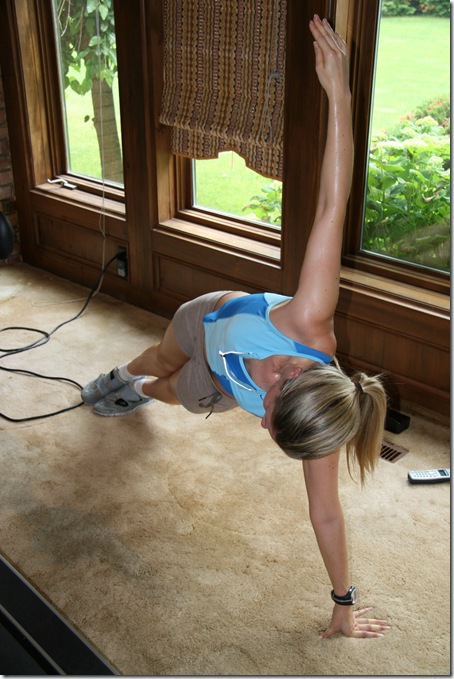 The whittler…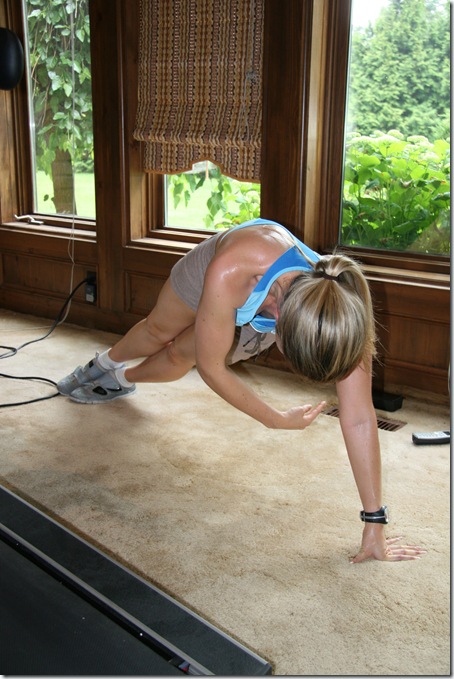 My arms are really sore today from these side planks!
Not sure what is on the workout agenda for today. It might be an off day since I am so busy and we are having a BBQ party with about 6 other friends tonight!
I am still considering running in a 5k race on Wednesday morning! :)

Last night Eric and I tried out the new SOL veggie burgers!!!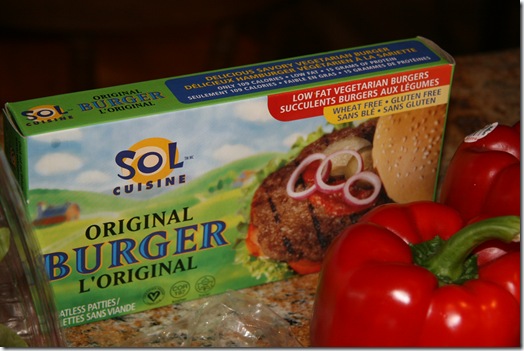 I don't know why, but I thought that these were going to taste horrible!!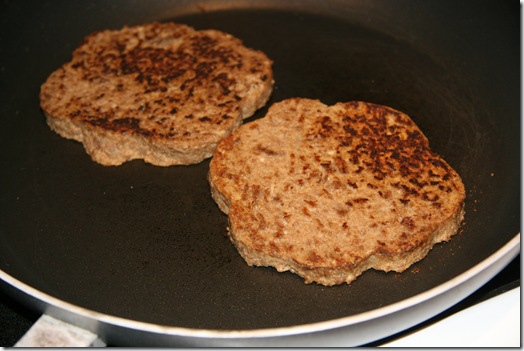 Each burger has about 15 grams of protein in it and just over 100 calories! Not too shabby!
I added some healthy fats to my meal by adding 1/2 avocado and 1 huge scoop of my favourite hummus:
My dinner: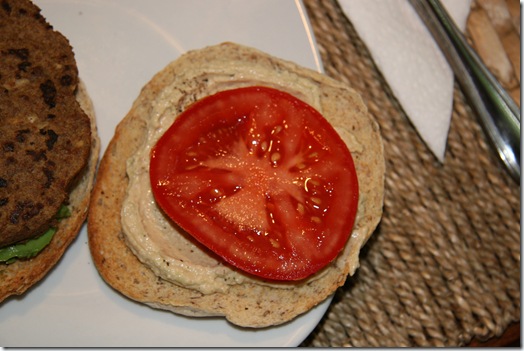 Along with some frozen veggies that I steamed. I included some PC frozen Edamame beans! This was the first time I have ever tried these beans before! They were yummy!
1 cup has 17 grams of protein and 8 grams of fibre!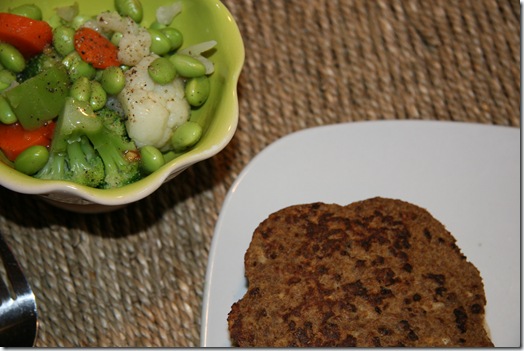 My burger was nothing short of mind-blowing delicious!!!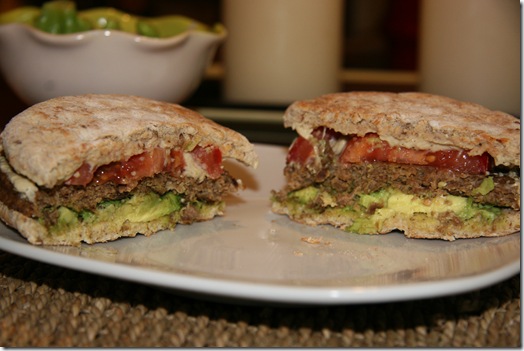 I was very impressed with these SOL burgers! They had a nice texture too! And guess what? Eric DEVOURED his! He liked them better than the Money's Veggie Burgers (although he loves those too!).
My new Twenty Valley Wine Glass from the 10k race!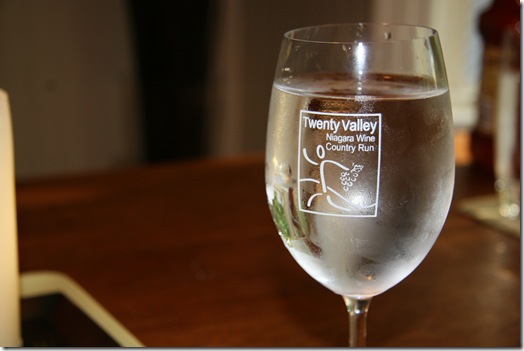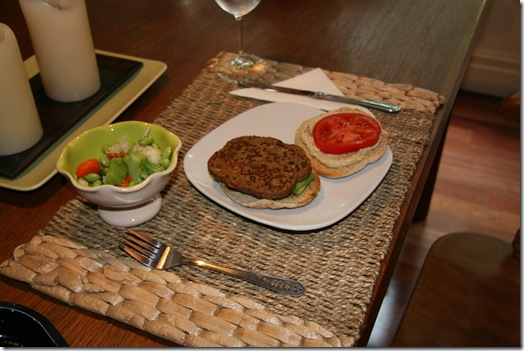 Dessert was a cup full of delicious blueberries!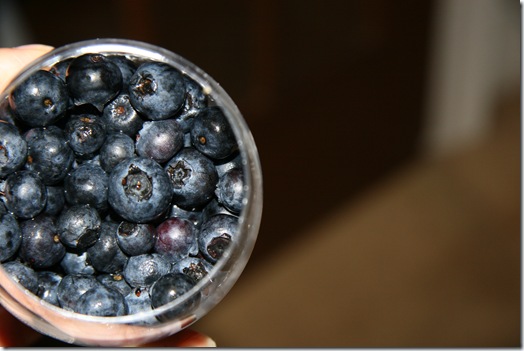 Here are some pictures of some of the delicious baking I did yesterday!
I was successful in making gluten-free brownies!!! It was my first attempt ever at making something gluten-free and I was so scared. It wasn't so bad though! Nothing a little gluten-free flour and xanthum gum couldn't fix! ;) I was impressed with the flour I bought…it didn't have an overly 'beany' taste like some of the bean flours do.
'One Glo-ing Bite' Walnut and Chocolate Chip Gluten-free brownies: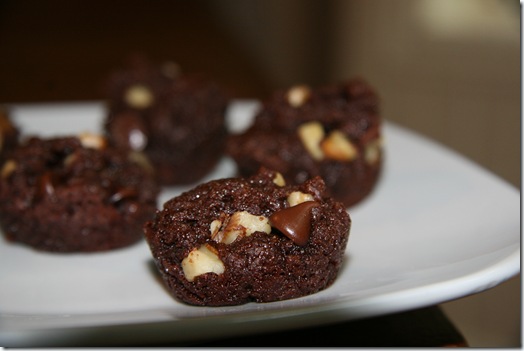 Today was all about my On The Glo II bars!!! I have a ton of orders for these this week. Don't forget they are 25% today!!

1. I still can't sleep longer than 7 hours! What the heck!
2. Check out the renos Eric did on the house this weekend over at Soup Up My House! 
3. Summer Glow Boot Camp is COMING!!! Wednesday July 1, 2009!! You won't believe the awesome prizes we have up for grabs!!! Over $1000 worth of prizes to be won!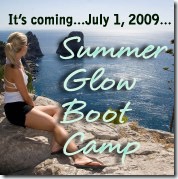 Today's Clue:
Do you like to plan in advance? Well, this challenge is for you- mark your 'calendars'!
4. You can follow me all day on Twitter to see what I am up to!! Expect lots of Twit-pics! ;)
5. I was scoping out the Lululemon website this morning trying to find the name of my shorts for a reader. I came across their new 'Running Dress':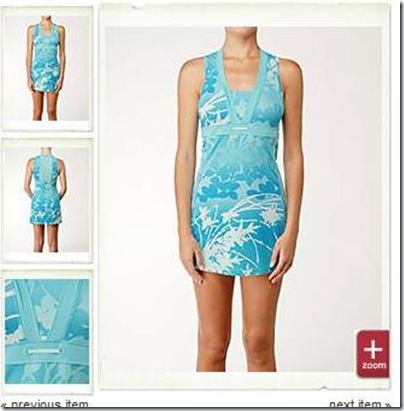 This is what they say about it:
"Sassy and sporty…the perfect technical combo!
Run, play tennis, hit the gym — there's nothing you can't do in this dress"
Now I am sure we have all seen how crazy popular running skirts are nowadays! But I have never heard of a running dress before! What do you think of this? Do you think it will catch on?
Personally I can't see myself wearing one!! But I guess I shouldn't knock it til I try it! ;)
What do you think? Would you wear it?? Would you wear it to a gym??