Cravings. Those intense and hard to ignore desires for a specific food.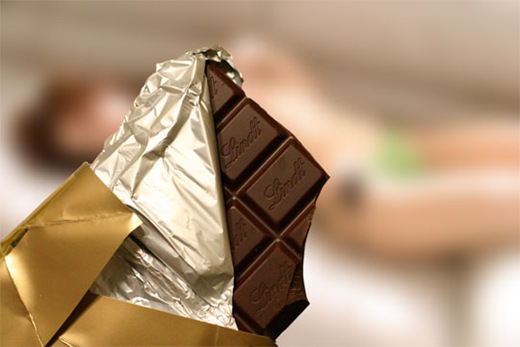 If you are a woman, odds are you have cravings on a regular basis.
In society, cravings for food come with negative connotations; many feel that cravings are something to avoid, be scared of, and deny at all costs. Sometimes cravings are a red flag that make women feel vulnerable or uncomfortable.
Why is this so?
Is it because many of us still separate food into 'good' and 'bad' categories or that we have that 'all or none' mindset when it comes to indulgences? Are we deep down scared of foods that we feel are bad for us?
A recent study conducted at the Jean Mayer USDA Human Nutrition Research Center on Aging at Tufts University researched women's cravings and weight-loss.
The study looked at 32 overweight women 20-42 years of age who were assigned to one of two weight-loss diets. Participants completed food craving questionnaires that measured the foods craved, the frequency and strength of cravings, and how often cravings led to eating the desired food.
Here is what they found:
94% of dieters reported having food cravings
Participants who had lost the most weight, craved higher-calorie foods, as compared to participants who lost a lower percentage of weight. These cravings for energy dense foods are foods that pack the most calories per unit of volume.
The authors give the following advice for dieters with cravings:
1) Realize that cravings are normal and common!
"Most people feel guilty about having food cravings," says Roberts, "but the results of this study indicate that they are so normal that nobody needs to feel they are unusual in this respect."
2) Substitute similar tasting foods that are lower in calories!
"If individuals understand that they can expect cravings and that those cravings will be for calorie-dense foods, it might help in their weight management. One thing to do is to substitute foods that taste similar but have fewer calories, since the craving can be satisfied by related tastes."
~~~~~~~
I found this study interesting, especially the part that found that people who had lost the most weight had the highest cravings for higher-calorie foods.
I believe there is an evolutionary mechanism behind this, in that it is natural for one's body to try to get you to eat higher calorie foods because it may think that it is being starved or at risk for survival.
I took an Evolutionary Psychology class in university (my all time favourite course!) and we learned a lot about dieting and why many diets can fail– when your body feels so deprived, it sends urgent signals for you to eat (and LOTS of it) so it doesn't lose any more weight. This is also why binges occur- your body is simply responding to evolutionary signals in times of stress!
I also think that cravings are natural even when you are not trying to lose weight. And that is exactly what these researchers found- 91% of individuals not trying to lose weight reported having cravings.
I think it is important to look at cravings in a new light and not be so afraid of them. Sometimes cravings are simply your body telling you that you aren't getting enough calories. Or sometimes it is hormonal (oh women, can't we ever relate to this!), and sometimes it is simply out of boredom or stress.
Regardless, of why they occur, I think we need to recognize that our body is talking to us. Rather than ignoring or suppressing urges for a certain food, I think we at least deserve to listen to our body and ask ourselves why we might be having that intense craving. Is it 'that time of the month', did we forget to eat lunch, are we stressed about work? And of course there will always be times when you want a food just because you want it, and who the heck cares WHY! ;) Sometimes it is just fun to eat something because you want it and for no other reason and no other analysis. I know I do it quite often myself. It sure beats having binges like I used to!
Someone asked me last night whether I am hungry when I have dessert or if I have it just because. And the truth is, there is no easy answer to that question! The past few days I have been craving sweets a lot (hormones!!!) and so I have been having a few extra treats than maybe I normally would. I try not to stress about this because I know over the course of a month it all balances itself out anyways. Other times, I am still hungry after dinner and want something sweet to end the day. It really depends! Other times I just crave something and eat it even when I'm not really hungry. I think that is ok and totally normal to happen on occasion.
The guilt that many of us women have with food is already bad enough. If we can start embracing what our body is telling us, instead of internalizing more guilt and shame, I think we will be much better off. No one is perfect and we shouldn't expect ourselves to have a 'flawless' diet because I don't think it exists!
Today's questions:
What is your take on cravings? Do you get them often? When are you most likely to get them?
Do you find you get more cravings when you are in 'weight-loss mode'?
I can't wait to hear your thoughts- I find this topic to be very interesting!