As requested by Caitlin– here ya go!!! :D
OSG MOM writes:
Hi Ange,
I am attaching my note for Caitlin. I am going to put my note around a few places today.  I think it is really such a great idea.

Bye the way, you are BEAUTIFUL!!

Love,
Mom
Awww…:)
And her AMAZING note that she is going to put up over town!!!!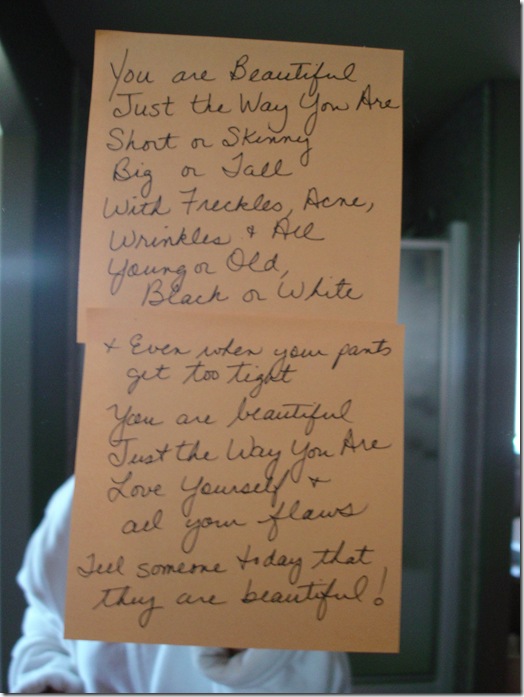 How awesome is that!? :D Way to go mom!!!!!!
Today's question: Have you tried out Operation Beautiful yet? Have you inspired anyone in your life to try out Operation Beautiful?
~~~~~~
In other news…
I had a great 5 mile run with Eric (on bike) this morning! We chatted a lot about our weekend to-do's and what we wanted to get done today while the weather was nice and tomorrow when the weather is rainy!
Action shot!!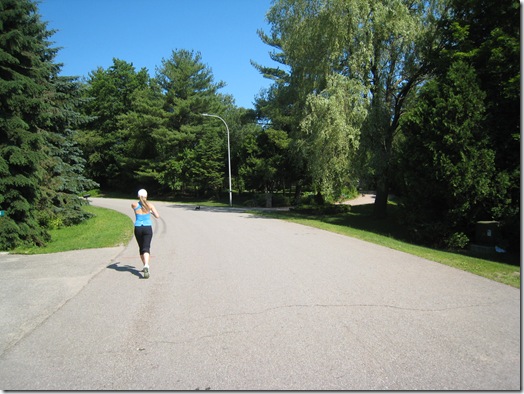 This is what we decided on for TODAY:
ANGE: Work on SGBC, Create + finish OSG & Glo Bakery flyer, Update new recipes, Update prices, blog, Research exporting Glo products to states
ERIC: Stain wood trim, install new light fixtures, hang Glo Bakery picture frame from mom, blog (?)
BOTH: Outdoor workout, Groceries (personal and bakery)- we will tackle both together! Movie night- possibly The Proposal (anyone seen it yet??)
TOMORROW:
ANGE: Clean entire house :( Prepare for BBQ with friends, Bake order/test new recipes, blog, indoor workout TBD
ERIC: Put up wood trim, start painting the sun room, blog
~~~~~~~
Summer Glow Boot Camp Casting Call!
If you'd like to contribute in any way to the SGBC, please drop me an email with your idea! I am looking for various writings on exercise, motivation, healthy eating, etc. For example, Caitlin will be writing a post on how to stay motivated!!!
~~~~~~~
On The Glo Bars
Some of you noticed that I removed my On The Glo bar post! I am really sorry, but I had to take the recipe down. I am looking into distributing my bars to wholesalers and the person I spoke with said I should remove the recipe from the blog (for now anyways). Sorry guys!
~~~~~~~
Ok, I need to get back to work….I'll be Tweeting on Twitter and 'Twit-pic-ing' away if you want to know what I'm up to!!