Eric did a hilarious post last night on the top 8 things that date our house– be sure to check it out! We were in hysterics going around the house taking pictures…we didn't realize there were so many things to 'fix-up'!!! Ok, maybe HE did… ;) We read over his post together last night and we were both laughing our asses off. Oh man…some projects in store, or what!?
Eric wants to know- what thing in our house do you think dates it THE MOST! Leave a comment on his post and let him know! We are currently having a little debate about what to do next…lol.
~~~~~~~
Last night, I whipped out the wonderful birthday gift that I got from Leah– Ani's Raw Food Desserts!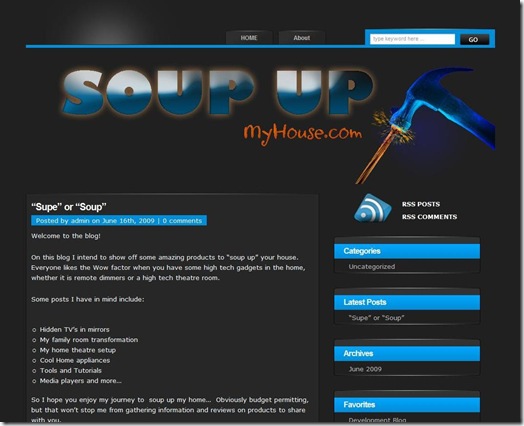 With being so busy with bakery stuff, I haven't even had a chance to make anything out of this cookbook yet!
Well, that ended last night. :D
I found a concoction that sounded so delicious (and quick + easy) that I had to try it!
I modified the recipe for a frozen cantaloupe mixture. I like to call it the Cantaloupe Creamsicle…
Ingredients:
1 cup cantaloupe
1/2 cup water
1 T fresh lemon juice
1/2 t lemon zest (optional)
2 T raw agave (or you can probably use honey/maple syrup?)
Mix everything in a blender for 30 seconds or so…I left a few chunks of cantaloupe in mine.
Then I tasted it. O-M-G it was FABULOUS!!!!!!
I think because I am so used to making very non-sweet green monsters that this honestly tasted like a frothy, creamy, sweet DELIGHT. It was so very good.
My second thought was: 'Damn, this would be AWESOME mixed with vodka/triple sec or Tequila!!!' lol…I think you know what my next version will be! ;) We are having friends over soon and I am so going to make these drinks!
Then I resisted the urge to guzzle it down and I poured it into a mini popsicle maker. If you don't have one of these you must pick one up! They aren't just for 7 year olds anymore. ;)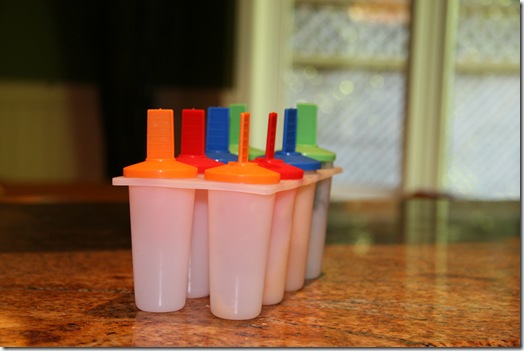 Then I left it overnight…and voila…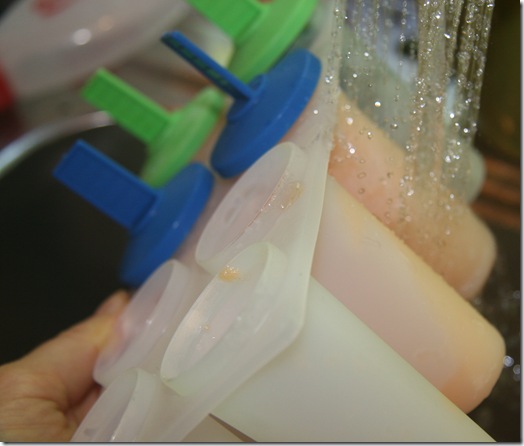 A healthy 'Cantaloupe Creamsicle' :D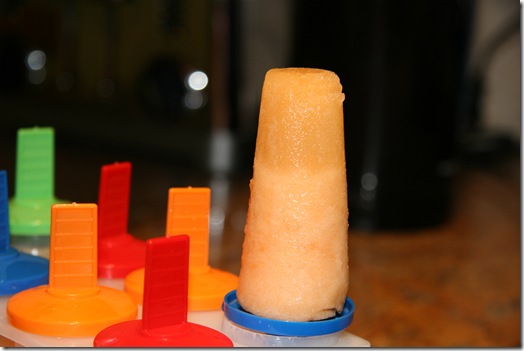 Here is another plus- Each pop is only 25-30 calories (makes 5-6 pops) or you can simply pop the whole mixture (~170 cals) in a glass in the freezer for a few hours and have a fun 'shake'! So perfect for this hot weather that we have been having lately!!
I am so excited to try new combinations with all kinds of fruits. :) You guys just have to try this!!!!
~~~~~~~~
I am about to leave for a glorious Saturday morning run! The sky is blue and it is a lovely 22C outside! Perfect morning for a run, me thinks! :)
Before the run, I had some GLO fuel…;)
Two of my newest Glo Bakery creations…Coco-Glo macaroons!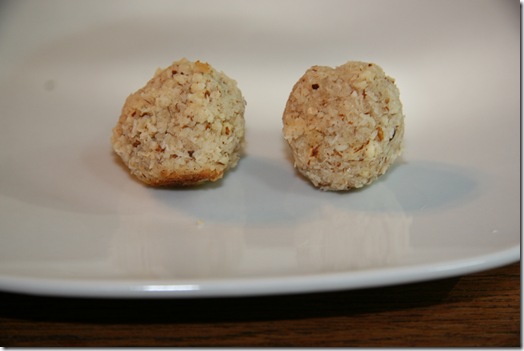 These are hella good. Addicting sorta good. Eric, who is not a fan of macaroons, loved these. What I loved about them is that they aren't 'sickly sweet' like some macaroons. They are VERY light and healthy tasting.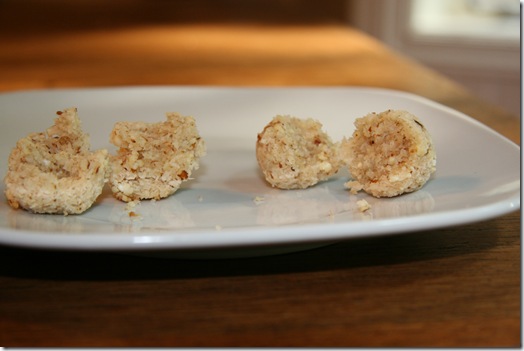 I also had one of these bad boys!
CREAMSICLE!!!!!!!!!!!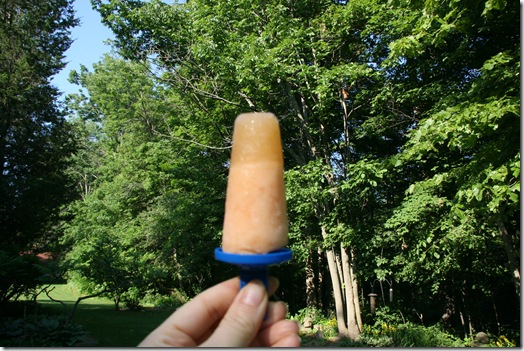 Notice how there are 2 layers– the froth went to the top (of the popsicle maker-remember it is upside down!) and the heavier ingredients moved to the bottom. I liked it this way. ;)
I used to be obsessed with the packaged Creamsicles when I was young. And now a healthy version…just fabulous!
A perfect light snack before my run. Breakfast will come after!
In Other News…
I finally learned how to upload Twitter pics!!! Expect to see lots of Tweets and twics (LOL) from me all weekend long. The fun never stops around here! For those of you following me on Twitter you know how much I use it during the day when I am doing computer work! I remember when I first heard about Twitter I was like…that is so lame! But here I am: Twitting, Tweeting, retweeting (just learned that tonight), and PING BACKING…wait, never mind…that's blogging.
Does anyone else ever dream about blogs or people they read about in blogs?? Last night I had a dream that I met Wiggs from her amazingly witty blog called 'The Beholder'. And guess what? It just so happens she is running a half marathon today!!! Goodluck Wiggs!
I am currently eyeing a Canada Day 5k race for this Wednesday! The course is along beautiful Lake Ontario and it just sounds like the perfect thing to do on Canada Day (aside from the Summer Glow Boot Camp kick-off Party that is!!!!!!)
Sarah is getting married today- Congrats!!
I'm going to digest, dress, and head out for my run shortly! Eric is going to come with me (on bike) :) Enjoy your Saturday!
We've got a busy day ahead of us…a mixture of both work and play. We are hoping to go on a little adventure today though so hopefully we can squeeze it in!