My morning post was in no way intended to place blame on individuals for getting cancer. Obviously, many forms of disease are out of our hands and yes, healthy individuals get struck with cancer all the time! But that doesn't mean that there aren't preventative measures that we can take in our own lives each and every day.
There will always be exceptions to the rule. There will always be the case example of the vegetarian athlete who gets cancer. Or the health nut that does everything 'right' and gets heart disease. Or the individual who has a genetic predisposition for cancer. However, research consistently demonstrates that people who lead unhealthy lifestyles are significantly more likely to acquire chronic illnesses such as cancer than those who don't.
My post this morning was to talk about ways that we can all reduce our risk, not obliterate cancer all together.
There will always, always be factors that we cannot control with regard to our health. There will always be genetic predispositions. There will always be lifestyle or societal factors that we cannot control.
But I still strongly believe that there are many things that we can control.
My topic in this afternoon's post is something that was touched on in this morning's post, but one that I did not have time to address. And that is Locus of Control.
Locus of control, coined by J. Rotter, is one's belief that they can or cannot control events in their lives that happen to them.
An 'internal' locus of control is the feeling that we are able to control things that happen to us, while an 'external' locus of control is the belief that what happens to us is 'out of our hands'.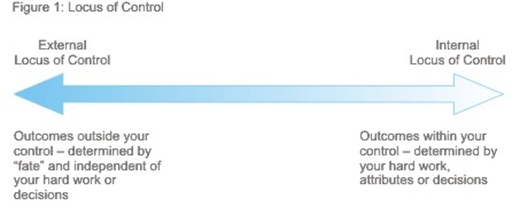 If you have an external locus of control about getting sick, you might think that no matter what behaviours you do in your life, whether you get sick is out of your hands. Someone with an internal locus believes that they can act out behaviours that will impact the chance they get sick.
There can be health benefits of having an internal locus of control.
Sturmer and colleagues (2006) studied 5114 men and women ages 40-65 over a period of 8.5 years. They assessed participants on various personality questionnaires that have been shown to be related to the incidence of various chronic illnesses. At the follow-up, 8.5 years later this is what they found:
257 participants had died
72 were diagnosed with a heart attack
62 diagnosed with stroke
240 diagnosed with cancer
They found that a high internal locus of control over disease was associated with a decreased risk of heart attack.
Other research finds that having an internal locus of control may also result in individuals taking active steps to prevent illnesses, such as getting regular check-ups, cancer screenings, and doctor visits. If you believe that control over illness is in your hands, you may be more likely to take active steps in your life and 'nip' disease in the butt!
Believing that we are in control of our health, whether that is true or not, appears to reduce the risk of acquiring illness in our lives.
It reminds me a lot of the 'placebo effect'– If you THINK something is going to work, it just might!
+++++++++
I also think it is important to point out that it is counterproductive to STRESS about our health. If you find that you are feeling stress and worry about not being healthy enough, then it becomes more of a risk factor for illness, than something that is a positive motivator in your life.
The behaviours we take, the thoughts and beliefs we have about this are all extremely personal and variable. I don't assume that you will approach this in the same way as me, your mom, or your neighbour.
When it comes down to it, you make the choices in your life and only you know what is going to make you the happiest. If that is taking a liaise faire approach, then so be it! :)
+++++++++
Today's question:
Where do stand with locus of control- are you internal or external? Or are you a bit of both depending on what the situation is?

Thanks once again for the enlightening discussions. :) I love all of your viewpoints!
Stay tuned tonight for an EXCITING SGBC clue!!!!!