Last night I was feeling VERY nostalgic!!!
Eric ended up working until 10pm last night…so I skipped the biking to take a 'walk' down memory lane.
And I began looking through our wedding pictures. I can't believe it but this Saturday we will have been married 300 days!
We have been together for over 9 years now.
So here are some never before seen Wedding Pictures!
First things first. When we arrived at the wedding rehearsal the day before the wedding, we had to go over some wedding business with the venue planners!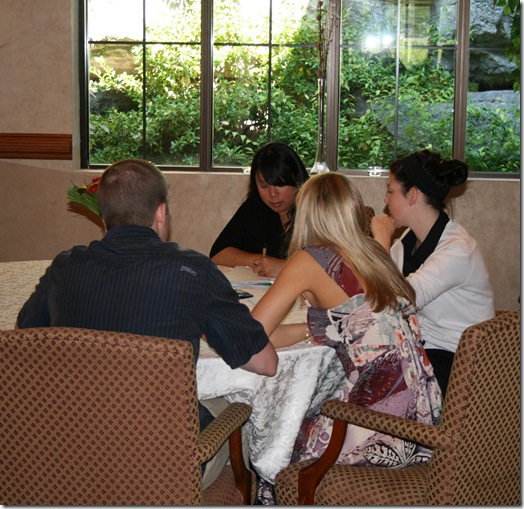 Notice who is sitting closest to the planners…THE BRIDE! ;)
Here I am thinking…his mouth is moving but I'm not hearing the words…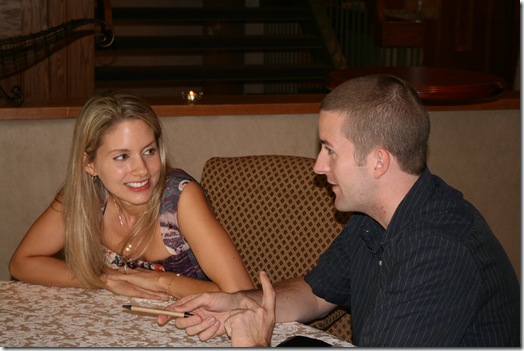 I'm only joking! lol. Eric actually had a BIG hand in all of the wedding planning. Because I was so busy with grad school and my job, he actually did most of the planning! I know, I know, unheard of right! He went to the taste testing without me!!!! And I trusted him. :) I was busy working on my thesis and couldn't go.
MY MIL and SIL made all of the decorations themselves!!! They did all the centrepieces as well as these ceremony arrangements and bows!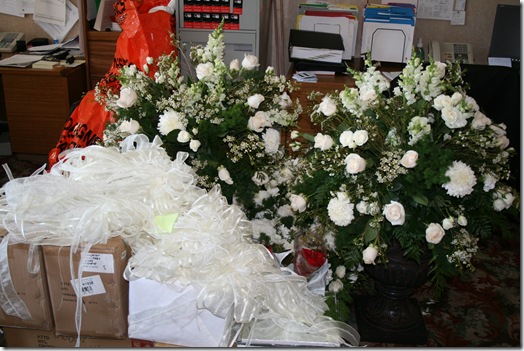 The location of the outdoor ceremony!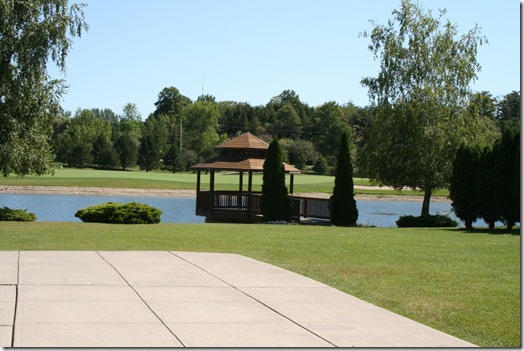 The ceremony spot went from this…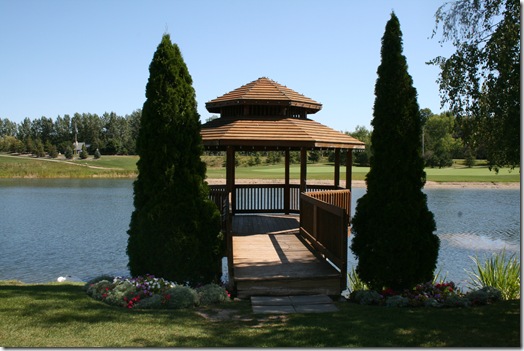 To this: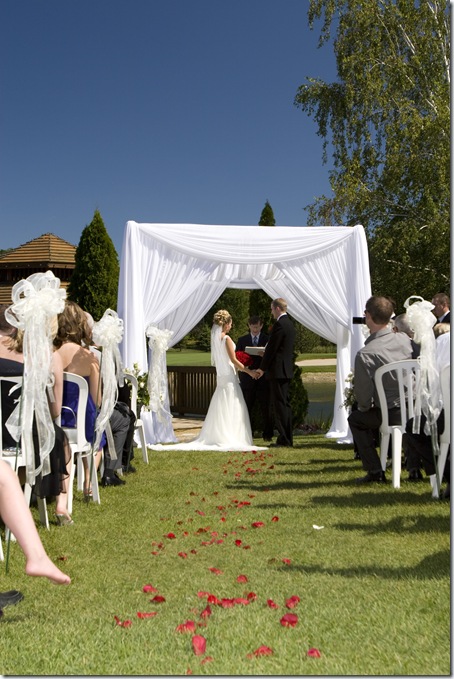 Little known fact…this beautiful chiffon draping below was FREE! The wedding organizer called me the morning of the wedding and asked me if it was ok that the wedding following us set up their drapery early!
Ummm..I think you know what my answer was!!! Those things are like $4000 just to RENT!!!!! There is no way we could have afforded anything like that (we did all of our decor ourselves), so it was true wedding luck!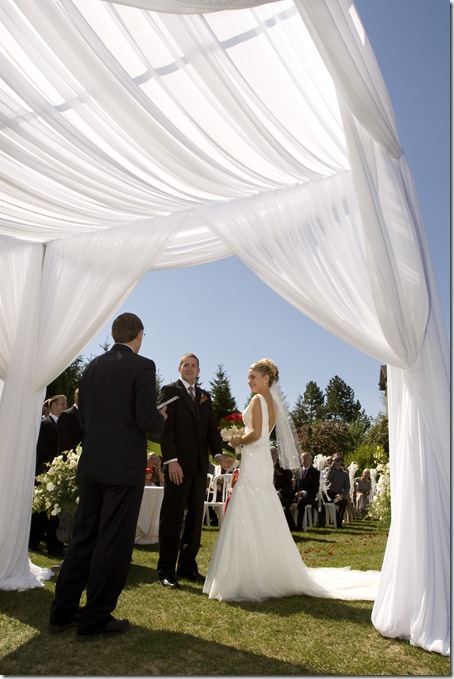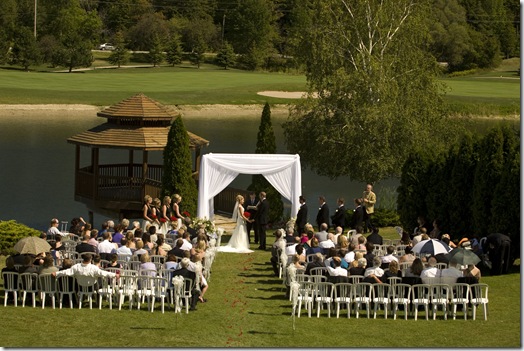 Time to practice the ceremony…
If they look confused, it is because they WERE!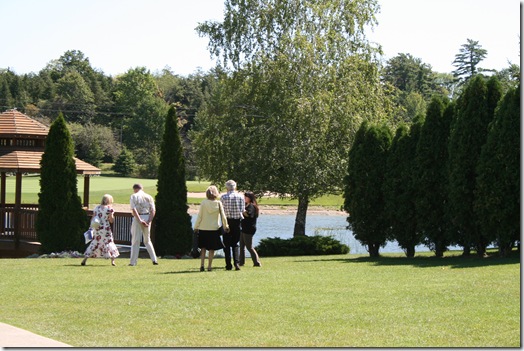 Let's hope the big day goes more smoothly…lol.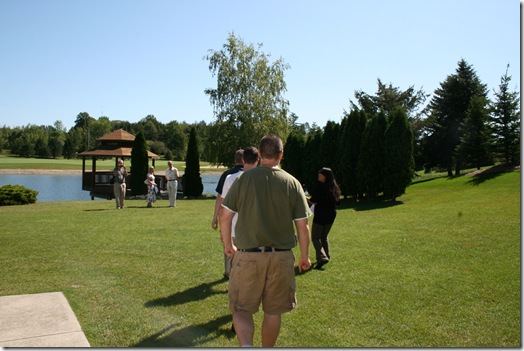 My stunning (yet clearly confused) wedding party went from this: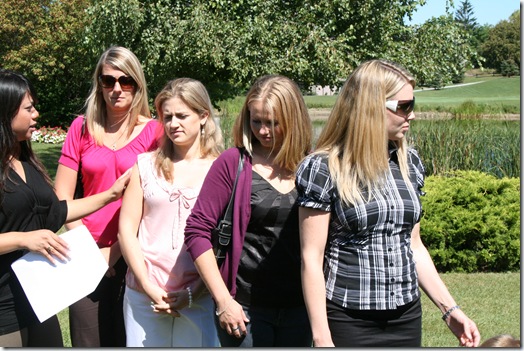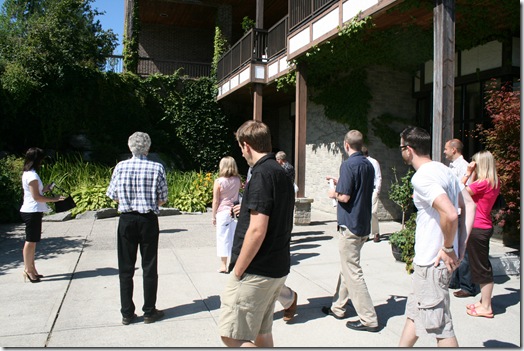 To something straight out of a fashion magazine!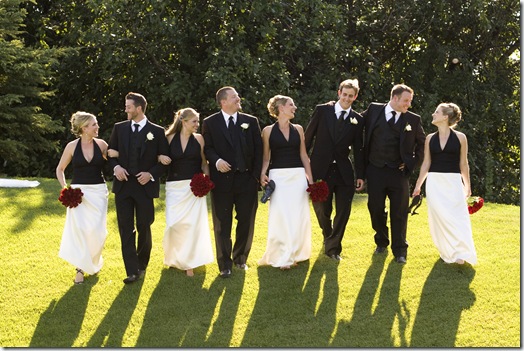 Any rehearsal day doubts all but vanished and their true inner goddesses emerged!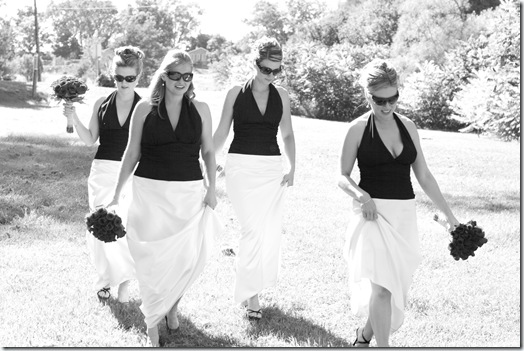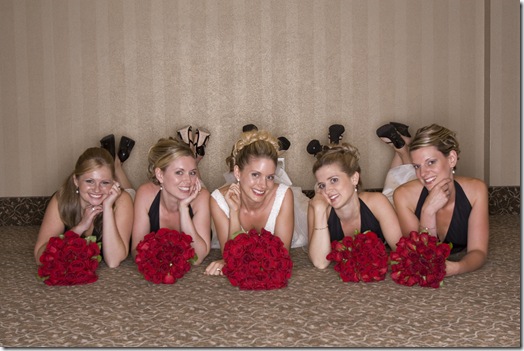 Seeing these boys like this cracks me up. In real life their personalities are soooo laid back, casual, and so not 'suit types'.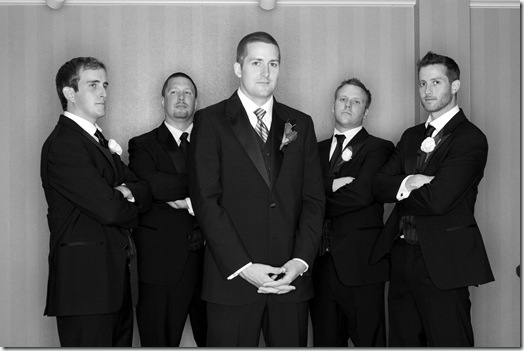 My dad and I went from this…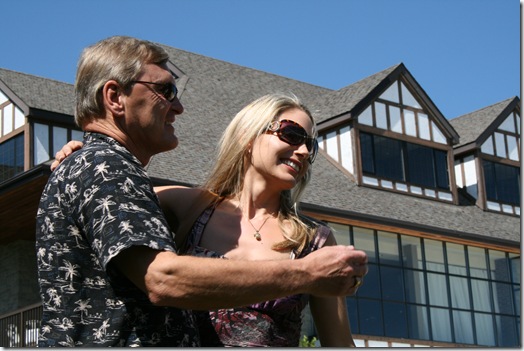 To this…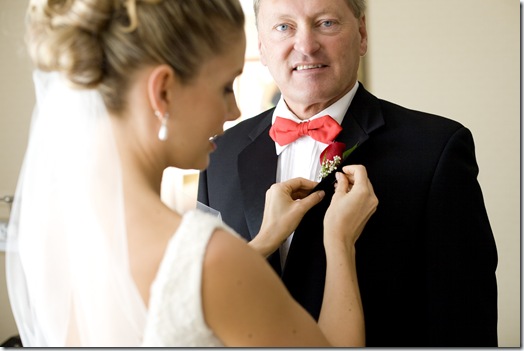 Thank God he made me laugh while walking down the aisle because I was SHAKING like a leaf!!!!!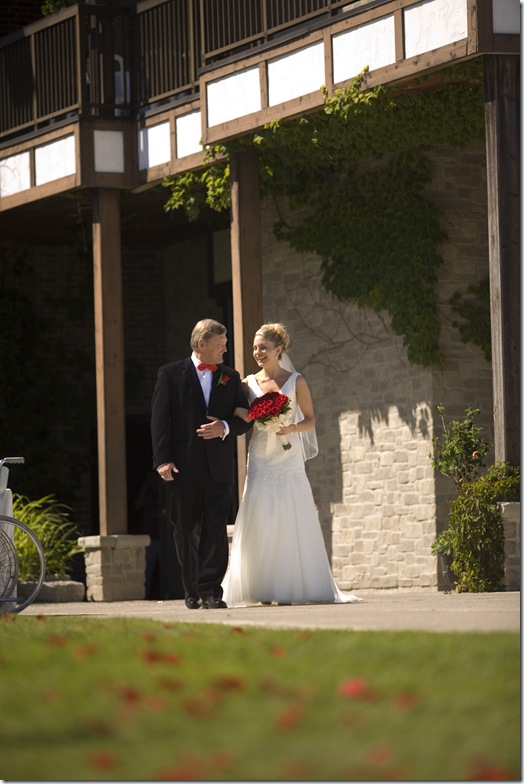 My mom and I went from this…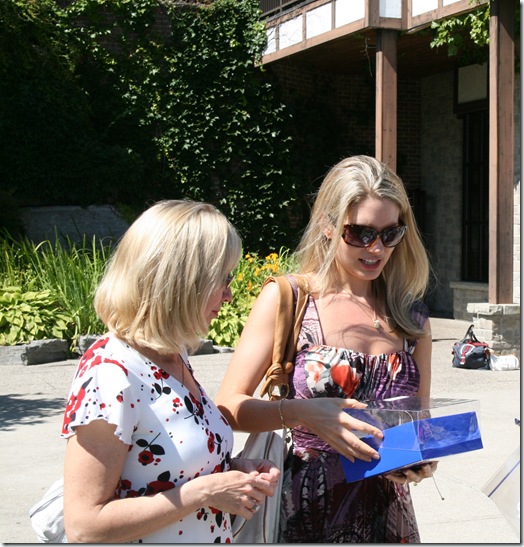 To this…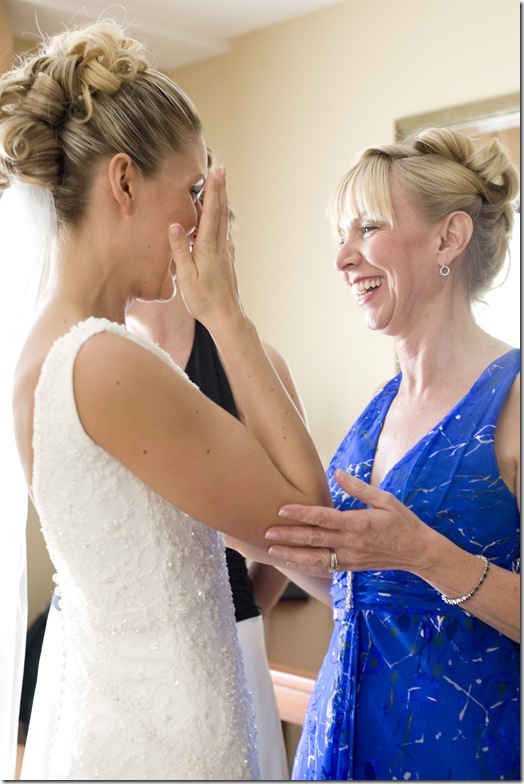 Eric and I went from this…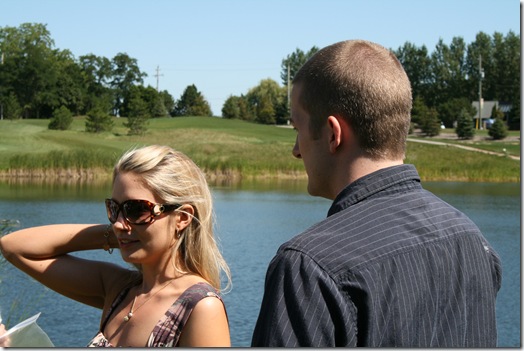 To this…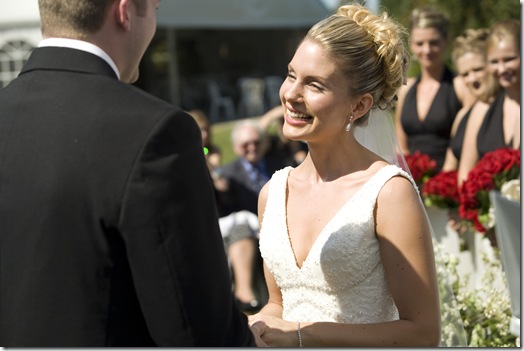 As I was coming down the aisle…
Tears and lots of them from the groom. I was SHOCKED. Eric doesn't cry…ever!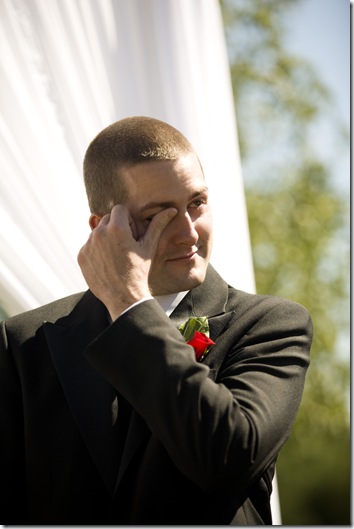 Am I sick that it makes me happy when he cries? bahaha.
Our photographers had us all running on this steep hill. We were all good sports- even me in my high heels!- because I knew what kind of pictures they would produce. And ever fearful step was worth it.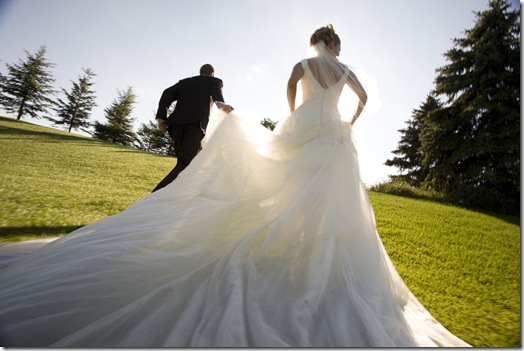 Many of you ask me who our photographers are.
Well, they are hands down some of the best photographers out there– Dave Biesse and Charlotte Leonard. We have never met such a genuinely nice, down to earth, and friendly couple.
Also check out the engagement slideshow + pictures they put together for us.
Thank you for letting me take this trip down memory lane and show you the happiest day of my life. :)
+++++++++++
Green Monster Movement:
This morning, I was organizing my Green Monster emails and it occurred to me- We don't have any GREEN MONSTER t-shirts in my clothing shop!!!
I have 3 NEW t-shirts to reveal to you today!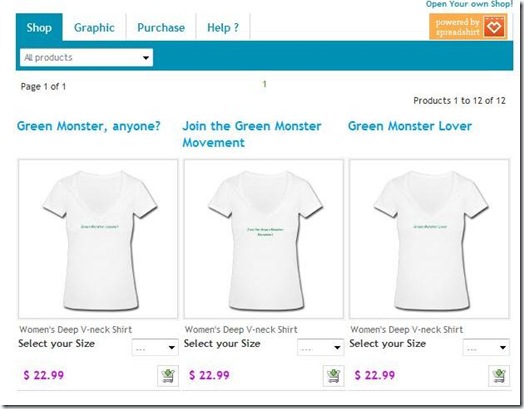 Tee #1) Green Monster, anyone?
Tee #2) Join the Green Monster Movement
Tee #3) Green Monster Lover
V-neck Tee description:
This long-cut, form-fitting t-shirt for women comes with a deep v-neck. It is made from a fine, soft material of 100% cotton.

I am personally a HUGE v-neck fan. I find it is the most flattering neckline on a woman.
I think I am going to order tee #1- 'Green Monster, anyone?' :D
Pssssst- I am adding new tee's- check em out! Caitlin suggested a great one…that is now added!
Do you have something you want on the tee- leave it below!!
+++++++++++++
OK, see you beauties this afternoon! Off to bake up an order… :)