Happy Monday! :)
So…first things first!

What is going to happen with the BBBC?
All week I am going to be revealing CLUES and TEASERS for you to try and piece together!
Today's Clues:
Clue #1) Yes, another challenge is on the way!!! :D
Clue #2) The new challenge is going to be called S.G.B.C. for short– Any guesses what these initials stand for???
Stay tuned all week for more clues about the who, what, when, where, and why of the SGBC!
++++++++++
Where did I wear these beauties this weekend???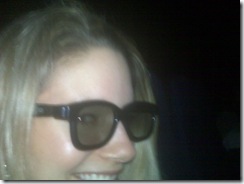 Eric and I went to see the movie UP on Saturday night!!
We didn't even know that it was a 3D movie until we got there and were handed the 3Dglasses! We were a bit skeptical because neither of us has seen a 3D movie for over 10 years!!!
We sat down, put on the glasses, and watched some previews and we were AMAZED at how amazing everything looked in 3D! We were sold!
UP was nothing short of spectacular!!! We LOVED this movie. We check out all of the movies on IMDB before deciding which one to see, and I must agree with this movie's high rating of 8.5/10! It was just fabulous.
It had a great message too- well, several actually, that Eric and I discussed on the way home. The movie is all about embracing TODAY and not putting off things that you WANT to do in life for some day in the future that may never come!! We left the movie feeling uplifted. :)
Seize the day!
Don't wait until next month, next year, or when you are 40 to do something you WANT to do. Do it now. Find a way. Life is too short!
You want to know something silly that I did for months?
I wouldn't let myself use the beautiful, luxurious bath towels that we got for a wedding gift. They are just the nicest and softest towels I have ever laid eyes on.
So they sat in our linen closet for 'a rainy day' and they sat there unused. We brought them out for our guests a couple times, but each time we washed them, we never used them ourselves.
They were 'too good to ruin'.
Well, a couple weeks ago Eric and I were both discussing how we have both never used our gorgeous towels yet! It had been 9-10 months since the wedding and still no use from us.
We decided that this was CRAZY! Covering the sofas with plastic, crazy! [We've all seen those couches haven't we??].
We asked ourselves, 'Why don't we get to use and appreciate our beautiful towels??'
So right then and there we took out our towels and hung them up on our bathroom door for use. I had been using these ratty old towels from university for about 5 years if you can believe it!!!
And you know what?
These wedding towels make me SO HAPPY. Every day when I use them and drape the fabulous material over my skin, I feel so luxurious and content. I love those towels and I feel like a fool for not letting myself use them until now!
Just look at these babies! :) They are HUGE!!!!!!!

The truth is- LIFE IS SHORT, it really is. If I knew that my days were numbered, you can be damn sure that I would be using those towels every morning. But that is the thing, we don't know how much longer we have on this earth.
Take home message:
USE your good towels.
Eat on your best dishware.
Use a wine glass for plain old water.
Use your special napkins, or your 'special occasion jewelry' every day!!!
You deserve to feel fabulous each and every day!
I used to reserve my nice jewelry that Eric gave me for 'special occasions' like dinners out. Well, we don't go out very often (lol) so I was never wearing it!!! Now, I wear my special jewelry almost everyday.
I feel so good when I wear it.
I don't care if I am just wearing lulu's and a tank top, I am wearing my diamond tennis bracelet that Eric gave me as a wedding gift!!! ;) I don't care what people think, I am wearing my nice things now because they make me feel GOOD. Right. Now.
And so should you!
Today's Question:
Are you like me? Have you not used items of yours because you didn't want to ruin them?? Do you think you will start to think differently about it now? What things do you avoid using on a regular basis?? Are there any items that you are going to start using/wearing more often??

Don't forget everyone Jenna's E-Dinner Cookbook is available to buy NOW for just $10!!! It features over 100 dinner recipes and all money goes to charity! What could be better??? :) I bought the dessert cookbook and I just bought this dinner cookbook. I can't wait to check it out!