Good evening!
We are currently MELTING today- it is so hot out!!!

I got my big order today done in the nick of time- with only 1 hour to spare! :)
I had so much fun making these goodie bags!
I put a much needed fan in our office!!!
Eric thinks that our computers may have been overheating last week, so we are trying to cool the office with the fan. We may also have to upgrade the fans in our PC's too.
The breeze feels so good on my shoulders as I work!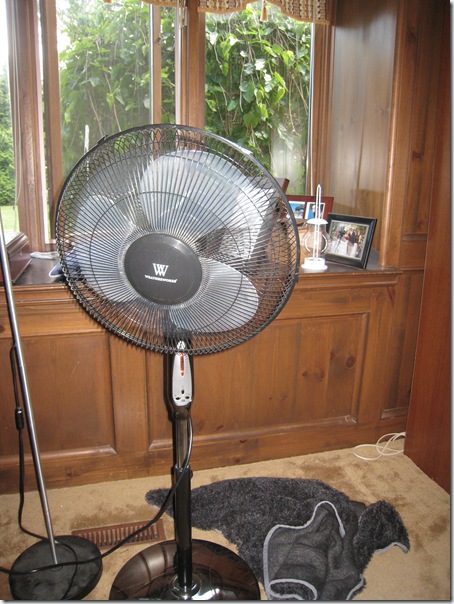 Sketchie really hates Mondays! Not sure if you can see, but he is covering his eyes with his paws…so cute.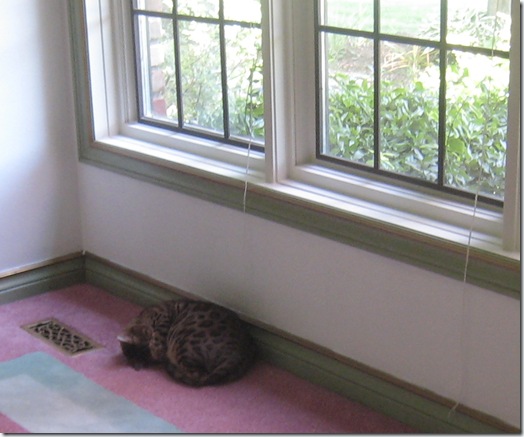 Tonight I am featuring a fabulous question about breaking away from calorie counting!
255. P asks, "Hi Angela, I have just finished reading all the different parts, and its such a strange thing because in the mindset of disordered eating, you convince yourself that you are the only one in the ENTIRE world that has this 'problem', but the reality is, many girls unfortunately have the same feelings and thoughts!
I also feel so silly for struggling for five+ years with something as simple as 'eating'. It drives me nuts that I took something like feeding myself and completely blew it out of proportion, into a disorder…
I'm not sure if you know what I mean, but its actually a STRUGGLE to break away from the calorie-counting mindset… Like, for 2-3 days I'll focus on the balance on my plate (carbs, protein, veggies) and then something will trigger me to stop everything and start calorie counting again… (like seeing a thinner girl, or a comment made by a family member, that will put a stop to what I'm doing and convince me to count calories again.)
Can you recommend something to keep in mind when these trigger-events happen? Like, what helped you stay focused on health when you were faced with triggers that would have in the past, started your 'diet mentality' again?"
Thanks for this great question. I struggled a lot with giving up calorie counting. It was so ingrained into my head that it was a habit like brushing my teeth! I just did it automatically. Breaking habits are hard! I must have tried a dozen times to stop counting calories before I finally did it successfully. I think I have gone almost a year now without counting calories throughout the day.
I don't think all calorie counting is negative- that is for each person to decide for themselves- however, it seems clear to me that you believe it is harmful for you, so that is an indication that something needs to change!
I am similar to you in that when stressful events pop up in my life I have a tendency to revert back to negative behaviours. Last summer I struggled with a huge amount of stress from my grad school, job, and wedding planning. I would find myself wanting to start counting calories again or trying to control what I was eating much more than usual. Any time we start to revert back to our negative behaviours it is a warning or a signal that something is wrong! Our bodies are trying to tell us something!!! For example, a lot of my disordered eating in the past stemmed from low self-esteem. When I would start to feel the urge to restrict my intake it was usually when I felt threatened by external stress. The control over my eating was how I felt like I had control over my entire life, even though that was an illusion at the time.
What really helped me was 1) Learning to recognize when I was starting to revert back to my old ways, and 2) Challenging the behaviours and negative thinking.
It helps a lot if you can either talk about this with someone when it is happening or writing your thoughts on paper.
Ask yourself questions like:
– What stressors are currently going on in my life?
– Why are these things stressful?
– What can I do to reduce the amount of stress that is caused by these things (list individually)?
– What negative behaviours am I reverting back to (list)?
– What are some positive behaviours that I can do to counteract these negative behaviours?
Here is an example to illustrate how I felt last summer:
– What stressors are currently going on in my life?
I am juggling wedding planning, a new highly demanding job, and preparing to defend my master's thesis and graduating from grad school.
– Why are these things stressful?
I have taken on way too much this summer and I don't have enough time each day to devote the proper amount to each thing. Consequently I feel like I am doing a poor job with everything or that I am failing at certain things because I don't have the time or energy to devote to it.
– What can I do to reduce the amount of stress that is caused by these things (list individually)?
I could leave my job
I could take another semester or year to graduate
I could give Eric more of the wedding planning (which I actually did!!!!)
I could let go of my perfectionistic ways (I really had no other choice!)
I could talk to my boss and thesis supervisor about the high stress I felt (did both)
Eric and I could elope (LOL)
– What negative behaviours am I reverting back to (list)?
I have started to count calories again
I have weighed myself more than I was before
I am controlling what I eat more and not always eating when hungry
I am thinking negative things about my body (I was feeling a lot of pressure to look perfect in my wedding dress!)
– What are some positive behaviours that I can do to counteract these negative behaviours?
Focus on eating healthy foods so I feel energized and happy. Eat for health, not for weight.
Stop weighing myself!!
Listen to my body, eat when I am hungry- always. By listening to my body I will not feel the urge to overeat and binge.
Get more sleep/Go to bed earlier (this was HARD for me…I wasn't sleeping much due to the stress. I tried herbal sleep pills that did nothing for me and I refused to take prescription sleep aids).
Continue to exercise 6 days a week to relieve stress
Talk to Eric, family, and friends when I am stressed or down. Use others for support.
Set a positive goal in your life or give yourself something to look forward to. 
See a counselor if necessary (I probably should have done this, but I told myself I didn't have time)
Talking about our feelings and writing about our feelings can help SO much. I always suggest seeing a counsellor if you don't see any improvement with your issues. I have been to a counsellor a couple times in the past and it helped me so much. My counsellor gave me assignments that I could take home and do each week that were really great and eye opening!
Today's question:
Do you count calories? Do you find it is positive, negative, or a bit of both? Are you trying to stop or are you happy with how it works for you?
I definitely think that many people benefit from counting calories. It can be a great tool for weight loss if it doesn't get taken to the extreme (like anything else!). For myself, it became a problem so I had to stop. I am also in the maintenance phase of weight loss so I didn't see it as practical to count calories the rest of my life!
+++++++++
Well, I need to finish up order #2 for tomorrow morning! I am also going to work on the Glo Bakery website the rest of the night. I have a ton of baked goods to get on the website!
We also have someone coming to look at our water heater (for the second time!) as we are having problems with it. It is heating the COLD water if you can believe it!! The water heater company that we rent the heater from tried to tell us it was a plumbing issue, and our plumber said it wasn't a plumbing issue, so now the water company is sending another person to come look at it! This has been going on for 3 weeks now. I am really scared to get our hydro bill…hopefully it will get fixed tomorrow!
Enjoy your night!
See you tomorrow AM for more clues on the SGBC- and a POLL- make sure you stop by tomorrow and have you vote cast for a SGBC question! :)