Sketchie says, "I hate Mondays!"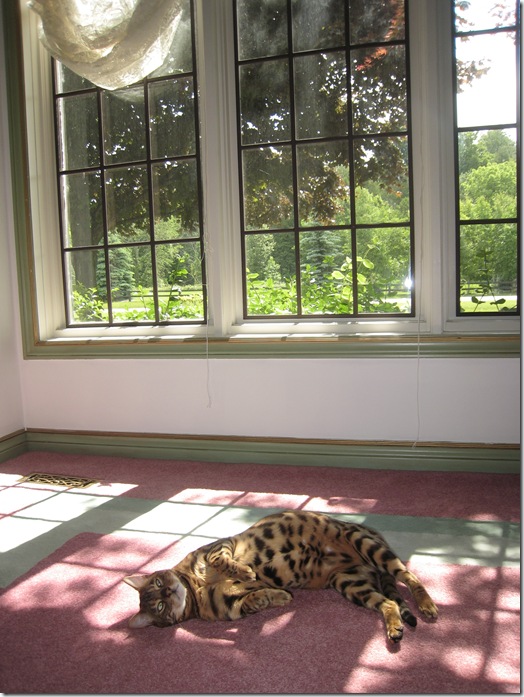 He just LOVES lying in the sun!
Sometimes I touch his fur and it is scorching hot!!! LOL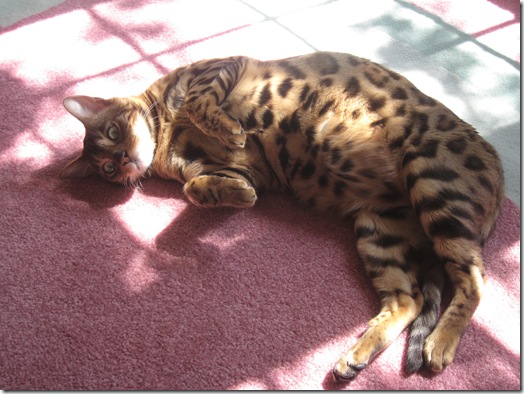 It is amazing how great off days can be! Yesterday I took a rest day and this morning I was SO excited to go for a run! I was looking forward to it so much. I think rest days are really key. Not only do they let our bodies repair themselves, but they renew our motivation and give us a mental holiday!
I had a ton of green swamp water (aka Amazing Grass Wheat Grass powder mixed with WATER!) before my run today. It is 30C/86 with humidity and sunny today- oww!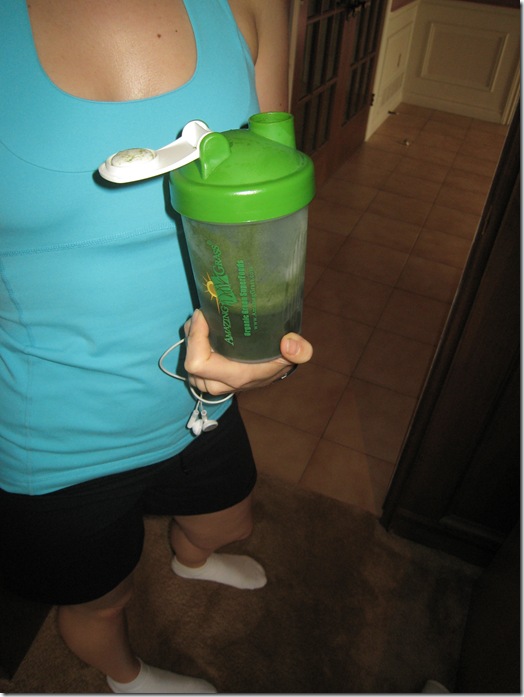 The run:
Duration: 50 minutes
Distance: 5.35 miles
Max heart rate: 178 bpm
Avg heart rate: 162 bpm
Avg pace: 9:23 min/mile
This run included two huge hills and a ton of sweat! lol. Although, I passed some guys putting up a new roof on a house and I can't say that looked like fun!!! How do they do it in that heat????
Eric took a picture of me when I got back and let's just say it didn't make the cut! LOL!
I need to find my running water bottle that clips onto my shorts…I definitely needed water on this run and I didn't have any! Probably not great for endurance…
I have been doing really well with stretching lately and taking my vitamins after runs! I also am now taking 1 ibuprofen tablet AFTER my runs to help reduce inflammation. So far I am feeling so great and barely sore even after long runs! :)
Please note that a reader named Kristen pointed me to some information about the danger of taking ibuprofen tablets before a run. Check out this article for more info. I am so glad that I didn't take any before my 10k race now. Thanks Kristen! :)
As Karen points out, this topic is also widely debated. See here for research that points to the idea that it is not beneficial to take NSAIDS after workouts.
Guess what? I have a new playlist on my Shuffle!! I will be sharing it with all of you soon- you won't believe some of the songs I have on it. :D I will tell you what I think the most amazing 'Runner's High' song is on my list!
Eric has the day off today since he worked Saturday. He is currently doing renos on the house! Yippee! Don't worry he will be blogging all about it!

I have 3 big orders this week (one today, tomorrow, and Wednesday!) so I have been busy all morning baking my lil heart out!
Check it out, I was able to successfully 'veganize' the Glo Ginger Cookies today!!! I was SO pleased with how they came out. Eric actually likes them better than the previous version with egg!
They were crispy on the outside and slightly gooey in the middle!! SO GOOD!
Then it was a batch of my Vegan Chocolate Chip cookies! I added some walnuts in this batch and they were great!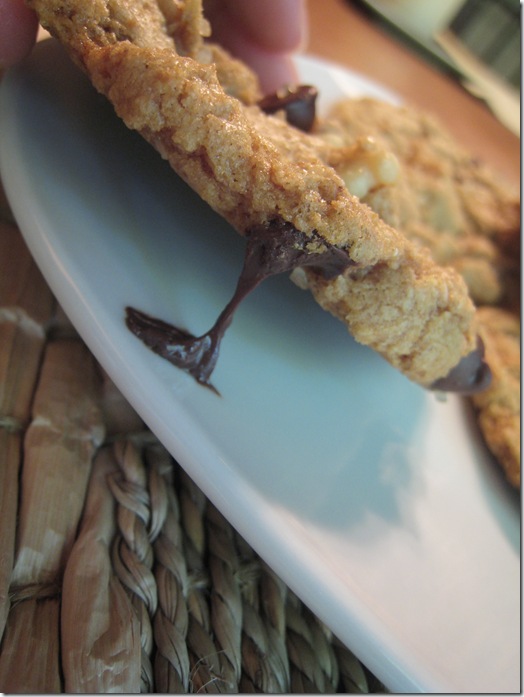 I had one ginger cookie and a bite of the chocolate chip cookie! Yum!
It is pretty hot in our house today with this oven on!
I'm not sure if I mentioned it yet, but I challenged Eric and I to see how long we can go without turning on our Air Conditioner this summer!
I am proud to say we have YET to turn it on once, even on the 30 degree days! :) I figure it is not only great for our pocketbook, but great for the environment too!
Today's Question:
Do you have A/C? Do you use it often or leave it off?
One of my biggest pet peeves is walking into a store, office building, or mall and FREEZING because the AC is cranked so high!
In all of my previous office jobs I always had to wear sweaters in the summer!!! How ridiculous, isn't it??!
Ok beauties! I am getting back to the kitchen to bake and prep orders! :) Thanks for all your comments this morning! I had such a ball reading over them and found myself laughing out loud at the silly things us girls do!!!! :D That ends TODAY, right???
Do you think men worry about saving towels or not using their favourite beer mug??? NO!
See you tonight!