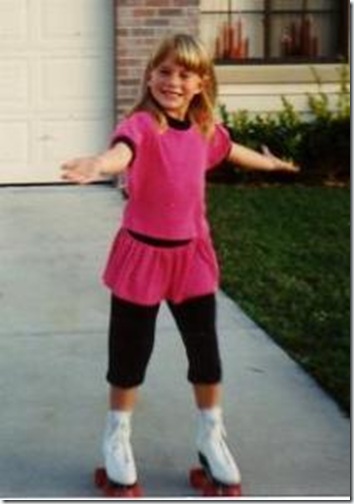 Angela: Grade 1. Living in Florida. Enjoyed neon colours, rollerblading, and fighting over the new NINTENDO gaming console with her sister Kristi.
Dear Angela (Grade 1),
This picture brings me great joy because it captures so much beauty in a single photograph. I am truly glowing in this picture, and no, that isn't just from the glare of the neon pink! ;) I look happy and alive, proud and energetic.
I was so proud of this neon pink polkadot outfit. I remember how awesome I felt wearing it and I wanted to wear it every single day (my poor mom!). When I put it on I felt happy and you can be sure that I wasn't analyzing whether the skirt made my butt look big or whether the puffed sleeves on the arms gave me a few extra inches.
Getting dressed for the day was FUN and never upsetting.
I knew nothing about calories, fat grams, scales, or diets. And you can be sure that I wasn't thinking about my weight in this picture.
Exercise wasn't even a word to me. It was actually 'play time'. Movement was fun. Rollerblading, biking, swimming, walking, running were all fun to me. I was outside as often as my mom would let me!
When I did get dragged inside to eat lunch, I enjoyed the food immensely! My mom makes a mean peanut butter and jelly sandwich and I can still almost taste them to this day. I didn't worry about fat grams, calories, or how much I 'could' eat. I just ate until I was satisfied and off I went about my busy and active day.
Dear Angela (Year 2 university, 2004):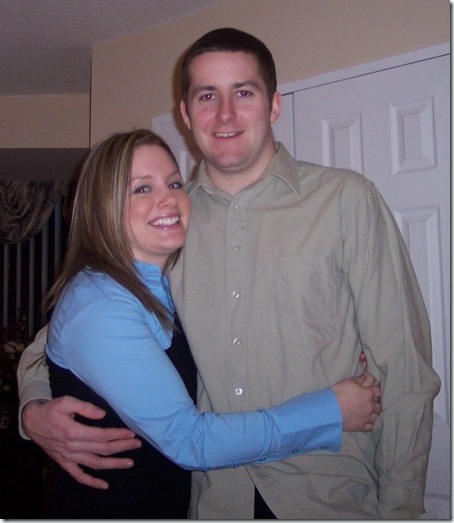 Even though it was Valentine's Day and you were celebrating your third anniversary with Eric, I can see the pain in your eyes.
I know just by looking at this picture that you are unhappy. You've lost your glow. There is something sad in your eyes.
I know you were probably feeling guilty from eating so much Valentine's chocolate and probably vowed to lose some weight starting Monday.
You often went through ups and downs in your weight because you were always obsessing about numbers.
Food was on your mind an embarrassingly large amount and you hated the weight that you gained since meeting Eric in highschool.
You didn't think that you were attractive anymore (even though he told you over and over that you were).
You felt unworthy as you were.
I wish that you could have seen how truly beautiful you were. It is no wonder you felt that way though, with your eating going from one extreme to the next, how could you ever feel comfortable or at ease with yourself?
It just about drove Eric away. Well, actually it did because we ended up breaking up 3 months later, only to get back together in September of the same year.
It is very hard on one's partner when you don't love yourself. No love that they give you will ever ever be enough. And even though I loved Eric with absolutely every ounce in me, I didn't have much love for myself. I was constantly jealous, insecure, and needy.
That summer, I lost the love of my life because I couldn't love myself.
I never thought to myself, "Maybe I need to start being nicer to myself."
Actually, the break up was more of a reason to BLAME myself even more. Just what I needed, more blame.
I was fighting a daily battle I thought I would never win…

Today's question: What would your letter to your former self say? What is the best advice you would give your former self?
See you this afternoon for:
Part 2: MY letter to my CURRENT self
Baking goodies for the Market!
Race talk