After seeing Leah's awesome scale confessional this morning, I was inspired to write my own scale note!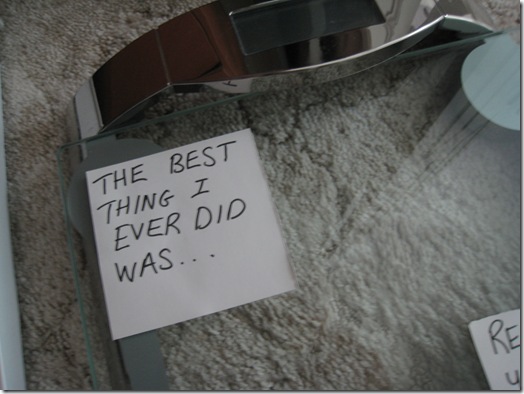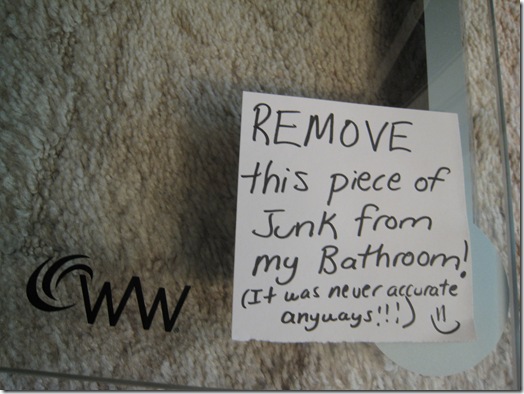 BOOYAH!
Scale = 0, Ange = 15687
Don't forget to watch my GOODBYE TO THE OBSESSION video!!! Send it to anyone you think might benefit from this message!

247. Maggie asks, "Hi Angela, Like everyone else here, I love your blog! It's very inspirational. I just had a few questions about your bakery and I apologize if you've answered these questions previously. Did you have to be approved for any specific food and health permits? I've been trying to find information on home bakeries and it seems like there would be a lot of red tape. Also, although I think your products look awesomely scrumptious, I was wondering if you ever had any doubts about starting your own bakery? Congrats with all you've accomplished and I wish you continued success for the future :)"
Hi Maggie! Yes, I most certainly had to be approved for health and safety permits. My food premises was inspected by my local Food Safety Inspector twice (and passed with flying colours!). They also test your water to make sure that it is safe. It is illegal to sell food from the home (or any other premises) if your food area is not inspected and approved. Contact your local Health Department (the easiest thing is just calling them, don't waste your time like I did searching for the info on the internet). I abide by the Food Premises Regulation Act which governs Canadian Food premises. Secondly, I also decided to become a Certified Safe Food Handler because I believe it is very important to be well educated with food safety issues as a baker. I learned so much when I was studying for the exam! It is not required for me, but I knew it was a good decision to do it.
Apart from that, there are many by-laws and licenses that you need to apply for. Contact your local health department again and ask away. I had to have my zoning approved, food safety inspection done, and also apply for a business license before I was a legit operation. I also incorporated my business name, which, by the way, was NOT easy and took several applications. There is a lot of red tape around ownership for business names. I had a much easier time incorporating GLO Bakery than I did GLOW bakery as there were a ton of businesses with the word GLOW in it (no bakeries though!).
I have had doubts like anyone, but I try to push them out of my mind whenever they creep up. What I have realized is that business start up takes a LONG time and success doesn't happen overnight. I see 2009 as my 'start-up' year and I hope by 2010, I will be a fully functioning and streamlined business. :)
248. Tina asks, "Hi Angela, I have been reading your blogs for awhile now, and I have find them very interesting and informative. I am enjoying your receipes, and I have been trying out the green monster. I am enjoying them. I wanted to make your granola bars, but I am having trouble finding the brown rice syrup. Where did you purchase this product? I tried Fortinos but I couldn't find.What section would I find it?Also, congrats on your 10km. I was reading how you wanted to do the half in Mississauga in May. I actually did that one, and that was my first. Do you find training on your own difficult?"
I buy the brown rice syrup at Loblaws and Fortinos in their organic section! It is not in the normal aisles, if that helps any!
Congrats on your half! That was the race I was intending to do before my injury happened. As for training on my own, I TOTALLY don't feel like I am alone with all of my amazing readers!!! I feel like I am training with all of you!
249. Kim asks, "Good afternoon! I am a relatively new reader to your blog and oh, I'm in love! I'm really really sad I missed the BBBC! I noticed you said there might be a summer edition, and I was just writing to say I'd totally be in if you did! Would it start soon if you decided to do it?"
There will be news about the BBBC coming up shortly! Stay tuned!
250. Anon asks, " You know you have always been one of my favorite bloggers. I was wondering what you think accounts for your ability to have marked changes in your physical shape in a short period of time? I am amazed by how much change you saw after the BBBC! Do you feel your incredibly clean diet maximizes your results?"
I think it was due to a couple of things: 1) My cardio resumed its' normal intensity and duration after 2 months off from my injury and over a month' taking it easy' with workouts, and 2) The core work. I had not been doing strength training/core work since last year so I really think it shocked my body into shape! For me, core work has been by far the most amazing thing for my middle. That, combined with my diet, and cardio workouts, have been the keys to my success!
251. Anon asks, "Hi Angela. I love your blog. I've been secretly reading for a while. Your recipes are awesome, I've tried a few of them already. Thanks for sharing your OSG recipes. Recently I started to jump on the Green Monster train, looking back at your Green Monster recipes, sometimes I see that you use raw spinach and sometimes I see that you use steamed spinach. Why is that? Thanks for your time."
Nutrients in spinach are more bioavailable (absorbed better) when it is cooked, so that is why I try to steam my spinach before eating it (just make sure to use LOTS of ice in the green monster!). When I don't steam it, it is because I am lazy or pressed for time.
252. Maria asks, "First of all i would like to say that i really enjoy visiting your website!!!! Ive made several purchases on products I never knew about before until i read about them on your website!!! Last week i tried doing your organic granola bars and they came out very good. however i have one question..are they suppose to be really moist??? Mine came out chewy and when you grab them they're not as solid as a granola bar from the store?? do your comes out like that? also , how long are they good for? sorry about too many questions!"
Yes, my raw granola bars are very crumbly and are best left in the fridge or even the freezer. If you want more portable granola bars I highly recommend my On The Glo bars! They stay together even at room temperature. Want more proof- they lasted in the hot 30C sun at my race this weekend!
253. Erin asks, "Hi Angela, first I just want to say I love your blog! I made your granola bars and love them!! I've been trying to find the Amazing Grass products here in Edmonton, AB – but haven't been able to locate them – do you know what stores carry them?"
You can order them online (www.amazinggrass.com) or if you live by a Whole Foods, they will be in Whole Foods stores in Canada starting this August! I'm sure that they will eventually expand given all of their huge success! Let's hope! Remember, you receive 15% off when you enter 'ohsheglows' at the online checkout!
254. Julie asks, "Hi Angela! I love your blog!! I've been reading it for quite a while. You've give some excellent advice on your blog…so I wanted to ask you something. For the most part, I'm an incredibly healthy person – I run, strength train, do yoga, eat healthy, etc. However, I have one bad habit that I can't seem to kick – cigarettes!! I feel like I've tried everything…I've quit many times but within a few months, I'm back smoking. Smoking is something I've never seen talked about on the health/fitness blogs but I'm sure I'm not the only one that struggles with this. I appreciate any advice you can provide! Thanks!!"
You are very right- I never see anything about smoking on any of the food blogs! I tried smoking when I was young and I hated it so thankfully I never had that problem. Several of my family members have beat the addiction though and I am so proud of them. I saw them struggle with it so much so I know how hard it is to kick.
Aside from the lung cancer risks that we all hear about, smoking also wrecks our beautiful skin! Arterial damage from smoking destroys the elastin and eventually causes wrinkles. I think one of the biggest things you can do for INNER and OUTER GLOW is to quit smoking. It affects every organ, every pore, every molecule in our body.
My dad has been smoke free for a LONG time now (over 15 years I think!?) and to this day he still says that he is no longer out of breath when doing simple activities like walking or gardening. I am sure that you would notice a huge improvement in your fitness too.
Want more proof- check out all of these benefits!!!
Quit Smoking Benefits:
The First Two Days
Two Weeks to Three Months
One to Nine Months
One to Two Years
Long Term Benefits – 5 to 15 Years
[Source]
I must say I am not well versed with what type of treatment options there are (and what are supposed to be the most successful) but I was hoping that other readers could chime in on this topic and help you out!! If anyone has kicked the habit, please leave your tips below!
GOODLUCK I know you can do it!!!!
I still have another installment of FAQ's to get caught up! :) Hopefully over the next few days!
+++++++++++
See you tomorrow:
A fun running announcement
Recap of recent HOT TOPICS!!! So much to say!!!
BAKED GOODS!!! My kitchen is flooding in them!!!!
PS- This is the redhead that the spectators told me to catch!!! So close…lol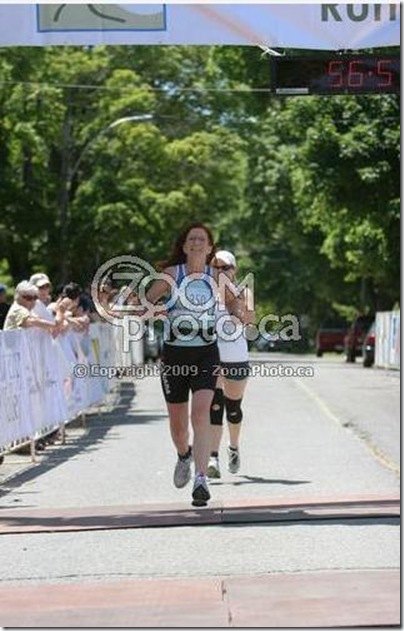 Ciao!! :) Off to bake…going to be another 12 hour day in the kitchen!!!!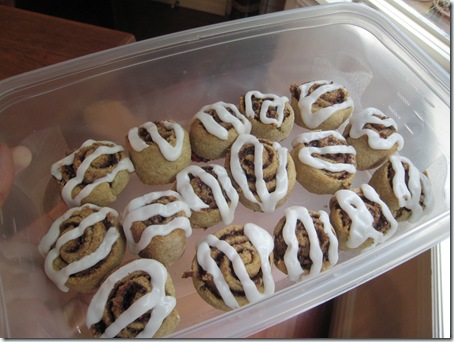 PS- Check out Eric's SECOND post on HIDDEN TV's- how cool!!!!!