I couldn't help myself!
I went for a run tonight!!!
Does anyone else find that the urge to run gets pretty intense directly after running a race?
All I have been thinking about is running.
I know I shouldn't have run tonight because my quads were still a bit sore, but I just couldn't help myself.
I received two lovely emails from Chris's brother and mom. I told them how my race went and the amount of money that was raised for cancer in Chris's honour. They were so happy. Chris's mom told me that it brought her to tears.
I was overcome by emotion after reading the emails and thinking about the whole experience some more that I went and laid on my bed and cried. It wasn't a sad cry, but just an emotional cry.
I got up, got dressed, and went for a run. I wanted to feel that experience again.
In all fairness I didn't push myself hard. I walked up the large hill that is on my route instead of running it and I took it pretty slow and casual. It felt so good to run. The weather has been gorgeous (30C and blue skys this week) and I just felt good. A bit sore, but good.
My run:
30:59 minutes
Max heart rate: 167 bpm
Avg heart rate: 154 bpm
Pace: 10:11 min/mile
Distance: 3.04 miles
I came home and took a COLD shower. I am trying to ease myself into the idea of ice baths. :D I took the shower nozzle hose thing a mabob and I put it directly onto the sore muscles. It was freezing at first but after a while I could tell it was really helping. I also took an Ibuprofen tablet omega 3 tablet, and vitamin C to reduce inflammation. I'm feeling so good right now!
When I was on my run I quickly realized that it was nothing close to the race experience. No euphoria, no competitors, no crowds. Just me. Damnit.
Oh sorry, I meant just me and my annoying play list!!!
Someone asked me yesterday what songs I have on my playlist, and you seriously don't want to know. It's bad. I forgot to put new songs on it before the race. I think I have about 12 songs on it currently and they are all 'worn out'.
A couple that I listened to over and over during the race were:
Womanizer, by Britney
Boom Boom Pow, by Black Eyed Peas
Aside from that, the rest were duds! I need to update my music soon!
My official running stats are in as well as some pictures:
Overall: 40th place out of 323 runners
17th out of 214 women
3rd out of my division of 30 women (25-29 yrs)
Pace per km: 5:42 min/km
The chip time is still not up
An action shot at the 8.5 km mark! I was TIRED!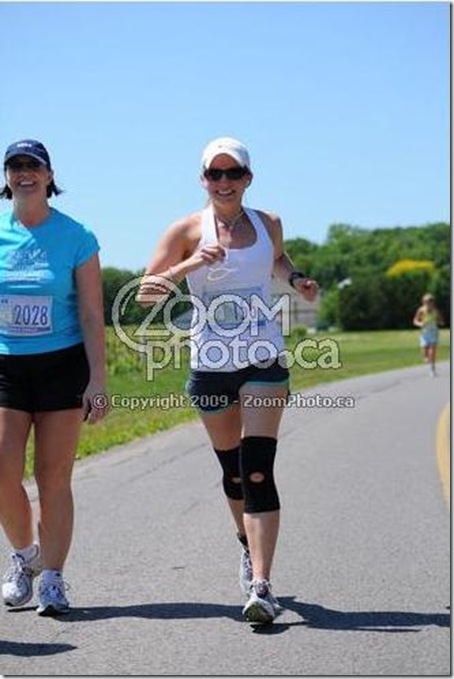 I remembered your advice from the weekend: SMILE for the photographer!!!
I like this picture, I may have to order it! :)
Runners and the 'crap' they bring on runs:
When I was talking to the seasoned runner before the race on Sunday, he was talking about how he thinks that runners nowadays have way too much 'crap' on them when they run.
I nervously looked down at myself.
Foot pod, ear buds, Ipod, Heart rate monitor strap, watch, 2 necklaces, 2 rings, hat, sunglasses, knee sleeves, moleskin, electrical tape.
I laughed nervously.
I probably had about 50 pounds of crap on me!
He said, "All you need is a good pair of running shoes, some sunblock, and your imagination."
I thought to myself, "Never going to happen!!!" lol.
He is old school, I am new school. Sometimes I wish I was old school though because it takes me a long time to get ready for a run. Sometimes I don't go simply because it is quicker for me to just hop on the treadmill then put on all the gear.
I love my gear though.
1) It keeps me from injury (knee sleeves, moleskin, sunscreen/hat, etc)
2) It helps me train (via feedback from HRM/foot pod)
3) It distracts me (Music/HRM)
But I think that was his point. All of these things we bring with us on run are a distraction from what truly matters. Your mind and the road.
Tonight's question: Are you old school or 'new' school?