Thanks to my two little helpers last night, we got all of the 500 bars packaged, tagged, and tied up ready to go for the race tomorrow! We finished around 11pm and then I did some work on signage until about 1am.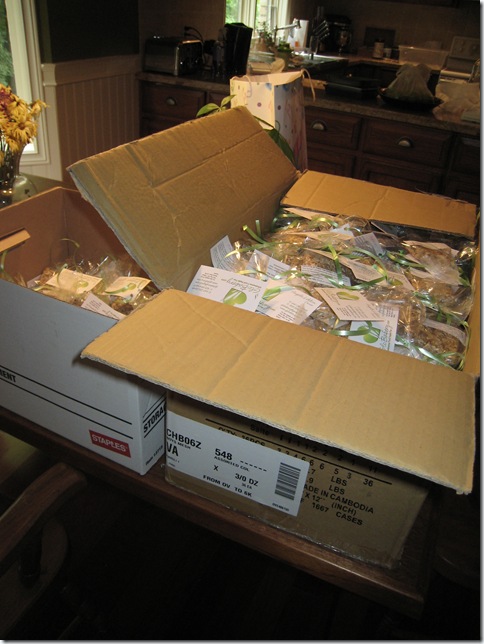 I hope they are a hit!!
I brought a traveler green monster today when we left for my sister Kerrie's house! It is about a 1 hour 45 min drive so I wanted a light snack to tie me over til lunch. :)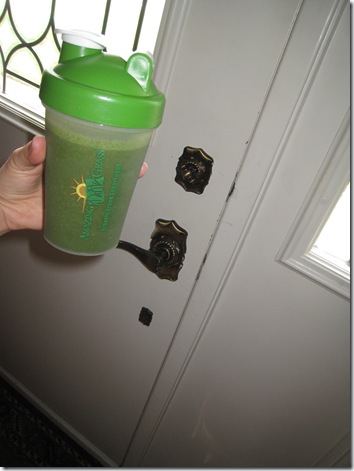 We arrived at my sister's and they had put on a fabulous spread on for lunch!!! :D Everything was SO delicious.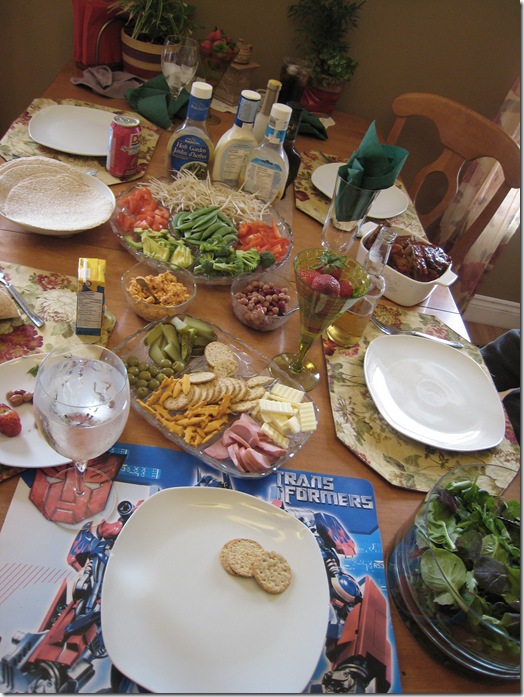 I filed up on tons of salad, veggies, crackers, beans, and fruit!!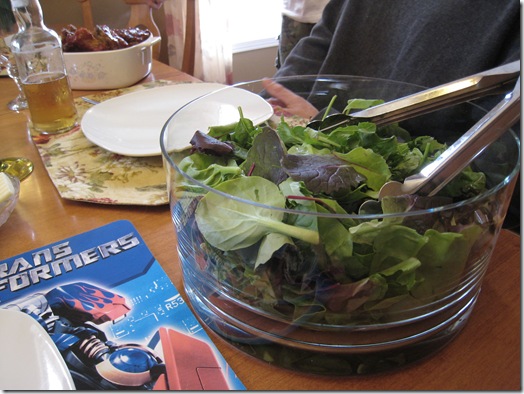 And I even got to eat on my nephew's totally cool Transformers placemat!
Robots in disguise…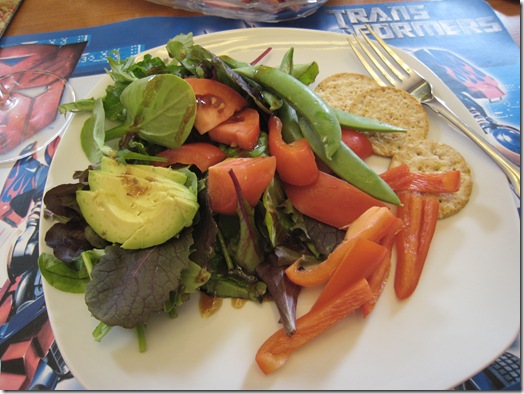 I also had a really yummy wheat wrap loaded with avocado, balsamic fig dressing, chickpeas, and veggies. :) The perfect lunch!
I brought them over a huge box of my On The Glo Granola bars and they all loved them! :)
We had a lovely visit and are excited to see them in July when they come to our family get together that we are hosting. :)
I am currently in the car using Eric's 'everywhere internet' that he gets when he is on call for work. It's pretty sweet being able to blog from the car!
Here is another race outfit teaser!!!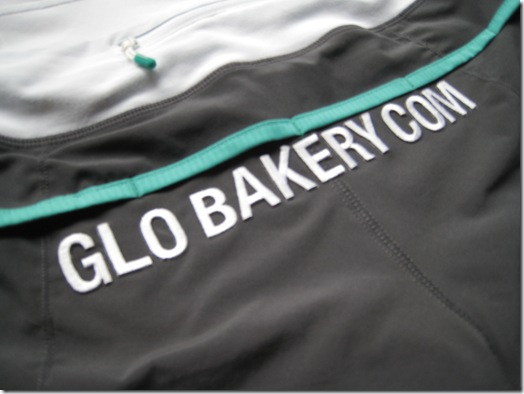 I can't wait to show you the entire outfit!! :) I am SO excited to wear it! Almost more excited than I am to run the damn race! I'm such a girlie girl!

This morning, I had a short + light workout, nothing very strenuous since the race is tomorrow. I did 30 minutes on the treadmill speed 3.7-4.0 mph at incline 15%.
Have I set a goal time for my 10K race tomorrow?
I have been debating about whether I was going to set a personal time goal for my race tomorrow!
Seeing as I have done 10k runs on my own several times before, I knew that I wanted to set some kind of goal, but also not set the goal too unrealistic given my injury recovery and lack of training over the past several months.
I decided that my goal is going to be 59 minutes, which I think is totally reasonable! I am secretly hoping for better, but if I can come in at under 1 hour given everything I have been through this past winter I will be thrilled. :)
All of you have given me so many positive words of encouragement and advice I feel like you are all running the race with me! :)
I have some race prep to do now on the internet. I need to figure out where I am dropping off the bars, how to get to my race kit pick-up, and how to get to the start line! We live about 1.5 hours from the race location so we are going to have a very early wake up call tomorrow! I also need to find a meeting point where Eric and I can meet up post race (thanks for the tip!).
In my next post, I will be showing you what I'm eating tonight to fuel my glycogen stores for the race! I will also show you everything I am wearing from my knee sleeves to my jewelry (yes, I said jewelry!) and my lucky baseball cap to my moleskin!
Today's question:
For all you married or engaged runner's out there, do you wear your wedding rings when you race? Or would you (for those of you who aren't married)?
Normally I don't wear my wedding rings when I workout, but you can be SURE I am wearing them tomorrow during my race. All I have to do is look down and feel Eric with me. :)
Coming up tomorrow VIDEO FOOTAGE of my race!!!
I will be doing candid commentary on my thoughts before the race (tonight and tomorrow AM)
Shots of course that I am running in
Me running the race (hoping Eric gets it!)
And post race of course!