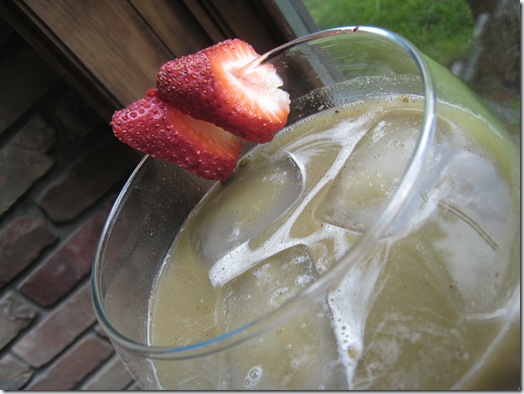 This morning I had a little something-something I like to call swamp water.
This, my friends, is where the Green Monsters live.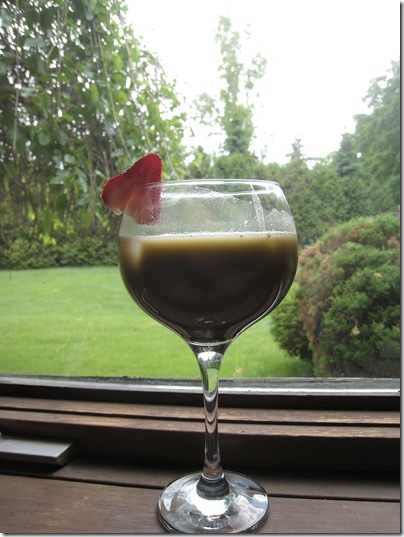 Today I tried the Amazing Grass, Amazing Meal Pomegranate Mango Infusion!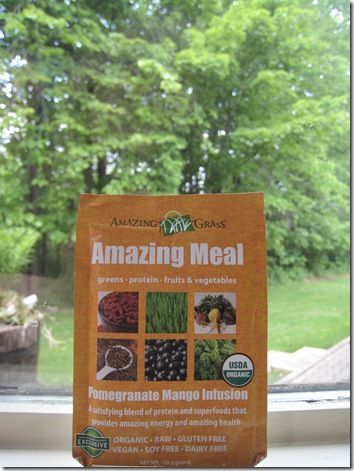 I mixed it with almost 2 cups of water and H2O.
And the result was…well, swamp water! :D
However, if you go in with the mindset (like I did) that it is going to taste like swamp water, you will be pleasantly surprised!!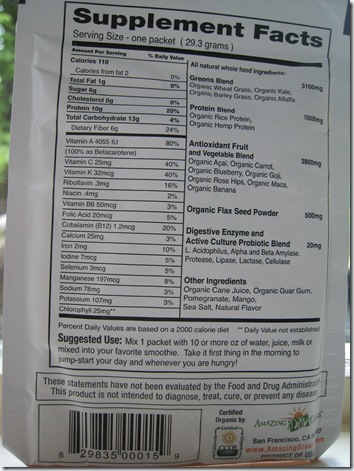 In just 1 serving, this drink packs 6 grams of fibre and 10 grams of protein and a slew of vitamins and minerals. Not bad for just 110 calories!
It is definitely not to be used as a meal replacement, but more of a meal supplement or an energizing pre workout snack! If I was going to use it as a pre workout snack I would probably have some more carbs to go with it since there are only 13 grams of carbs per pack.
It had a light mango flavour which I really liked. The only snag? The bottom of the drink gets very 'swampy'! I had to stir mine several times and it was quite thick near the end which I wasn't a fan of. I still drank it like a champ though! :)
I also had Spelt cereal, soy yogurt, walnuts, cranberries, coconut, and agave syrup to go with the swamp water: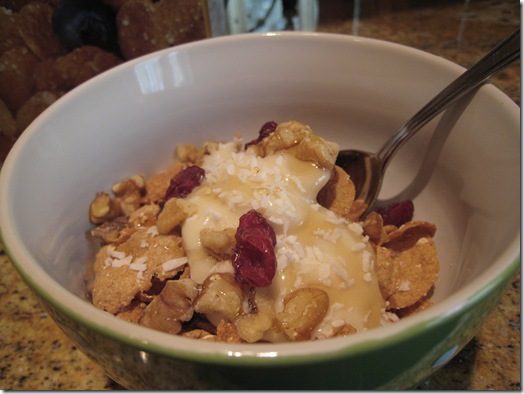 And this apple and Almond Butter: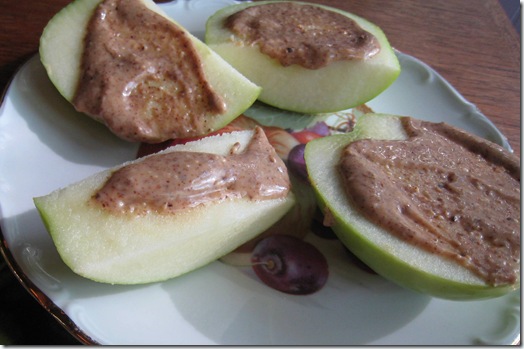 It was a nice change up for breakfast today! My taste buds had a PARTY and everything in the kitchen was invited! lol.

My workout yesterday was done while watching GAME 7!! I am so glad my Crosby won. What? There are other members on the team? ;) As a fellow Maritimer, he had my heart from day one. *swoon* ;) Even if he was injured…
The workout:
Duration: 1 hour
Treadmill hill walking (Speed 4.4 mph, incline 10% for first 45 mins, then last 15 mins cool down)
Max heart rate: 158 bpm
Avg heart rate: 142 bpm
Distance: 4.30 miles
This was the same workout as I was doing while visiting my family last week, however my heart rate was MUCH lower tonight as compared to when using my mom's treadmill. I am wondering if her 10% incline grade is higher than my 10% grade (they are different brands)? Her treadmill only goes up to 10% while mine goes up to 15% so I am wondering if hers is just higher. Hmmm…at any rate it was a good workout! :) Another possibility is that my HR was higher while at my mom's because she lives at a higher altitude!
I braked at every mile or so and got some water and watched some hockey. A true Canadian hockey lover I am! :)
As you may have noticed, I did not get in my planned run this week, but instead did a treadmill workout. The weather wasn't cooperating Wednesday and then yesterday I couldn't go far due to S4AC. It's all good though! I feel like I am in good cardiovascular shape. I will feel nice and rested going into the run! I MAY do a couple very easy miles today, but I'll have to see! :)
I can't believe I am racing tomorrow!!! I am getting nervous! I am such a competitive person (with myself) that I am a bit afraid I will push myself too hard. I just have to remember to enjoy it and not push myself too much too soon!
For all of you who have done races before- let's hear your words of wisdom! Share with me your tips, tricks, and what to look out for.
I know the bib goes on the front, so at least that is a start! haha. :D I'm a bit worried about the chip and where and how to put it on!! eeek.

1. We raised OVER $3,000 for charity!!! HOLY MOLY I am just thrilled! Yes, I am going to have a big goofy grin plastered on my face the entire 10k!!! :D You guys are rockstars!! I can't wait to finish my race tank tonight and iron on the number!
2. Last night Eric, my MIL, and I finished packaging my bars! Thank goodness they helped me or I would still be doing them today! I brought us all a drink to make it a bit more fun. muhaha. ;)
3. Glo Bakery and Oh She Glows made it on the race website! Check out my ad + blurb in the bottom right hand corner of the Twenty Valley race page!
4. Eric and I are off to visit my Sis and family for lunch! Eric is on call this weekend so that means that I can blog on the 2-hour drive home. Yippee!
Catch you later alligators! :) Enjoy your Saturday!