Wow what a whirlwind this week has been!
I haven't even had time to unpack yet!!!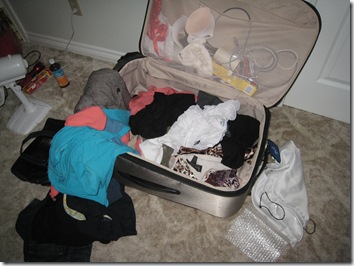 Yikes!!
Last night I was up until about 1:30am again sorting out all of the Shop 4 A Cause stuff! I was tuckered out, but it was sooooo worth it! Thank you all for making it such a huge success!!!
I thought I would give you all a glimpse of what I have been gearing up for this Sunday!
As I mentioned in previous posts, I am making 500 of my On The Glo granola bars for the race this Sunday! I have finally finished baking all the bars and now I am starting to package all of them!
Eric and I had to call a bunch of stores and track down the brown rice syrup because we cleared out the stock at Loblaws! We finally found 10 bottles of it at Fortinos grocery store and cleared them out!
I made ingredient labels: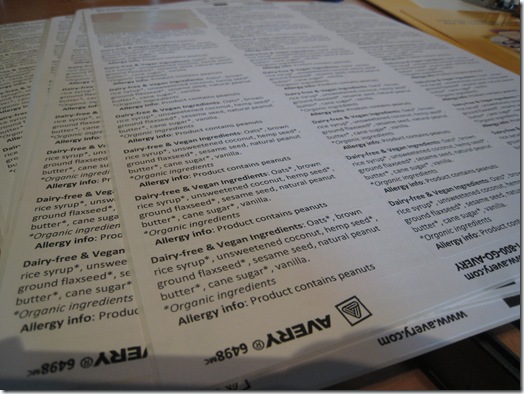 All 500 of them. And then I stuck them on the baggies: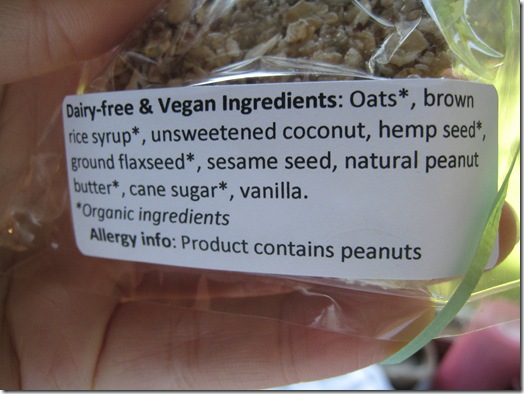 We made new Glo Bakery and OSG business cards and printed 500 on cardstock.
Eric cut them all with my MIL's slicer and I hole punched each one: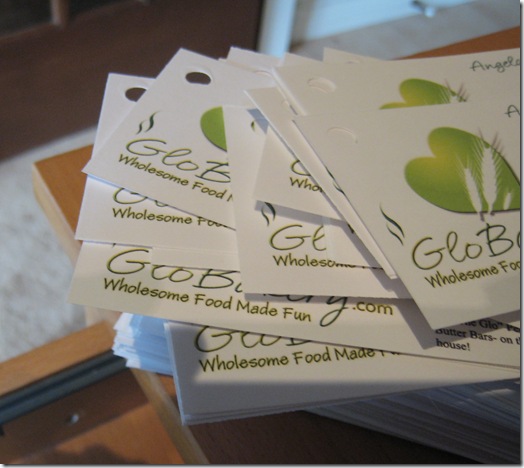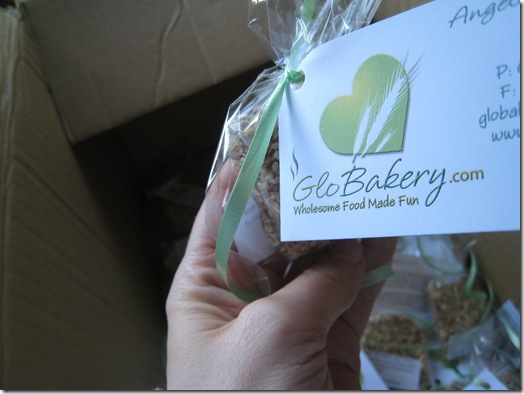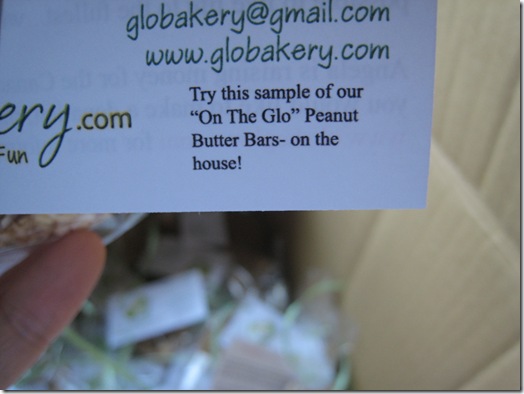 And Promoting OSG on the back:
I also started working on my race outfit when I found a spare minute or two!
We went to Michaels and got the supplies (thanks for the tip Mara!):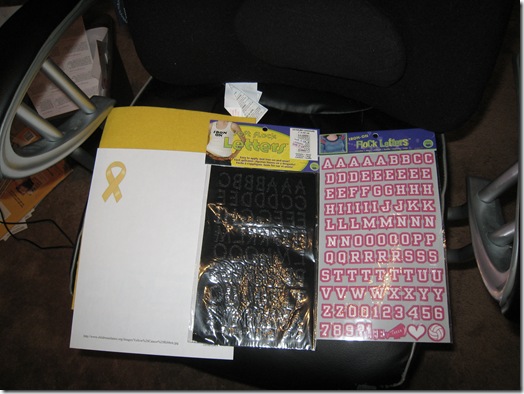 We couldn't decide on letters…so Eric picked up some more, lol.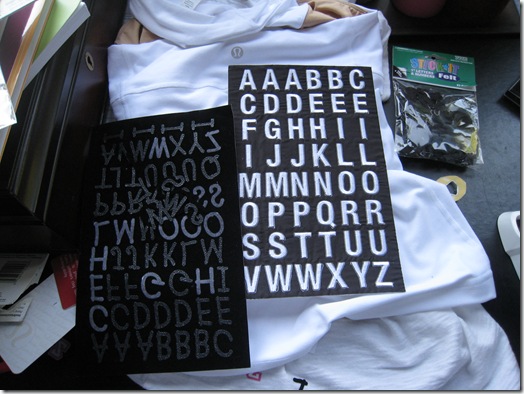 We tried out different placements and Eric made fun of me when I put the 'S' backwards in the mirror. :D Unfortunately, the psychology research showing that women have trouble with 'mental rotation' hits close to home for me. lol.
Eric makes fun of me when I start turning maps too…
I decided on NONE of these above placements! I have a new idea and you will have to wait and see what I do! :) And what letters I use!
I also tried my first Amazing Grass Green Monster in pure H2O!!!!
Amazing Meal Chocolate Infusion: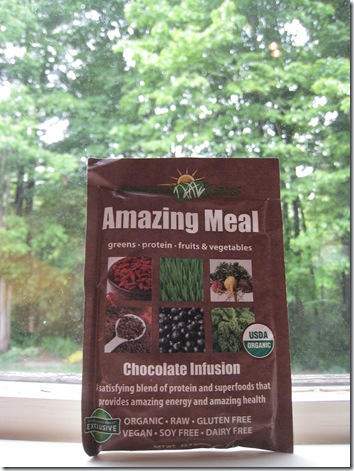 Clicky to enlarge!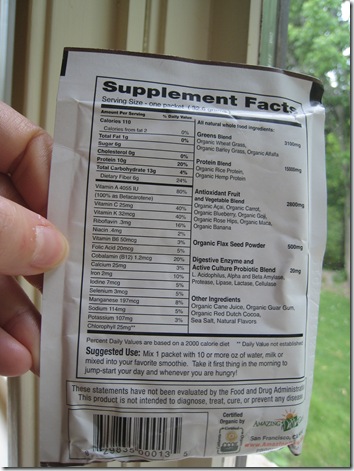 I was quite nervous about just mixing it with water!!! But I threw caution to the wind!! I did it for my PEEPS! :D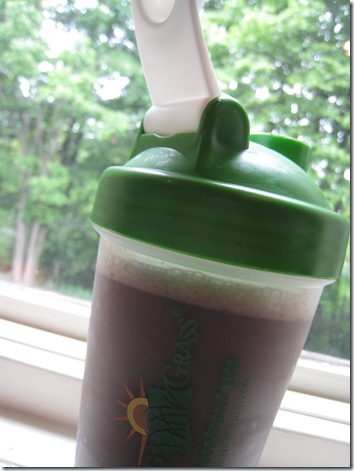 Oh WOW was it ever good!!!! I'm dead serious- it tasted like a chocolate milk (only slightly chalkier! lol). I really LOVED THIS!!!!!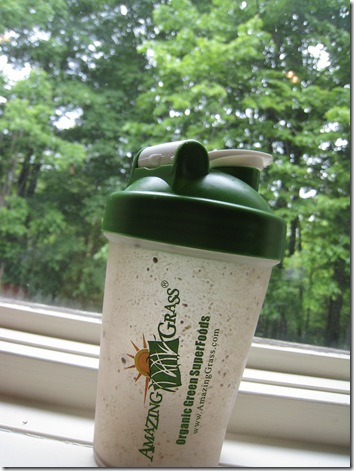 I also tried another mix yesterday, but I will wait and show you that later!
These drinks make me feel SO revved up! I drank them all day and they powered me through S4AC and baking 500 bars!
I admit, by 10:30pm last night…I NEEDED a stiff drink. lol. A different kinda drink if you catch my drift! ;)
Eric mixed me up a Vodka and Pink lemonade. It tasted soooo good and was just what I needed after a 18 hour day!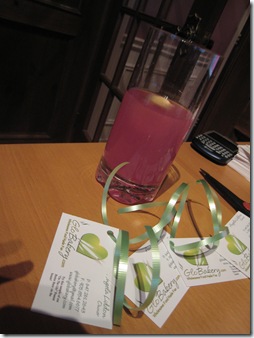 Then I packaged bars until about 1:30am!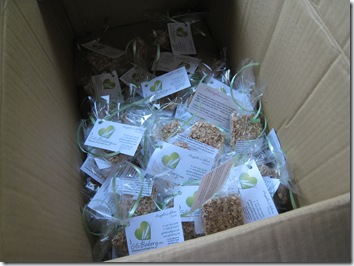 He may or may not have brought me a second drink! ;)
And there you have it!
Today I am busy responding to everyone's S4AC BID confirmation emails and getting that sorted out! I also have to package 450 bars, do my race outfit, AND my SIL is having a baby today!!! I would be lying if I said I wasn't a bit stressed, but hey- it's for a great cause!!! I will be donating the proceeds of my bars to my charity as well and adding that to the total raised!
Oh right- I'm also RUNNING a race Sunday!!!! LOL. I updated yesterday's workout in my RUN page!
If you have won an auction item and haven't made your payment yet, please do so as soon as possible so I can get this wrapped up. Thank you so much everyone!!! Please you make sure to EMAIL me and tell me once you have paid! :)
I will be responding to all of your emails today– please bear with me- I woke up to 112 new emails this morning!
Ok back to work, it's going to be another long day!