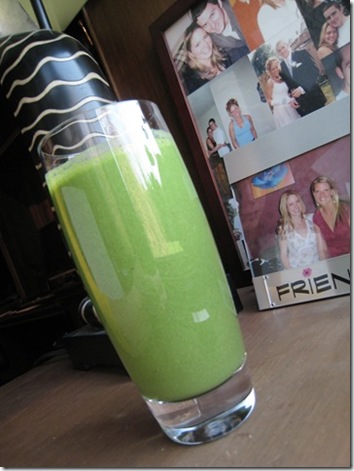 My Ode to Green Monsters:
I was oh so blue,
It was January oh nine,
That drink was just not fine.
I wanted to call you a Goddess,
Until I had a taste,
I knew right then and there,
The drink had gone to waste.
Goddess you were not,
I had a little tiff!
Green Monster I liked a lot,
It caught on in a jiff.
But I persisted on and gave you a chance.
Eventually it became true romance.
I tried spinach, kale, berries, even tofu,
Sometimes you were green, sometimes you were blue.
I tried powders galore,
My jaw hit the floor.
I was amazed by hemp, maca, E3Live and grass,
I think I'll pass…
I am certainly glad,
that you still don't taste bad,
you gave me this glow,
Just thought I'd let you know.
~Angela
Ever wonder what things I come up with when I am riding high on Shop 4 A Cause endorphins??? lol. Well, now you know!
Lately my inbox has been flooding with reader's sharing their Green Monsters! I have been compiling a huge document and decided to just do an entire post on all of them that I have received in the past week or two!
And here we go!!!
Give me a GEE, give me a ARR, give me an EEE, give me an EEE, give me a N!!! What's that spell???
1) Dawn from Dubai
Greetings from Dubai!
As an American expat living in Dubai I recently discovered your blog on a quest to get fit and healthy… currently on the C25K program, with a bit of hesitance I made my first green monster this morning (1 cup organic spinach, 1 frozen banana, 1 cup of Hazelnut milk).  I'm hooked – it was delicious! 
Keep up the good work on the blog and wish you much success with the bakery!
Regards,
Dawn
2) Carrie from Carrie On The Cheap
I love your site and you have totally turned me on to Green Monsters!
I run a personal finance blog  (carrieonthecheap.wordpress.com), but my second passion is fitness/healthy living.  I started drinking green monsters about 2 months ago and now have one almost EVERY day! I love them!  I even turned my BF on to them (who also shares my same finance and healthy living passions)!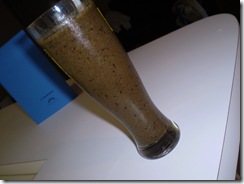 See – you have an affect on all types of people – even us personal finance NERDS!!!!! :D
It's more of a brownish green monster since I use a lot of blueberries… :)
Ingredients usually are:
LOTS of spinach – 3 big handfuls
5 strawberries
handfuls of blueberries
water
Truvia (sorry I know you hate these)
sometimes milk
3) Erika from Sun Runner Creations
Hey there. Just thought I'd say you inspired me to take the plunge and try the green monster.
Here's my blog post about it: http://blog.sunrunnercreations.com/?p=162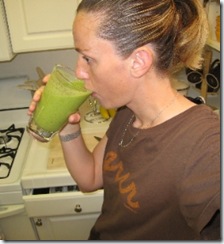 4) April
Hi Angela,
I'm so glad you started this "monster movement".  I usually use Metrx meal replacements and they are like chocolate milkshakes mmmm…  I recently got laid off though and can't really justify spending that money.  So now i'll make a green monster!
Thanks!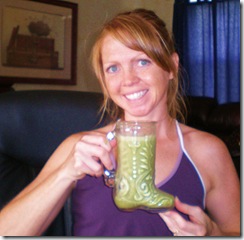 love the boot! haha
5) Elizabeth from Granite Gourmet

My nails are super long and strong now too and it totally has to be the GMs!  I have cut out all dairy and they are stronger than ever, which goes to show you can get calcium from vegs!  You can see my scary claws in my post: http://granitegourmet.com/2009/06/bar-hopping/
6) Nicole from Raspberry Stethoscope
Hi Angela! I've made a few green monster posts! http://moonischasingme1.blogspot.com/
7) Jo from Seeking Healthy Balance
I have been reading your blog for a few months now and really enjoy all your recipes :)
Today I finally made my first Green Monster, inspired by you! I blogged about it here:
http://seekinghealthybalance.wordpress.com/2009/06/06/green-monster-and-pizza-bliss/
8) Laura from My Healthy Challenge tried a green monster and blogged about it!
9) Christina
Hello Angela!!
My name is Christina, I have been on my little health journey for a while now and have been learning such great information from your blogs and others. I made my 1st green monster this morning and I can already tell that it will be part of my daily food intake. I used frozen strawberries instead of bananas because I'm a bit allergic to bananas, used Unsweetened Organic Silk, 1 leaf of Kale, tbs of Flax and 3 frozen strawberries. I was afraid of it at 1st glance but saw it as a challenge so I dove right in. It tasted great and I had energy throughout the day!!! Thanks for your blog, I read it every day. Keep up the great work!!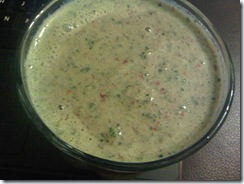 10) April from Foods of April blogged about her 1st green monster too!
http://ajangel25.wordpress.com/2009/06/04/to-sweat-or-not-to-sweat/
11) Anna from Meals from the girl in the little black dress
Hey girl!  I too have jumped on the Green Monster bandwagon- thanks so much!
http://mealsfromthegirlinthelittleblackdress.wordpress.com/2009/05/29/who-the-hell-am-i/
And as always LOVE your blog.
12) Kelly
Hi Angela,
Oh man! I have been reading about the GM's and other "forms thereof" for a couple of weeks and finally got on board. I bought some yummy yummy fruits and veggies…Sunday night I was so excited and cut up banana and strawberry and a little bit of apple to freeze to add to my spinach (I did a mix of spinach and kale) and almond milk. So..this morning I put everything in the blender and blended away…it was a little stuck, so I decided to help it along…look what happened! Yikes! Needless to say I got a little extra fiber this morning when I sampled my creation…not bad, but could do without the wood chips next time… :)
Thanks! I will try again!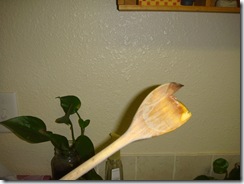 13) Courtney from Hungry Yogini
Angela! I am just loving these green smoothies. I can remember when you first started drinking them. I have to admit, I thought you were crazy! Greens in a smoothie??? I'm now obsessed and drink them daily. Thanks so much for the inspiration!
I attached some pics of my latest one. SO GOOD!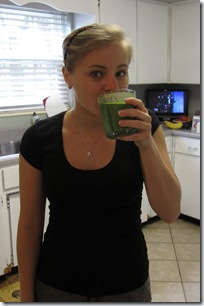 14) Amber
Hi Angela!
I have really enjoyed reading your blog from all the way out here in Nixa, Missouri.  (I'm sure you're pulling out a map right now trying to figure out where I am.)  Ha!  Anyway, I have a two-year-old daughter and a two-month-old daughter and my oldest is going through an I'm-not-eating-my-veggies-even-if-you-forced-me phase.  I have found a few ways around this but the best came this morning when I made both of us a green monster and she LOVED it!! 
Thanks again!!!
15) Jaime from Bi0nic Eating Habits
I thought I had this fabulous idea to do a Smoothie Week, but it looks as though everyone in the blogosphere has jumped in at the same time!  Green Monsters are everywhere.  :) 
Please stop by my blog and check out the fun concoctions I'm making each day this week.  Some will be green, some won't…but each will be a fun, healthy, and tasty (hopefully!) experience.  Yesterday I launched off with a beginner Green Monster and as predicted it was GREAT.  Later in the week I'll be going for something more challenging…probably based on the local selection of kale or other such crazy things.  :)
Day One:  http://bi0nic-eating-habits.blogspot.com/2009/06/smoothie-week.html
Day Two:  http://bi0nic-eating-habits.blogspot.com/2009/06/smoothie-week-day-two.html
16) Emily from natural Nutritionist
Hi Angela –
I just wanted to let you know that I mentioned you in my post today about Green Monster smoothies –
www.naturalnutritionist.blogspot.com
Thanks!
17) Bobbi from In her shoes blogged about her first experience!
http://nhershoes.blogspot.com/2009/06/marathon-videorecovery.html
18) Shannon from The Daily Balance
Hey girl!
Glad to see you are lovin up on the peanut butter! Have you tried naturally more? It's my favorite!
Also– I tried my first green monster yesterday — AMAZING!
http://www.thedailybalance.com/2009/06/01/daily-delish-how-to-eat-lots-of-spinach-and-not-get-any-in-your-teeth/
I had no idea that you were the MASTERMIND behind the goodness! I had just heard about them through a few bloggers who probably heard about them from all the other people you've converted into green monster lovers ;) THANK YOU – I'm a lifer, now ;)
19) Karoline from Sweet Karoline
Attack of the 40 Foot Green Monster: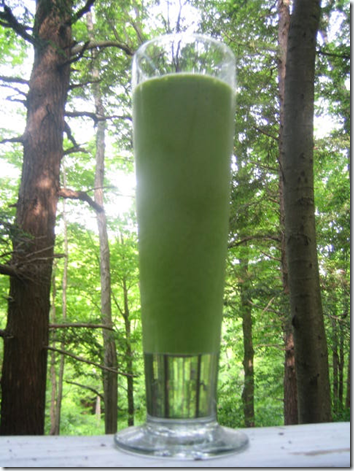 Attack of the 40 foot Green Monster!
Angela says: Could that pic be any cooler?!?!?!?! I think it should win an award or something!!! :D
20) Kimberly
Angela,
I have another Green Monster success story. Back in February I attempted to donate blood but was told that my hemoglobin was too low (it was a 10.5 and the requirement is 12.5). I was referred to a doctor who said I would need to start taking iron supplements. I asked if there were ways I could up my hemglobin withouth needing to take a pill. He adviced me to eat more dark greens.  Around the same time, I found your blog and became a GM addict. Lol!
Fast forward a few months, and today when I went to give blood my hemoglobin was a 13 – the highest it has EVER been for me. The blood donation staff asked if I had started supplements, and I said nope "Just eat spinach/kale in my smoothie every morning."
Not only did the GM help me to healthier, it enabled me to donate blood so that I can save someone's life.
umm WOW!!! That is so awesome!
~~~~~~~~~~~~~~~~~~~~~~~~~~~~~~~~~~~~~~~~~~~~~~~~~~~~~~~~~~
If you have sent me a picture or link of your green monster and you have not seen it on the site, please send it to me again. I know that I missed a few while I was away on vacation despite my best efforts! :)
Don't forget Amazing Grass is giving a 15% discount to all Oh She Glows readers! Just enter 'ohsheglows' at the checkout for your discount!

Eric did the cutest thing for me when he picked me up from the airport on Monday night!
He packed me a bunch of fun snacks in the car and a nice warm tea!!! He even remembered to bring me a decaf since it was late at night. :)
Here is the loot:
Decaf tea: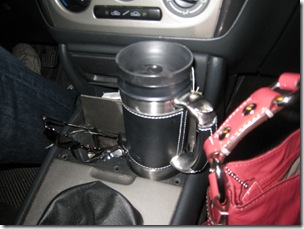 An apple, orange, AND his homemade oatmeal chocolate chunk cookie!!! (LAST ONE!!!)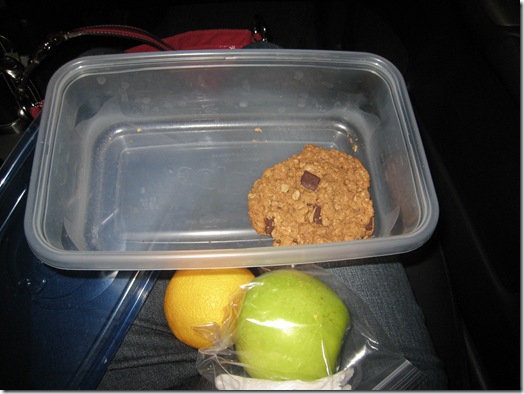 Oh my God it was the cutest thing I have ever seen!!! :D
I told you guys- he knows that when I am hungry I am a grumpy bum! I guess he was preparing for the worst, LOL. Luckily I wasn't too hungry since I had all my snacks on the plane, but I couldn't resist his homemade cookie of course!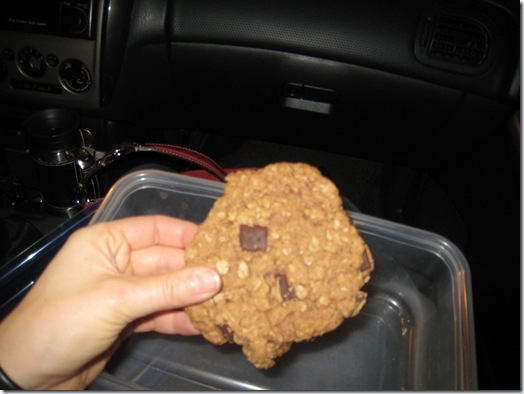 It was SO good!! I shared a few bites with him… reluctantly. ;)
It was the perfect end of trip indulgence!!
Oh He Glows makes some mean cookies I tell ya! I wonder when he is going to bake for me again??
See you this afternoon! I've got about 450 bars to package today!!!!!! Oh boy!

Ps- I will be getting through all of the BID emails slowly but surely this morning!!!