I took a break from the bar wrapping to work on my race outift!
And I just couldn't help myself.
Take a look at this picture: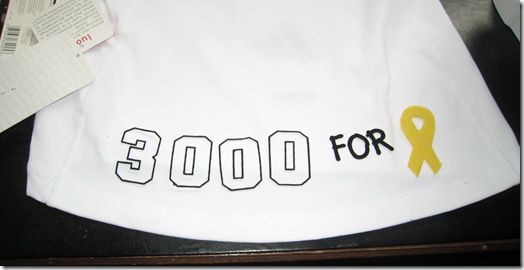 HOW GOOD WOULD $3,000 LOOK ON THE RACE TANK!!??? Seriously!!!
That's why I need your help!
I have been SO touched by your generosity and kindness with my charity. I have seen some of the kindest and most genuine acts of goodness that I have ever seen before! It has been a truly touching experience for me.
Here is an example of some of the amazing people reading this website!
This morning, Scott, the winner of Heather's Maple Nut Oaties emailed me saying that he wanted to surprise the runner up bidder with a batch of Heather's Maple Nut Oaties- on him! He not only offered to match his bid of $60 but he said he would pay for Heather's shipping costs!
Of course, we had to ask Heather first to see what she thought! Because she is a true rockstar, she said of course!!!
I emailed Danielle (the runner up) and told her that it was her lucky day!!! She was thrilled and immediately donated $60 to my charity even though no one asked her to or expected her to!
And now Scott is also wanting to donate another $60 to the charity!
I have been constantly floored by kind acts just like this from all of you. I honestly can feel the GOOD KARMA being spread!
This is why I need to reach out just one more time. I know many of us are strapped for cash or didn't win the item that we bidded on. That is ok, because all I am asking is that you donate what you can to my charity! If it is only $1…I am thrilled with that. I appreciate every single penny that I raise and I don't expect anyone to donate some huge amount.
So I am reaching out to you all tonight to consider a donation- no matter what the amount- to my charity and help me reach $3,000 for my race on Sunday!!!
I am kicking in another $200 from the profits of my bar sales!
Let's not only do it for my friend CHRIS- who lost his life tragically early- Let's do it for everyone out there who has ever been touched by cancer in some way!
I tear up thinking about this because I know Chris is looking down on us and smiling.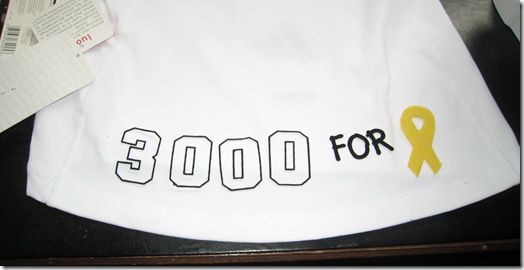 TODAY WE ARE TAKING A STAND AGAINST THIS HORRIBLE DISEASE AND ALLOWING THE AMAZING RESEARCHERS DO WHAT THEY WERE TRAINED TO DO!!!
I was emailed by a cancer researcher today who told me that cancer research is so very underfunded and they need LOTS of money to do the costly research that they do.
I leave you with one of my favourite quotes again:
"Believe, when you are most unhappy, that there is something for you to do in the world. So long as you can sweeten another's pain, life is not in vain."
– Helen Keller
Thank you for your continued support!!! YOU decide the number I will proudly wear on race day!!!
Hey guys- check out this offer from a reader named Meghan:
I have lost many loved ones to cancer and seen many others suffer. I would love to help and am trying to drive traffic to my new blog. So what if I donate a dollar (US) for every new visitor to my blog up to $50? :) I can keep track via the WordPress stats and update you later this evening.
You heard her! Go check out her new site!!! :) Thanks Meghan!
Now I have 292 bars to go package!!! :)
PS- GO CROSBY!!!!!!!!!!!!!!!!!! You can be sure Eric and I are watching tonight!

Tonight's question: DO you know someone who has been affected by cancer?