"Believe, when you are most unhappy, that there is something for you to do in the world. So long as you can sweeten another's pain, life is not in vain."
– Helen Keller
Wow! What a day it has been!
I seriously haven't had so much fun in a long time!!! It was a crazy day, but so so much fun!!!
I especially loved all of your enthusiasm and spirit! Some of you crack me up with your comments and emails. :) There was a great interest for my e-counseling, so I may be offering this as a service in the future!
Thank you to EVERYONE who supported Shop 4 A Cause in any way whether it was donating items or bidding on items. You all truly made this day a huge success!!!
I have listed the winning bids below.
If you have won an item, please visit my Online Donation Page, click 'Sponsor me', and donate your winning bid with Visa or Mastercard. Please make sure to identify yourself so I know that it is you making the bid. Once you have made the bid, please email me ([email protected]) and tell me so. I will confirm your bid and then email the shipper your contact information to take over! :)
WINNING BIDS:
1) Knitting for Dummies and Crocheting for Dummies $25 (Lori)
2) 100% Australian Made Pack $30 (Christie A.)
3) Sarah Jessica Parker gift pack! $50 (Carol D.)
4) Peanut Butter Chipsters $20 (?? Can someone claim this? I can't find the bid)
5) Beauty and the UK Treats $65 (Jocelyn M.)
6) Beautiful Coach Purse $160 (Laura M.)
7) Leather purse from Turkey $70 (Courtney B.)
8.) Leather Fossil purse  $30 (Andrea)
9) Bijoux Terner Earrings and Necklace in Gold
10) Blue Leather Fossil Wallet $50 (C.D.)
11) Swarovski Crystal Clown and angel $30 (Stephanie B.)
12) Royal Albert Bone China tea cup and saucer in White Dogwood pattern $25 (Kris C.)
13) $50 gift card to Winners $45 (Kris E.)
14) Brown leather backpack from Kusadasi, Turkey $20 (Erin O)
15) Indoor Gardening Set with rake, shovel and spitzer bottle $25 (Dani)
16) Handmade Wedding Countdown board $25 (Katrina M.)
17) Homemade Necklace in Ovarian Cancer colors made of Swarovski crystals $25 (Sue F.)
18) Original Glo Bakery Painting $20 (Fitzalan)
19) Custom Stylish Homemade Journal or photo album $30 (Chandra)
20) European Chocolate Gift Box $50 (Christie)
21) Personalized menu planning $60 (Kim S.)
22) Book: This Crazy Vegan Life by Christina Pirello $25 (Stacy N.)
23) NO GYM, NO PROBLEM Workout DVD Pack! $90 (Kat J.)
24) ORGANIZE WITH STYLE $40 (Veggiegirl)
25) Carrots 'n Cake GLOW ON THE GO gift package $65 (Allison G.)
26) Polly's simple maple granola $50 (Scott J.)
27) Kara's Oatmeal Butterscotch Cookies $35 (Courtney B)
28) Heather's Maple Nut "Oaties" $60 (Scott J.)
29) Veggiegirl's Customizable Blondies $55 (MadamKristin)
30) Oh Hungry? Oh Hangry! Trader Joe's Fun Pack $55 (Dottie a)
31) Priceless Poetry by Acclaimed writer Andrea Scarpino
32) Jenna bakes 'Super Charge Me Cookies' $75 (Trixie)
33) Oh She Glow's Fit Gear Gift Pack! $80 (Katherine)
34) Oh She Glows Girly Girl beauty gift pack! $75 (Andrea S.)
35) Two one-on-one e-counseling sessions with Angela of Oh She Glows! $85 (Amy O)
36) PETA's Vegan College Cookbook $35 (Stacy)
37) $50 ESSO Gas Gift Card  $55 (Kris E)
38)  Oh She Glows Book Worm health + Beauty reading Pack and Power Yoga DVD! $65 (Stephanie D.)
39) $50 ESSO Gas Gift Card $55  (Kris E)
40) Mara's Food Blogger Charm 1 $20 (Karen P)
41) Mara's Food Blogger Charm 2
42) Vera Bradley Purse- PINK ONLY
43) Vera Bradley purse- GREEN ONLY $30 (Amy)
44) Books: My Sweet Vegan and Go Dairy Free $55 (Ashley G)
45) ATTENTION RUNNERS: 3 months of personal training! $50 (Jamie R.)
46) Priyanka's Curry Pak $20 (Beth M)
47) Vegan Chocolate Chip Coffee Cake squares $75 (Trixie)
So the question of the day is HOW MUCH DID WE RAISE FOR CANCER RESEARCH?????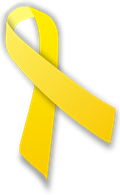 The grand total of today was $2,105 dollars!!!!
I had already raised $425 dollars before the auction today, so that puts my overall total at:
$2,530 dollars!!!!
Which means that I beat my fundraising goal of $2,500 by $30!!! :D SWEET!!!
As you may have noticed, there are still 4 items up for auction that did not go- I am leaving these items up tomorrow!!!
I wish I could throw you all a cupcake party!! :D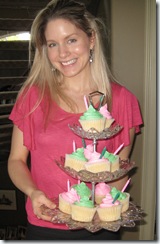 I am SO excited to run the 10k race on Sunday!!! I will proudly be wearing the amount of money we raised on my tank! :)
THANK YOU FOR ALL YOUR SUPPORT! You are all angels!
Well, I'm beat- See you tomorrow! Hopefully I will sleep tonight- haha!