Green morning everyone!
Another day,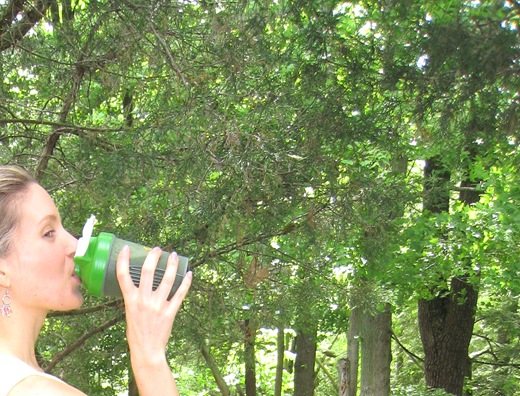 another Amazing Grass Green Monster!
There is NO better way to start the day. :D Green and Glowing!
Here is the first FAQ installment from all the questions I answered while on my recent flight! No better way to get caught up than on a 4 hour plane trip, right? :)

231. Niki asks, "I was wondering why I never hardly see potatoes on your daily meals or on other people's fitness blogs?"
Well, I can't say for other people, but for myself I am not a big potato fan. I prefer sweet potatoes as I find they taste better. I like mashed potatoes, but Eric isn't a fan so I rarely ever make them anymore!
232.  Kathleen asks, "Your blog is one of my favs and I have a quick baking question for you. I made vegan coconut cupcakes last weekend and they turned out great, but the bottoms stuck to the liners…any ideas on how to fix the problem?"
This is a common problem when baking low fat items. I had many low fat muffins stick to the liners before I finally just started greasing the muffin pan and not using any liners at all. You can also try buying the silicon liners (they are reusable too!).
233. Seagirlrun asks, "I stumbled across your blog a few days ago and am quite intrigued/impressed by how you changed your diet and exercise by looking at the "big picture"… I have read through your "transformation" posts and still have questions- What would you say are the top lessons you have learned that are now guiding your health and fitness? I have struggled with the yo-yo of diets/binge eating for many years. I have finally resolved to be good to my body and focus on eating healthy and exercising above all.  I am a little confused on how to determine what foods are the best for my body- can you help to clarify what you mean?"
234. April asks, "Hi Angela! I have recently decided to stop counting calories after realizing it was getting out of control. However, it's really hard! I'm afraid that I can't trust my body to tell me what it needs. Calorie counting gave me control, and now I have to learn what my body wants instead. Do you have any suggestions or advice? Anything is appreciated! "
One of the biggest lessons that I have learned throughout this journey actually seems a bit counterintuitive- I had to relax. For many years I was so hyper focused on every calorie, every weigh-in, every splurge that it literally drove me crazy and led to years of ups and downs with my weight. I had to loosen my grip and just let it be! This was not an easy thing for me to do because I am a person who likes to feel in control and like I am following the rules.
What I found out was that the more I sought this control over my weight, exercise, and food, the more it made me out of control. I was too focused on all of those things for too long. I never would have thought a few years ago that I could finally be free from counting calories. I did it for so many years it was literally ingrained into my daily life. It was an automatic process. I tried many times to stop and I quickly learned that it was like trying to stop smoking in a sense. I 'relapsed' many times and reverted back to counting calories once again. I finally broke free from it on my 5th or 6th serious attempt. I had to let go of it gradually. I would maybe count calories for a meal, then stop for the day, or maybe count a couple days in a row and then stop for a day.
Eventually, over a few months as I realized that I could trust my body, I didn't feel that urge to tally up how many calories I was eating. Counting calories took all the pleasure out of eating for me and even took away my perception of my own hunger! For so long I only knew how many calories I had allotted for a certain meal, and I never really stopped to ask myself if perhaps I should just eat until I am satisfied and no longer hungry! Once I loosened my grip and stopped the daily obsession I felt so much healthier. Now I eat until I feel content and satisfied, not until I have reached my calorie limit.
What I did was I took those negative behaviours that I was doing and I found new positive behaviours to take their place. I think this is key. If you are trying to stop weighing yourself not only do you need to remove the scale from eyeshot, but you also need to do something positive to replace that behavior. For example, if you normally weigh yourself every morning, perhaps replace that behavior with 10 push-ups. This way you are doing something you can feel good about and it takes your mind off the number and onto something more positive like improving your strength!
As for determining the best foods for your body, that is very much a personal choice. The food choices that I currently make are due to researching nutrition for many years. Nutrition has always been one of my hobbies since I was about 11 or 12 and I always read up on the latest research. I encourage you to do the same if you are feeling like you need a good base of where to start with your diet. I don't expect anyone to eat how I eat and I don't pretend that my diet is a perfect diet by any means because it isn't. I don't believe perfect diets exist. While I do suggest doing your research, I also suggest to take everything you read with a grain of salt. There are about as many recommendations out there as there are people looking for advice. Not everything you read will be good advice.
What I learned throughout my research training is to be a very critical consumer of what you read. Make sure the research you are reading comes from a reputable course. Read up on the top tier journals in the health field. Be wary of articles that do not cite proper sources for their claims. Be a Health Skeptic!
235. Leah asks, "Sorry if you've answered this already, but I was wondering what you use as a sweetener? Since you don't do the fake stuff, I find it hard to believe you would use regular sugar. And in FAQ 28 you seem to not care for the new sweeteners either like Truvia. So what do you use? Honey? Or just live sans sweet…"
The sweeteners that I use for baking are typically agave syrup, brown rice syrup, demara sugar, tubinado sugar, honey, and natural cane sugar. I don't tend to use any of the above in my normal diet as I don't really eat/drink foods that many would sweeten (e.g., coffee). I do drink black tea on occasion and I have just trained myself to get used to drinking it without sweetener and a dash of soy milk.
236. Kathleen asks, "I have been reading your blog for a few weeks now and am really enjoying it so thank you!
I have some questions for you:
First off, how do/did you do it all! I would love to hear some of your tips for budgeting your time and getting it all done. I am currently juggling correspondence university work and close to a full-time nonpaying ballet apprenticeship and I am having a hard time feeling like I can get everything fit in, but that seems like peanuts compared to your Masters stage, so I want to know how you did it! ;)
You have mentioned that you eat vegan or mostly vegan now and I am curious (and really hope this doesn't come across as being judgemental because that is completely not where I am going here, just curious) as to what your basis is. I get the feeling that it is mostly for health reasons, but having learned more about it do you agree with the ethical points of view as well? If you do, are you planning on changing other aspects of your life (like foregoing leather products) as well? If you do go that route, I would love to read about it, I am a Canadian as well and have been having a hard time finding vegan products, particularly shoes that aren't hideous!
Anyways, thanks so much for a great blog (I am drinking a green monster as I write this!)
P.S. I want to see more of Sketchie, he seems to have been missing lately!"
1. You seem very busy so I can certainly see why you are having trouble fitting everything in! Last spring/summer was the busiest time of my LIFE. I was a full time Master's student (preparing to defend my thesis that summer and graduate), I just got a new research full time position, and I was planning our wedding! I would be lying if I said that I managed the stress perfectly because I didn't. I actually really struggled with that period of my life.
I was under a HUGE amount of stress from both school and work and at times I felt like I would have to quit either school or the job because I just wasn't managing everything with the finesse that I wanted to. Poor Eric…he dealt with so much and was a great support for me. Same with my family. So many nights I would sit at my desk and cry because I was so exhausted from working, commuting, wedding planning, and then coming home and have to work on my thesis until bed. It was not healthy for me and looking back on it I totally regret that I took a full time job while I was still in school. It was a bad choice on my part.
I have a tendency to take on too much (still do!), but it is something that I am working on. I am a huge 'yes' person but now more and more I am learning that I can say no to some things and it is OK! But you are right- I did get through it, somehow, although much of it seems like a blur right now. My best tips for how I stayed healthy with regard to eating and exercise are these:
I got up and worked out before work every morning. This wasn't up in the air unless I needed a rest day. It was part of my routine and I just got up and did it. I knew that when I came home from work the chances of me working out were very slim so I knew that it was either first thing in the AM or never.
In the evening, while I prepped dinner, I also packed my lunch at the same time. This way my lunch was ready to go and I could just throw it into my work bag.
I relied heavily on my slow cooker! In the morning I would randomly throw a bunch of ingredients into the slow cooker and by 7 or 8pm we had a fabulous dinner ready for us- no cooking involved. The slow cooker creations would also make leftovers for lunches and dinner the next night- bonus!
2. My reasons for eating a vegan based diet are a combination of health and ethical reasons. We now know that plant based diets reduce the risk of many chronic illnesses. As well, eating a meat free diet is the number one thing you can do to reduce your carbon footprint on the environment- even more so than giving up your car entirely!
I tell others that I eat a 99% vegan diet- this gives me some wiggle room when I am traveling or visiting family and can't do anything about it. For example, I eat fish on occasion when there are no other vegan menu options for me to eat (as was the case at the restaurants I went to on my vacation- they didn't have vegan meals so I have to be flexible!). As for purchasing other vegan products- at this point I don't know, but I can see myself exploring that route down the road as I learn more about it.
237. E asks, "What brand of liquid garlic are you using?  How much are you taking now that you 'doubled it'?  How are you taking it ~ straight of the spoon? blended in your monster?  Mixed w/something?"
I use Kyolic Liquid Garlic and I mix ½ teaspoon into my green monster every morning. I don't notice the taste at all and it is odorfree so it won't give me garlic breath.
Stay tuned later today for another FAQ installment!

See you this afternoon:
How I am prepping for my 10K race this Sunday!
My thoughts on how I did with trying to be healthy while on vacation! Did I slip up, have areas for improvement, or get it just right? I 'weigh' in on this topic.
Later tonight- The winner of the Amazing Grass Giveaway! I extended the contest another day so you have until 4pm EST to enter!!!
Check out Help Meghan Run's contest calcium giveaway!