This is what powered me through 22 batches of PB Bars today!!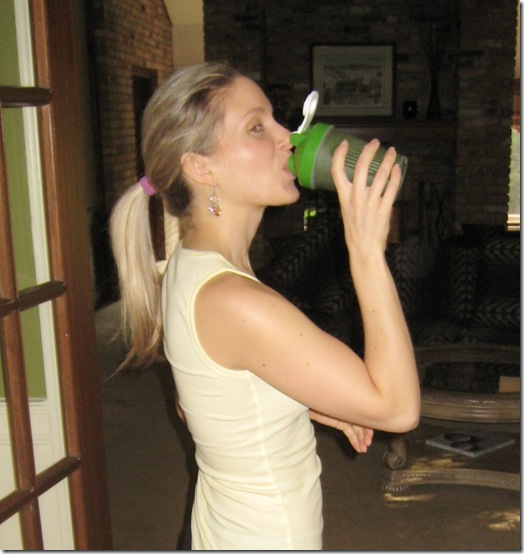 Yes that's right! I said 22 batches!!! As you may know I am donating 500+ of my PB Bars to the race this weekend. All proceeds are going to my charity- Canadian Cancer Society!
I am obsessed with my new Amazing Grass cup!!! The large spout is incredible!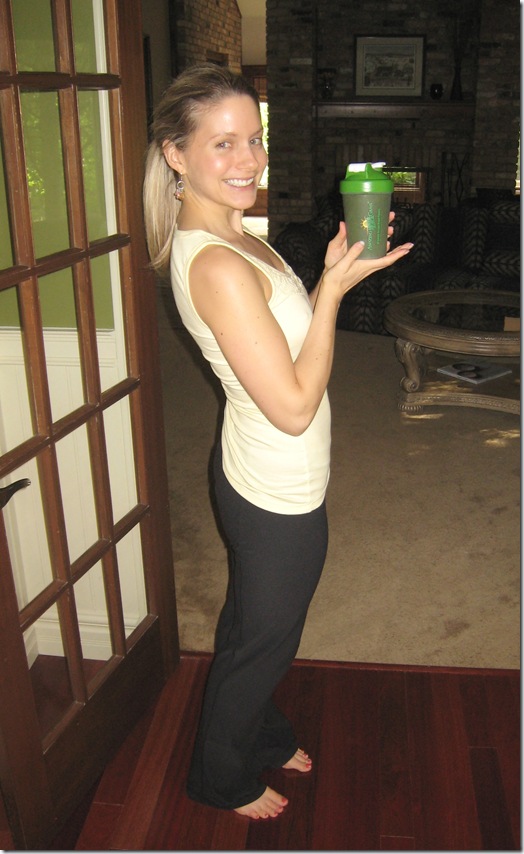 If my arms look more toned it's because they were stirring Brown rice syrup all day!! :D Today's workout was the 22 batches of bars- I'm telling you my arms are so sore!
I am officially obsessed with Amazing Grass products! I have oodles and oodles of energy when I drink a Green Monster with Amazing Grass!! I had two today because they are quick and effortless when I am baking in the kitchen.

Tonight I wanted to talk about the healthy snacks that I packed for my trip- specifically for the airplane rides!
My view coming home: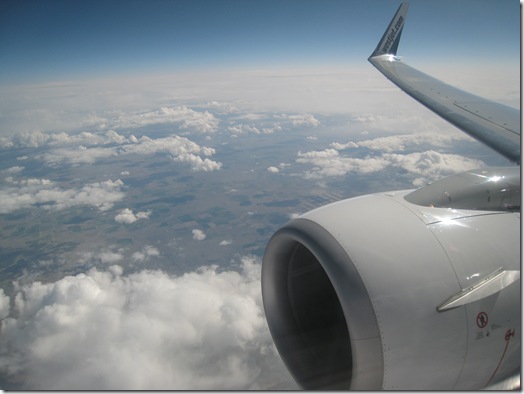 I love marshmallow clouds, don't you? :D
Since my total flight time was 4 hours (which meant I would be 'in transit' for about 6 hours plus) I knew I had to pack lots of healthy and energy dense foods!
I packed a baggy of tiny Peanut Butter Granola Bars!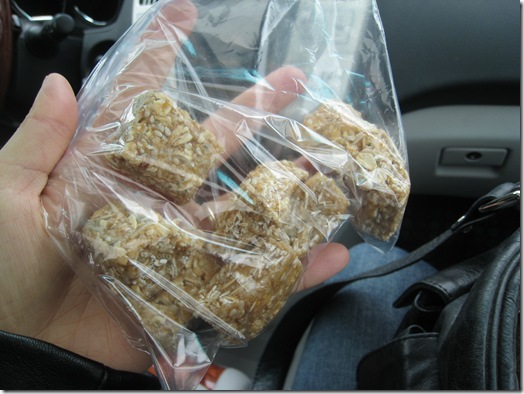 A Sprouted grain wrap with 1/2 an avocado: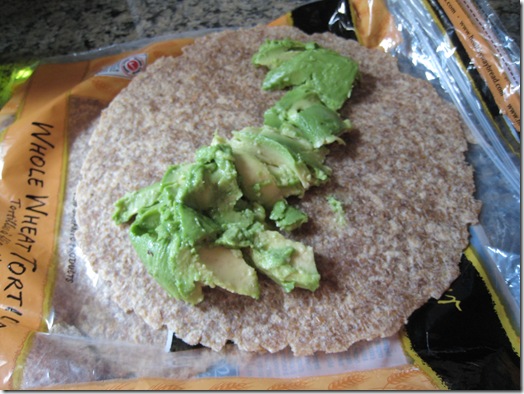 Folded in half and put in a zip-lock!
A Dried Fruit bar: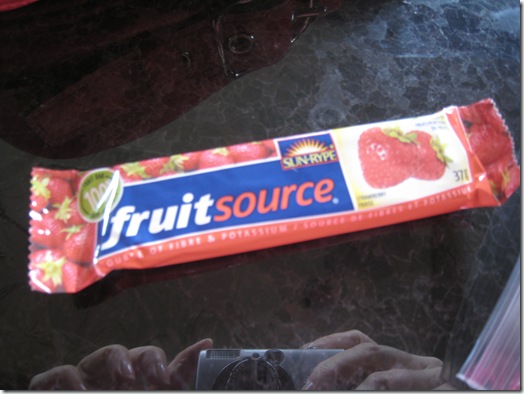 A Red Delicious apple, complete with a paper towel and a ziplock bag. This is my BEST trick for 'messy' foods. After I am done eating the apple, I have a towel to wipe my hands and thn I simply throw the core into the ziplock bag and zip it closed. No mess, no odour!! :D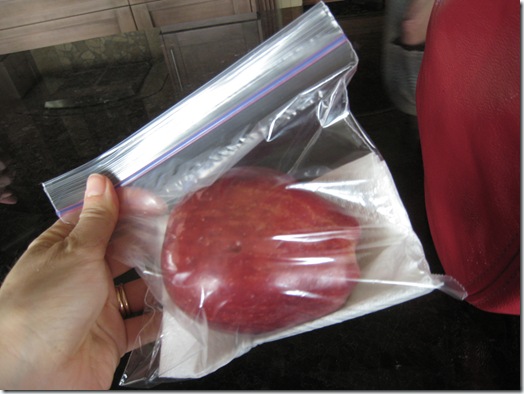 So what did I eat and when did I eat it?
I ate the Fruit bar and the avocado wrap when I was at my gate waiting to board the plane. This was a 'mini dinner' around 4:15pm.
Approx: 6pm: I had all of the PB granola 'bites' (which equaled 2 bars) about 1 hour into my flight, after studying for my nutrition exam
9pm: I had my red delicious apple for my 'evening snack' after I was done blogging this morning's post! I watched some TLC and had my juicy apple!
Throughout the entire 4 hour flight I drank just over 500 ml of water (2 cups) and I had 1 cup of decaf green tea.
It was the perfect flight- food and drink wise! I felt energized but not weighed down and I had no indigestion! I also made sure to take all of my vitamins regularly while on my vacation. I also took a reader's suggestion to try a digestive aid (Kyolic brand) and I do think it helped me! My stomach hasn't felt this good in a LONG time! :D Woot!
So those are my tips and tricks for healthy flights! It really pays off to plan ahead and pack all of your snacks.
You are probably wondering if I ate any airplane food and the answer is I never need to! I have so many snacks that I don't need to rely on overly processed 'mystery' food. :) My tummy thanks me for it!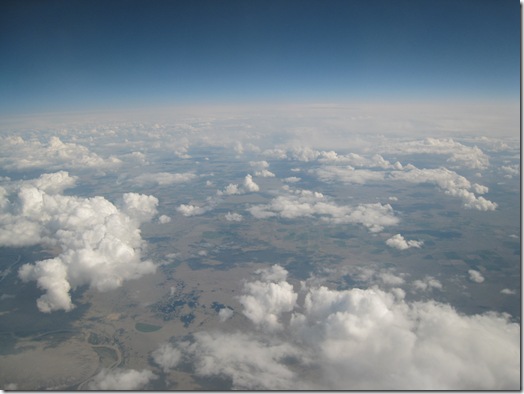 1) You voted and the winning name of my PB granola bars is ON THE GLO BARS (83%)!!! Great choice everyone! :D
2) Shop 4 A Cause is just over 1 DAY away! Are you as excited as I am?? S4AC will be starting on Thursday June 11th at 8am EST! Be there or be Square! :D
3) See you tomorrow for my thoughts on how to stay healthy while on vacation and how to prevent unwanted weight gain! I will tell you all the tricks I used this past week!
4) My Amazing Grass giveaway ends tomorrow- don't forget to enter!
5) Some of you have been asking me about my race this weekend! Tomorrow I will be telling you how I am preparing for my first race ever this SUNDAY! What workouts am I doing to prep?
6) Check out this fun tea giveaway!
Well, I am off to clean up the kitchen– you DON'T want to see what 400+ bars will do to a kitchen!!!
One of the two boxes: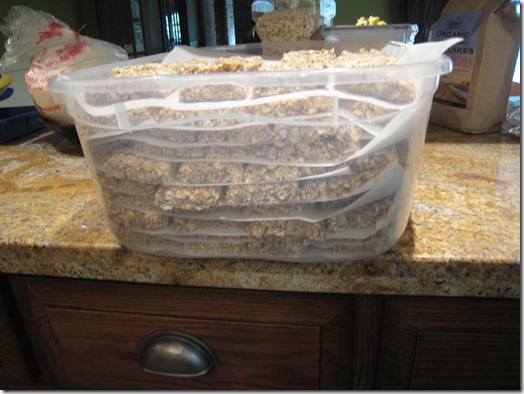 I am really happy with all the progress I made today! Only 100 or so to make tomorrow and then it is time to make all the tags, cards, wrap, and try to design my race tank! I am really worried that I won't have time to do the tank (our 'practice' iron on attempt failed miserably so I think I have to use stencils and fabric paint…)
Tonight's question: What do you pack when you go on a flight or long trip? What are your favourite portable foods? What are your tips and tricks for feeling good while flying?

Coming up tomorrow morning- FAQ's!!!! These next two installments are good ones, you don't want to miss them!!