Hey everyone!
I am currently writing this post on Monday night from the airplane! :) I totally lucked out with my flight today- the flight is practically EMPTY and I got a whole row to myself!!! SCORE!!! To make it an even more awesome flight, we ended up leaving 10 minutes EARLY. I don't think I have ever had such a fabulous flight experience. For the first hour I read my Nutrition and Wellness textbook (that is the next exam I am studying for now!) and now I am writing this post and watching Jon and Kate Plus 8- Airplane TV's rock!!! What did we do without TV's and laptops?!
On the flight here, I actually got caught up on all of my FAQ's!!! So keep your eyes peeled for TWO FAQ installments in the next day or two.
Currently, I am on my flight drooling over this picture I took last night, wishing I had one right now!!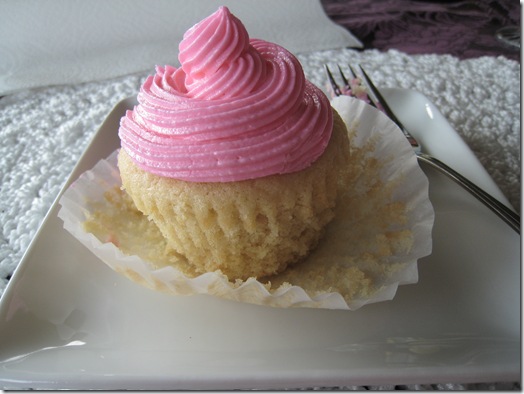 Good Lord Have MERCY!!!!!!! Vegan Cupcakes Take Over The World! :D
Let's continue to part 2 of Sunday's Birthday dinner, shall we?
OSGMOM says hello! :)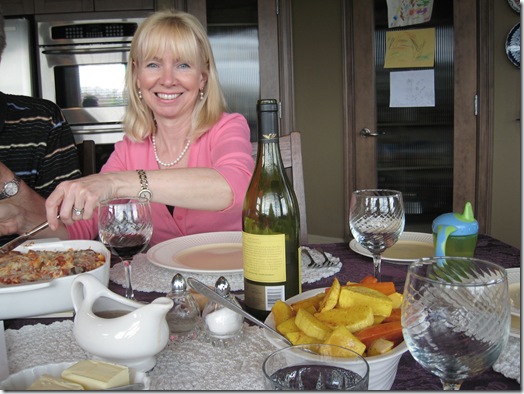 Here is what I ate:
I had 2 bowls of the yummy mixed green salad: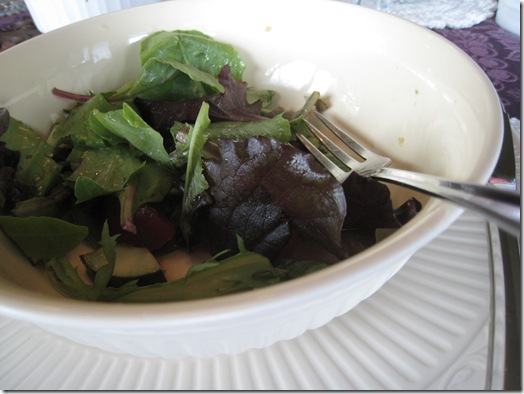 One of my mom's delicious homemade HUGE buns :D We laughed at how big they turned out! Oh my gosh they were so doughy and delicious! I had mine with Becel Olive Oil Margarine. They were probably 300 calorie buns but worth every bite!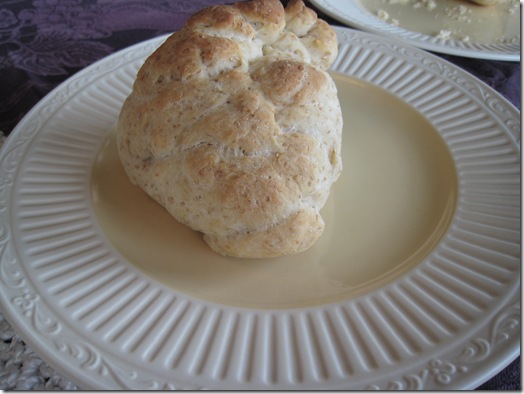 My mom was so sweet- she made me a separate vegan casserole of veggie stuffed pasta. The inside of the jumbo pasta shells were filled with sautéed veggies– it tasted sooo good! I had 2 jumbo pasta shells and a bunch of roasted squash and carrots cooked in EVOO. Everything tasted so fresh and healthy!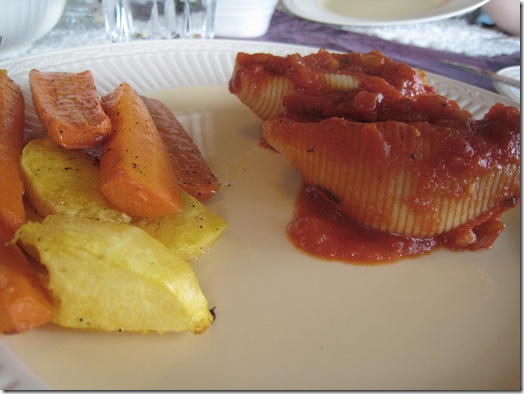 I also had another serving of the roasted veggies because they were so good.
From a bird's eye view: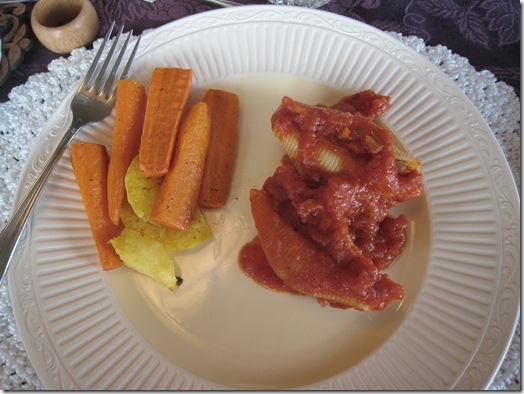 Zooming inside my pasta shell: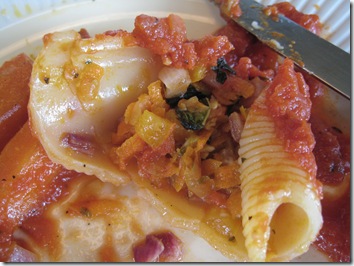 I am going to make these very soon! They were just delicious. You just cook the pasta shells until al dente and then you take them out and stuff them with whatever you want. In the non-vegan versions, my mom mixed cottage cheese, veggies, and chicken (I think!) and then she spread shredded part-skim mozzarella and tomato sauce over top: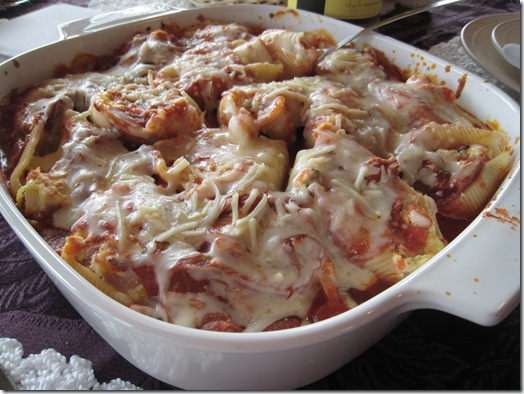 Here is my vegan casserole :) shown in the bottom of the picture: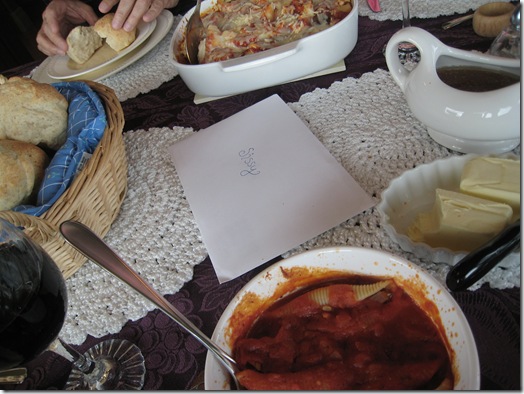 Yum yum, gobble gobble!
Then it was time for my mom and I to sneak away and prepare the dessert presentation for the birthday girl!
Then we sang…Happy birthday to you…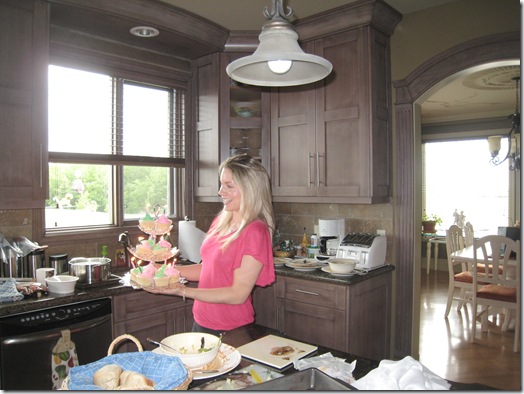 Happy birthday to you…
My oldest nephew kept asking during dinner when he could get his CAKE! lol. It was so cute, he must have asked us 50 times when the cake was coming. So we told him '10 minutes' and then set the timer for about 20 minutes (I learned a new parenting trick! haha) and he asked about every minute how much longer it was.
It went a little something like this:
Nephew: "How much time is left?"
Us: "9 Minutes"
3 minutes later…
Nephew: "How much time is left until Cake?"
Us: "8 and a half minutes"
:D
My nephews were SO cute- they lit right up and had HUGE smiles on their faces when I brought it out:
The cupcake tower: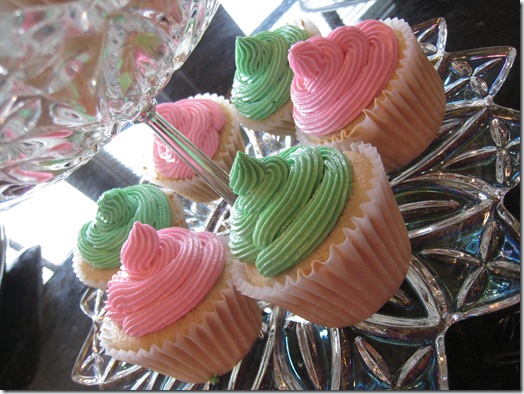 HAVE MERCY!!!!!!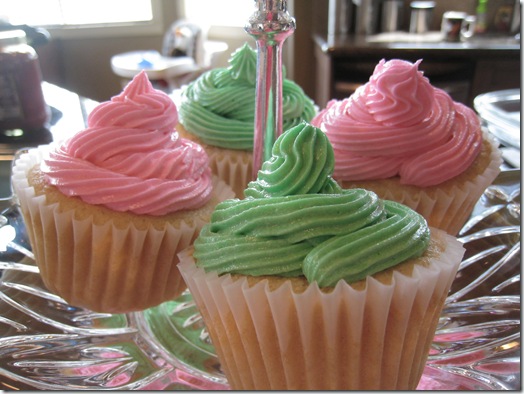 I have to make another batch ASAP!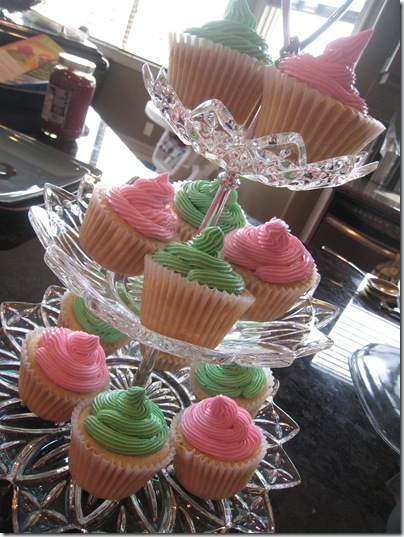 My mom actually went to Indigo books today and bought VCTOTW! :) She is hooked and there is no turning back!
My cupcake: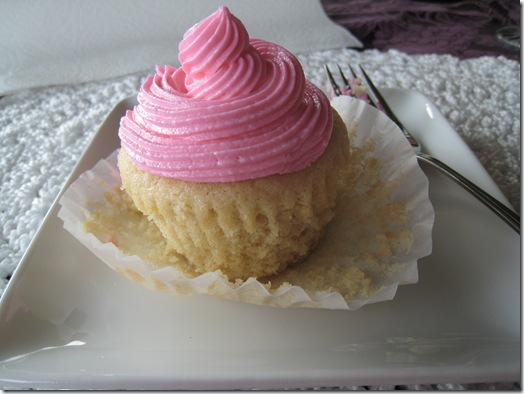 As a reader commented in yesterday's post: All cupcakes should have copious amounts of icing! Sometimes special occasions in life call for throwing caution to the wind, no?? :)
Everyone raved about these cupcakes and couldn't believe they were vegan!
OSGMOM said, "I never thought I would see the day when I would eat a VEGAN cupcake and LOVE it!!!"
There is no better comment than that really, is there??
After dinner, all of us watched an episode of Cake Boss (has anyone see this show????). I am HOOKED and I am so sad that we don't get TLC anymore. :( Eric and I are trying to cutback expenses so we only have basic cable right now. Boooo. I wonder if I can watch them online?
Anyways, Cake Boss is AWESOME. The whole family is hysterical and they make the coolest cakes I have ever seen! SO inspiring! It gave me lots of great ideas.
I also squeezed in some core work while watching TV last night- whohoo! :)

How I overcame a challenging mental roadblock Monday morning…
This morning I got up at 6:30am so I could squeeze in my workout, shower, breakfast, and packing before my mom and I left for the secret birthday shopping trip around 9am! It hasn't been too hard for me to get up early to workout during my stay since I got an extra 2 hours due to the time change. I still could have probably slept an extra hour or two though, I won't lie! ;)
This morning Rudi wouldn't even get up with me! He just looked at me like I was a mad woman when I went to the workout room. Luckily I watched Breakfast TV to keep me occupied while working out.
Today's workout was really challenging because my 'mind' wasn't really in the game. So what I did to help me stick to the workout is I got off the treadmill every 5 or 10 minutes for a quick 'mental break'.
When I really wanted to stop (and yes this morning I really did!), I told myself only 6 minutes until I can get off. I would get off the treadmill, take a sip or two of water and then hop back on for another 5-10 minute burst. This is really effective for me and I know it is the reason I made it through this workout!
The workout:
Duration: 46 minutes
Max heart rate: 169 bpm
Avg Heart rate: 159 bpm
Workout: Treadmill hill walking (10% incline, 4.4 mph)
Distance: 3.39 miles
I was not into this workout, but I blasted some fun songs on my Shuffle, repeated a mantra, watched the news, and took a bunch of 'mental' breaks and I got through it! There is no better satisfaction than getting through tough workouts. I felt really proud afterwards and like I conquered a battle!
What was my mantra you ask?
"I have conquered many workout hurdles before today and I can conquer this one too."
All I did was think about how many tough workouts I have had in the past and how I helped myself get through them. It is not our BODY that can fail us, it is often our MINDS. I sometimes defeat myself before I even step on the treadmill, so it was nice to 'change my perspective' this morning!
Do you tend to have 'mental roadblocks' when working out? How do you overcome them?
Breakfast was a lovely GM of course: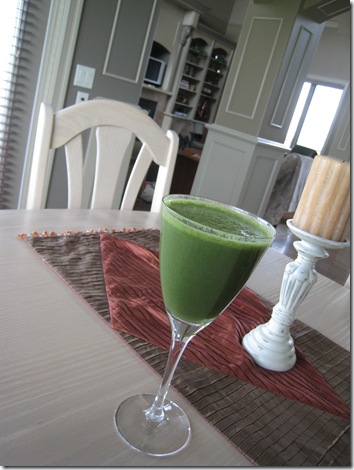 Ingredients:
1.25 cup soy milk
4 cups steamed spinach
1.5 T Amazing Grass Wheat Grass (I'm OBSESSED with this stuff!)
1 T flax
1/2 cup strawberries
1/2 banana
1 T natural peanut butter
My ingredients always make TWO of these glasses, by the way.
My pre-workout snack was one of my PB granola bars of course! :)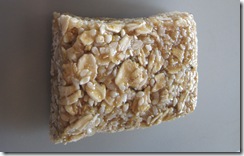 After the workout, breakfast, showering, and packing, my mom and I were off to the mall! She of course gave me my lively Glo Bakery picture frame in May but she waited to surprise me with my other gift when I got here.
Well, surprise me she DID!!!  :D

Stay tuned for the final installment of my trip out west later today!
I will be talking about:
What healthy snacks I pack with me for flights (complete with pictures!)
My thoughts on how I did 'health wise' on this vacation
What OSGMOM surprised me with!
Coming up on OSG:
1) Don't forget my awesome Amazing Grass Giveaway ends TOMORROW!
2) SHOP 4 A CAUSE is this Thursday at 8am EST and goes until 10:30pm EST!!! Please help spread the word!
3) I need your help voting on the name of my PB bars! In the last poll, the 'Mighty Marathon Bar' won! However, I was unaware that the US has a Snickers bar called Marathon! So, I don't really want to go with that anymore. Now I have a new poll up taking the runner up with a new name that I thought of for my cookies, but I would instead use it for these bars:
4) Miss some guest posts while I was away? Check them out here!
5) I accidentally marked all my emails as 'read' in my inbox! eek! So I have about 300 emails since I left that are no longer marked as new. If you sent me something VERY urgent, please resend it to me, otherwise it will likely be a week before I am organized and caught up once again!

"Lifelong wellness is about taking charge of your own health. Most people are born healthy. Some work hard to preserve and enhance that gift of health. Others take this gift for granted, assuming it will always exist.
Your body is your house; if you wear this one out, where will you live?"
~My nutrition and wellness text, Can-Fit-Pro.