since Eric's guest post!!!
Oh my GOSH how funny was that!? My family and I were all huddled around the laptop in the kitchen and cracking up last night!! :D
To answer a couple of your questions- Yes Eric has a Professional Canon SLR camera and I desperately need to learn how to use it, especially after seeing his kick butt pictures! WOW they were so sharp, eh? And secondly, I would LOVE if Oh He Glows did more future posts…he clearly has a hidden talent! It is up to OHG himself I guess! lol. He might be persuaded if enough people beg and plead?? lol.
But back to Saturday night/Sunday, shall I?
After our magnificent dinner at Rouge, we headed to a bar that was supposed to be really popular. Well, we got in and were not impressed at all! It looked like a bunch of underage drinkers and we felt a bit out of place. So we decided to hit up a Beer Market at a pub nearby. It was just what the doctor ordered!
My sister ordered a Mojito (after not being able to get one at dinner or at Bar #1!) and I ordered a flight of beer. I told the bartender to surprise me (I'm Craaaazy like that!) and she brought me a Raspberry beer, a cider beer (my first one ever), and a regular pale ale. I absolutely LOVED the cider beer it was sweet and tasted like apple juice! I drank the cider and half of the raspberry. My sister finished off the rest of the raspberry and a bit of the pale ale. They were all 6 ounces.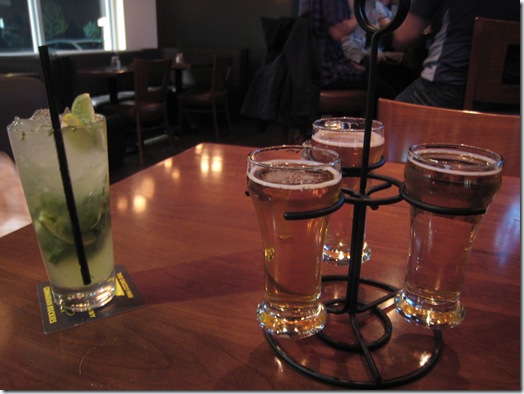 The three of us chatted away until about 12:30 and then headed back to my sister's to sleep!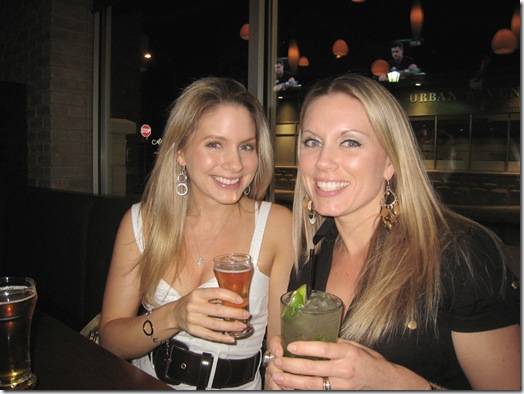 It was such a fun night!
When I got home I called hubby because I miss him SOOOO much. This is the longest we have ever been apart from one another in the 9 years that we have been together, crazy huh!!! So I called Eric and let me just say Eric forgot to photograph the BEER that he drank on the Saturday night! haha. He sounded a bit drunk. Ok a lot drunk and groggy. To give him the benefit of the doubt, I did call him and wake him up at almost 3am his time!!! Hey- he told me to call him when I got home! ;)
However, I was up EARLY- as in 6:45am! I only got about 5 hours of sleep but for some reason I was wide awake. After figuring out how to turn off my sister's alarm, I snuck downstairs and raided their pantry!!! SCORE!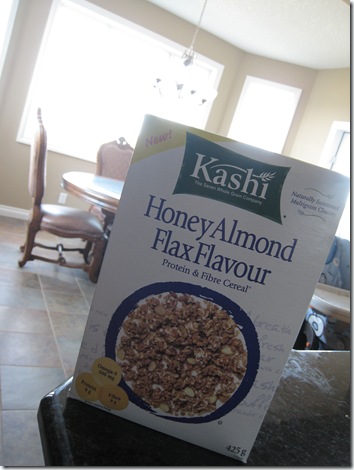 I had a bowl of this Kashi Honey Almond Flax cereal with soy milk. It was just what my grumbling tummy needed!
Then my stepdad picked me up and it was time to go home and spend some time with my nephews who were over at mimi's and papa's house! I think my mom needed a 'break'…lol. We did puzzles! Oh how I miss being a kid!
My oldest nephew and I did this one and he was making me look bad he was so good!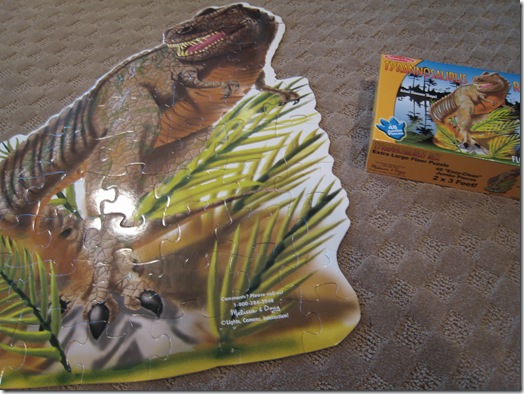 I'm a bit rusty…
Then I had a green monster, did a post, and worked out (yes, on 5 hours sleep- wooohoo!):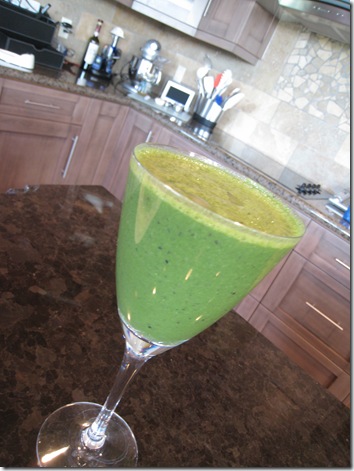 I'm not sure where I found this energy (ok, it must have been the GM!), but I rocked this workout!!!
The workout:
Duration: 46 mins
Max heart rate: 169 bpm
Avg heart rate: 159 bpm
Treadmill hill walking (4.4 mph, incline 10%)
Distance: 3.36 miles
Since my mom's treadmill only goes up to a 10% incline, I have amped up the speed of my workouts this week to ensure that my heart rate is staying challenged. I don't know what is harder- 15% incline and 4.1 mph or 10% incline and 4.4 mph! I guess they are about equal because my heart rate is around 155-169 bpm for both workouts. I was soooo happy when I finished this workout. It is quite rare that I workout after a late night out! :)

Lunch was simple spinach salad with tomatoes, ground flax, sesame seed, hummus, and cukes…and a sprouted grain wrap to go with it.
I also snacked on an apple, PB granola bar, and another wrap during the afternoon as I worked in the kitchen.
Then it was time for mom and I to get cracking with the birthday dinner prep!!! The kitchen was utter madness all day long!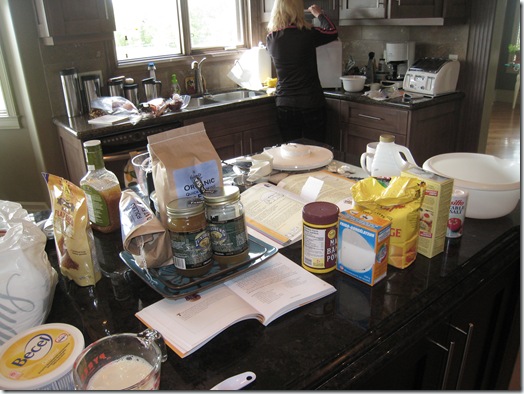 Homemade rolls (soooo good!)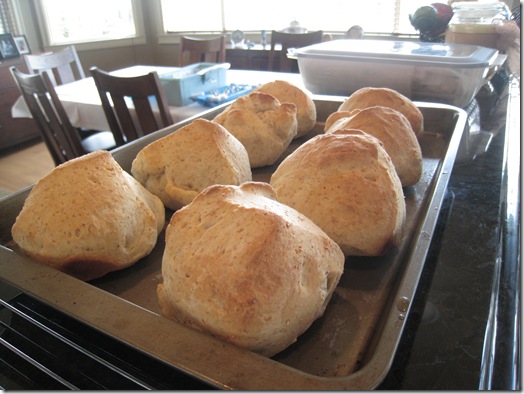 I made my sister vegan cupcakes from Vegan Cupcakes Take Over The World!
In the fridge chillin':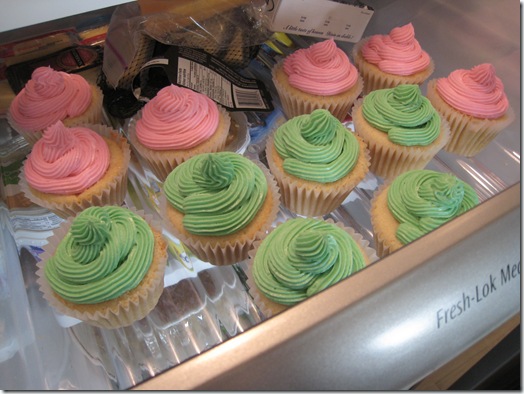 My mom made stuffed jumbo pasta shells: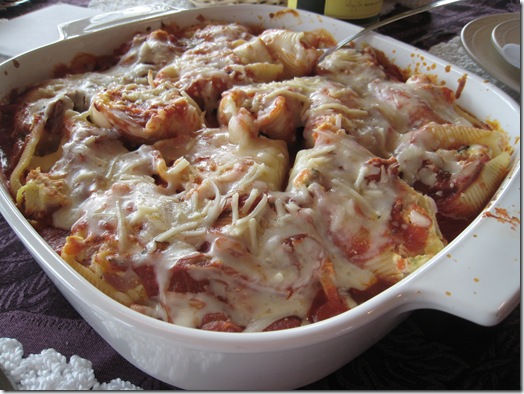 And I made a big salad: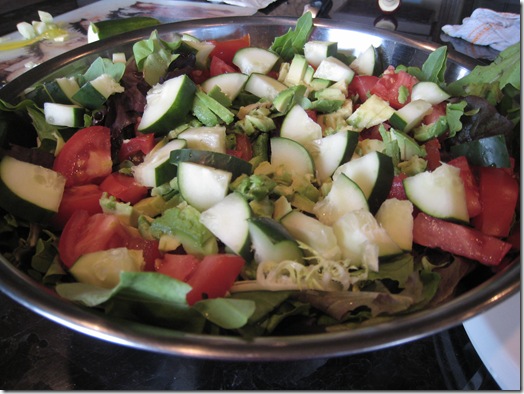 Us ladies chatted in the kitchen with the birthday girl as we prepped: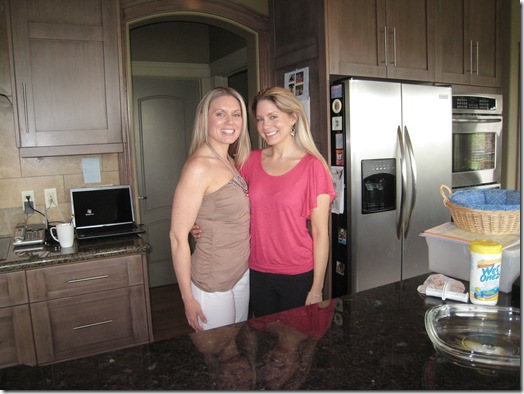 It was a busy but very fun day!
Part 2 of the Sunday Birthday dinner is coming up Tuesday!
On Monday's agenda:
OSGMOM takes me shopping for a top secret birthday gift (stay tuned!)
Lunch at a cafe with OSGMOM, sis, and nephews
Leave for home :(
10:40pm EST- Eric picks me up in Toronto :) I can't wait to see him!!
Stay tuned for two exciting guest posts today from Fitnessista and Fit Bottomed Girls! I apologize if some of you saw Gina's post this morning- there was a glitch with my livewriter! It will be up tonight have no fear!
Also don't forget SHOP 4 A CAUSE is this Thursday!!!! Help spread the word! :)
Also a couple of you have asked me where I am and I just wanted to say that my mom and family would prefer not to say where they live. I hope you all understand, the internet can be a scary place at times!