My sister, BIL, and I had a fabulous time last night!
But first I had to figure out what to wear!
My sister and BIL came over and dropped off the boys (mimi and papa were babysitting, yawhoo!) and then we went back to their place to get ready!
My sister had a perfect dress in mind for me and it fit me like a glove! I really loved it. It is from Le Chateau.
She wore a beautiful dress by Guess- I just loved it on her! What a beautiful birthday girl! :D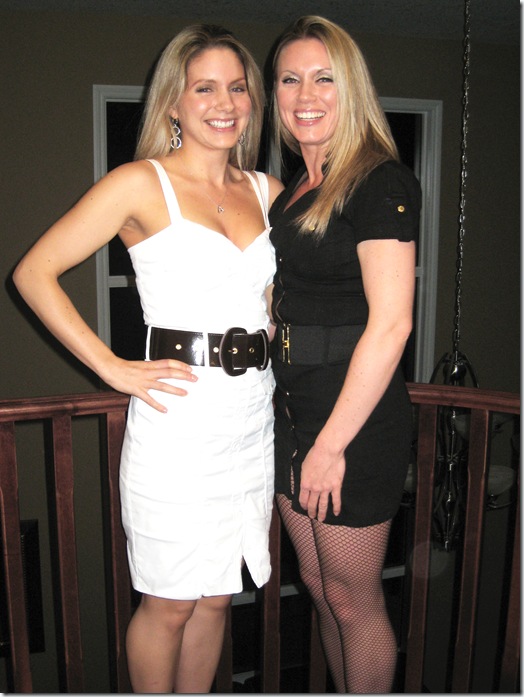 Note: This picture was actually taken at the END of the night when I realized that we never got any 'outfit' shots for OSG! lol.
For dinner we went to a French restaurant called Rouge after hearing rave reviews about it. It was a long drive to get there, but oh was it worth it!
It was an old Victorian house turned into a restaurant and it was sooooo lovely inside!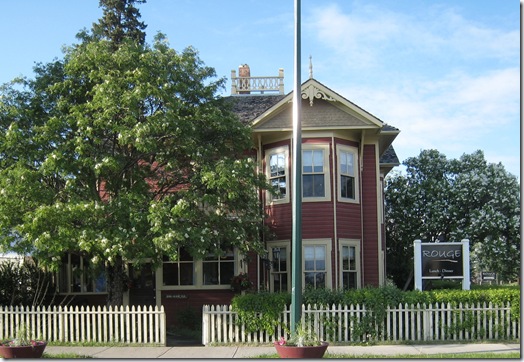 How cute is that!?
Each room in the house was redone into smaller dining rooms. It was just the perfect and intimate place for dinner. I love when restaurants are quiet and you don't have to shout to hear each other speak.
I was delighted to find out that the restaurant is VERY Eco-friendly.
They grow all their own vegetables and herbs right on site! They also make everything from scratch and buy only locally. I was VERY impressed with Rouge.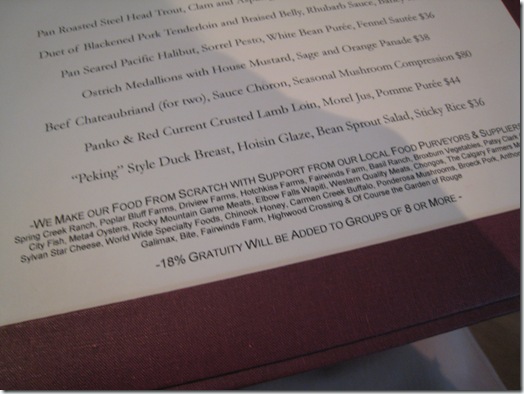 The menu at Rouge was so awesome: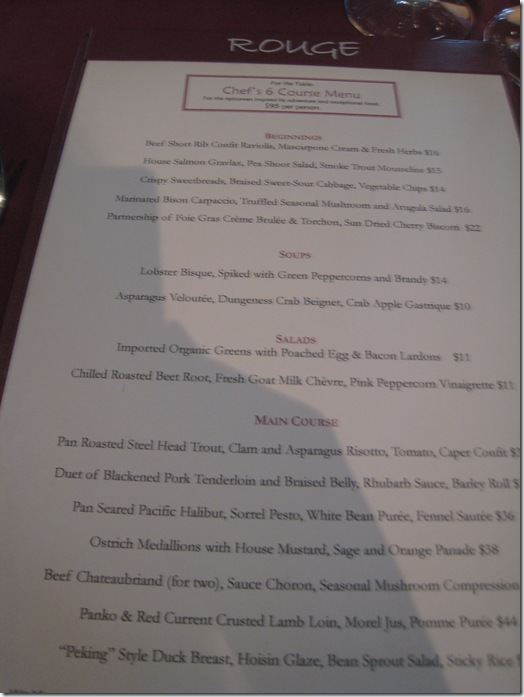 I absolutely LOVE French food and the way the French approach eating. Portion sizes are much smaller than normal restaurants, but I leave feeling more satisfied than if I ate at a typical chain. Great care is taken with the preparation of each dish. We felt like kings!!! The food is pricey, but it is such a nice 'splurge worthy' restaurant for special occasions.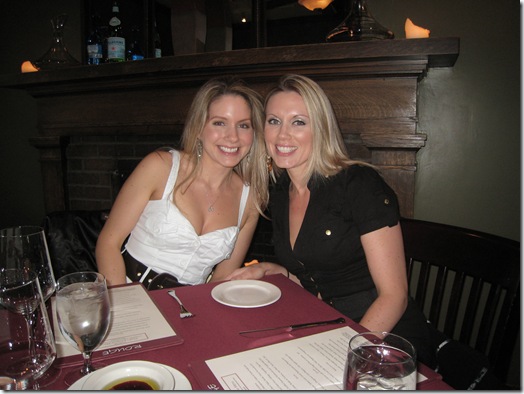 They brought an olive based tape to start. I passed on it since I hate olives! My sister and BIL really loved it though.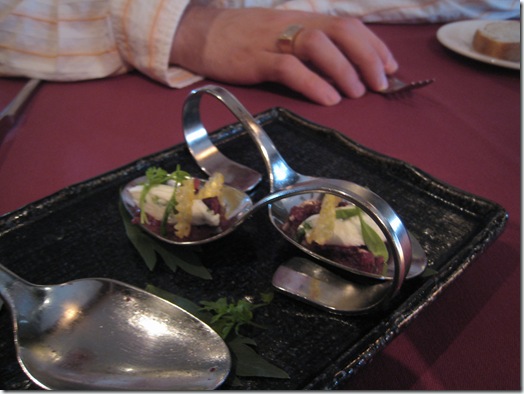 I got the organic green salad to start (without bacon) and it was delicious!
I ate all the salad and croutons (amazing!!) but no eggs of course.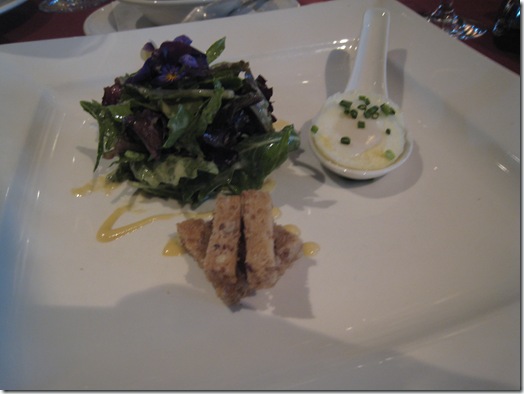 Kristi had the lobster Bisque and loved it: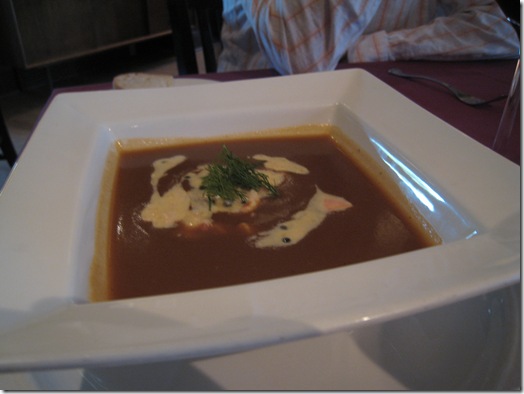 Then we were brought mini margaritas (lime + strawberry) that were out of this world delicious! The glass was rimmed in sugar! GAH!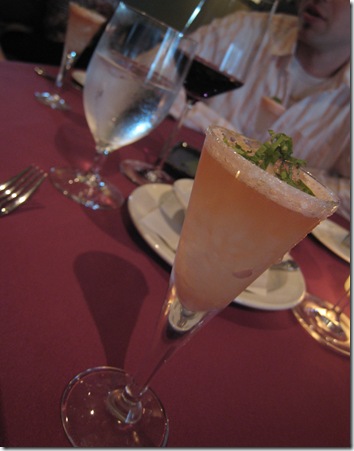 My sister and I each had 1 glass of Australian Red Wine with dinner.
For my main I got the Halibut as I love, love, love halibut!
Contents: Pan seared Pacific Halibut, Sorrel Pesto, White bean puree (SO GOOD!), and fennel sautee.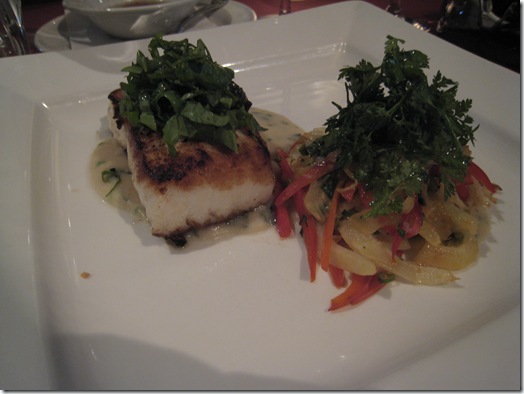 I can't even begin to describe to you how amazing this tasted. It was the BEST halibut I've ever tasted! I cleaned my plate and would have licked it if I could.
My sister and BIL shared a beef for two main, and they both agreed it was the best beef they've ever had:
This is one portion: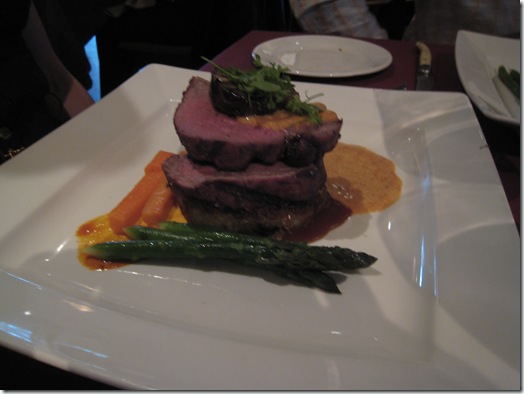 Then they brought my sister a birthday dessert! I'm not quite sure what it was but it was like a chocolate creme brulee. Her and my BIL shared it and both enjoyed it a lot!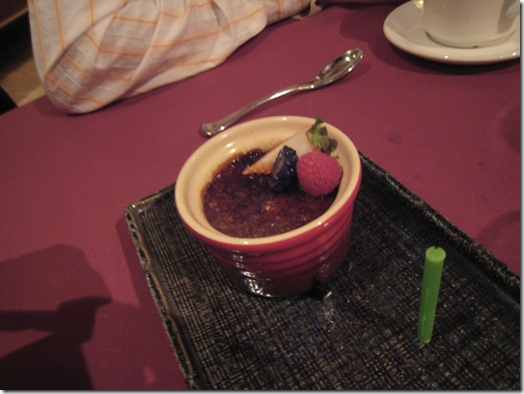 We had such a fabulous time!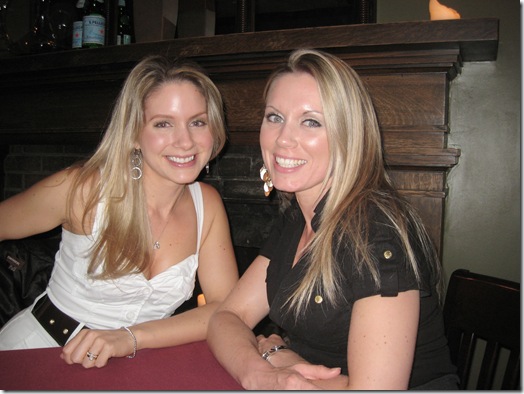 I passed on dessert because I didn't want to get that too full feeling in an already tight dress! :D
At the end of our experience, the chef came to our table and greeted us. He told us about the restaurant and how they grow their own veggies, buy locally etc. He also told me that they don't have Salmon on the menu because Salmon Fishing contributes greatly to pollution in our waters and that salmon is becoming endangered. I chatted with him about this and I was really quite shocked- I had no idea this was going on. I was just so impressed by the proactive approach this restaurant takes! We felt so good about eating there.
Then to end the meal…
Berries in a yogurt sauce. I had the berry :) It was good. lol.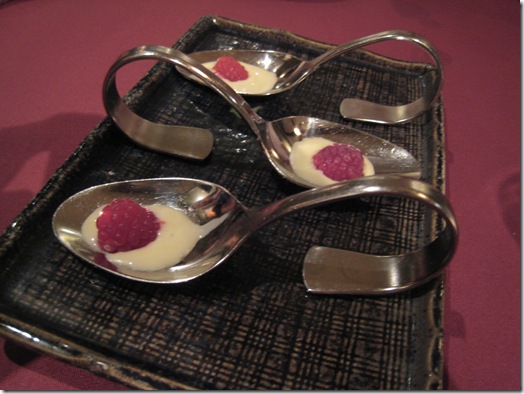 Then I snuck off to the 'bathroom' and instead paid for the meal. :) I wanted to treat my sis and BIL to dinner but I knew they wouldn't let me pay so I had to do it without them knowing. Then when BIL asked for the bill, the waitress told him it was already covered. hehe…so sneaky aren't I? I actually learned that trick from sis and BIL! lol. I had to pay them back! :)
Thank you to everyone at Rouge for such a lovely evening!!!
Well, I am off to workout and then bake for my sister's birthday dinner tonight!
Stay tuned for Part 2 of our night as well as a birthday dinner recap! I can't believe I am going home tomorrow…I am going to be SO sad! :( I got to play with my nephews all morning and I am seriously going to cry when I have to leave them.
Have a lovely Sunday afternoon!